Indians are among the most prolific consumers of internet pornography in the world, and increasing numbers of men – and women – are streaming it on their mobile phones.
Pornhub, one of the world's largest adult websites, has given Quartz access to their data, outlining India's sexual preferences and porn habits, just as the government looks into the possibility of introducing 
web filters on pornographic content
. The data was gathered between Sept. 2013 to Sept. 2014.
The data has been gathered only from Pornhub.com – the world's 72nd favourite website, 
according to Alexa
 – and doesn't include the 10 other websites, such as YouPorn and RedTube, that make up the entire Pornhub network.
India, which is expected to have the 
second largest number of internet users
 in the world by next month, places fifth in terms of the most number of daily visitors to the website, says Pornhub. An overwhelming majority, or 40% of Pornhub's 14.2 billion visits, originate from the US.
Within India, habits vary widely.
Page views and time spent
Compared to the national average of 8.22 minutes per session (34 seconds less than the global average), users in the northeastern states view more pages on Pornhub.com for longer, than any other region. Delhi is no shrinking violet either.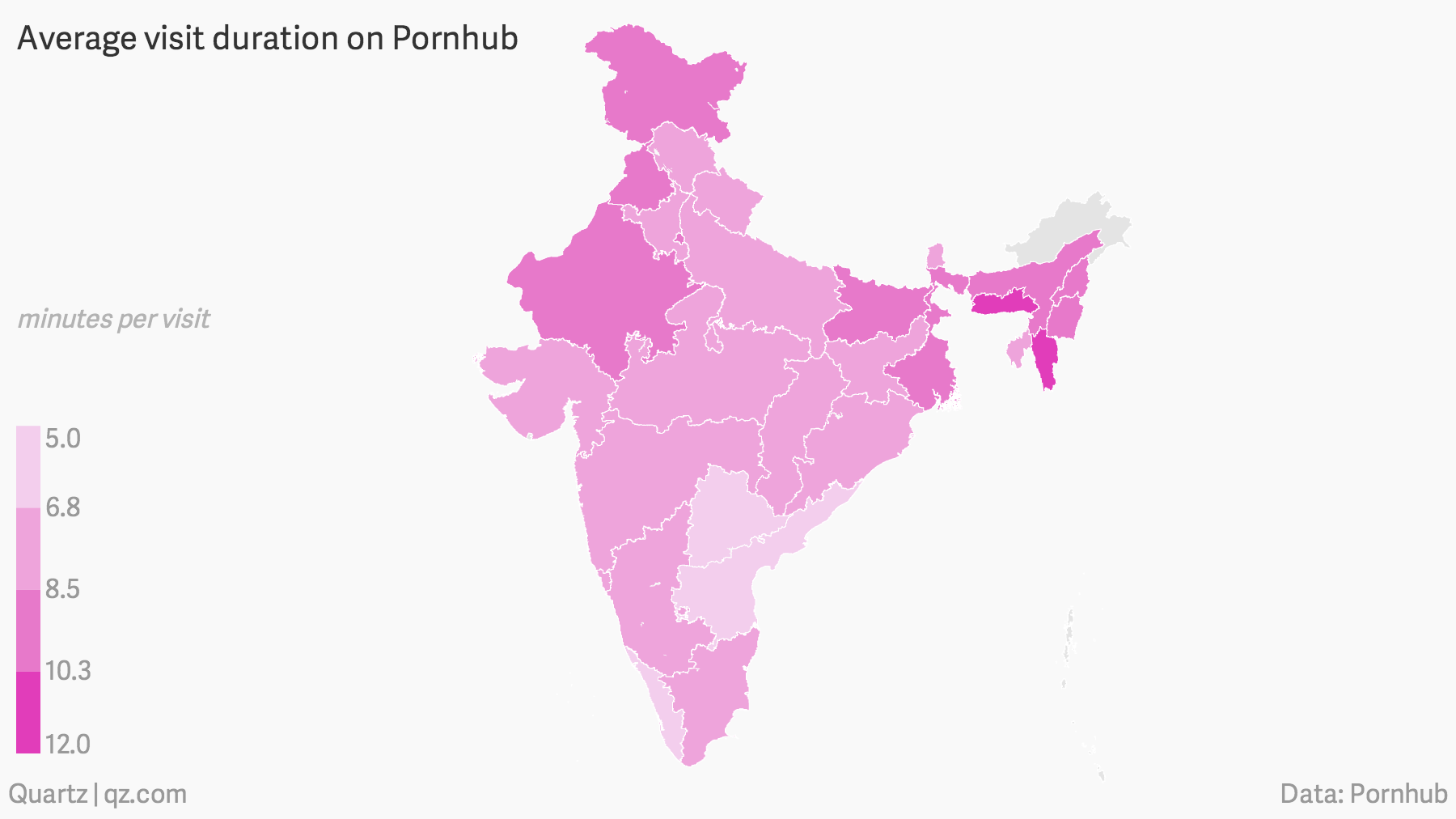 India's favorite porn star is…
Sunny Leone.
A Canadian of Indian-origin, 
who is now a Bollywood actress
, Leone is the most popular porn star in the country, despite 
reportedly retiring in 2013
. She is followed by Lisa Ann and Priya Rai.
The most popular search terms also include: Indian, Indian wife and Indian bhabhi (typically older brother's wife). State-to-state (Pornhub provided preferences across 23 of India's 29 states), the top searches remain fairly consistent, but "Indian bhabhi" climbs to as high as third in some places, including Jammu and Kashmir, Uttar Pradesh and Haryana.
Mobile is king
Half of Pornhub's users from India access the website from their smartphones —not surprising considering that's how 
the majority of Indians
 (PDF) surf the Internet. Pornhub's Android traffic from India is the third highest after the US and the UK.
Meanwhile, 47.5% of India's Pornhub users log-on to the site from desktops and just 2.5% will do so on tablets – much lower than the international average of 11%.
What women want
In India, a quarter of Pornhub's users are female, which is 2% higher than the worldwide average of 23%.
The most popular porn category among women is "lesbian" followed closely by "gay" (male).
Only 2% of searches on Pornhub from India were for male homosexual content. However, this year, compared to last year, gay searches have jumped by a massive 213%. Of course, in that time, the country's 
Supreme Court reinstated a law
 banning gay sex.
A dip during Diwali
There's apparently also a seasonal – and weekly – variation to when Indians watch porn.
Indians are most active on the adult site on Saturday. Elsewhere in the world, including the United Kingdom, the United States, Germany and Brazil, Monday is the most popular day.
Sunday is the least active day for Indians.
And this is how they fare during big national holidays.
The biggest dip is around Diwali, the festival of light, with a drop in traffic of 35%. However, during some festivals the traffic does rise slightly.
Increase in traffic also occurs on Independence Day on Aug. 15 and Republic Day on Jan. 26.
But all this may soon be a thing of the past, if the government goes ahead and bans porn.
This post originally appeared on Qz.com.
We welcome your comments at letters@scroll.in.