At a time when everything from shopping portals to laundry services are available on your smartphone as apps, why should police be left behind? That seems to be the logic behind police departments across the country choosing to launch their apps by the dozen. While it doesn't hurt to have an easy access point to be able to get information on complaints and report crimes as easily as tapping a few times on the screen, how many of these apps actually do what they promise?
Last fortnight, Delhi Police launched its latest app called "Delhi Police... One touch away" which, it claims, "will facilitate access to all services provided by Delhi Police with just one touch." The app, aimed at reducing public dissatisfaction with the way the police functions in the city, offers the option of reporting crimes directly and also provides contacts of nearest police stations and police personnel among other things.
"Through this app, information like police advisories, traffic alerts, safety tips, missing people, wanted criminals and terrorists can be obtained with a single click," a statement by the police
said
.
What remained unsaid, however, was the fact that the app is the fourth one to come out of Delhi Police's stable. Less than six months ago, another app called "Himmat" was launched by the city police with emergency alerts service inbuilt in the app which, it was claimed, could help women alert the police by simply shaking the device or pressing a button.
The app, however, received lukewarm response. Out of more than 3,400 complaints that the app received in the first four months of its launch, only 45 were genuine, according to a
report
in the 
Indian Express
. Police said that mostly people were just checking out the app to confirm if it indeed was working.
Four apps from one city
Apart from this, Delhi Police already has a separate app that can be used to report lost goods or documents and another app by Traffic Police helps users report complaints of overcharging or harassment by autos and taxis in the city.
There's no denying the fact that internet and social media use by the police departments has added a level of transparent interaction with the citizens. However, there's no explanation why all these can't be accomplished within a single app. Even as the Delhi Police now claims that with its latest app, all the services have been brought under a single umbrella, it is clearly not the case.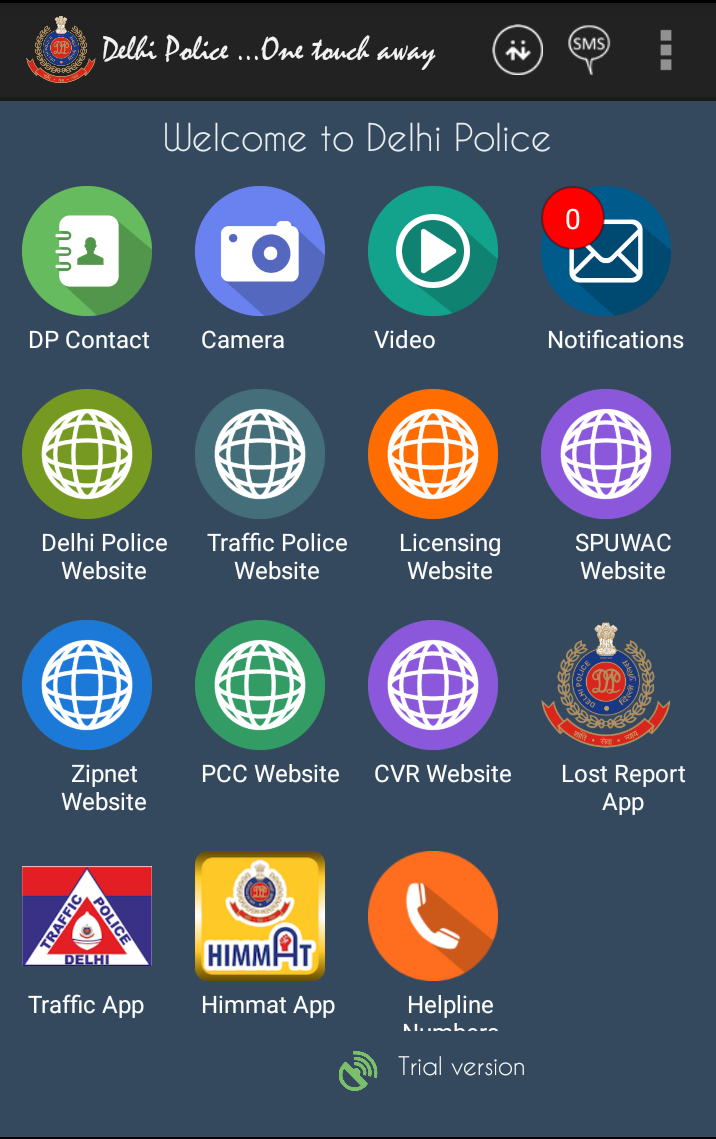 The app merely redirects the user to the download links of other three apps on the Android store instead of incorporating their features. Moreover, users looking for information on Delhi Police or the Traffic Police will have to click on the buttons present on the app which just end up redirecting them to the existing websites.
Apps apps everywhere
It's not as if Delhi Police is the only one obsessed with launching these apps. A similar app has been launched by the Uttarakhand Police too but the app has less than 500 downloads and does little more than allowing users to file complaints through a message box and uploading verification documents for domestic workers.
Mumbai Police also has a free SOS app for women which allows users to send an urgent alert signal to the police officers nearby in case of emergencies.  A reviewer for the newspaper DNA said that she gave up sending SOS messages "after four failed attempts".
"Overall, the app is more suitable for a heart, asthma or a blood pressure patient than for prevention of crimes against women," the review
stated
.
The Hyderabad Police app came in the arena a little later but its app stands out as an exception. The app offers a multitude of features which allow people to track complaints, file reports, and even lets them register tenants and security personnel.
Quantity vs quality
With tens of police apps already flooding the app stores and many more slated to arrive in the near future and given their limited functionality, it is worth asking: Do we need an app at all for things that can be done through a phone call or a simple Google search?
In the Delhi Police app, clicking on the website links leads to the default site inside the app's browser which is neither fast nor responsive. Could it not first focus on making its site mobile friendly and easier to navigate in the first place rather than having users download umpteen number of apps which won't anyway function without internet during emergency situations?
The problems with police apps don't just end there. Since these apps are designed for emergency situations more than regular use, a citizen is unlikely to use them on a daily basis or even a few times a month. Couple this with
space-starved
budget smartphones that are selling like hot cakes in the country, and you have a simple explanation as to why these apps don't get downloaded by a majority in the first place.
This was corroborated by a research by the mobile data analytics firm Vserv which studied usage patterns of more than 12,000 smartphone users in the country. The research study concluded that even though users spend more than 169 minutes each day on apps on average, only one-fourth of the total smartphone users are actually "app-junkies" who are likely to keep a large number of apps on their phones.
The profiling revealed that most important apps for users are communication apps such as WhatsApp and Facebook, apart from tools and utilities such as battery savers. When shopping websites couldn't make it to the top 15 frequently installed apps, will police apps make the cut?
We welcome your comments at letters@scroll.in.