It all boiled down to this match, Mithali Raj and Co faced a do-or-die battle against New Zealand in a virtual quarterfinal at the Women's World Cup. And India came out on top with a resounding 186-run win – their fourth-highest ever – to reach the semifinals of the World Cup.
White Ferns captain Suzie Bates won the toss and put India in to bat first. It didn't start well for India, with both openers dismissed early. But captain Mithali Raj's century, Harmanpret Kaur's balanced half-century and Veda Krishnamurthy's blitzkrieg 45-ball 70 helped India set a commanding total of 265. In response, New Zealand were nowhere in the game as Indian pacers struck early and the spinners kept striking at regular intervals to bundle them out for 79 in just over 25 overs with World Cup debutant Rajeshwari Gayakwad taking a fifer.
Here's how the match unfolded.
Live Updates:
India will play Australia in the semifinal on Thursday at Derby, a ground where they have unbeaten so far.
Captain Mithali Raj is the Player of the Match for her 109 off 123. The ODI record-holder scored her sixth ODI century and built two strong partnerships with Harmanpreet Kaur and Veda Krishnamurthy that laid the foundation for India's commanding total.
"For a couple of us, this will be the last World Cup, so our first aim was to enter the semi-finals," Raj said at the post-match ceremony. About her innings, "I've always dreamt of getting runs for the country. The hunger never dies." She also credits her teammates, "Veda and Harmanpreet's knocks were as important as my 109." Captain's leading by example indeed.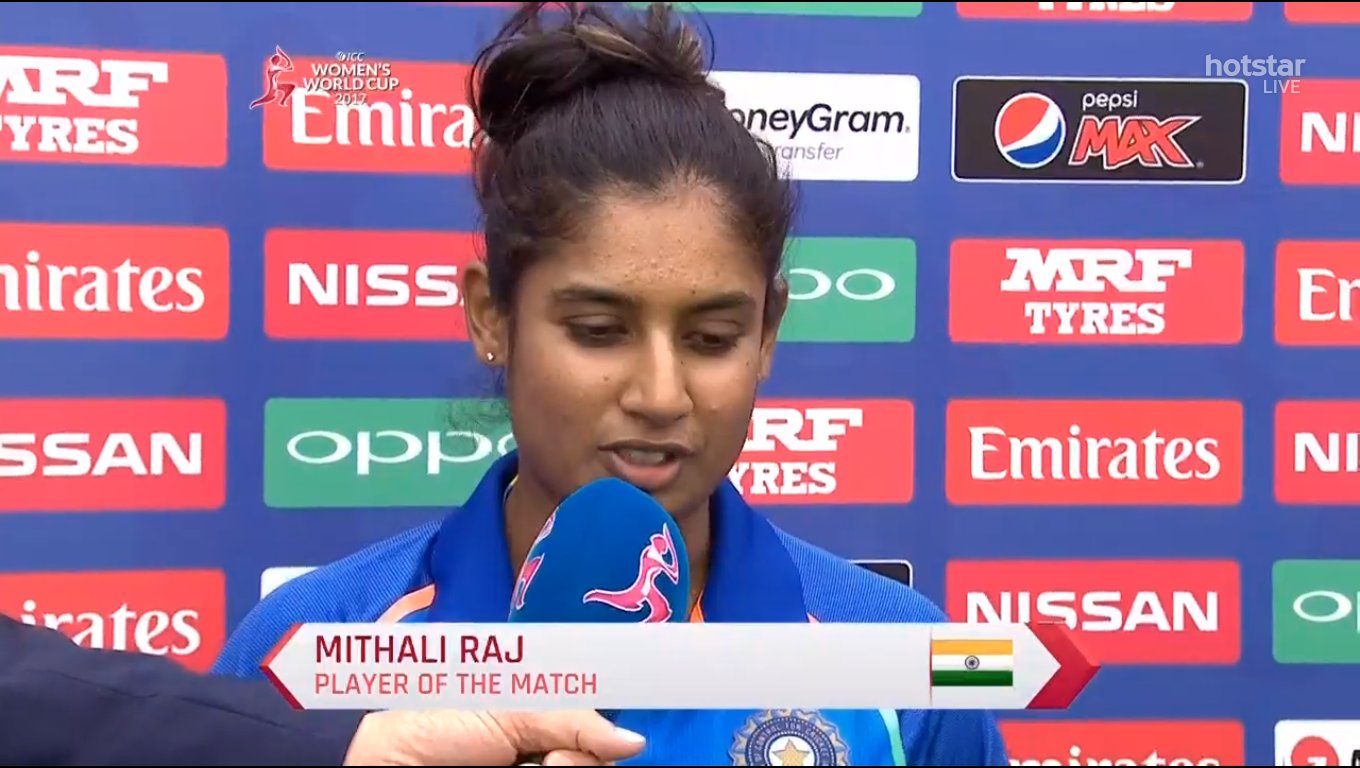 What a World cup debut for Rajeshwari Gayakwad! A five-wicket haul after coming to replace the more experienced Ekta Bisht is no mean feat. This is her first fifer in ODI cricket, and what a time to get it. The left-arm spinner is delighted with the award and jokes about how carrying drinks throughout the tournament made her fitter.
Wicket! India win by 186 runs! India are into the World Cup semifinal! What a victory this is for for the team, coming after two big, back-to-back losses to South Africa and Australia. This is also the fourth highest victory margin for India in ODIs – a massive win considering the pressure the team were in.
Rajeshwari Gayakwad gets a fifer in her first match at the World Cup, cleans up Kasperek's stumps to finish with figures of 7.3-1-15-5.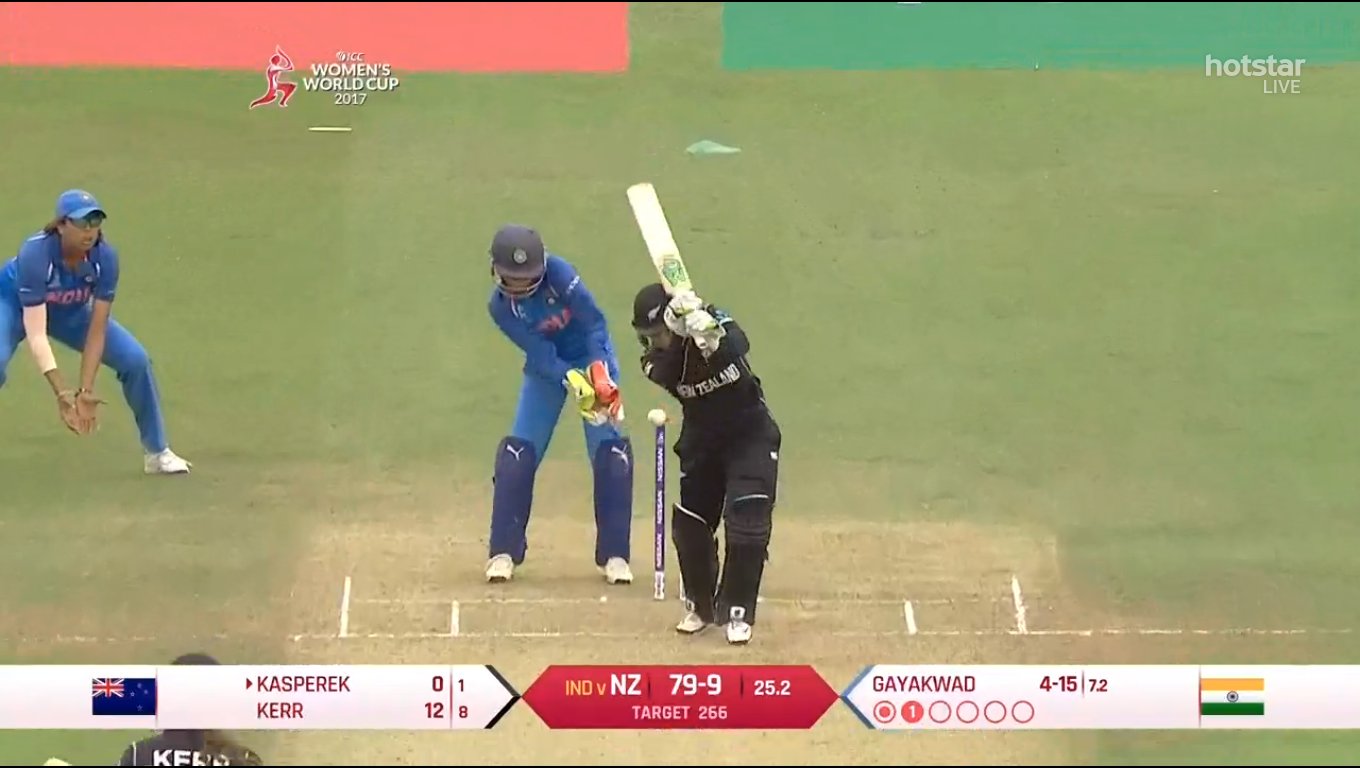 Wicket! India one wicket away! What a World Cup debut for Gayakwad, who gets her fourth wicket. Tail-ender Lea Tahuhu tries to drive the left-arm spinner but only ends up with a edge that goes to slip – yes, there is a slip today as India are going for the kill. New Zealand 67/9 and India are closing in on a semifinal berth.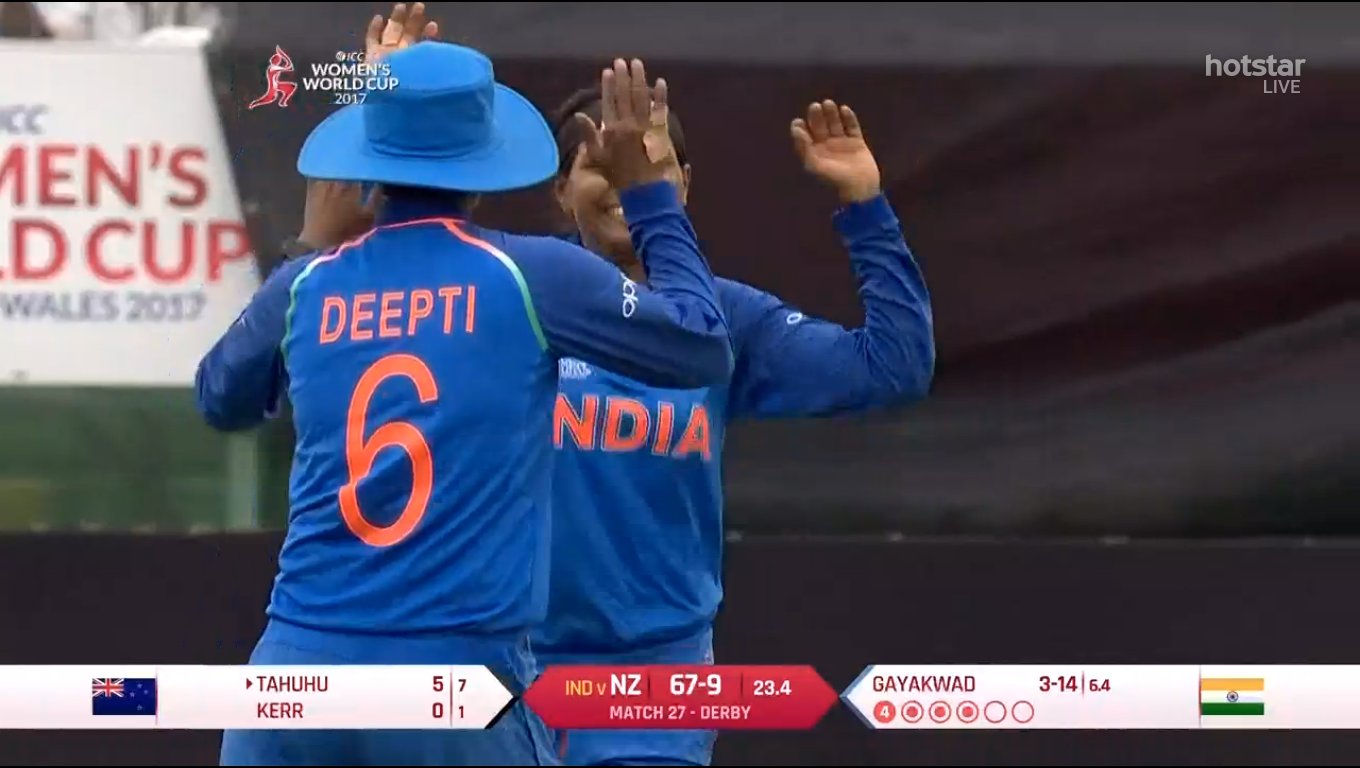 Wicket! Poonam Yadav also strikes in her first over! This one was a lollipop, coming down the track to go big but only chipping it straight to the fielder at mid-on. Maddy Green walks back on 5 off 13 and White Ferns are wilting visibly at 62/8.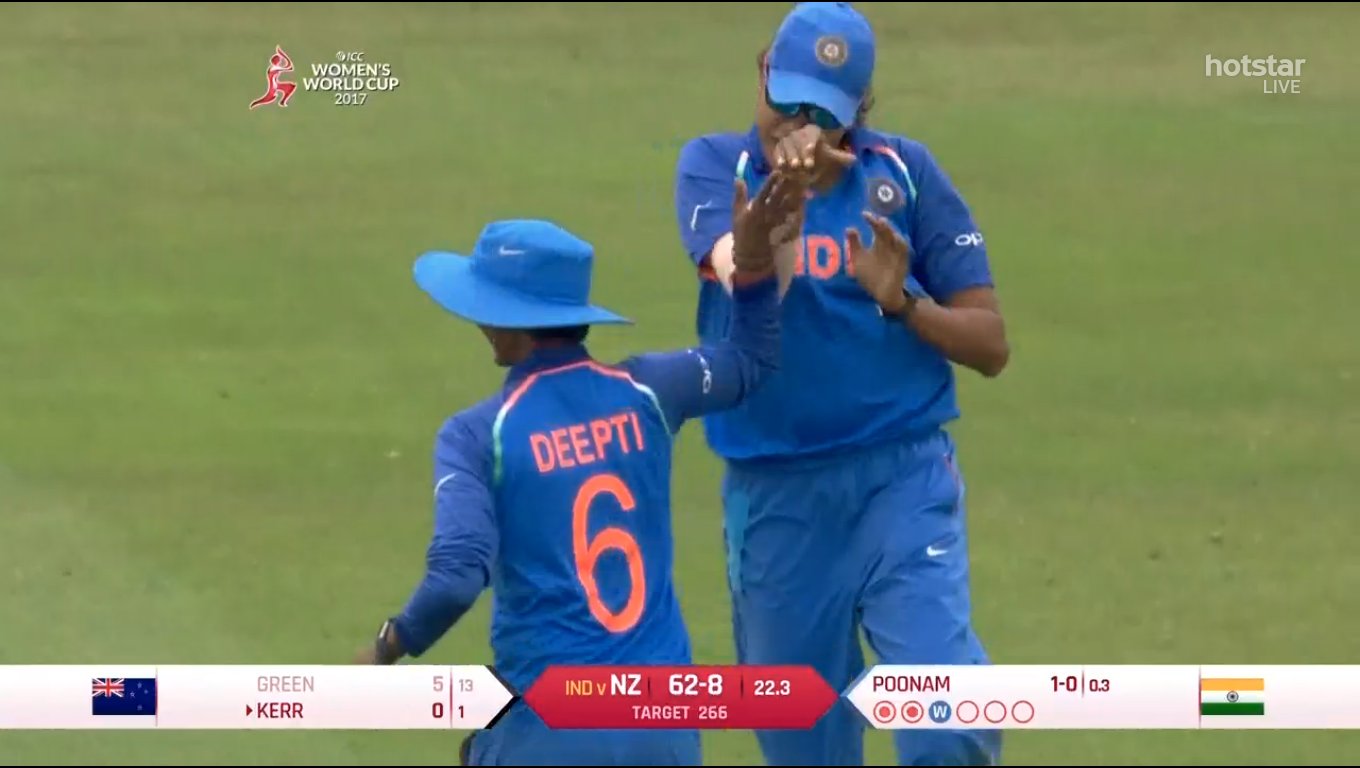 Wicket! Third wicket for Gayakwad! Hannah Rowe is is stumped on 4. The left-arm spinner is making most of her chance, she tosses it up on leg and it turns to beat the bat and go straight to stumps. Classic spin bowling exhibition from India. Seventh wicket falls and it's only 22 overs! New Zealand 62/7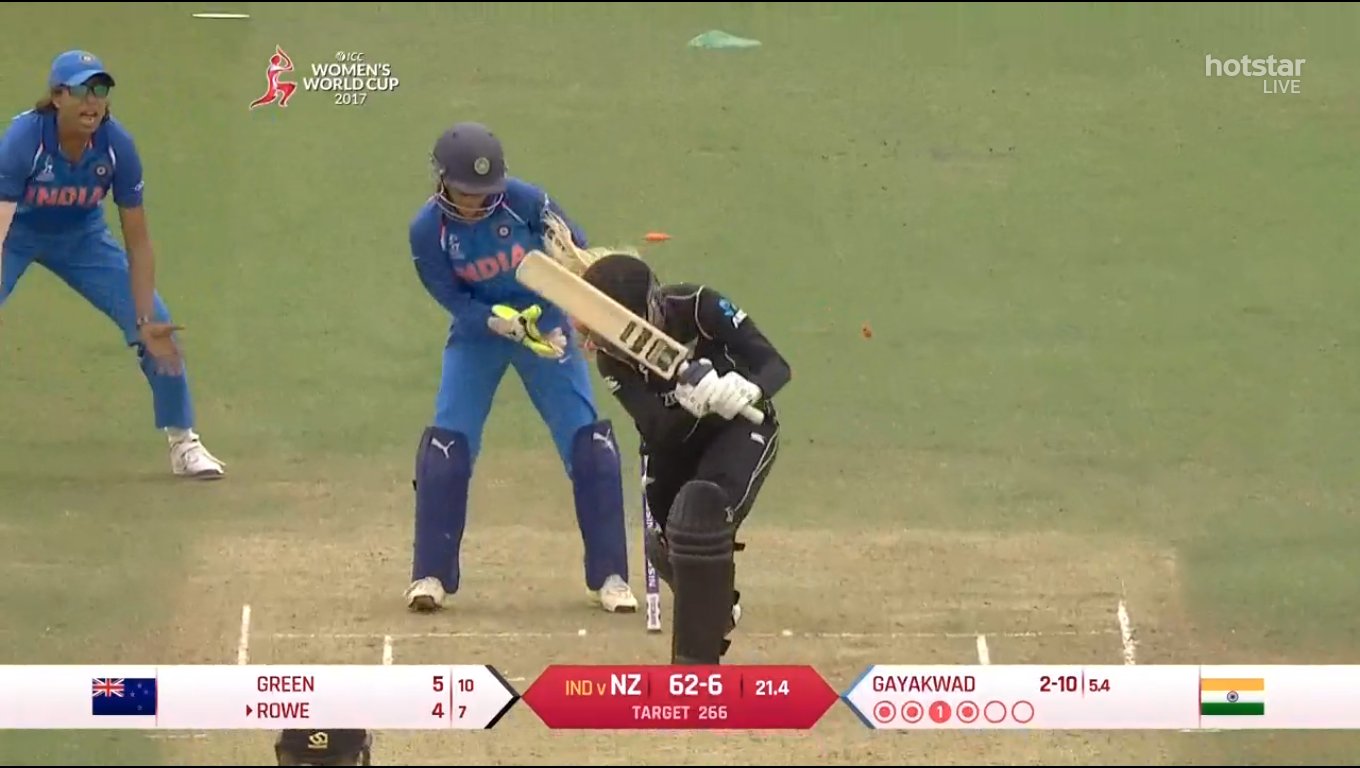 Wicket! Stunning catch from Deepti Sharma gets rid of Devine on 7 off 24! First, we have to appreciate the catch: she run behind, dives full length, backwards and takes the catch low at extra cover. Sophie Devine tries to place the turning delivery from Gayakwad but ends up chipping it amidst shouts of "Catch it" and catch she does. Yes, the catch was so good, we will keep coming back to it. Meanwhile, White Ferns are on the edge on 57/6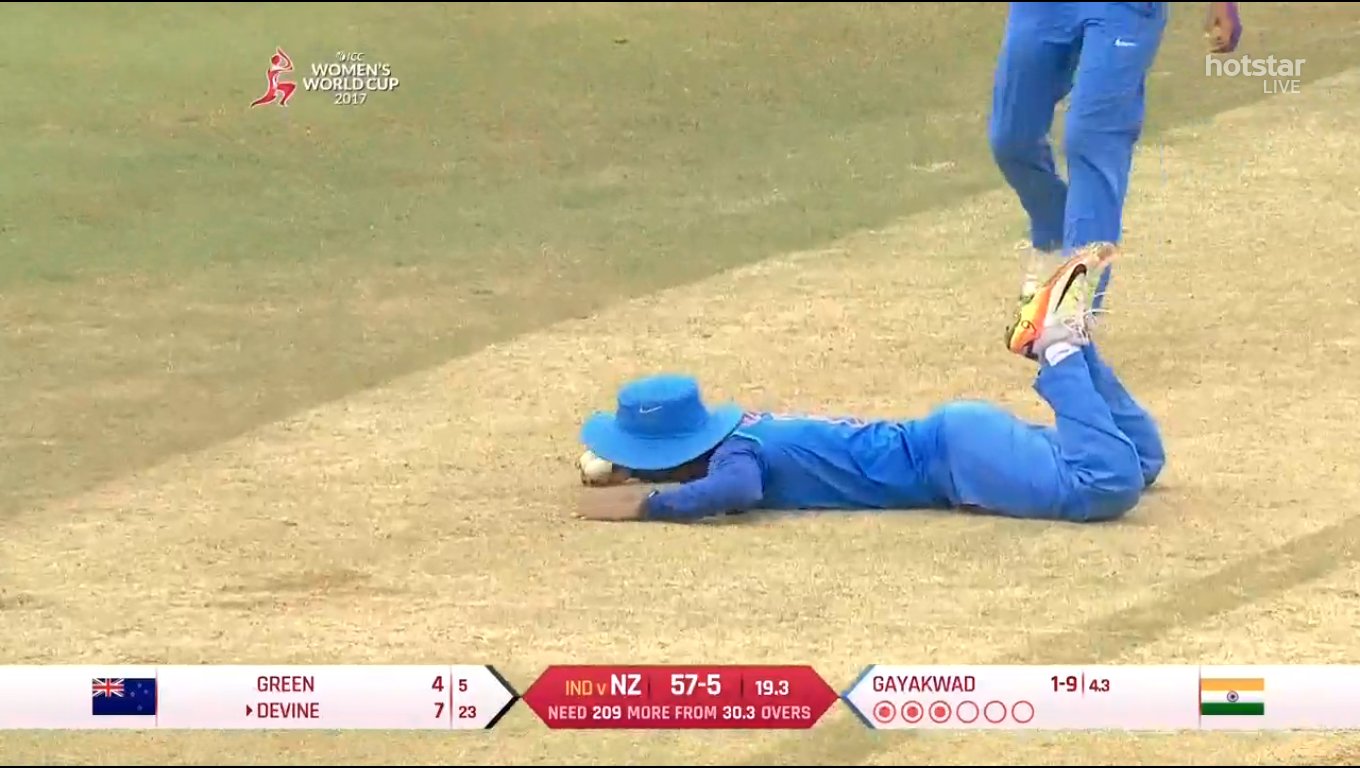 Wicket! Deepti Sharma gets her second! An amazing piece of off spin bowing and the batter can only stare as the ball goes round and clips the stumps. Katie Perkins, the new batter in, is dismissed on 1 off 7 and White Ferns are staring at a blackhole with half the side out in a big chase. New Zealand 52/5.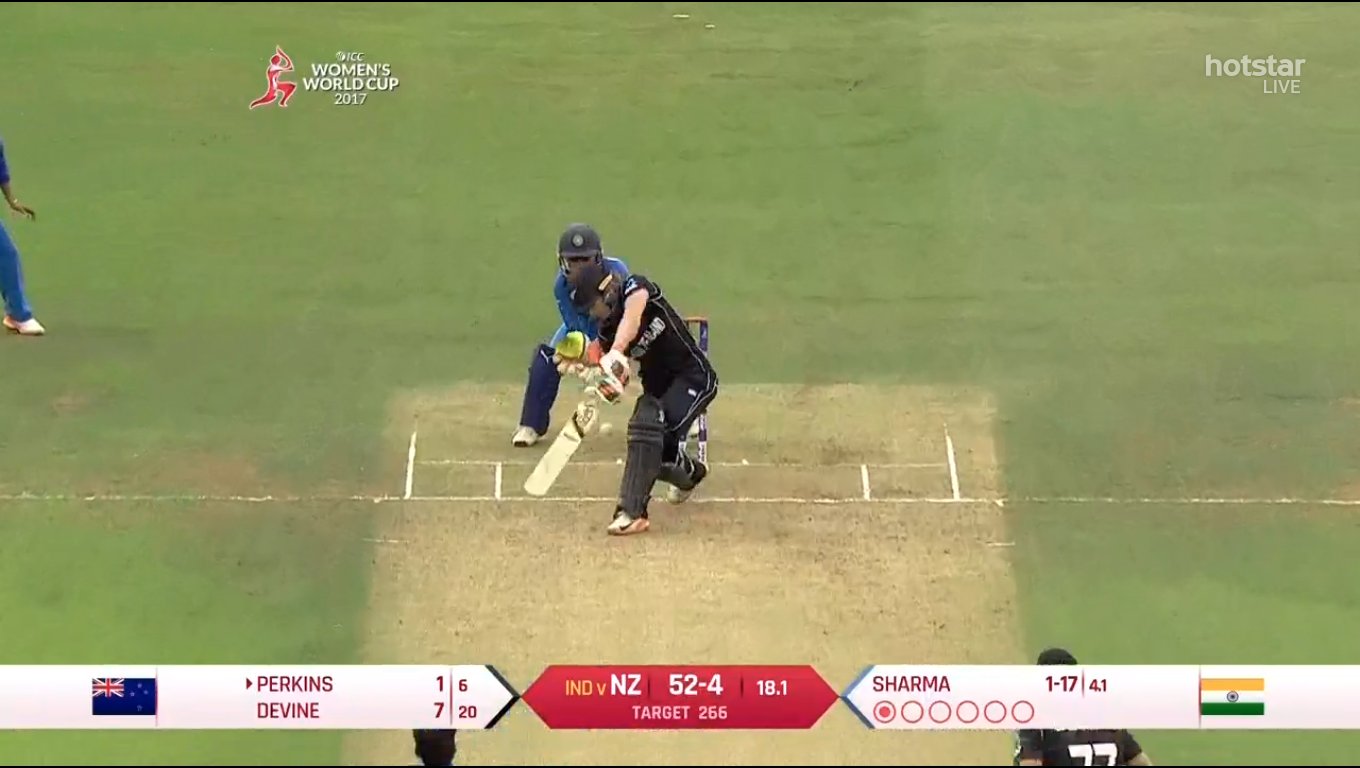 Wicket! Gayakwad gets her first wicket this World Cup! And she gets the important one of the veteran Amy Satterthwaite who is stumped on 26 off 47. The left-arm spinner deceived Satterthwaite left, right and centre and keeper Sushma Verma whipped off the bails leaving her stranded. New Zealand in trouble at 51/4.
End of Over 15, New Zealand 48/3: India keep the pressure on the White Ferns with another wicket but New Zealand have also scored a steady 22 ion the meanwhile. Rajeshwari Gayakwad, playing her first game this World Cup, has bowled a nice line so far.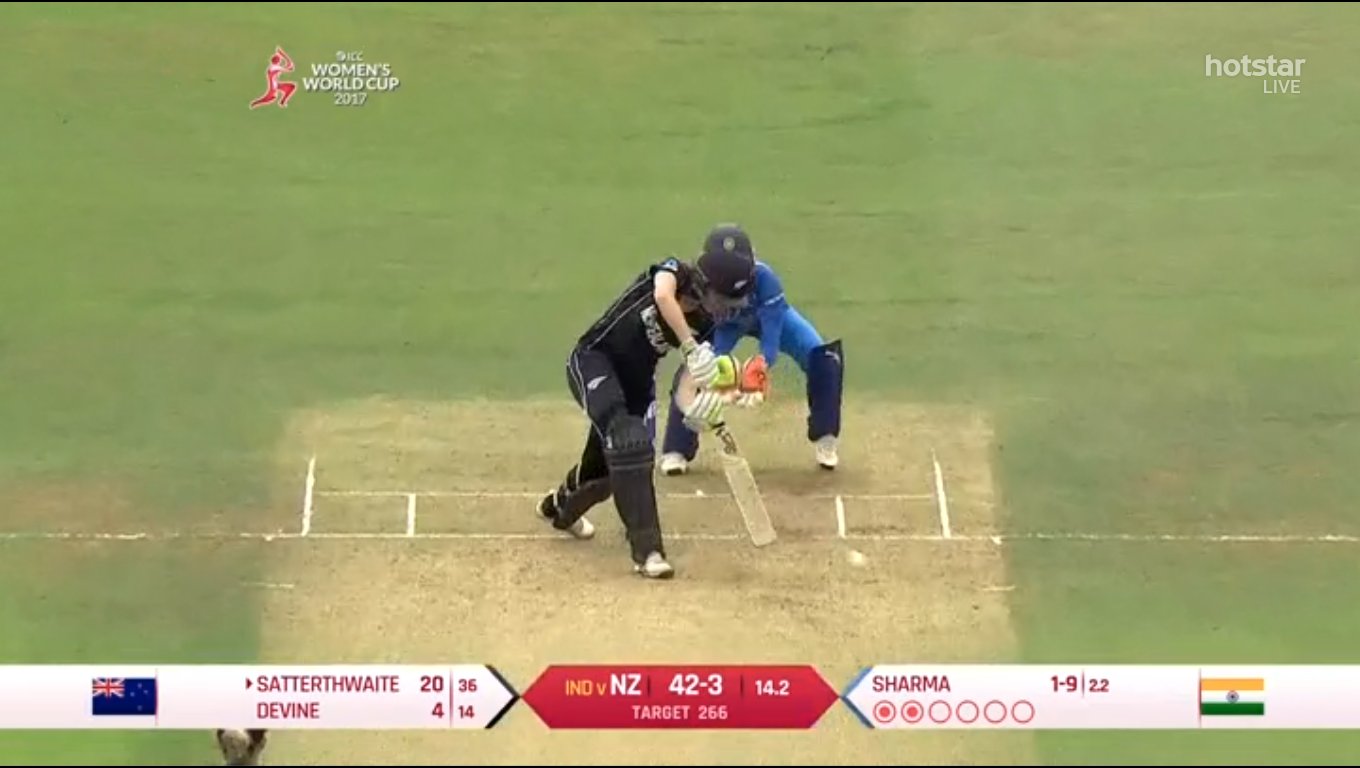 Wicket! Spin at work at once! India introduce spin in the 11th over and Deepti Sharma gets a wicket straight away. Change of bowling works for India as Katey Martin tries to hit it out but holes straight to Harmanpreet Kaur at short mid-wicket. She departs on 12 off 22 and New Zealand are three down in under 11 overs. The big-hitting Sophie Devine is in next, but she is down with a side strain which could curb her shots.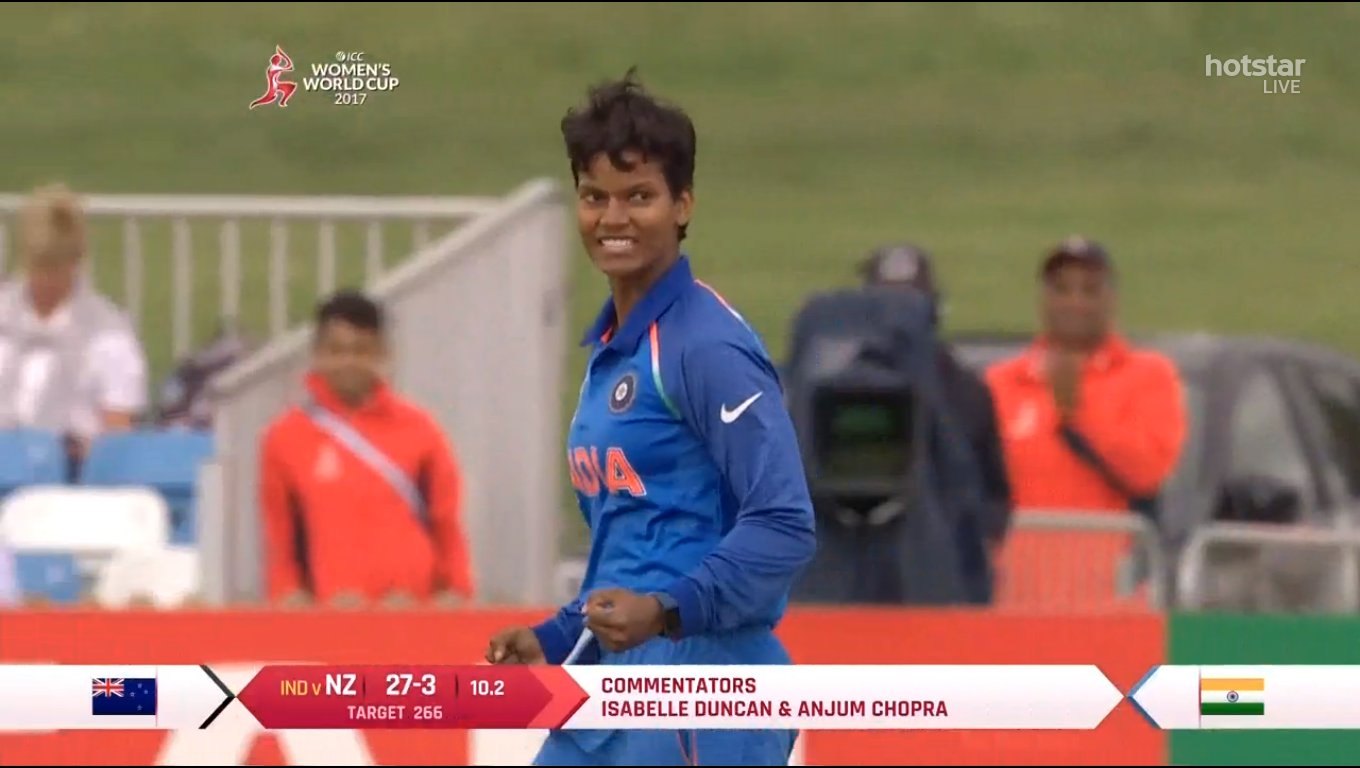 End of Over 10, New Zealand 26/2: This has been an exellent start to India's defence. The White Ferns were always going to find 266 tricky but to lose both openers in the first two overs to India's pacers. Interestingly, Mithali Raj gave Goswami and Pandey – who have rarely bowled in tandem this tournament – long, five-over spells and the two have been right on the money.
With that Rachel Priest wicket, Jhulan Goswami draws level with another record.
Wicket! Two wickets in two overs! Jhulan Goswami gets the very experienced Rachel Priest on 5 off 12! Looked like a simple caught and bowled for India's veteran pacer, but it was a sharp reflex catch in her follow-through as the ball stayed low. New Zealand are two down in less than three overs.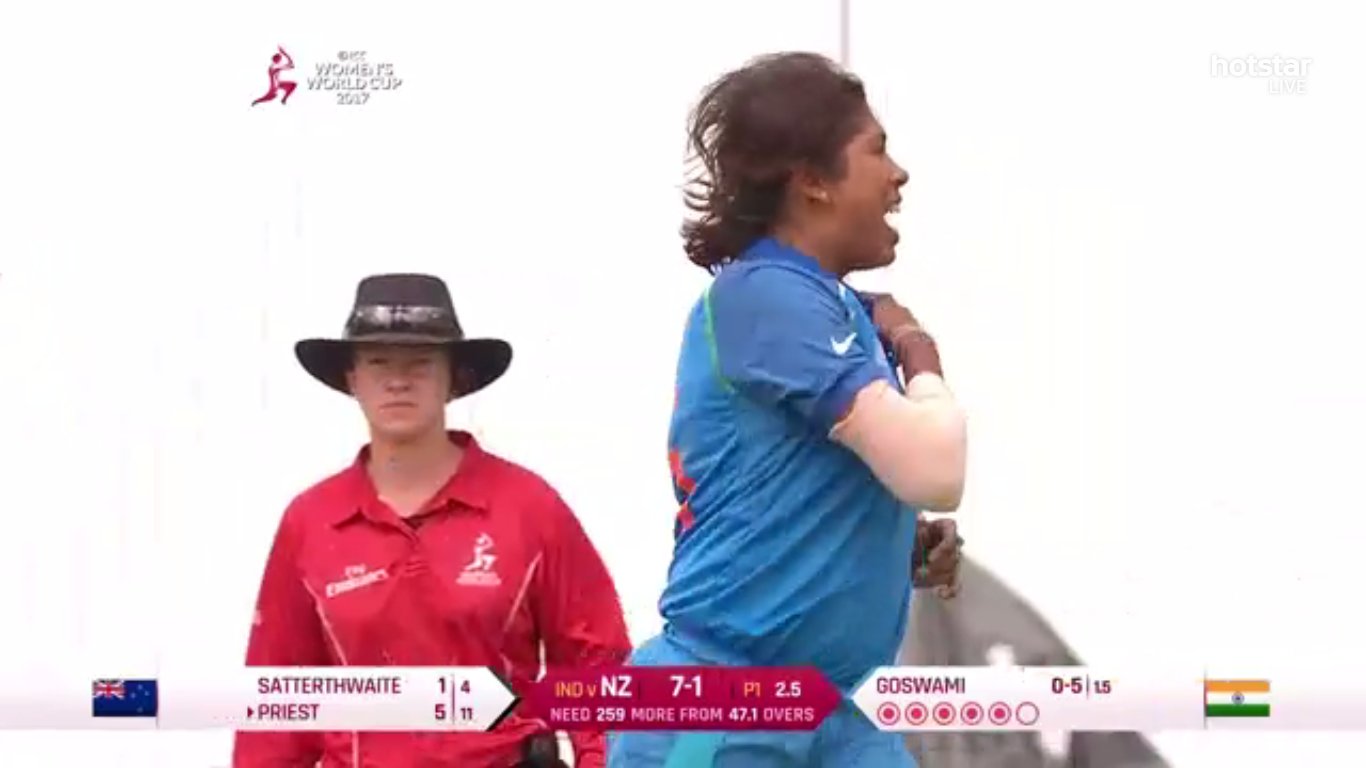 Wicket! Shikha Pandey strikes first ball! Big breakthrough this for India as New Zealand's captain Suzie Bates departs in the second over. A nice, swinging ball gets the edge and sails to slips where Veda Krishnamurthy – who is there everywhere today – closes her hands over it. Bates goes on 1 of 2 and India are all pumped up. Just the start they would have wanted!
And we are back! Jhulan Goswami with the new ball, Suzie Bates and Rachel Priest with the bat and we have a crunch chase in a crunch match.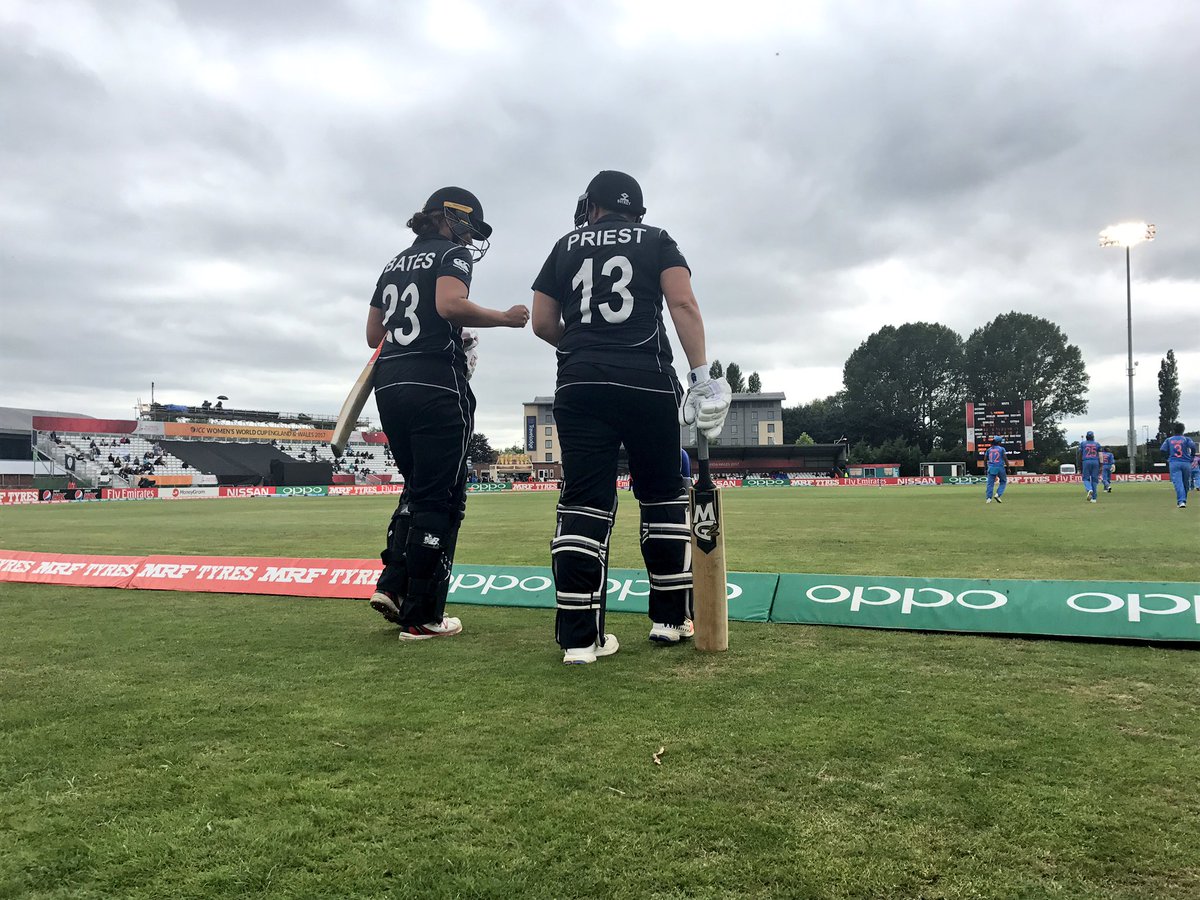 What a partnership!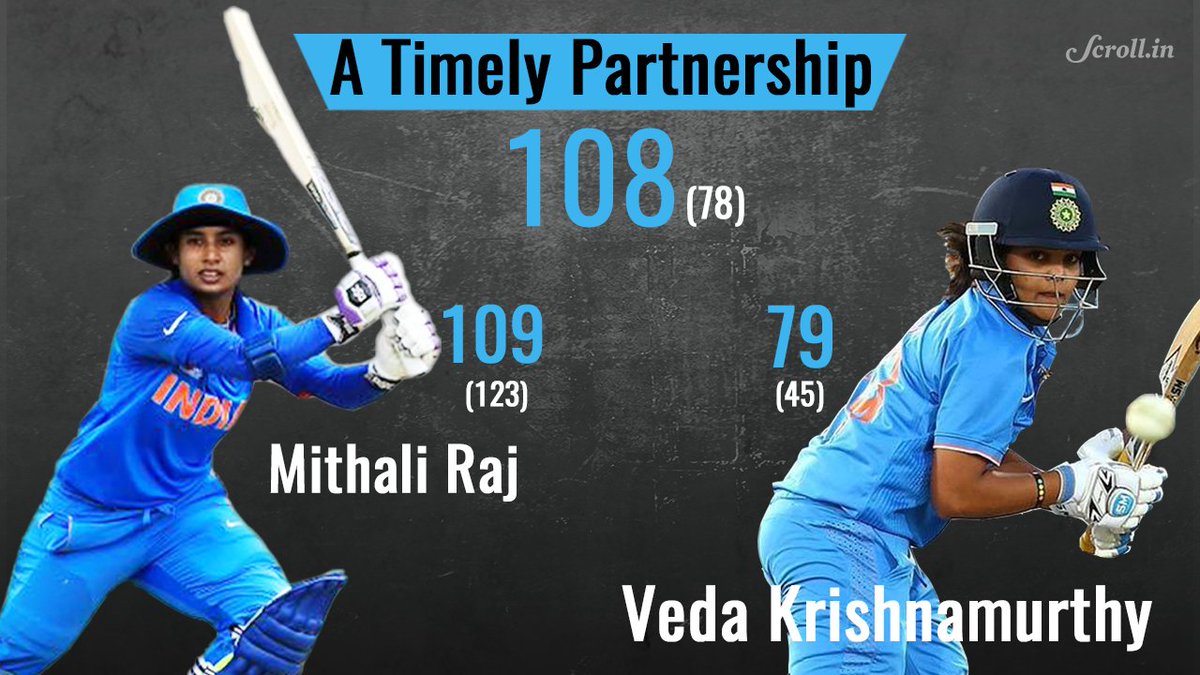 India end the innings on 265/7: What an innings we have just seen from India. Needing to play their best game to survive in the World Cup, India had a shaky start with both openers departing early. But captain Mithali Raj held the innings together and scored a brilliant ton in the process. She got ideal support in Harmanpreet Kaur who played a solid 60, before Veda Krishnamurthy came and blitzed the White Ferns bowling for as quickfire 70 off only 45 and shifted the momentum in India's favour.
New Zealand's highest score this World Cup has been 219 and 266 will not be an easy chase with the pressure of a knockout match pegging them down. In fact, the White Ferns have chased a target of over 266 only once before. Over to India's bowlers, especially the spinners.
Tune in shortly for India's bowling.
Wicket! Veda Krishnamurthy is run out after a stunner of an innings. Her 45-ball 70 comes to an end in a run out off the penultimate ball of the innings. The dismissal does not matter, what matters is that she might have just played an incredible, potentially match-changing innings at the World Cup.
Applause all over as she walks back.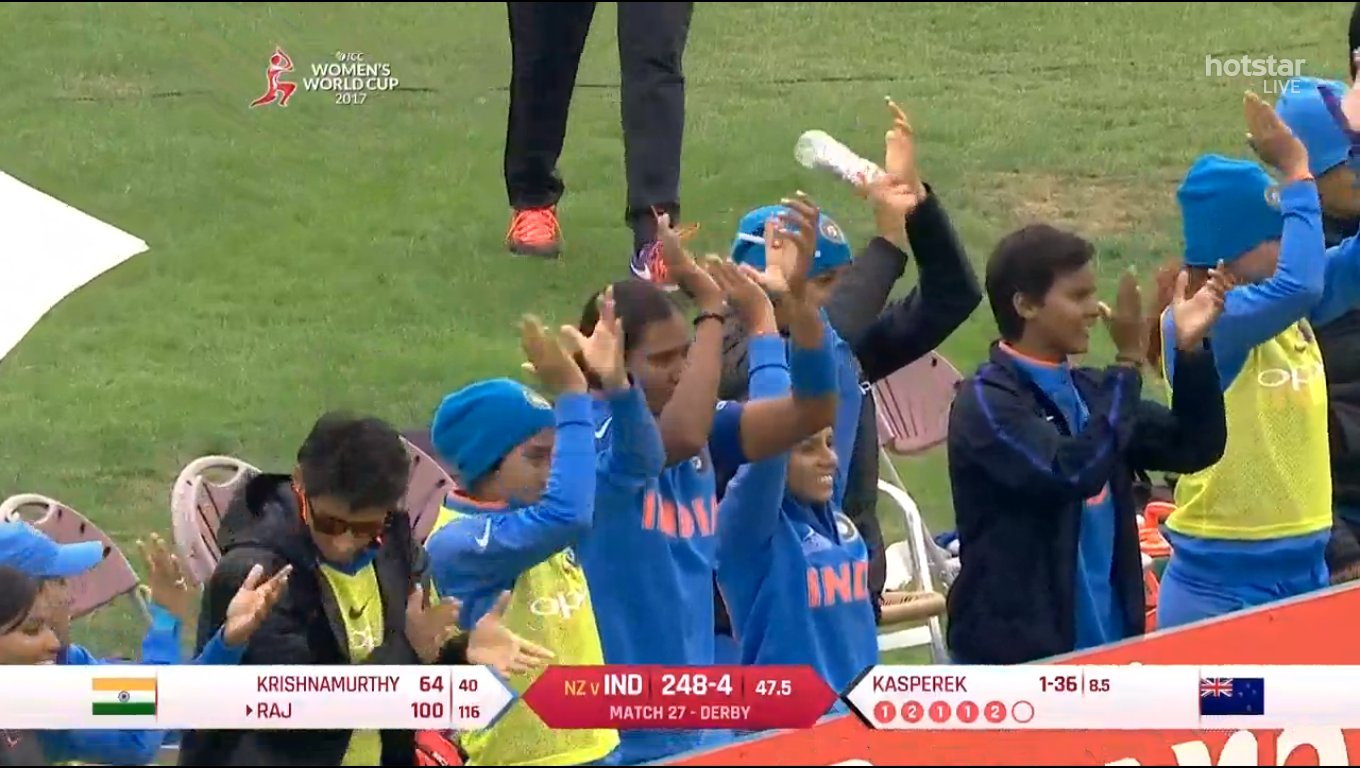 Wicket! Mithali Raj falls after her ton! Kasperek gets the centurion after she holes it out in the last over of the innings. Doesn't get the right distance and Satterthwaite catches it at deep mid-wicket. The Indian captain walks back on 109 off 123, a delightful, vital innings. This is also brings an end to the absolutely ballistic partnership between Raj and Veda, worth 108 runs in only 13 overs.
The praise flows in for Mithali Raj's magnificent hundred!
Mithali Raj's stunning numbers
Century for Mithali Raj! The Indian captain reaches the three-figure mark in 116 deliveries, her sixth in ODIs and first hundred since 2014. Coming in to bat in the fourth over, Raj has carried the Indian innings as both aggressor and sheet anchor in turns. Captain's knock!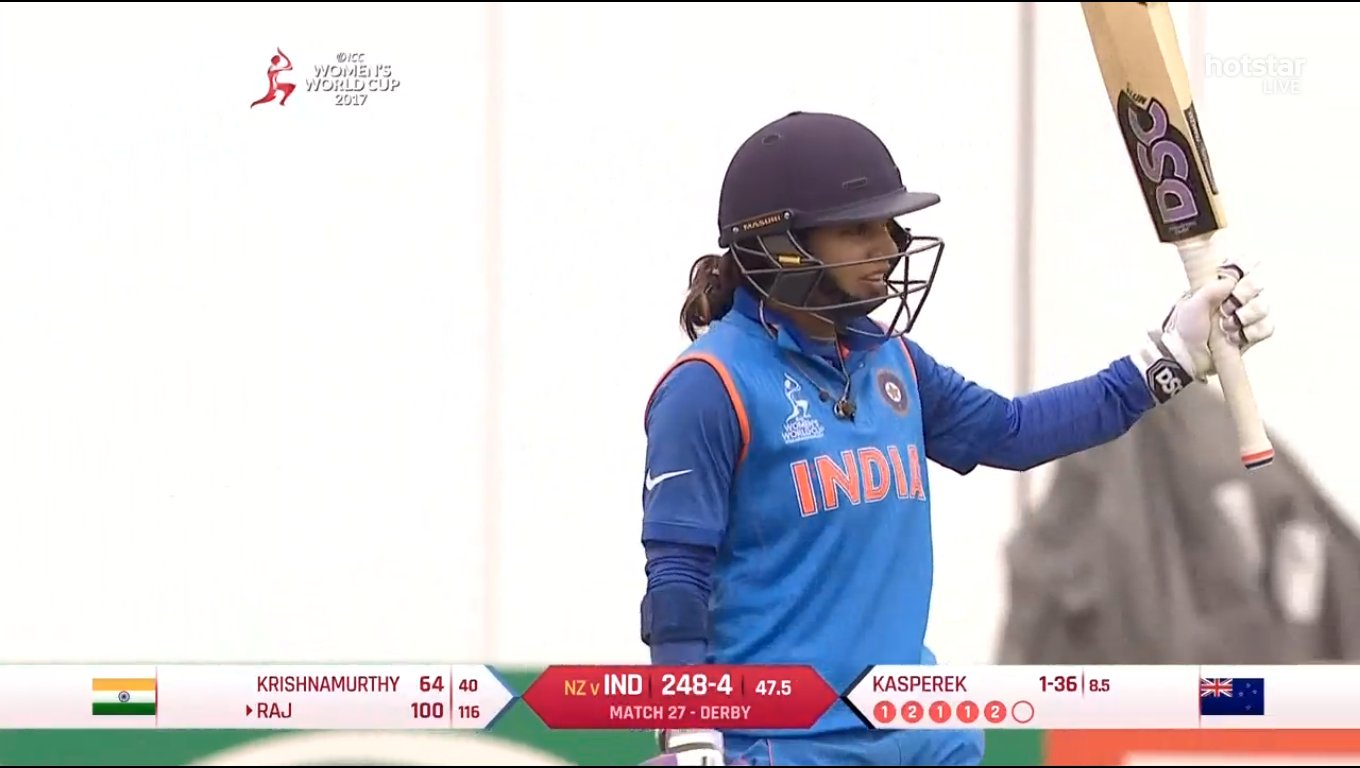 Fifty for Veda Krishnamurthy! What a half-century, coming off only 34 balls! Fastest by an Indian at the World Cup. She gets there with a powerful strike for Six, just another one in her array of shots today. She has hit the Kiwi bowlers all over the park with abandon and taken India's scoring rate over 5. What an innings from the aggressive batter!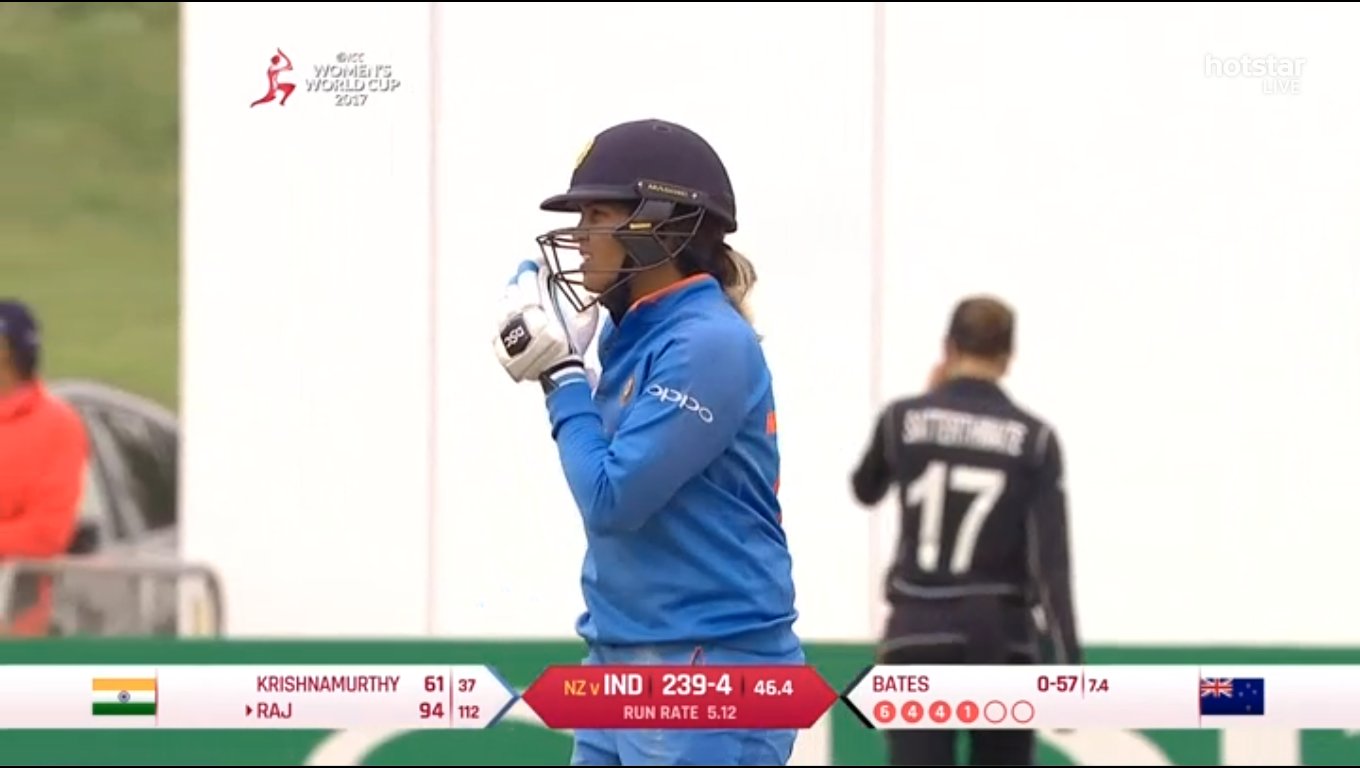 End of Over 45, India 208/4: Veda Krishnamurthy has injected new life into India's scoring rate.
Steady couple of overs first but then Veda takes Amelia Kerr to the cleaners with a 16-ball over with the innings' first Six – a clean, powerful hit over midwicket. She has been looking to take the aerial route often, even miscuing a few that fell safe, but her strike rate has been excellent so far, almost run a ball. This sort of power-hitting is just what the doctor ordered in the death overs.
Meanwhile, Mithali Raj has moved on to 93.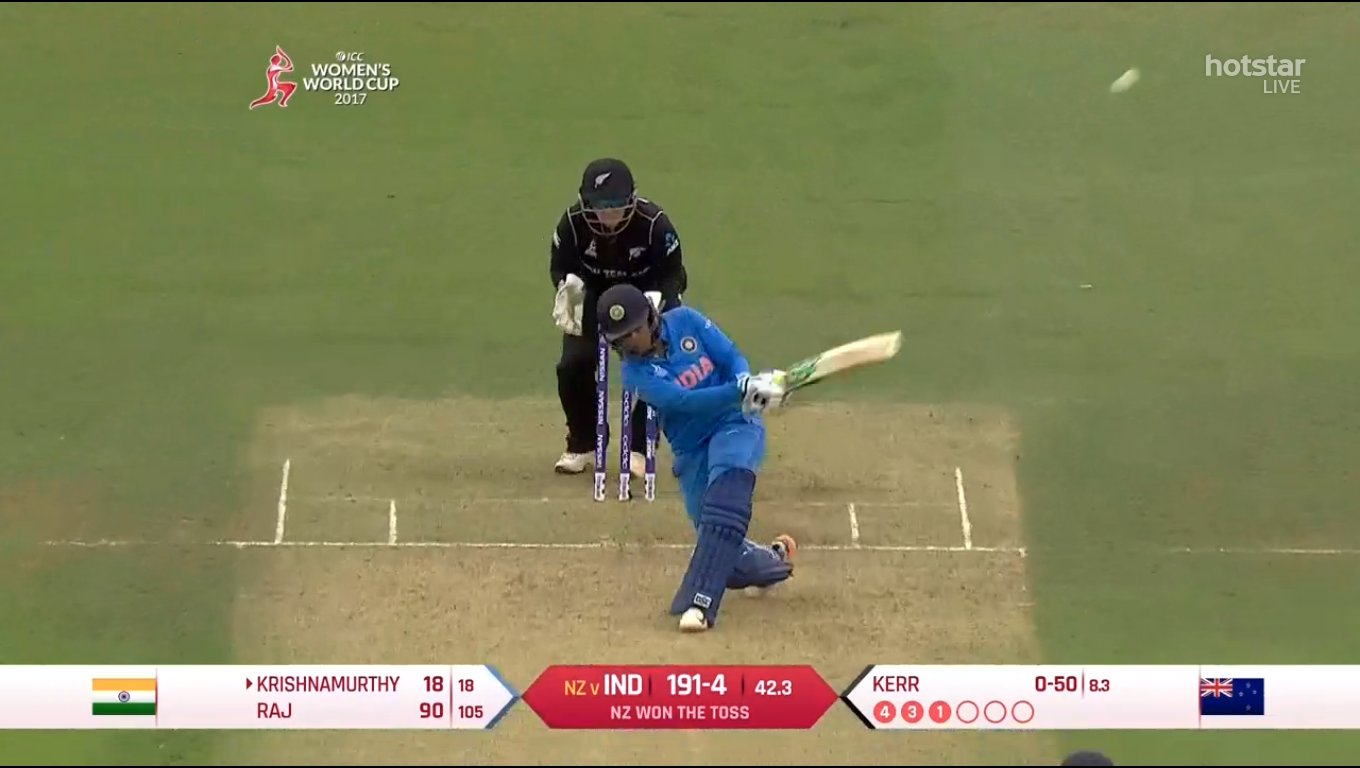 Meanwhile, 20-year-old Hannah Rowe finishes a very good spell.
End of Over 40, India 175/4: Not an ideal Powerplay for India, with 22 runs and 2 wickets. A wicket maiden and and wicket and one run over to start with, but Krishnamurthy gets into the act in the next over off Kasperek and strikes a boundary over mid wicket. Raj follows it up with sharp singles and with a sweet, sweet straight drive in the next over and gets 10 runs off that over – just the kind of the batting India needed throughout the five overs. And Mithali Raj has moved to 85.
Wicket! Deepti Sharma gone on a duck! Wicketkeeper Rachel Priest takes a stunning, diving catch as Hannah Rowe gets her second wicket. Deepti pokes at a the ball but gets an edge that goes behind in the direction of slips. No slip fielder but Priest jumps the distance and pouches it one-handed virtually from the ground. Two wickets in the Powerplay already. Veda Krishnamurthy in next.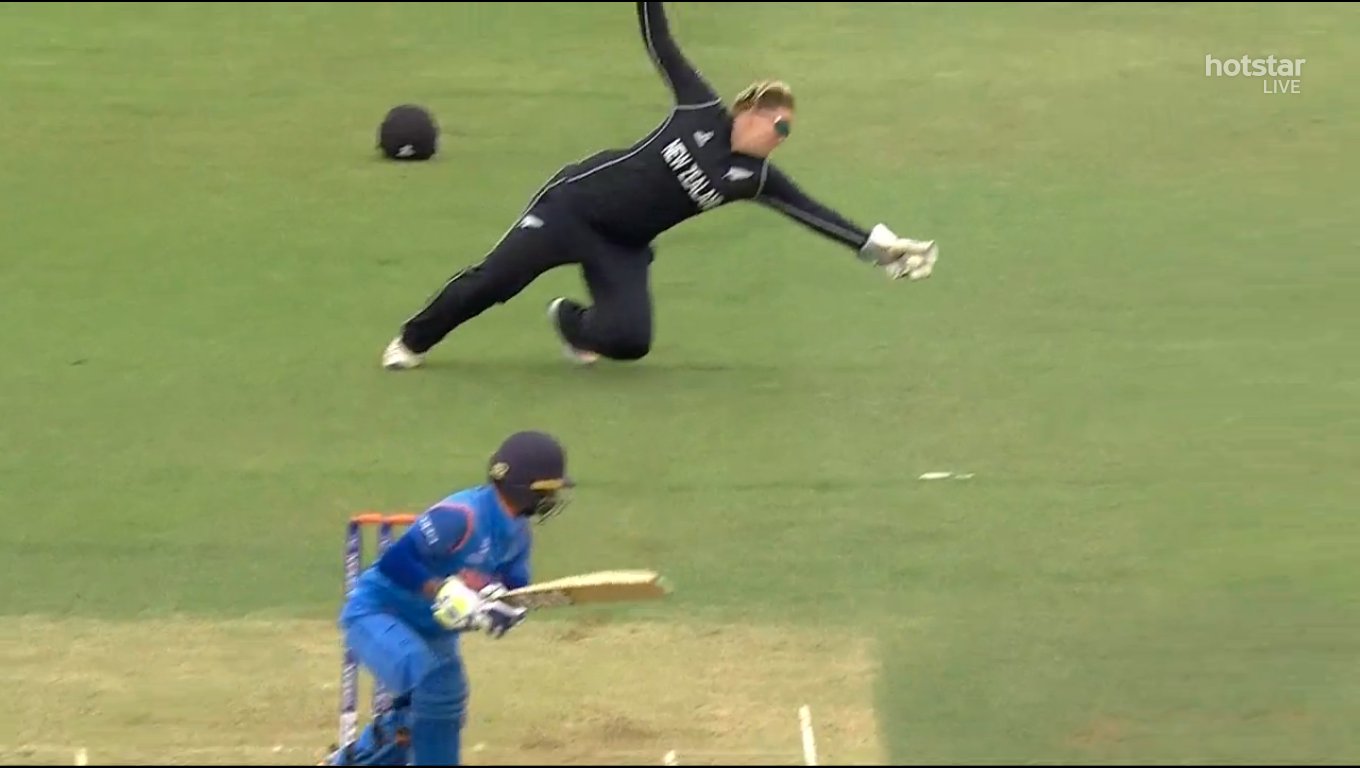 Wicket! Harmanpreet Kaur falls after her fifty! First ball of the Batting Powerplay, spinner Leigh Kasperek comes back into the attack and strikes on her very first ball. Harmanpreet tries to for a shot but doesn't quite get her bat behind it and ends up chipping it straight. It goes back to the bowler who runs to her left and fumbles for bit before taking it safely, White Ferns have broken the dangerous-looking partnership right when they would have looked to go full-throttle. Harmanpreet is out on 60 off 90, India 153/3.
Deepti Sharma is in at No 5 today.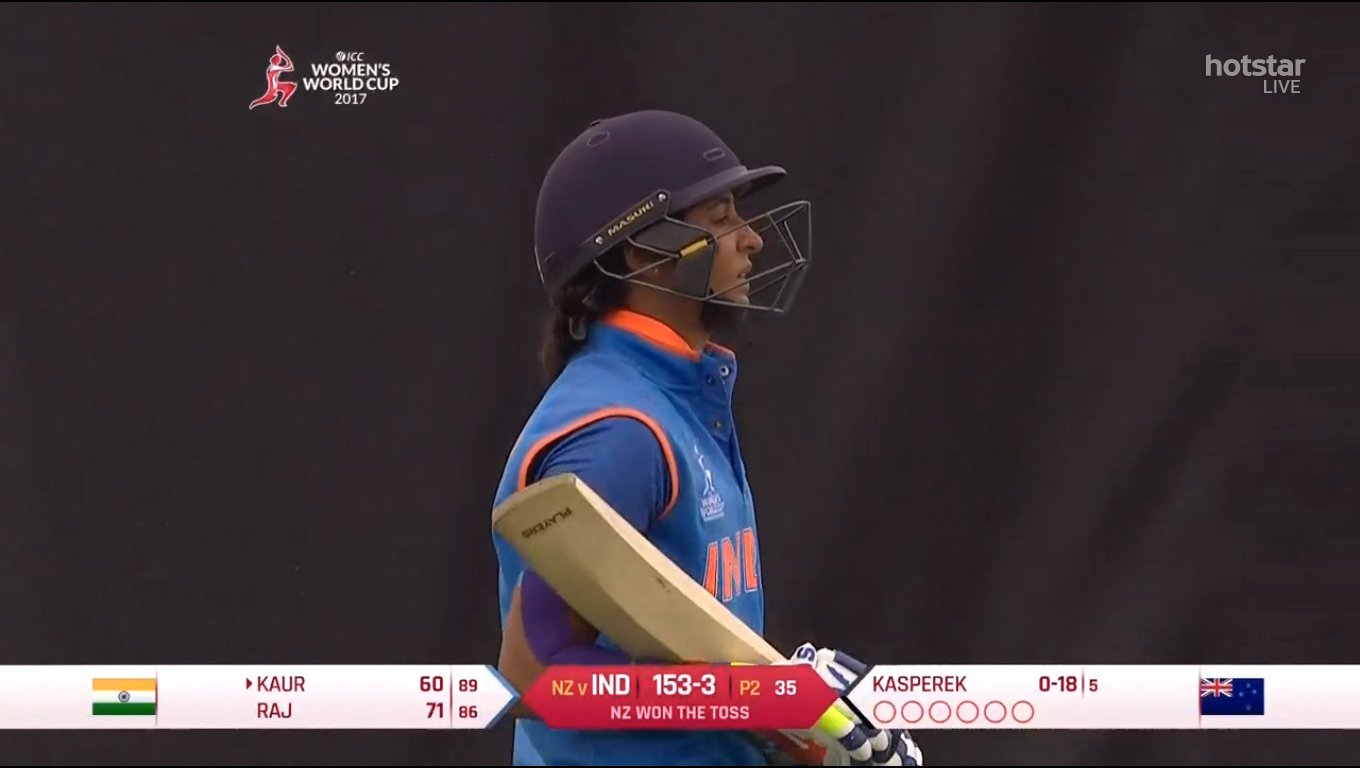 End of Over 35, India 153/2: Excellent five overs from India with 37 runs coming off them – a run rate of over 6 for the first time as Harmanpreet and Raj are scoring more freely. Suzie Bates comes back to Satterthwaite and also goes for runs as quick running between the wickets and a misfield gives India 10 runs off it. Kerr brought back from the other end and is also taken for nine runs. Bates and Kerr bowl tidy in the next two over but Harmanpreet then muscles Bates for two back-to-back boundaries. Just the kind of momentum India need heading into the Batting Powerplay.
Fifty for Harmanpreet Kaur! Her first of this World Cup, after being promoted up the order again. It took 85 deliveries but even on shots that didn't reach the boundaries, she has shown positive intent and her quick running between the wickets has given the scoring rate the required boost.
End of Over 30, India 116/2: This has been a good five overs for India, despite a maiden from Rowe with 24 runs coming off it along with the team 100. Off spinner Amy Satterthwaite comes into the attack and her second over goes for 11 runs with two sharp shots from Raj – including a textbook shot on one knee. While Harmanpreet has been the sedate of the two partners, her presence seems to have allowed Raj to play her game more freely.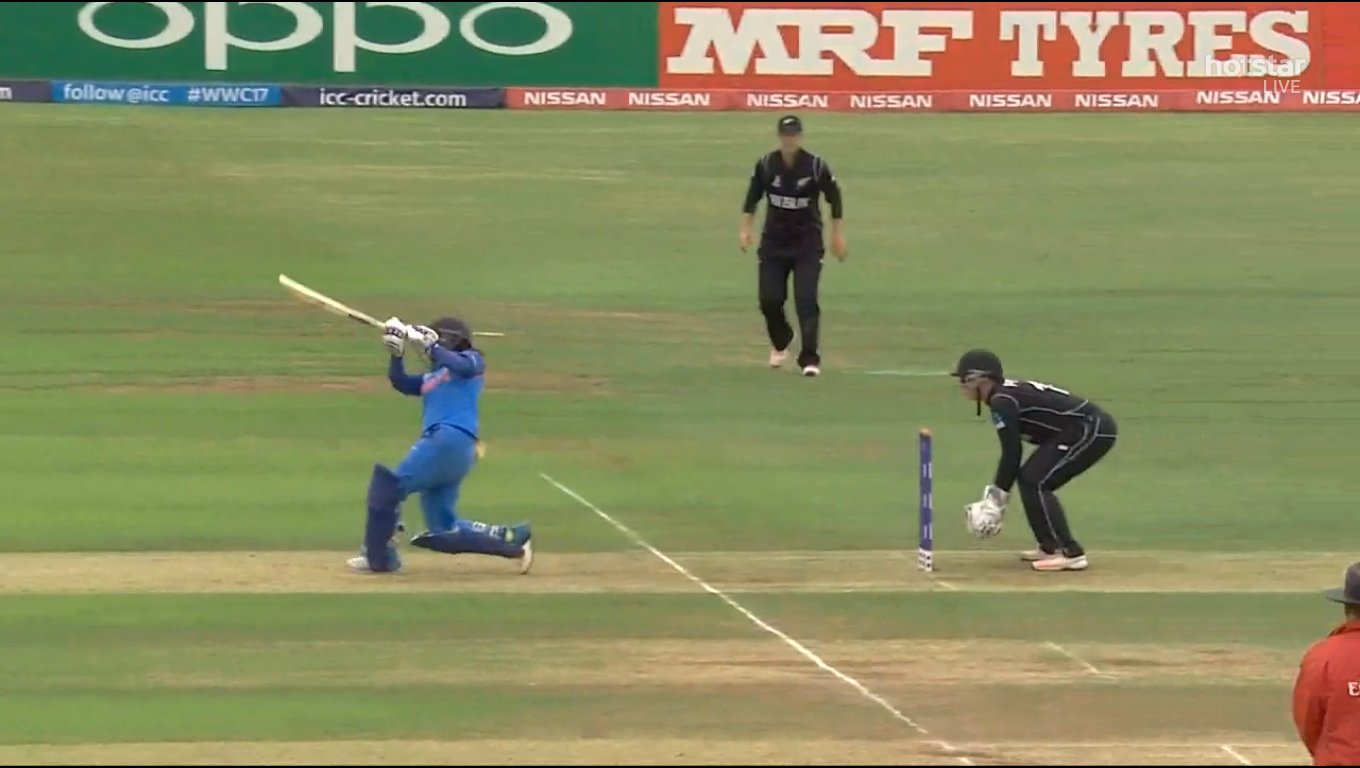 Fifty for Mithali Raj! She gets there will a neat flick of her pads that goes to the ropes. The captain leads from the front, once again. And this is her 50th 50! Records keep tumbling for the Indian captain and the team will need a lot more of such batting from her to set a par score today.
Oh dear, Harmanpreet takes a medial timeout. Doesn't look very good as she nurses her finger. Physio is out and massaging her hand but she looks to be in pain. Hopefully the treatment alleviates the pain, because she is playing an important role for India in the innings. She's batting on 28 off 51 as of now, having stitched a steadying partnership with captain Raj.
End of Over 25, India 92/2: Much better from India in the last five overs, taking on the young spinner Kerr. She errs her line and Raj punishes the full toss with powerful pull that goes to straight to the boundary after one bounce. That four beings up the fifty-run partnership between Raj and Harmanpreet – a crucial, crucial stand for India this, after the two early blows.
In her next over, Harmanpreet gives her the classic spinner treatment with a expansive sweep, and a misfield from Rowe gives her a boundary. Her next over sees another cracking shot from the Harmanpreet, straight over the bowler's head. Wicket-taker Rowe brought back to replace wicket-taker Tahuhu as White Ferns continue the spin-pace combination.
End of Over 20, India 68/2: Tahuhu is brought back into the attack and Harmanpreet finally opens her arms to get first boundary – a picturesque cover drive. Amelia Kerr, the 16-year-old spin revelation comes in next and gives away only two. Tahuhu continues but the balls slips off her hands to gift Raj a boundary and that seems to push them into action and stop play.
A rain break later, we are back.
Kerr continues and bowls a nice over where Raj-Harmanpreet run quick singles to take five. Tahuhu's next over gives away only three and the partnership between the captain and her deputy is nearing 50-runs.
Finally the umpires have called for the covers! It's been pouring for a while and finally play has been halted at 17.5 overs. India 60/2.
End of Over 15, India 49/2: Suzie Bates brings herself in the 11th over and her Indian counterpart hits her for a boundary off the second ball – albeit of a misfield. But Rowe bowls another maiden next, to tie down the high-flying Harman. Couple of confident strikes from her, but each of them went to a fielder. Raj makes up for the maiden with a powerful strike through point off Bates' next over. Rowe bowls another neat over next, but for a crisp boundary from Raj, similar to the point drive from the last over. But Bates bowls a good line the next over, giving away only three.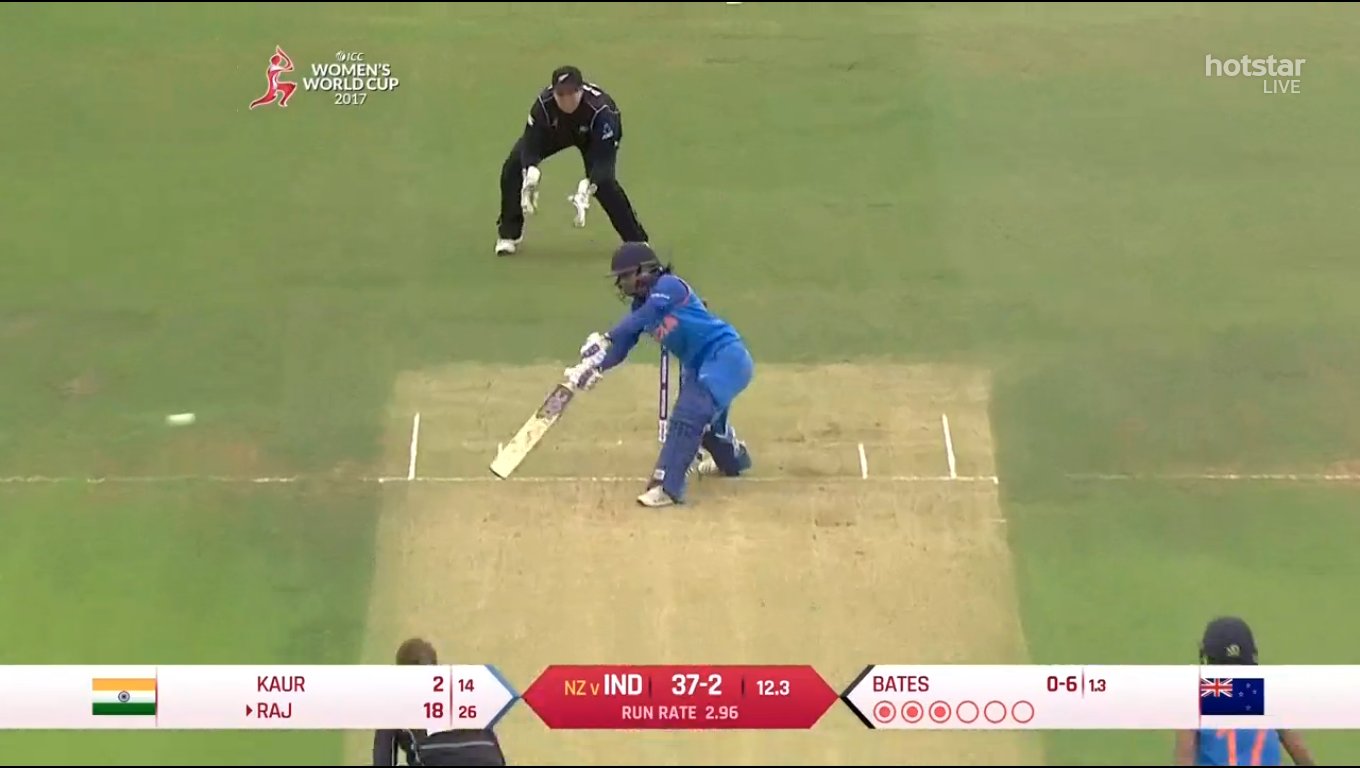 End of Over 10, India 31/2: Sixth over brings another neat strike from Mandhana as she is beginning to find the gaps and India score six off it, but Kasperek bowls another maiden in her next over. Hannah Rowe comes in to bowl and struck in her very first over with a wicket maiden that dismissed the potentially dangerous looking Smriti Mandhana. Raj frees herself a little more in the next over as Kasperek is taken for eight runs with a wonderful cover drive from the captain. A watchful over from Rowe later, India end Powerplay on 31/2 – scoring rate better than the last game, but with an additional wicket.
Wicket! Mandhana is bowled! Hannah Rowe is introduced into the attach and strikes in her very first over. An over-pitched ball, not much in it but she goes for a shot, but once again her feet are at an awkward angle and the ball goes through the side of her bat to take the stumps off. Another failure for the opener as she walks back on 13 off 24. Indian 21/1, wicket maiden for Rowe.
And it is Harmanpreet Kaur coming in to bat early, only in the eight over as she walks in ahead of Deepti Sharma.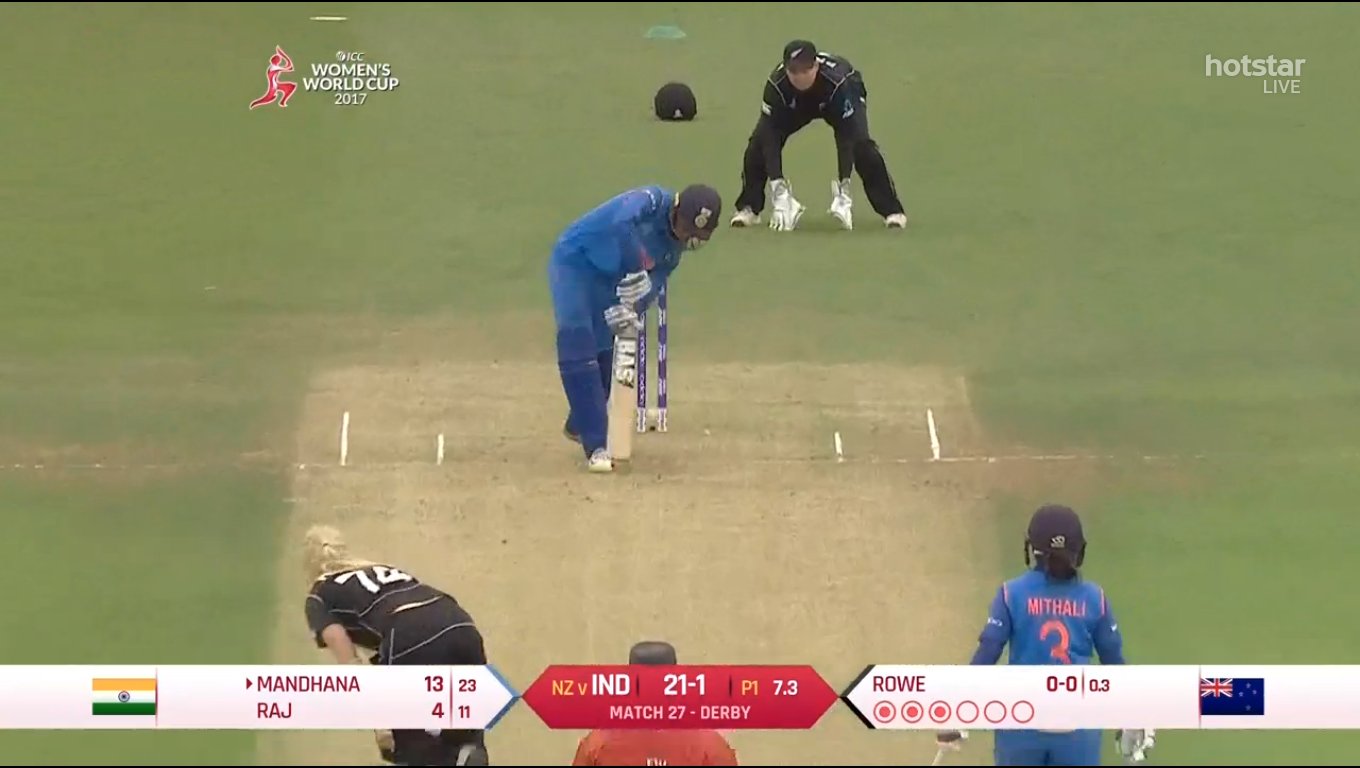 End of Over 5, India 15/1: Leigh Kasperek starts with a maiden with good length balls right on the money. Pacer Lea Tahuhu shares the new ball with her and bowls an equally neat line for another maiden. Mandhana scores India's first runs with a single off a jittery shot in Kasperek's next over – but that seems to ease the pressure a little as she strikes a stylish boundary on the last ball of the over to get six off it. But Raut falls in the very next over, breaking India's opening partnership early once again. Four runs come off the next over as India finish the first overs on 15.
Wicket! Raut falls early this time! Lea Tahuhu gets the opener to poke straight to Katey Martin at slip. Raut, who scored a gritty century in the lat match against Australia falls on 4 off 11 this time. And once again, India's opening partnership doesn't last long. Mithali Raj in at No 3 again, India 10/1.
Raut's wicket puts the onus on Mandhana to not give away her wicket early and player herself in.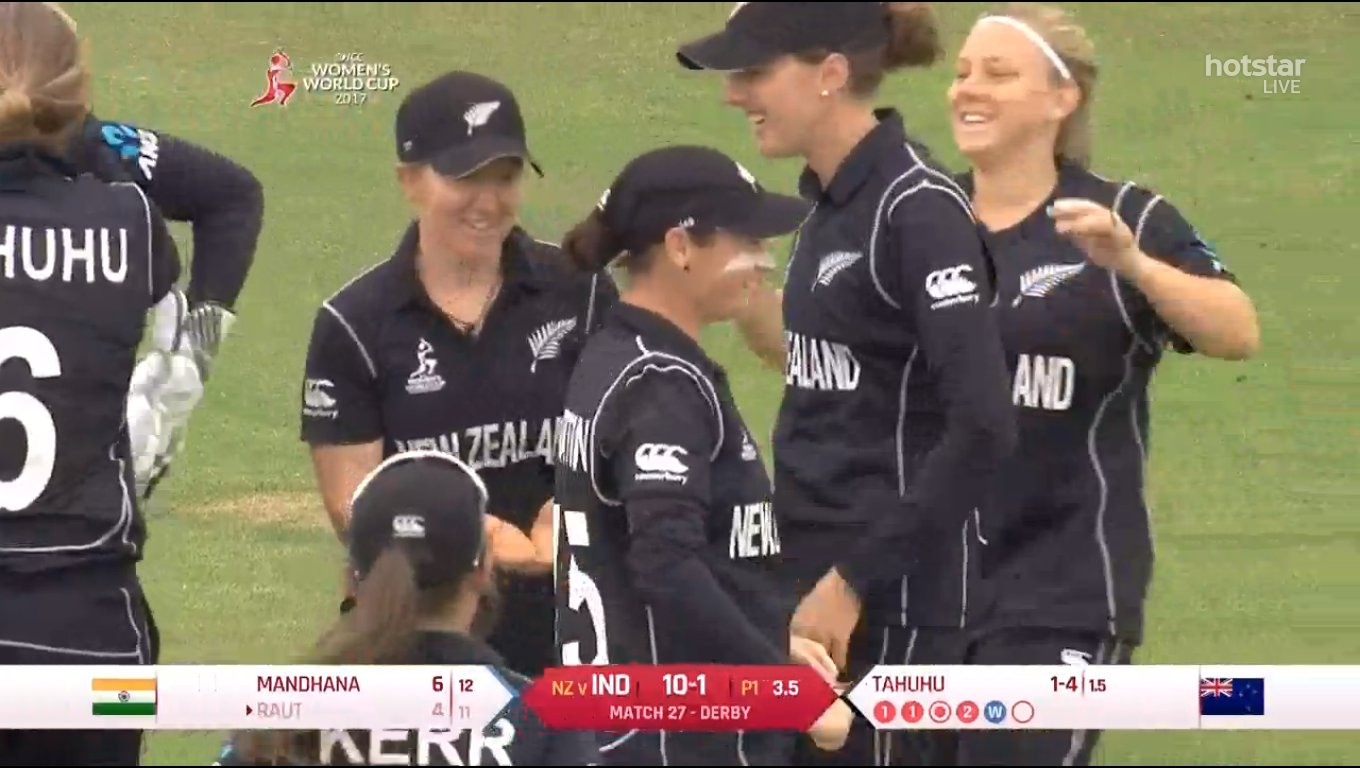 Let's begin! Smriti Mandhana and Punam Raut out with the bat for India, and surprise, surprise, spinner Leigh Kasperek has the new ball. Spin very early from Suize Bates. What has she seen in the pitch?
FYI: The India vs New Zealand is live on Star Sports 1, and not just on Hotstar as earlier publicised. Change of heart?
The virtual quarterfinal clash between will be a test of India's character, the team will need to shrug off the consecutive and comprehensive losses against South Africa and Australia and approach this match with the fresh mind. Here's the Preview
Playing XIs
2.45 pm: India will be batting first. New Zealand win the toss and have decided to have a bowl. "We have to deal with pressure. Have to play at our best or go home," says Suzie Bates, the Kiwi skipper.
Changes in both teams as Hannah Rowe and Maddy Green come in place of Holly Huddleston and Erin Bermingham. For India, Rajeshwari Gayakwad replaces Ekta Bisht, left-arm spinner for left-arm spinner.
We welcome your comments at letters@scroll.in.