When you're up against a former Indian cricket team captain and a multi-billionaire, it might take a little more than just spirited campaigning to get noticed. So Makhan Lal Meena, fighting as an independent from Rajasthan's Tonk-Sawai Madhopur seat, decided he would bring people together — literally.
Meena has pledged to fund 2,100 weddings of people from across the constituency in two mass ceremonies slated for later in the year, after elections have taken place (which allows him to avoid violating the model code of conduct).
This effort has catapulted him to third place in the keenly fought contest in this dusty seat just to the south of Jaipur behind the frontrunners: the Congress' Azharuddin, who once captained India's cricket team, and the Bharatiya Janata Party's wealthy businessman candidate, Sukhbir Singh Jaunpuria, whose fame also derives from a wedding: his daughter's Rs 250-crore extravaganza.
"Both of them are outsiders," said Devnarayan, a paan shop tender in Tonk. "The Congress is just hoping Azharuddin can be a khiladi and the BJP's man…well, he has a lot of money."
That is not to say Meena is the only local candidate in the fray — there's even another candidate from the Meena community up against him — but he is the only one offering to pay for thousands of weddings. Which means he's getting talked about.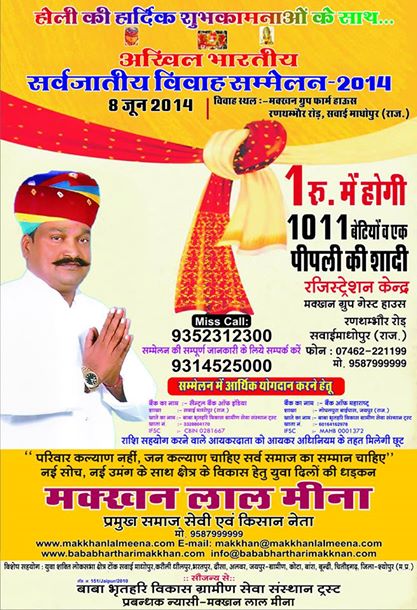 "They say he's going to give each of the families a motor bike at least as a gift," said Lalit Singh, an auto driver. "Now do the math. Each family out of 2,100 must mean at least 20 votes? Marriages can be very expensive things here, they will be grateful, and will support him."
No one is willing to say this means he can beat the big two — the Congress and BJP candidates took 93.7% of the votes in 2009 — but generating buzz alone is an important asset. And in tightly fought races, a popular third candidate can tip the balance for one of the frontrunners. In 2009, in fact, Tonk-Sawai Madhopur recorded the smallest winning margin of all Lok Sabha seats: just 317 votes, with the edge going to the Congress' Namo Narain Meena.
"A big Meena belt starts from here, and they have traditionally been Congress supporters," said Arshad Ali, an LIC agent in Tonk. "That means he could take votes away from Azharuddin, who was going to face trouble from his own party because he's not from here. When the BJP also picked an outsider, he became a little less concerned — but now there's a local who can leech votes."
Meena has stopped talking, at least to the press, about his specific plans for the weddings and the gifts, presumably to avoid any heat from the Election Commission. He refused to speak to this reporter. He did, however,
tell the Times of India
that, "both BJP and Congress candidates have fielded outsiders, who, after losing the battle will never turn up in the city and have no right to accuse my social event."
But Meena's popularity is clearly built on the wedding buzz. Even Ali, who said he was a Congress supporter, worried that Meena would make it harder for Azharuddin. But he added that what Meena was doing wasn't bad.
"For a poor person, how can you argue that this is somehow wrong? Meena knows he won't win, but he's still spending all this money to throw the weddings. And when they happen, it doesn't matter if it's a rich or poor person coming. Everyone will be treated the same," Ali said. "Just take it as one of the many gifts Indian democracy gives us — once in five years."
Support our journalism by subscribing to Scroll+ here. We welcome your comments at letters@scroll.in.