Since 2004, residents of Jangalmahal in West Bengal have not been able to vote. The area was under partial Maoist control and few have had the courage to defy the diktat against participating in the elections.
In Kadam Chandi village, the mostly adivasi residents described how the Maoists would use guns and axes to dissuade voters. Even during last year's panchayat elections, villagers said that their request for police protection was turned down: the authorities said that it wasn't their duty to provide cover beyond a 1-km radius from the booth.
Social activist Jharna Achariya said that the Maoists had scared away workers on election duty by planting land mines in the path of their vehicles.
But this year, there is more optimism. Since the killing of Maoist leader Kishenji in a gunfight with security forces in November 2011, the administration has reasserted itself and many hope that today's election will go off without incident. Among them is daily-wage labourer Soshodher Sordar, who expects to go out to vote for the first time in ten years.

Ajit Mahato, 35, was not able to vote despite being a candidate in last year's panchayat elections.

Chaya Sarder, 34, a member of the women's wing of the Communist Party of India (Marxist), who has not been able to vote in the last two elections.

Soshodhor Sordar, 44, a daily wage labourer, described how armed Maoists frightened villagers away from the polls.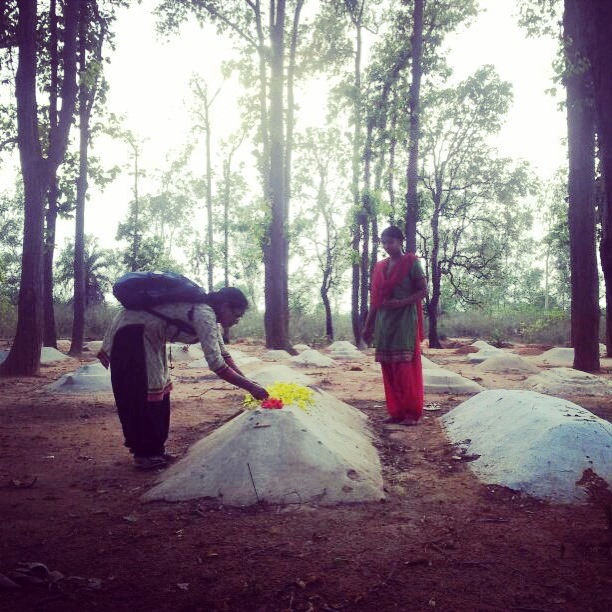 Social activist Jharna Achariya offers flowers at the grave of Dhiren Baskae, a Communist party worker who died last month. He did a lot of work to help the adivasis of Jangalmahal, Achariya said.
Support our journalism by subscribing to Scroll+ here. We welcome your comments at letters@scroll.in.