In July 1907, the Kolkata-based singer and dancer Gauhar Jaan, who many credit with having recorded India's first disc five years earlier, gave a rare performance of classical music for an elite audience, in the Asiatic Library's Town Hall in Mumbai. It took place in the first half of the month, but the exact date is not known.
In the audience were political activist and leading lawyer Phirozeshah Mehta, as well as wealthy merchants and philanthropists Seth Gokuldas and Seth Ratansi, among others.
Gauhar Jaan sang a
nazm
 – a form of Urdu poetry – that she had someone specially compose for the occasion. In the
nazm
of eight stanzas, she talked about how important Mumbai was to her life and expressed gratitude towards the city's patrons, such as those who were in the audience.  (The lyrics appear in Devnagari at the end.)
The song was called
Dhun Kalyan Quawali
 – 
dhun
meaning tune, Kalyan being the name of the raga in which it was set, and Quawali being the name of the tala (not to be confused with the light classical musical form with a similar name).
"This is an amazing song, in praise of Phirozeshah Mehta," she said at the end of the performance. In Urdu, this had a double meaning: the word for amazing,
kamal
, could also have referred to the composer's name.
The Gramophone Company of India made a master recording of this performance on a wax disc, but put it away for reasons that are not known. But in 1912, possibly because of popular demand after word gradually got around about this private performance, it dug the wax recording out and made several 78 rpm discs, with the live performance on one side and an older song on the other. Each recording on the two-sided discs of that time lasted roughly three minutes.
Over the years, the disc became a collector's item, because even in 1912, the company did not release more than a few hundred copies. This is because the company had made only one wax recording, which could produce at most 500 copies before the wax grooves started wearing out.
In contrast, for Gauhar Jaan's other songs the company usually made several wax recordings to meet the demand. Again, it is not known why the company kept the number low for the live recording. About two years ago, however, a copy of this rare disc turned up in Chor Bazaar, a famous antique market in south Mumbai.
Mumbai, a second home
At the time of this live performance, Gauhar Jaan was already popular and had appeared on several picture postcards. Based in Kolkata, she regularly visited Mumbai to spend time with her lover, Amrut Keshav Nayak, a well-known actor on the Gujarati stage who lived in Girgaum, a locality in south Mumbai that was a hub of Hindustani classical music. She also visited the city because she liked to watch horse-racing, and would spend at least a day at the Mahalaxmi race course.
When in Mumbai, she would often perform for the masses at Capitol, a cinema theatre opposite the Chhatrapati Shivaji Terminus. Her performances, in which she both sang and danced, were packed, partly because the tickets were affordable. On much rarer occasions, she sang for smaller, more select audiences, as she did at the Town Hall.
On July 18, days after her concert, her lover, Amrut Keshav Nayak, suddenly passed away. Today, a road in south Mumbai carries his name and it runs very close to another road named after Phirozeshah Mehta, who figured in Gauhar's
nazm
.
Gauhar herself died in 1930, leaving behind at least about 200 78 rpm discs. Some people have claimed she recorded up to 600, but even if that is the case, only one-third that amount has been located.

At the time the company released the recording of Gauhar Jaan's live performance, its label carried a picture of an angel sitting on a disc with a feather, making grooves. The disc was made of shellac, a breakable substance made of slate dust and lac. Although recording companies starting using vinyl from 1960 to make discs, they also continued to make shellac discs until the late 1970s. The company introduced its iconic dog and horn logo in 1915, three years after it released this recording.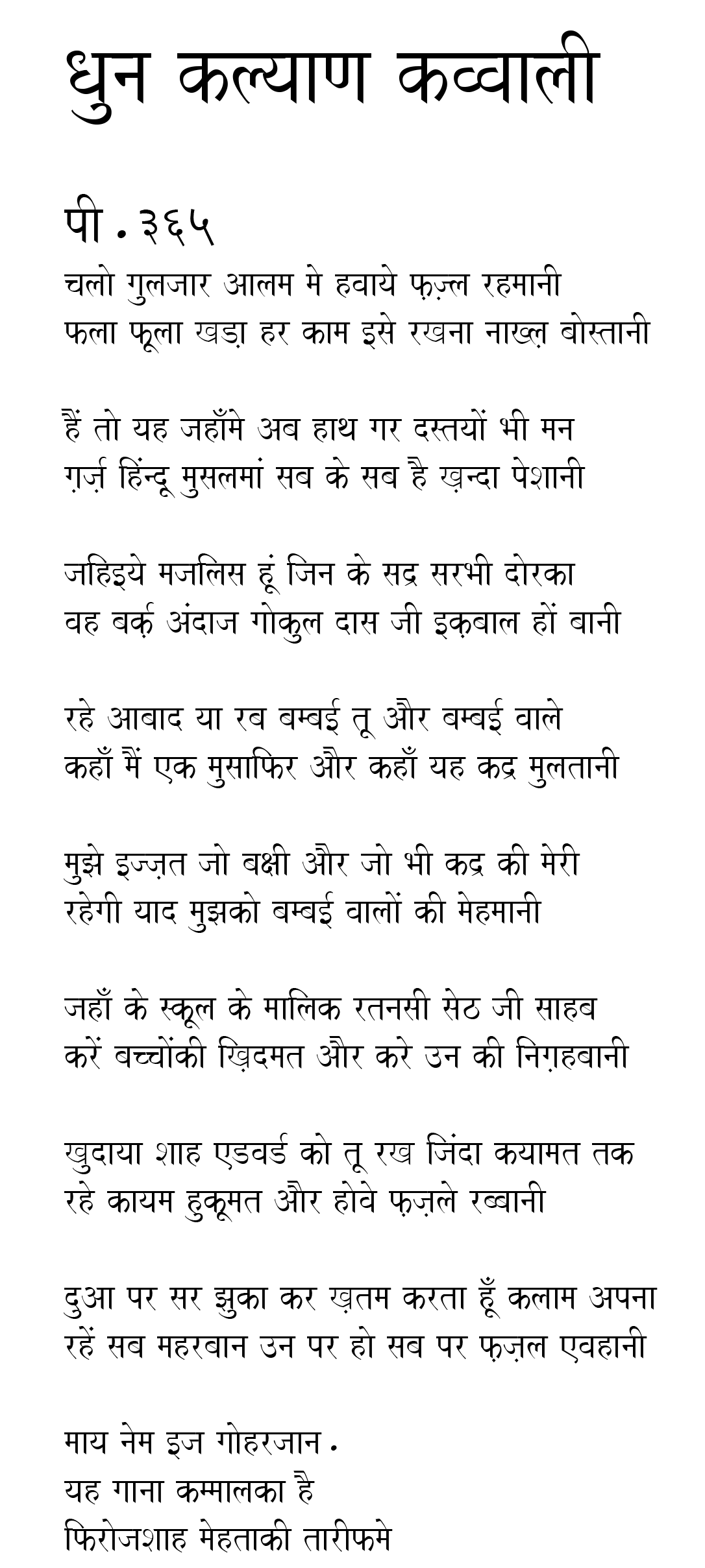 The lyrics of Dhun Kalyani Quawali
We welcome your comments at letters@scroll.in.