Every year, charitable organisations based in the US donate millions of dollars of funding to non-profit groups affiliated with the Sangh Parivar, either in India or overseas. A new report published by the South Asia Citizens Web reveals just how much, and to whom it is going.
The 
report
, titled 'Hindu Nationalism in the United States: A Report on Nonprofit Groups', was released via sacw.net on July 1. It studies the rise within Indo-American Hindu communities, and in US universities, of various non-profit organisations affiliated with Sangh Parivar groups like the Vishwa Hindu Parishad and Rashtriya Swayamsevak Sangh.
Most of these American organisations are registered as tax-exempt charities. The report analyses official tax records to ascertain what they do with the funds they collect. It finds that these organisations spend several million dollars a year to fund numerous NGOs in India.
The foreign funding of NGOs has been a contentious issue in India for the past month, since a leaked Intelligence Bureau report addressed to various government offices claimed that non-profits such as Greenpeace, Amnesty and Action Aid, which receive funds from abroad, have lowered economic growth in India by 2% to 3%.
The report by South Asia Citizens Web focuses on the ways in which Hindu groups in the US fund Indian NGOs, but such community-based organisations affiliated to different political groups around the world are common in multicultural countries like the US.
The American Israel Public Affairs Council, for instance, is a Jewish group that lobbies for pro-Israel policies in the US, and has local organisations on many campuses. Similarly, there are Christian, Muslim and other advocacy groups.
Here are some of the significant points discussed in the SACW report:
The American counterparts of the RSS and VHP
: The Hindu Swayamsevak Sangh and the Vishwa Hindu Parishad of America, both tax-exempt organisations, were founded in 1989 and 1970 respectively. Both organisations operate youth and family camps and educational programmes for children to promote Hindu culture and identity.
From 2002 to 2012, the HSS spent $1.4 million towards its youth and family camps. The VHPA has spent more than $1 million on the same in that period.
The HSS holds weekly 'Balgokulam' classes for children, which involve yoga, values-education and sessions of praying to a saffron flag. These classes take place in 140 HSS 'shakhas' or chapters across the US:
The VHPA, meanwhile, has 19 chapters and calls its children's classes Bal Vihar programmes.
The India Development and Relief Fund, based in Maryland, USA
: According to a 2002 report by Sabrang Communications and South Asia Citizens Web, 50% of IDRF disbursements between 1994 and 2000 went to Sangh Parivar groups in India. From 2002 to 2012, the organisation has disbursed more than $17.3 million to hundreds of recipient organisations in India, most of them Sangh-affiliated development and relief groups such as the Akhil Bharatiya Vanvasi Kalyan Ashram, the Ekal Vidyalaya Foundation of India, Param Shakti Peeth and Sewa International. A lot of the relief work involves development of adivasi communities.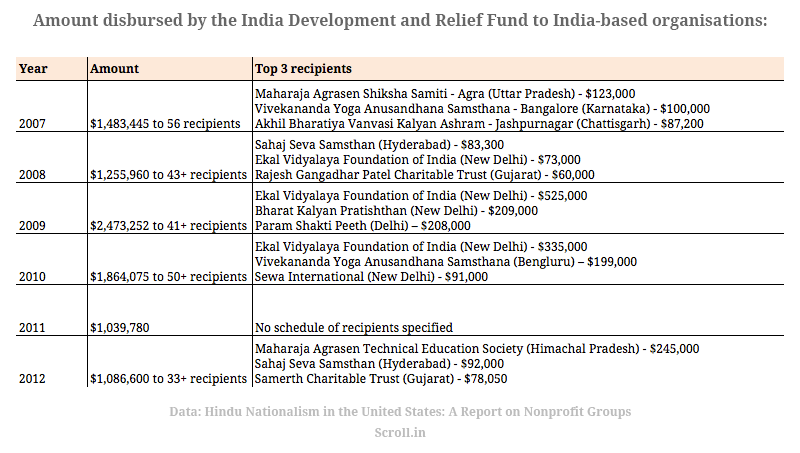 Other funders
: The report also studies the tax records of four other US-based development-related charities that have connections to Sangh leaders: the Ekal Vidyalaya Foundation of USA, Param Shakti Peeth, Sewa International and the VHPA. It finds that from 2001 to 2012 these five organisations together allocated more than $55 million to projects, most of them in India. The leadership of many of these organisations overlaps.
Besides this, the Hindu Charity Trust of Texas donated $7,000 each to Ekal Vidyalaya Foundation and to 'RSS village schools' in 2006, and $14,000 to 'VHP schools' in Gujarat in 2007.
The Vivek Welfare and Education Foundation allocated $10,000 to the VHP in 2006 for 'education, medical aid and relief to the poor in India'.
The Hindu University of America
: The educational wing of the VHPA, this tax-exempt university was launched in 1985. It offers courses and degrees in Hinduism, Hindu philosophy, yoga, meditation, Sanskrit and Vedic astrology, among others. The Vivek Welfare Educational Foundation, a Sangh-affiliate, donated $4.2 million to the university from 2002 to 2008.
The Bajrang Dal
: Unlike most of the other organisations, there is no tax-exempt counterpart for the Sangh's militant youth wing, the Bajrang Dal, which has been described as "extremist" by the US State Department's annual reports on International Religious Freedom because of assaults on religious minorities.
We welcome your comments at letters@scroll.in.