Salman Khan has never done it, Shah Rukh Khan has with bashfulness, Aamir Khan with efficiency, Saif Ali Khan with ease, Hrithik Roshan with ardour and Randeep Hooda with conviction.
If Ajay Devgn or Sanjay Dutt have, we don't want to know.
Some actors use their acting smarts to get ahead, others their biceps, and yet others, their terpsichorean skills. Emraan Hashmi put a going-nowhere career on the fast track by puckering up his lips, raining kisses on his co-stars with the force of a cyclonic storm.
The Hindi movie kiss, the subject of doctorates, YouTube memorialisation, protests and public interest litigations, is now embedded into a screenplay just like the song and dance sequence. More male movie stars in Hindi cinema are kissing than ever before. What's more, the lips onto which they lock theirs are less tremulous and more willing. The act of kissing doesn't seem like a prelude to sexual assault.
Some of it is convincing, some of it embarrassing, and some of it educational. Many actors, especially younger ones, seem comfortable and even knowledgeable about how it's done. Their female co-stars are far less inhibited, and don't jump out of their skins at the thought or behave as though motherhood is nine months away.
The mystery of the missing kiss
It wasn't always like this. Hindi movies are hardly French and more like Hollywood in their approach to sex, but they haven't been found wanting either. They have showed different ways to express the sexual union – meaningful gazes exchanged over a fire, hand-holding, loaded song lyrics, suggestive dancing, intense hugging, passionate neck exploration. Some movies even showed intercourse within limits that were tolerable to conservative audiences and easily shocked government censors. With notable exceptions, it rarely required any garments to be shed.
But the leap from the look of love to its consummation often bypassed the kiss. The gradual movement of two bodies towards each other would be obfuscated by a dissolve or a cutaway to the sky or flowers quivering  in the background. No kissing was required, and indeed, it paled in its shock value when compared to showing sex itself.
The liplocks that people remember, and have saved for posterity on YouTube lists, are from a time in the 1980s and early '90s when they were few and far between. Films like
Dayavan
,
Jaanbaaz
and
Raja Hindustani
race to the top of people's memories because the kissing scenes they include were like rare flowers in a desert.
A kiss could even imply a bite of a deadly variety of mushroom. When Anil Kapoor threatens to kiss Sridevi in
Roop Ki Rani Choron Ka Raja
, he has to grab her cheeks, causing her eyes to become the size of globes. Renowned painter Atul Dodiya immortalised the grotesque moment in the work
Devi and the Sink
.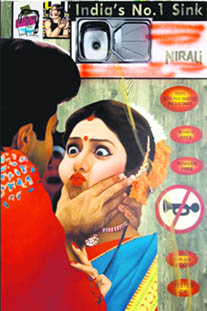 More common than coriander
The kiss is now more of the garden variety. It's a result of Bollywood having to grow up because its audiences are younger, or, at any rate, feeling younger. When Kareena Kapoor finally declares her love for Shahid Kapoor in
Jab We Met
, she does so through words, grateful tears, and the deployment of her lips. There are some significant holds-outs. Shah Rukh Khan is renowned for his chaste pecks on the forehead, and the one moment when he throws caution to the winds with Katrina Kaif in
Jab Tak Hai Jaan
is somewhere at the top of the Most Awkward Kisses in Hindi Cinema list.
But others are far less restrained. Kissing has become so frequent, we suspect it is included among the obligations in most actor's contracts. There are various types of smooches: the alcohol-fuelled kiss (
Band Baaja Baraat
), the calculated kiss (
Ishqiya
,
Dedh Ishqiya
), the slow-burn kiss (Hrithik Roshan and Aishwarya Rai Bachchan in
Dhoom:2
), the rare female-initiated kiss (Kareena Kapoor and Aamir Khan in
3 Idiots
), the indiscriminate kiss (Sushant Singh Rajput and Parineeti Chopra and Rajput and Vaani Kapoor in
Shuddh Desi Romance
), the innocent kiss (Ranbir Kapoor and Ileana D'Cruz in
Barfi!
) and the near kiss (Ranveer Singh and Deepika Padukone in
Goliyon Ki Raasleela Ramleela
). But kissing they all are, in some form or the other.
The kiss is in danger of becoming so routine that it's a matter of time before Bollywood ventures deeper into the bedroom. There have been scattered moments. John Abraham works out his hips in
Shootout at Wadala
, Randeep Hooda and Mahie Gill burn up a rock face in
Saheb Biwi aur Gangster
, Alia Bhatt and Varun Dhawan roll in the sheets in
Humpty Sharma Ki Dulhania
, Hooda again and Nandana Dev Sen drench themselves in paint in the upcoming
Rang Rasiya
.
Bollywood has already staged its kiss-in. Will the love-in follow?
We welcome your comments at letters@scroll.in.