The Modi government pulled off something of a diplomatic coup when it announced that United States president Barack Obama would be the chief guest of India's 66th Republic Day.
The elaborate arrangements for Obama could not be more different from India's first Republic Day 65 years ago, which had an Indonesian president instead and the navy threatening not to participate.
At the end of 1949, India had just achieved what seemed to be a remarkable feat: drafting the world's longest constitution in fewer than three years despite the horror and bloodshed of the Partition. On the appointed day in 1950, it would cut the last of its ties to the British Empire.
The occasion, naturally a matter of pride to many citizens, called for a grand show of state. Foreign dignitaries were a must, as were a display of military might and a parading of the new president.
Sukarno, Indonesia's first president who had only a month before finally persuaded the Dutch to transfer complete sovereignty to the new country, was a natural choice as chief guest. Not only was he a proven freedom fighter, his ideology also closely aligned with that of Nehru's.

President Sukarno of Indonesia was guest of honour for India's first Republic Day celebrations in 1950. Photo credit: President of India.
The entire ceremony was
reported
with great precision in
Fauji Akhbar
, a now-defunct Urdu magazine for Indian troops. This is why we know that India became a sovereign democratic republic at precisely 10.18 am, when C Rajagopalachari, last Governor-General of India, declared it so. Exactly six minutes later, the Chief Justice of the Supreme Court swore in Rajendra Prasad as India's first president.

India's first Republic Day began with C Rajagopalachari proclaiming India a sovereign democratic republic in Rashtrapati Bhavan. Photo credit: President of India.

Dr. Rajendra Prasad was then sworn in as first President of Republic of India by Chief Justice H. Kania. Photo credit: President of India.

Over 500 guests gathered in the Durbar Hall while large crowds assembled in the forecourt of Rashtrapati Bhavan. Photo credit: President of India. 
Fauji Akhbar
also reported on the new president's procession (with Sukarno) from Rashtrapati Bhavan to what is now National Stadium in a 35-year-old coach drawn by six Australian horses that "carried the President and drove out of Government House at a slow trot, escorted by the President's bodyguard."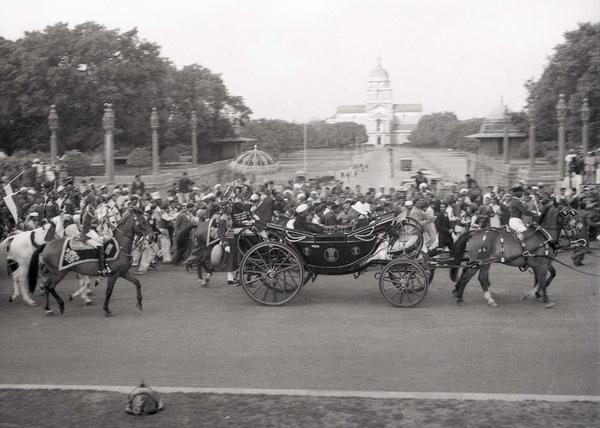 Rajendra Prasad's carriage. Photo credit: President of India.
After a grand parade of three thousand members of the Armed Forces, watched by 15,000 people in Delhi, the gathering sang the national anthem and dispersed.
Clash of egos
Despite the
Fauji Akhbar
's claims that millions of people around the world celebrated the day happily, this was not exactly the case.
In Bombay, communists
protested
that workers' rights had been ignored in the constitution. In the still-independent state of Hyderabad, someone attempted to assassinate the Nizam. And Delhi witnessed the last tussle over precedence in the armed forces that almost ended with the navy not participating in the Republic Day parade.

The Republic Day Parade was held in the afternoon in Irwin (now National) Stadium with President taking the salute. Photo credit: President of India.
Under the sea-oriented British Empire, the navy was the foremost of the three armed forces. This precedence changed after much argument to favour the army after Independence, but was still under discussion in 1950.
In a piece for the
Hindu
in 2000, Satyindra Singh
described
exactly what happened. During rehearsals at the beginning of January, the navy's two columns found themselves placed after a long stream of army ones. The officer in charge of the naval contingent complained, but was not taken seriously. Some weeks later, just as the march past was about to begin, he marched his contingent off the parade ground.
Support our journalism by contributing to Scroll Ground Reporting Fund. We welcome your comments at letters@scroll.in.
Respond to this article with a post
Share your perspective on this article with a post on ScrollStack, and send it to your followers.