Sitting in the comfort of her Amsterdam home, Tejashri Khadilkar, a homemaker, logs onto Skype twice a week in the mornings. On the other side, a bunch of sprightly eighth graders in a government school in the remote village of Shitalpur in Giridh district of Jharkhand wait expectantly for her. Over the duration of the two-hour class, Khadilkar teaches them concepts in science, math and sometimes English.
Khadilkar is a volunteer with E-vidyaloka, a Bangalore-based non-governmental organisation that is one of the few groups making inroads into India's rural education space, where teacher shortage and quality teaching are some of the biggest challenges.
The Shitalpur school in Giridh, listed as one of India's 250 most backward districts, had no administrator and just a meagre staff of four teachers until a few months back and struggled to educate students.
The recently-released 2014 Aser report on the state of education in India found that although enrolment levels at 96% were on par with universal levels, the standard of reading and maths was very low. Only a fourth of the children in Class III could read a Class II text fluently. This number rose to just under half in Class V. Twenty five per cent of Class III children could do a two-digit subtraction while the ability to do division among Class VIII students has been dropping since 2010. The report also found that the fall in learning levels appeared to come mostly from government schools.
Given all this, can NGOs bridge the gap in learning outcomes and give wings to the aspirations of rural India?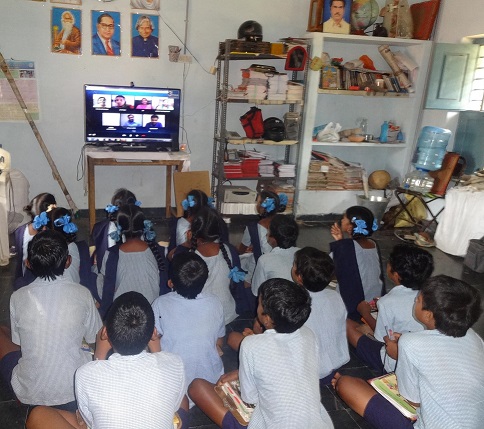 Photo credit: E-vidyaloka
Venkat Sriraman, co-founder and executive director of E-Vidyaloka, believes so. "Government schools acknowledge that they need support and welcome our help," he said. E- Vidyaloka, with the help of local partners, works in tandem with government schools, providing lessons digitally to the children during school hours and in a few centres as an after-school option. The objective of E-Vidyaloka is to ensure that children understand concepts correctly. Its focus is on classes VI to VIII in middle school since "actual learning breaks down in 4th and 5th grades and by the time children reach the 10th [grade], it's very hard to catch up. At these grades, one can focus on concepts and the children are also keen to learn."
At present operating in 26 centres in Andhra Pradesh, Tamil Nadu and Jharkhand, the organisation is looking to expand into two more states in the next three years. "The single evidence that our organisation is succeeding is the sustenance of children participating, with a healthy attendance of 80%, and there has been no attrition of centres," said Sriraman.
Prabha Alexander is the programme officer of the Sarva Shiksha Abhiyan, the flagship programme of the government of India to make education free and compulsory at the elementary stage and which works extensively with NGOs. She said, "Our collaboration with NGOs has been quite beneficial in terms of learning for students. Our only concern is the high cost to us that the NGOs incur. Also, we notice that it's always the same few influential NGOs that come forward when we call for tenders. We would like more NGOs to contribute equally as we welcome any support."
Shikshana Foundation is an NGO that works exclusively with government schools across Karnataka, Andhra Pradesh, Maharashtra and Gujarat. Covering 1,100 schools and 1.80 lakh children, the foundation's goal is to improve learning levels of children. Rajkumar H, operations manager of Shikshana, said, "Our focus is on achieving minimum learning outcomes set up by Aser for Kannada and math. The programme is purely motivational based and not involved in teaching or pedadogy. With our interventions, we have achieved 90% of learning outcomes. Our programme is very simple, and scalable with appropriate financial support."
Scaling up operations
NGOs typically engage with local partners and the knowledge gained through this grassroots experience has resulted in successful interventions. In spite of this success, the impact is not obvious at the national or even state level. In an email interview, Dr Rukmini Banerji, head of Aser, said, "For change to show up, the work has to be fairly large across several districts. Aser uses a representative sample at district level. A lot of NGOs work can be seen as 'demonstration' projects that can possibly be scaled up."
A
study published by UNESCO
on the role and impact of NGOs on capacity building in education states that "if NGOs scale up their activities and partner with the government by imparting their knowledge and techniques, the country as a whole can benefit".
Ramji Raghavan, founder of Agastya Foundation which focuses on science education, said, "We would love to scale up our model. So far, we have received excellent support from some governments. But for a bigger role, challenges are huge. A tripartite partnership between NGOs, private sector and government is required to succeed, where NGOs act as innovators, private sector as the funding agent, and the government helps with scaling."
Yamini Aiyer, who works on education policy as Director of Accountability Initiative and Senior Research Fellow at the Centre for Policy Research in Delhi, said, "NGOs are not a replacement for the state but they have an important role to play in holding the state accountable, in addition to building capacity to innovate, experiment and find answers to complex problems. NGOs have two roles – first to enhance our knowledge base about what realities on the ground look like, and this can be very powerful. Second, to experiment and innovate."
Help from civil society
Agastya Foundation has been successfully playing this second role since 1999. With the help of innovative mobile science vans and creativity labs, it has taken science and innovation to the doorstep of over 50 lakh children in rural and government schools in a span of 15 years. Besides the financial challenge, finding and sustaining quality volunteer teachers is a challenge. "To ensure quality keeps growing, people need to be trained," Raghavan says. "Civil society can become the fourth front. Retired scientists, engineers who are looking to do something interesting, can participate on a national scale."
Sriraman concurred, "If the government views us as a viable alternative, we can reach a larger population, bring in more volunteers. With our model, society can participate with just a switch of the button."
But SK Suma, public relation officer of the Karnataka State Education department differed: "NGOs working with 'out of school' children, child development issues and creating technical reports is fine. We do not want to encourage too many NGOs. We are curtailing the number of NGOs engaging with us. Only those which are doing genuine work are welcome."
Support our journalism by subscribing to Scroll+ here. We welcome your comments at letters@scroll.in.