Criticism from political opponents and media is to be expected, of course. But as the Modi government completes its first year in power, it's becoming abundantly clear that its most trenchant criticism is coming from people who had rooted for the Gujarati politician when he did not seem to have enough support from within the Bharatiya Janata Party, and who continue to have high hopes in him.
They are saying what they are saying, goes the defence from the party faithful, because they have not being given places in the Modi cabinet or some other plum assignments. They have all been sought to be dismissed as fair-weather friends, their criticism rationalised as the angst of the disgruntled malcontents. But the enormity of the reaction to their critique of the government indicates that they have managed to touch a raw nerve.

Arun Shourie
When the Modi government was barely six months into its term, senior BJP leader Arun Shourie who, incidentally, had wanted Narendra Modi to have been the BJP's prime ministerial candidate instead of LK Advani even in 2009, was one of the first to put out a note of caution in a
December 7, 2014, meeting
 with the
Indian Express:
"I don't want to use harsh words but the consensus seems to be that when all is said and done, more is said than done.... as Akbar Allahabadi said, 'Plateon ke aane ki awaaz toh aa rahi hai, khaana nahin aa raha [The rattling of the crockery can be heard,  but the food is not coming]...

...An article commented on Mr Modi's Cabinet. It said there is the Pareto rule that says institutions and governments are run only by 20 per cent. You only need 20 per cent who are good. So, we seem to think of putting good persons in only two-three ministries."
Shourie had also pointed out the problem, which went on to become more acute with each successive day:
"Development requires focus, and Modi has to ensure that focus, which means you must also control the fringe elements. You cannot talk development in Delhi and love jihad in Muzaffarnagar. It distracts. If love jihad was so dangerous, how did the phenomenon stop after voting?"
As the government approached the end of its first year, it was time for Shourie to resurface, and offer a 
scathing indictment
, pointing out that the "the government of India and the party [BJP] consists of three persons. That's all. They are Modi, Jaitley and Amit Shah." Shourie quoted  TC Rangachary ("
jo
hyper
bole, so nihaal
") and said the government  was "talking big and the delivery [was] not happening." Shourie summed up the government's performance with these words:
"For effort, to the Prime Minister 100 per cent, other ministers I don't know what they are doing or what is happening; on foreign policy very high marks for focus and energy; on economy-directionless, great disappointment; on social relations- great anxiety; on institutions - anxiety bordering on apprehension."
Shourie was also forthright on the question of institutions being neglected and the posts such as the Chief Information Commissioner, Chief Vigilance Commissioner Election Commission posts being empty:
...Mr Minoo Masani use to say cows are sacred so we don't kill them. We just starve them to death. Institutions are being starved to when appointments are not being done. And there is a lesson for us, the ordinary citizens, in that. The ordinary citizens be very vigilant. For instance the RTI is very important right, if is squeezed by appointments not being made, we must make it visible. I do not know how this happens. I am not familiar with the administrative rules. It is incomprehensible. These institutions are vital institutions. This is a criticism of government.
Shourie reserved his most scathing critique for the economic policy, singling out Finance Minister Arun Jaitley.
"They are managing headlines. Unfortunately there is too much focus on managing headlines regard to the economy and that is going to rebound."
But what was most significant in Shourie's criticism was the subject of minorities and Christians.
"When a person like Mr. Ribeiro, who saved Punjab with Mr. KPS Gill for India and the country owes so much to him, says he is moved to say that he feels like an outsider and an unwanted person in his own country, things have gone too far. No, the minority people are certainly not wrong in their conclusion. We have to wake up and there is great danger. ISIS is at our doorstep and if a hundred young Muslims conclude to join the terrorist organisation, we will have a real problem."
He was also clear on the deafening silence from Modi when it mattered that he speak:
"If Modi tweets on Sania Mirza's victory and wishing on somebody's birthday and then he doesn't say a word on critical issues like Ghar Wapsi, Churches and Love Jihad, it will draw an inference."

Ram Jethmalani 
Apart from Shourie, the other former minister in the Vajpayee government who has been consistent in taking on the government, is the lawyer Ram Jethmalani, who has also, incidentally, chosen to single out  Jaitley on the issue of black money, writing him an open letter on
October 24, 2014
:
"You are out to help the biggest criminals to escape...I strongly suspect that your conduct shows that you too like many others do not want truth to come out."
This was followed by another open letter on October 31, 2014, in which he posed 13 questions to the finance minister:
"I want to show to the nation that you are determined to see that Prime Minister Modi can never fulfil his pledge to the unfortunate people of India to get back the black money.
You, Mr Finance Minister, are the biggest obstacle."
This was not all. As the
Sunday Guardian
, whose founder editor MJ Akbar is now the BJP spokesperson, refused to carry his new set of questions to Jaitley, Jethmalani took out a half-page advertisement in the
Indian Express, 
to air his frustration about this "unpardonable betrayal."
The ad summarised the 91-year-old's long battle to bring what he said was an estimated Rs 90 lakh crore, or $1,500 billion, of illegally parked funds back to India. Modi took up the issue in a big way in the run-up to elections last year, getting him Jethmalani's support and that of a vast amount of the public in the bargain.
Addressing his advertisement
to Jaitley, Jethmalani asked 12 questions about the way the Modi government has dealt with the issue.
"Was the statement of the new BJP President, Amit Shah, that the promise of repatriation of black money was a mere election' jumla' made with your concurrence? You have never disowned it and neither has anyone else in the government. This is confession in my opinion of an intentional fraud on the nation."
In a recent column published in the Deccan Herald on
May 11, 2015
, Jethmalani wrote:
"Unfortunately, I have received no reply from anyone in the government on any of my questions. I can only recall the outrageous, supercilious statement made by Amit Shah, BJP president, during the ill-fated Delhi elections that the promise to repatriate black money was a mere election 'jumla'. No one has contradicted this statement yet. So, my fight goes on."

Subramanian Swamy
The BJP's stormy petrel Subramanian Swamy has for long been publicly opposed to the Rafale deal. "It stinks right through," he had said in
August 2014
. "The deal should be frozen or scrapped and negotiations for the MMRCA should begin afresh." He had gone on then to say:
"I had written to the UPA defence minister A.K. Antony citing reports and the information on the Sonia Gandhi family's link with Carla Bruni. Being an honorable man sensitive about his image and reputation, Antony had frozen negotiations with Rafale. I am not sure why Arun Jaitley decided to defreeze it."
Which is why, when Modi, during his visit to France in April, struck a government-to-government deal to purchase the 36 jets, cutting through the red tape of a prolonged arms acquisition process, Swamy was quick to react. The
Indian Express quoted him
as saying that if the government wanted to please France, it should have bought the company, Dassault Aviation – the company which manufactures the fighter jets.
"No one is buying the planes in the country. Dassault says if India does not buy these planes then they will wind up. Many counties like Switzerland signed an MoU, but later cancelled it.
If the governmentdoes not agree to this, then I have to go to the court. It is a corrupt deal and can spoil the name of the party.
These babus (bureaucrats) are giving wrong advice to Prime Minister Narendra Modi. The defence ministry's opinion is also not this (to buy the planes)."
Rafale deal is not the only beef Swamy has with this government, as he has from time to time been propounding his own prescriptions and issuing ultimatums for dealing with the likes of Sri Lanka, Robert Vadra, Sonia Gandhi, Jayalalithaa or just letting the government know, for instance, that he would move the Supreme Court  if it failed to release the secret documents on freedom fighter Subhas Chandra Bose's death before August 15, 2015, as the
New Indian Express
reported on
May 20, 2015:
"Addressing a protest meeting organised by Virat Hindu Sangam here on Tuesday demanding the release of documents on Bose's death, Swamy said, 'If the Centre did not release them before Aug 15, I will approach the Supreme Court.'"
In an op-ed in the
HIndu
on
Tuesday, May 20, 2015
, Swamy has also let it be known that "there is still time to make the necessary course correction" in the government's handling of the economy, making a case for "comprehensive, second generation, systemic reform".
"The regressive markers in the projected path of the economy today make it worrisome as these indicate that if not rectified soon, the Indian economy can go into a tailspin. Though these markers are a consequence of the disastrous tenure of the previous government, now nearly a year on, they cease to be a credible excuse."
And, of course, Swamy is not modest like Shourie and therefore, instead of suggestions has some advice:
"As an economist, the only advice I can give the Modi government is to take some steps that will raise the morale of the consumer and investor. That means income tax abolition and reducing the annual interest rate to 9%."
Most believe that Swamy has been uncharacteristically restrained in his criticism so far.



Prediction: At some point in the next 6 months Swamy39 will attack the Modi government in full technicolor craziness. http://t.co/7xxyj0SK3h
— Sadanand Dhume (@dhume) May 19, 2015




Madhu Purnima Kishwar 
"I would say I am where Arun Shourie is today, his criticisms are valid. But unlike Shourie, I am not in the party, nor am I in the game." That's what author of Modi, Muslims & Media, well-known academic and senior fellow at the Centre for the Study of Developing Societies, Madhu Purnima Kishwar told
Scroll i
n December, 2014. Before elections 2014, she was one of the first prominent public intellectuals in the country to openly back Modi's prime-ministerial candidature,
defending him on the Gujarat riots
and emerging as his most vociferous spokesperson and then, in May 2015, she cried foul at the induction of Smriti Irani as the human resource development minister. She has consistently since then been vocal in
her criticism of the HRD minister
:
"Modi's appointment of Irani came as a horrible shock to me. Here is someone who is not just poorly educated and mal-educated – she is just Class 12th pass – but she even lied in her affidavit about her qualifications. Nor does she have the learning of a lived experience. Look at the trajectory of this woman – at 18, she leaves home for the glamour industry, to become a fashion model, a beauty queen, then gets into saas-bahu serials, which, even by the standards of the entertainment industry, is the lowest genre. It is brainless. She could not even qualify to head the National School of Drama.

If Modi is talking about getting India to make up for its lost centuries in education, you need a person with vision, experience of knowledge disciplines, of which she has none. She proved it when she said I have a Yale degree, from a five-day course. She actually thought it was a badge of honour, even I could not believe she was that dumb....

...[Modi] got rewarded for his work in Gujarat, he is now the prime minister. But now starts a new chapter, he is going to be assessed afresh. However, nobody can make sense of all this, neither me nor anyone else. It is black magic that somebody has done. I cannot believe this is happening. Maybe Modi has not got a grip yet. Maybe Delhi has disoriented him. But it is too premature to pass a verdict. I am still waiting. I am maintaining my distance."
Kishwar also had something to say about Jaitley:
"The black money case is another blow, where Arun Jaitley has deceived the public by pretending he is doing something, like releasing three names out of 700, etc."
Recently, she
described in detail
the reasons for her disenchantment with Modi:
"...Modi as PM has come as a huge shock and a big disappointment. He has created a bubble for himself from day one. It began with the swearing-in ceremony when Modi did not invite a single person from the vast army of volunteers who gave him their passionate support in the run-up to the elections...
After coming to 7 RCR [Race Course Road], it has brought a dramatic makeover for his persona. It indicates the desire to adopt a totally new identity and determination to avoid people who remind him of his past – much in the same way a new bride from a modest background tries to refashion herself to suit her wealthy sasural. He certainly displays his penchant for glamour, the high and mighty, even wanting to be a fashion icon – these are not positive signs coming from someone who is supposed to lead India out of its morass.

That's the impression you give [of being a wannabe] when you change your attire five times a day or wearing a new suit for each occasion when visiting abroad. It doesn't behove a serious statesman to try and become a fashion icon. You wouldn't notice what Obama is wearing, right?"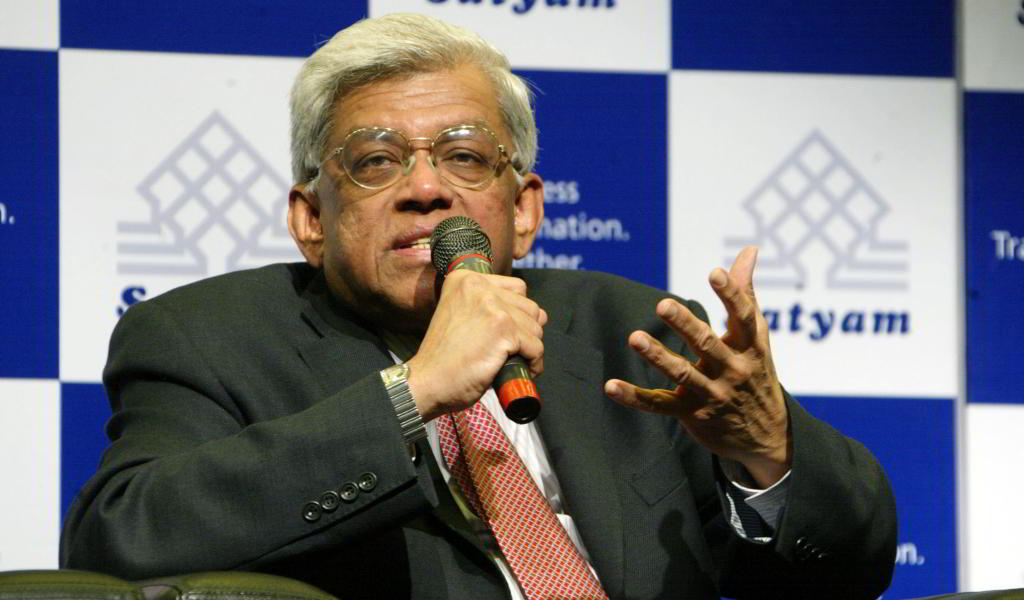 Deepak Parekh
On the industry front, the ball was set rolling by Deepak Parekh, the chairman of HDFC, who had also happened to be among the first industry leaders to speak up on the "policy paralysis" in the UPA government as a spate of scams led to delays in decision-making that hurt business.  In this list, Parekh is the only one who has never been an uncritical fan, and has always been known as being outspoken. In 2002, he was among the first corporate leaders to speak his mind on the carnage in Gujarat,  "What is a government elected for?  If they can't protect innocent lives... then they should go. Which kind of government allows the killing of women and children?"
He had struck a note of caution in
November 2014
itself, when the government was barely six months old:
"We are riding a feel good wave and we are lucky that it has lasted so long. But time is ticking fast… The progress of this new government is being increasingly scrutinised and living up to the built-up expectations will not be an easy task...

… if one does not see real, physical change on the ground, pipeline projects actually taking off, new jobs being created and faster decisions being made on policy issues, we may well lose our chance of being a preferred investment destination"
In the early days of the Modi government, there was talk that Parekh was in the running for the country's top finance ministry job. Even as he 
dened this,
he said that he would " always do what the government asks of him". And by
February 2015
, his name was being whispered as the next ambassador to the US, as speculation grew in Delhi as to who would replace S Jaishankar, who had been appointed the foreign secretary. Coomi Kapoor alluded to his clout with Modi in her widely-read gossip column in the
Indian Express
:
"The Prime Minister is contemplating a political appointment of a non-diplomat of some stature who can interact with him and the US president on a personal level...The name of a leading Gujarati banker-businessman has been short-listed. He is on the board of several government and private bodies and heads a top finance company."
Which is why, Parekh's interview to the Press Trust of India published on
February 19, 2015
 created waves:
"I think there is still a lot of optimism among the people of the country and among the industrialists and entrepreneurs that the Modi government will be good for business, for progress, for reducing corruption. They think this government means business on all these fronts… However, after nine months, there is a little bit of impatience creeping in as to why no changes are happening and why this is taking so long having effect on the ground".
Specifically on the question of ease of doing business, Parekh pointed out:
"To raise some capital in HDFC Bank it took more time this time than earlier years to get approvals...People were helpful but processes have not changed…we are a 20-year-old organisation and we are within the limits [of 74 per cent foreign investment cap]… Why can't they change these things...Why can't the administrative controls be relaxed."
On Modi's "Make in India" project, he said it could not succeed unless it was made easier for people to do business here and the decisions were fast-tracked.
"The thing is that our Prime Minister had a lucky period in these nine months. The world commodity prices are at all-time low which help India the most."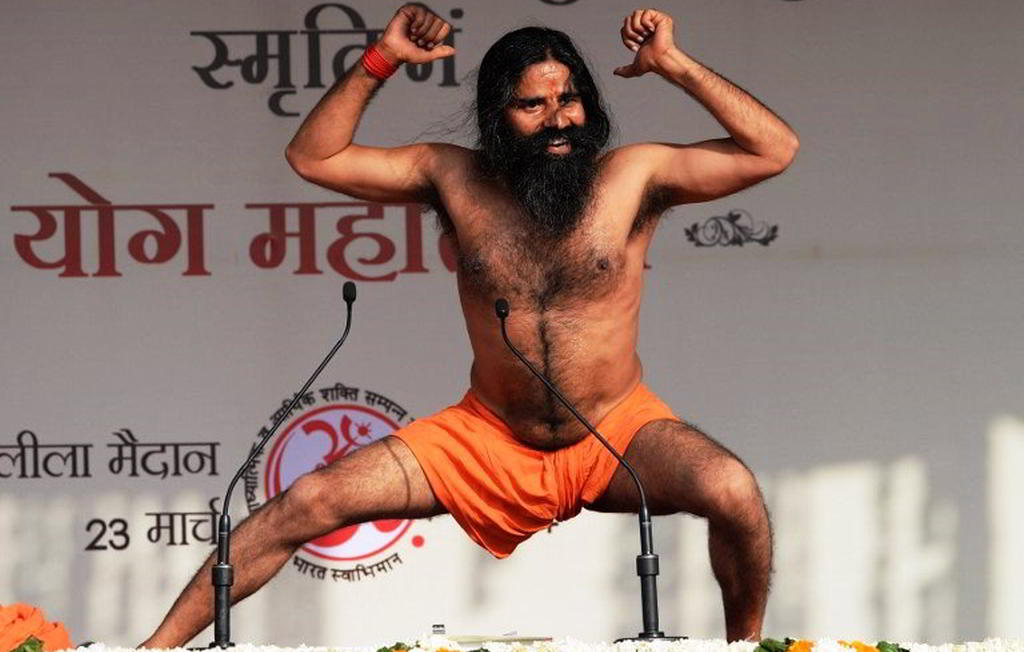 Baba Ramdev 
In public, Yoga Guru Baba Ramdev and Modi had come together on the issue of black money and he campaigned for the BJP in the Lok Sabha polls. Ramdev was given the status of a cabinet minister by the Haryana government and was also named the state's brand ambassador to promote yoga and ayurveda. Ramdev turned down the cabinet rank as it drew vehement opposition and said he had worked selflessly to realise the mission of making Narendra Modi the country's prime minister by treating it as "rashtra dharma". On
May 20, 2015
,
India Today
reported:
"In an exclusive conversation with Aaj Tak, Ramdev said that a few BJP leaders have become arrogant after their landslide victory in 2014 Lok Sabha elections. Ramdev praised PM Narendra Modi, but he also emphasised that the central government should work to improve its anti farmer image.

Quite surprisingly, Ramdev appreciated Rahul Gandhi's efforts to revive the Congress party, which suffered a major setback in the 2014 Assembly elections. He appreciated Rahul Gandhi and said he has injected new life in congress. He said strong opposition is important for democracy. Opposition has succeeded in portraying govt as anti poor.

Besides the yoga guru also appreciated  Delhi CM Arvind Kejriwal and said he is doing good work. Ramdev and   Kejriwal had earlier worked with anti-corruption crusader Anna Hazare.

On black money issue Ramdev said will wait till June and then decide on the future course of action.
Support our journalism by subscribing to Scroll+ here. We welcome your comments at letters@scroll.in.