The best rain picture that was trending in the past few days was one of a cascade formed by gushing waters on an arterial road that had caved in, in Gurgaon's Millenium city. It was a picture that showed what rain can do to an Indian suburbia.
Gurgaon may have been the butt of internet jokes last week but no Indian city is capable of making it easily through a day in which it rains more than 50 mm. Delhi has been through days when it rained 70 mm a day (this monsoon's total for the capital is 147.8 mm) and was brought to the verge of a breakdown. But many towns will drown without a fight if rains as much as 100 mm on one day. Coastal cities like Mumbai get through such days better.  In the 24 hours up to June 24, this year it rained 142 mm in the financial capital.
What if it rains 1,500 mm on a single day?
Just 20 years ago, on June 15, 1995, it rained 1,563mm in a 24-hour cloud burst in Meghalaya's Cherrapunji, a plateau on the voluminous arms of the Khasi Jaintia hills.  It is a world record for 24 hours of rain. The next recorded heaviest rainy day in Cherrapunji was in 1876 when it rained 1,041.4 mm, according to the Gazeeteer.
To understand the apocalyptic nature of such rain see this: the highest rainfall ever recorded in Delhi was on July 20-21, 1958, when it rained 121 mm. A city report about that day, using the usual cliché, said "many parts of the city were inundated."
 A day unfolds

An account of that day with the most rainfall in the world is quite astounding.
BL Mondal, who was the meteorology observer at the met office in the main market square in Cherrapunji, remembers the day as one of "thick fog and very low stratus clouds hovering around the region very threateningly. For 40 days, it had rained non-stop that month."
It was a day that rain men dream about or dread. When the first measurement for rain was taken that day at 8.30 am, there was the first sign of danger. It had rained 175 mm since the previous night's reading. The automatic gauge, which notes rainfall on a graph paper using a moving stylus, was not working that day, which was nothing unusual.
Any met man would have hallucinated looking at the amount of rain water that had collected in that glass millimeter-barrel: 175 mm. It was nothing compared with what was to pour down on the plateau of Cherra, as Cherrapunji is also called, on that day when the heavens opened like never before.
What Mondal registered in the evening 5.30 pm reading was even more stunning: 440 mm of rain had poured on the small village during the day. It was more than enough to drown entire towns in the rest of the country.
From 5.30 pm to 8.30 pm, the time for the last reading of the day, it had rained 110 mm. The overnight reading at 5.30 am the next morning was 680 mm and the 8.30 am reading showed 158 mm. Any met man would have thought he was hallucinating as he totalled the 24-hour rainfall to 1,563 mm on Cherra, or Sohra as it is also called, that darling of the clouds that mountain ringed and snared in that deadly embrace of the clouds.
Though papers reported heavy rain, none had realised that a world record had been broken in this tiny village. A bridge near Mawsynram was washed away and two people were killed, the reports said. Some reports said that the Brahmaputra was rising dangerously. But nothing betrayed the apocalyptic nature of that day's deluge. The met department did not, unsurprisingly, expect this miracle of nature but casually issued a heavy rainfall warning for Andamans and Assam.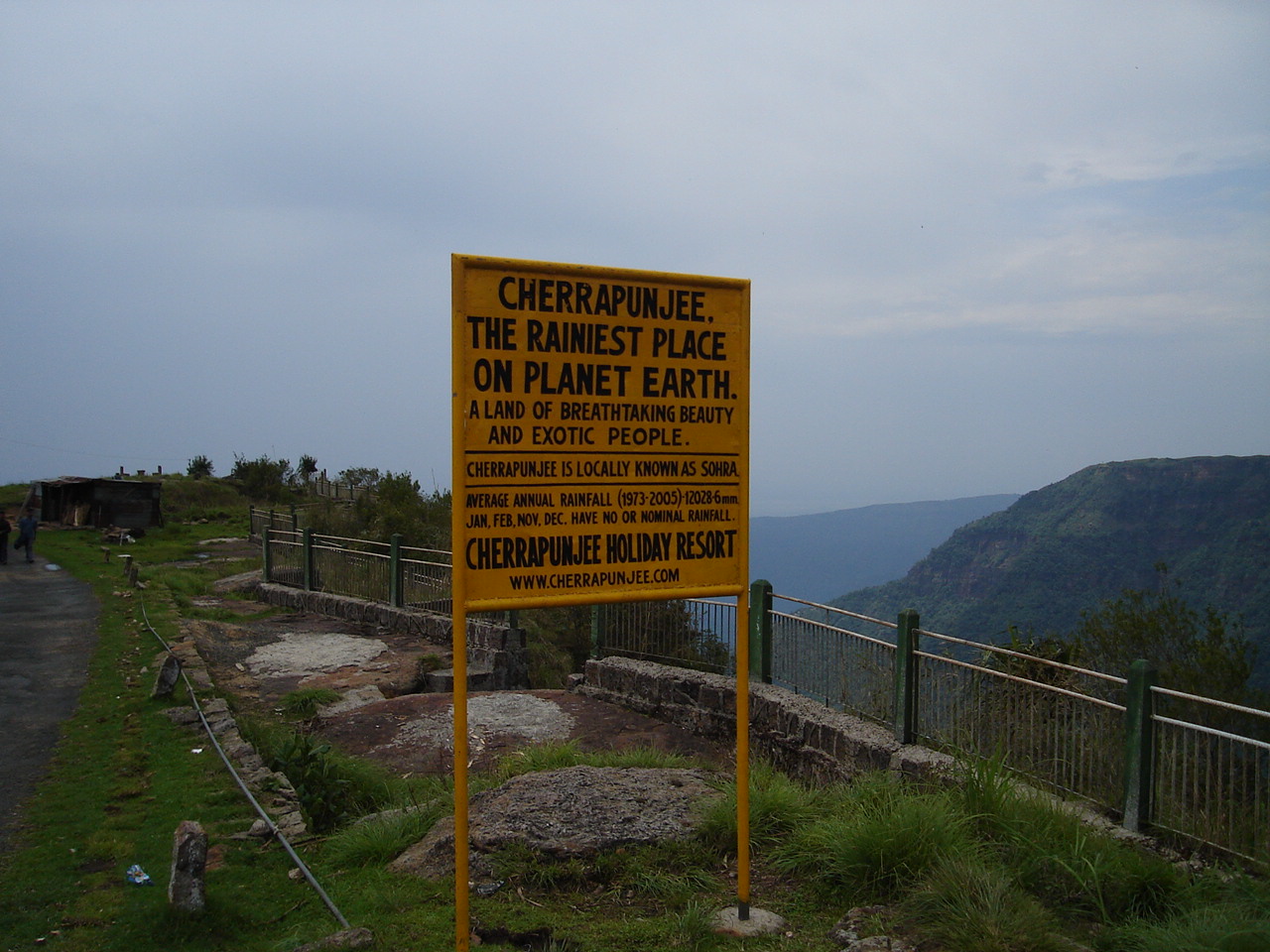 Photo: Binoo K John
Unique geography
Where does all the Cherrapunji water go? Cherra is never flooded because it's a plateau perched atop mountains and from high above would have looked like an overflowing saucer. Water gushes down the narrow streets of Cherrapunji and spirals down the limestone cliffs in frothy cascades that would have looked like a realist painter's foray into fantasy. This Cherrapunji rain water would result in floods in Bangladesh and make the Brahmaputra overflow its banks.
On that day, the whole o north India was under a heat wave. Hisar in Haryana recorded a temperature of 47.5 degrees.
Cherra, the green undulating meadow, the cause of all this upheaval, always wears an innocent look. Nothing grows on this land blessed with water because all the topsoil has been washed away, exposing the limestone base. However, the sweetest pineapples, which need a lot of water, grow here.
Why does it rain so much in this village? The rain in Chera is called orographic rain, caused by the alignment of hills, in this case the  Khasi-Jaintia. Monsoon clouds hit the limestone cliffs and barrel upwards with the help of the deep gorges, till it precipitates at a height of around 4,500 feet, where Cherra is located.
This small town, as well as the nearby village of Mawsynram, which in some seasons gets more rain than Cherra, holds another record: for being the site of the worst and most intense earthquake in the world, in 1897, measured now at 8.8 on the Richter scale.
This earthquake had a far-reaching effect on the entire north-east. It started the proselytisation spree in the entire north-east. The missionaries convinced the innocent Khasis that the earthquake was the result of paganism and the worship of idols and they had to become Christians if such natural disasters were to be avoided. The ploy worked.
Adapted from the author's book,
Under A Cloud: Life in Cherrapunji, Wettest Place on Earth
, Rupa publications.
Support our journalism by contributing to Scroll Ground Reporting Fund. We welcome your comments at letters@scroll.in.
Respond to this article with a post
Share your perspective on this article with a post on ScrollStack, and send it to your followers.