Narak Chaturdashi, Sharad season.
Svarglok. Jaipur, mid 18th century. The painting is a magnificent depiction of the heavenly golden abode of the devas [...] there is no doubt that the artist's intention is  to capture an ideal Jaipuri palace suitable for the gods.
Krishna wearing a scarf, a Jaipuri version of heaven in exquisite gold work and some of India's oldest photographs – these treasures come together in
Festivals of the Jaipur Court,
 a new book by Vibhuti Sachdev that shifts the focus from the politics of Jaipuri royals to their community festivals instead.
Jaipur is a relatively young city. Founded in 1727 as Mughal power was declining, Maharaja Jai Singh II of Amber made the momentous decision to shift his court from Dausa in the hills to Jaipur in the plains. Over the decades, this new city became a centre of commerce, arts and culture.
Part of a larger series on treasures from Jaipur,
Festivals of the Jaipur Court
brings together paintings, garments and archival photographs from the City Palace Museum as it tracks a boggling number of festivals organised by season.
"Festivals are events that diffuse the boundaries between religious and courtly, and private and public domains," Sachdev points out. "So many festivals are celebrated in the city of Jaipur that the idiom
saat vaar aur nau tyohaar
(nine festivals to seven days of the week) appears almost moderate."
Sachdev relies on three sources – literature, priests and historical texts – to reconstruct not just what festivals there were at the court but also how they were celebrated, from city-wide processions to the kind of clothes worn by courtiers. She compares this rhythm of festive celebration, with a fixed pattern that has room for improvisations, to the structure of a raga.
The festivals inspired art, depicting how they were observed and of the gods who were the subject of commemoration.
Here is a small glimpse at those treasures.
                                                                                     Janmashtami, Varsha seasonDashma Skandha: Vasudeva carries Krishna to safety. Jaipur, 1792. Vasudev carries the baby Krishna in a chowki on his head and crosses the river to Gokul.

Gangaur, Vasant season
Chini Burj Pavilion. City Palace Jaipur, 18th century. The name of this Burj or pavilion is derived from the fine blue and white porcelain glaze that covers it. Members of the royal household make a procession from Moti Burj to Chini Burj for this women's festival that celebrates Parvati, shortly after Holi.

Ganga Dashami, Greeshma season
Shiva and Family. Amber, c 1700. This painting depicts the path of Ganga from Shiva's matted hair, through gaumukh to a kund in the plains.

Sharad Navratri, Sharad season
Band at Amber. Jaipur, 1938. Unidentified photographer. The band of the Sawai Man Guard playing in Amber during the Navratri ceremony.

Paush Bada Utsav, Hemant season
Baramasa: The month of Paush. Jaipur, 18th century. It is so cold in the month of Paush that Krishna and Radha are huddled inside a jharokha.  Krishna wears a scarf around his head and Radha has a heavy shawl over her.

Makar Sankranti, Shishir season
The Galta Temples. Lala Deen Dayal. Jaipur, 1886. The temples in the sacred valley of Galta lead to the kunds which are considered as holy as the river Ganga.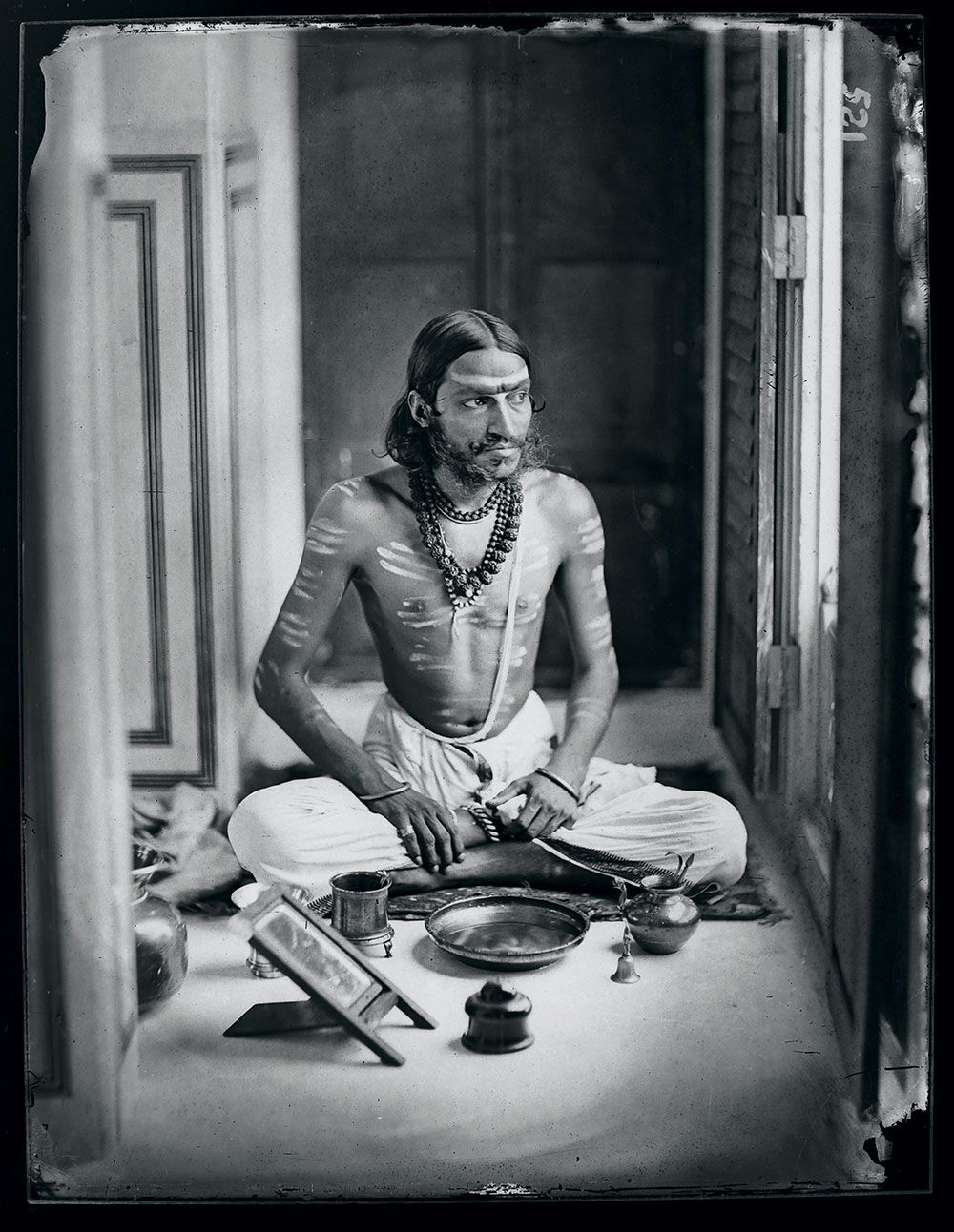 Mahashivratri, Shishir season
Maharaja Sawai Ram Singh II. Jaipur, c 1870. The king, a Shiv bhakt, in this photograph poses to capture the devotional side of his multi-faceted personality and his love for photography.

Holi, Shishir season
Govind Dev playing Holi. Jaipur, mid 18th century. Govind Dev, instead of holding his usual flute, aims his pichkari at Radha.
We welcome your comments at letters@scroll.in.