What's it like to be a woman in India independent of a man? To run a house, provide for a family, foot the bills? According to the 2011 census, 32 million homes in India are headed by women. The number of women in formal jobs is rising. With or without husbands, women are taking charge of their families. By choice or circumstance, they are the new breadwinners, the masters of the house. In a special series this week, Scroll.in brings you stories of six such women, starting with Nisha, who lives with her three children in Delhi.  
A Bollywood-themed party with a live band in attendance was on at the south Delhi club, and the dance floor was packed. For Nisha, it meant extra work – helping tipsy women as they staggered around the toilet, mopping up when one or the other threw up. Through it all, the mandatory smile of the service professional stayed in place.
At times, though, the veneer of cheerfulness slipped, particularly when it came to the more distasteful chores of a busy evening – re-stocking dustbins with plastic bags, cleaning the floor and toilet pot an uncaring guest has left dirty, mopping up vomit and other debris of a night on the tiles.
Some patrons see the staff as humans and talk to them – but that is the exception, with the majority ignoring the support staff of housekeepers and bouncers.
Nisha's job is low in the club's pecking order, and that she is doing it at all is because of her husband's death some three years ago. Suddenly bereaved, the mother of three struggled for a year for employment. She worked as a security guard till she found the opening at the club. The job comes with a provident fund and medical insurance and is reasonably secure, but prospects for advancement are severely limited by her inability to speak English.
'Mom does everything'
When her husband was alive, Nisha says, she rarely went as far as the local grocery shop. Now she has to earn to put two teenagers through school and a daughter through college. "Mom does everything," says Nisha's daughter Anamika, an undergraduate at Delhi University, "some days from putting the gas cylinder in place in the morning, then going to office."
Anamika is the eldest, followed by Jugal, 19, and Simran, the youngest at 12. The family name is Koli, but they use just their first names. Nisha, who has calculated backwards to arrive at her age as 42, struggles to make ends meet and lives from paycheck to paycheck, month to month. Despite all her efforts, she makes roughly one third of what her husband, an Air India employee, used to make. Women in India earn about 20% less than men, according to data from the National Sample Survey Office.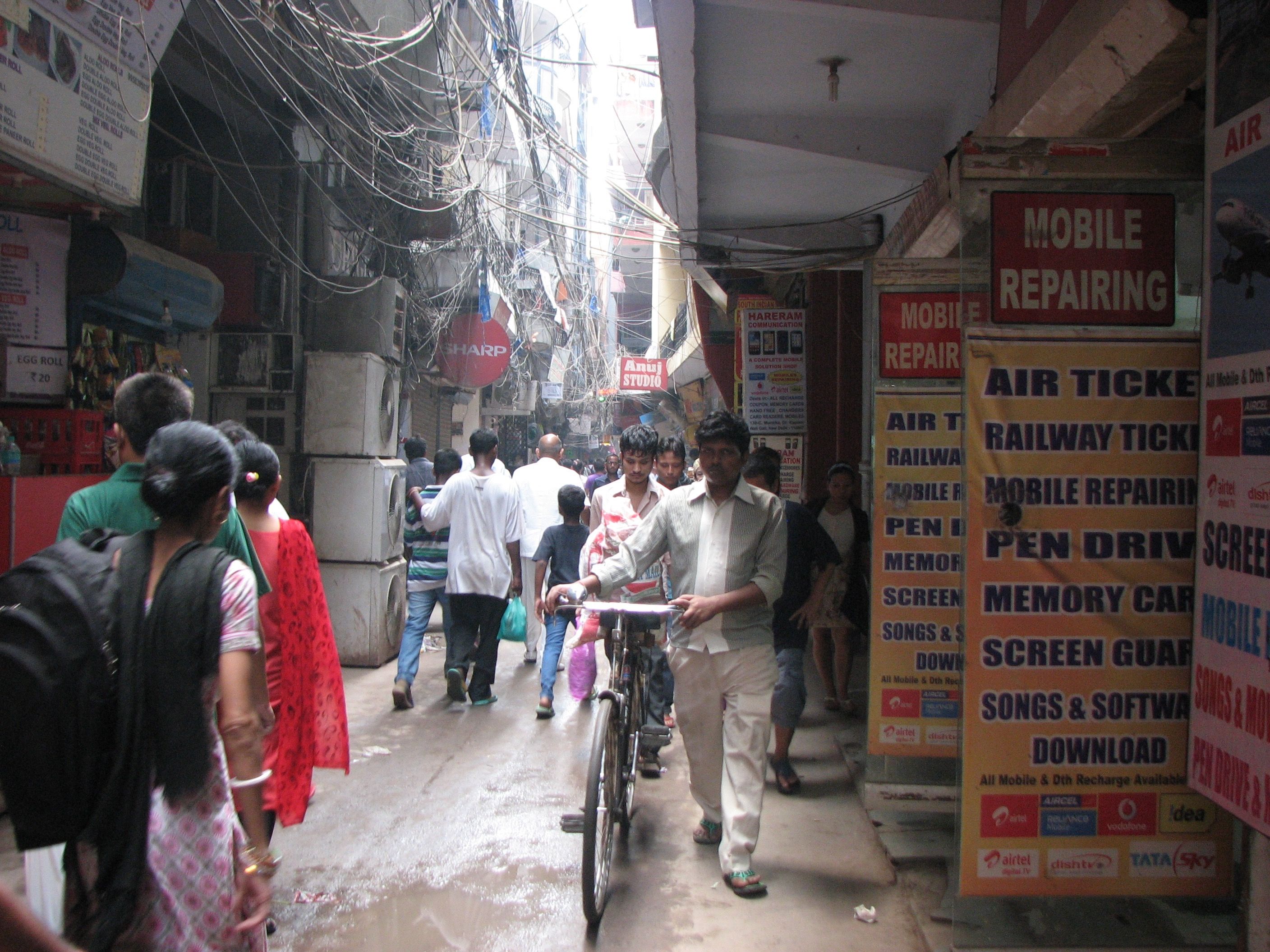 The narrow road leading to Nisha's house. 
More than half of Nisha's salary goes to pay the rent of a one-room apartment in Munirka, in south west Delhi. You get there after a two-kilometre trudge through impossibly narrow lanes over-run by motorcycles, but not wide enough for a car.
The neighbourhood has a high density of people from the north-east, and there is a sub-surface sense of unease because of a clash of cultures that neither side has attempted to iron out. Groups of young people move around in bright t-shirts and shorts in what is otherwise a conservative, almost slovenly village. Shopkeepers and home-owners resent the migrants while being dependent on them for their rents. The simmering tensions spilled over last year into a series of attacks on the migrants that made headlines, but are now off the radar.
Small house, big dreams
The Koli family strives not not let their one-room habitat limit their dreams. Anamika is putting together an application for a scholarship, Jugal has just returned from tuition, and Simran, who studies in Kendriya Vidyalaya, is playing basketball in school. Nisha apologises that the water she serves me is not cold. Towards the end of our conversation the power goes off.
They cannot recall the last time they went out as a family, for a meal, a movie, an evening out. Nisha frets that she is not able to give enough time to her kids. "
Sabse zyada dukh mujhe iska hota hai, iski chinta rehti hai.
I worry the most for this one," she says, about her youngest, Simran.
Her struggle is all the harder because she is isolated. She has eight siblings, but neither her brothers and sisters, nor the members of her late husband's family, have pitched in to help. Everyone was very rude to her mother, Anamika says. Eventually, relationships soured. This left the family on its own in a city not known to be kind to the disadvantaged.
As we talk, Nisha prepares to go to work. She initially found her work distasteful but, she says, she reminds herself that cleaning toilets is just a job, a means to survive.
She uses a quintessentially Indian phrase to sum up her attitude to work and to life: "
Main apne kaam se kaam rakhti hoon". 
I try to do my job without letting people affect me.
We welcome your comments at letters@scroll.in.