The flood waters receding from Chennai and other affected towns in Tamil Nadu have left colossal amounts of garbage and sludge in their wake. In Chennai, people who had their entire first floors flooded have discarded tonnes of damaged household material in mounds on their streets. Many less-than-concrete homes have been broken or washed away entirely. Citizens in Kanchipuram have been living in shelters from more than a month. Many in Cuddalore are still waiting for aid, work and income.
The worst is over and the rest of the country might turn its attention to other matters, urgent or otherwise. But many in Tamil Nadu are stuck in the long haul of recovery. Here are some scenes from the ground in Chennai, Kanchipuram and Cuddalore, as photographed by Nayantara Narayanan.

This resident of a Mylapore slum had to hoist his pregnant wife and children on to the roof of his house when water that entered their house from the Buckingham Canal threatened to drown the family.

Private doctors in Chennai worked pro-bono, assessing and treating water-related fungal infections, fevers, tapeworm and leptospirosis.

Rubin Santosh, programme manager of the Red Cross' free mortuary van service retrieved 14 bodies from Chennai's MIOT Hospital where ICU patients died during a power failure in the floods. Santosh said he had been getting requests to retrieve bodies of drowning victims in Saidapet since November 12. "We got about 15-20 requests till the beginning of December," he said. "In the week after the December 1st rains, we got 60-70 cases."

The floods stalled hectic construction of high-rise residences at Chennai's outskirts as water surrounded the half-done building sites.

In Kalavakkam, migrant labourers from Bihar survey the waters that have robbed them of their daily wages.

"Flood-affected village: Mettupalayam": A sign painted on a veshti leaves people bringing relief material in no doubt about who is asking for help.

Durga (bottom right) is in the third standard in a Kanchipuram school and wasn't happy about having to miss school for a month while she stayed with her family in a flood shelter.

Walajah lake in Cuddalore district is maintained by Neyveli Lignite Corporation. Due to heavy rains during Diwali the water breached the lake's walls and rushed down towards villages in the Kurijipadi block. "You couldn't see the trees on that island in the lake," said P Jesudas, pastor at the Church in Kalkunam village, indicating the level of water.

Radha (left) is the daughter of Ramalingam and Lokanayaki, duck rearers who died in a flash flood in Kalkunam village during Diwali. The couple who had gone to the river were swept away by the water. Neighbours say that the only reason they found the bodies was because there were entangled in a thorn bush. Radha, a college student, must now look after herself and two younger brothers.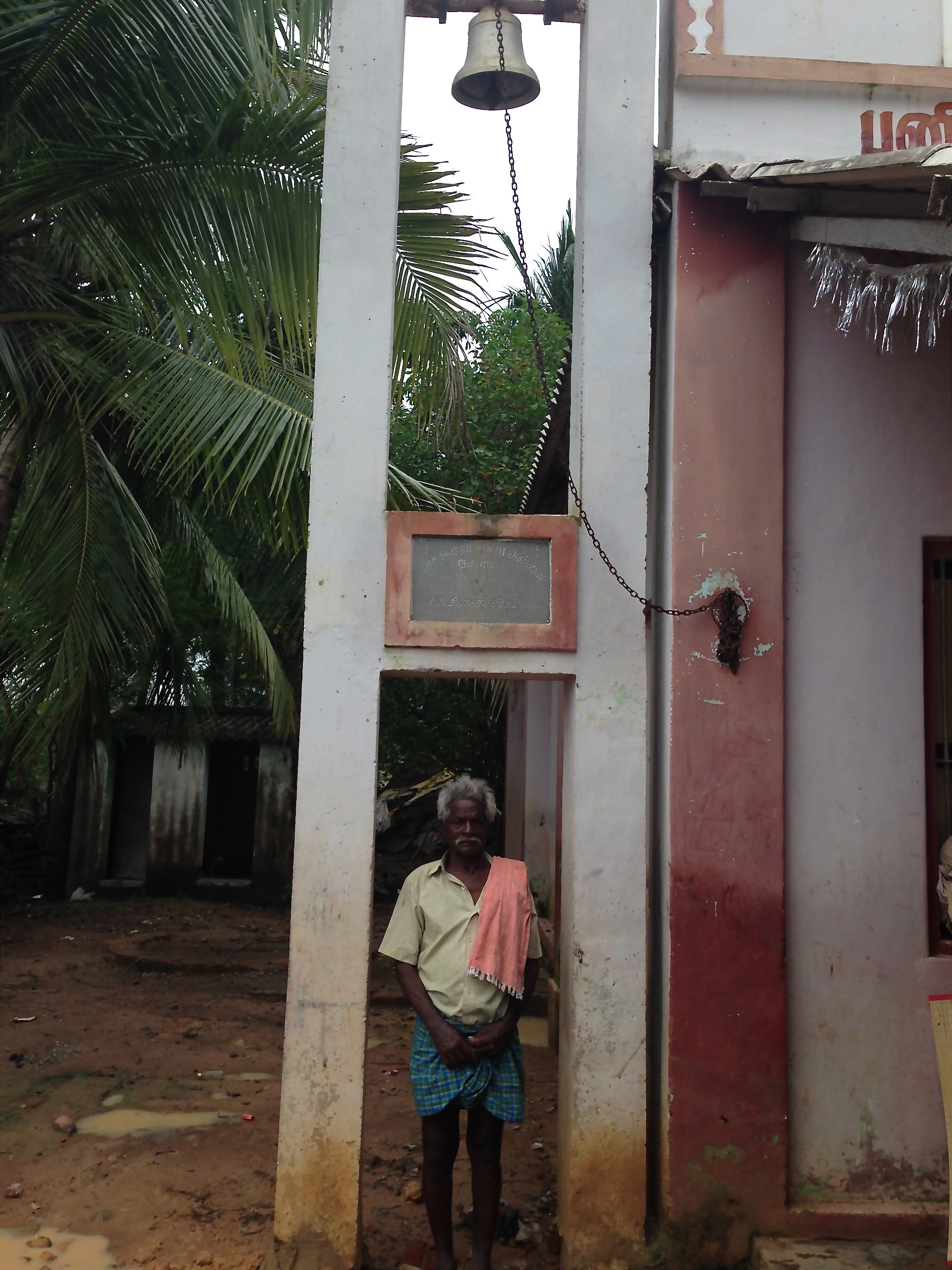 Selva ran into the church when his hut flooded only to find water rising in the church as well. He stands near a wall where the waters left their mark.

Sanitation workers in Cuddalore town starting on the big clean-up.
We welcome your comments at letters@scroll.in.