It might be the Women's World Cup and all, but comparisons with men's cricket are never far away.
It's not only about the big ones – no, not the fracas over Mithali Raj being asked her favourite male cricketer or Waqar Younis calling for women's One-Day International matches to be trimmed to 30 overs per innings. It's in the small things as well. The occasional "batsman" emerging from the commentator's lips. Or the comparisons which float across in every match.
When Pakistan's pacers were in the middle of a good spell against India, there were inevitable comparisons with the men's team. Smriti Mandhana and the comparisons with Virender Sehwag or Sourav Ganguly. And when Sri Lanka's Chamari Athapaththu smashed a dazzling unbeaten 178, she described her knock in the following words: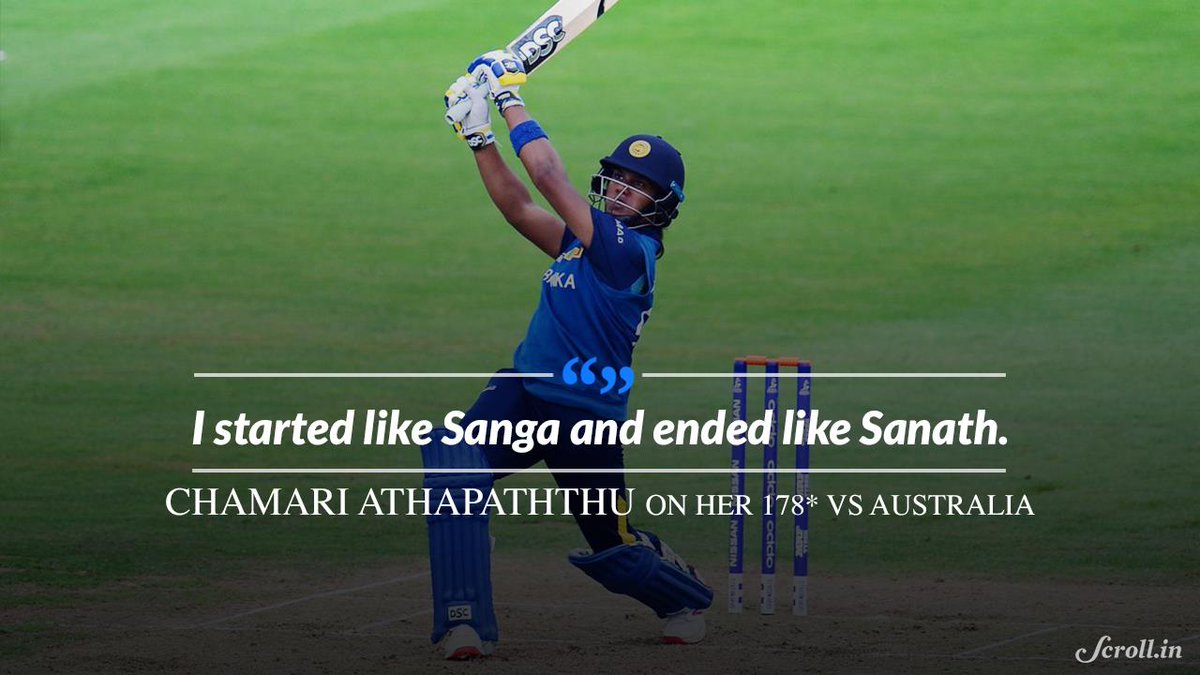 And it has not gone unnoticed. Women's cricket, like almost every other one of its sports counterparts, cannot take a step without some comparison with the men's version. And there are those who flay this comparison. "Even in this day and age, a female athlete at the top of her sport is asked questions that have very little to do with her own game," wrote Zenia D'Cunha in her piece on Mithali Raj. "A substantial chunk of narrative in coverage of female sportswomen is still based on her physique, her outfit, her traditional gender roles and worst of all, as a counterpoint to the men's game."
The reference fallacy?
The point is well taken and well made. The problem may lie in the fact that the comparisons do not arise out of any inherent desire to demean the women's game, but because of the lack of a reference.
Unfortunately, most of those who follow cricket, whether it be fans, journalists (this author included), pundits, have not watched enough women's cricket to use as a reference. Sport works on lazy comparisons (notice how every flamboyant knock is compared to a Viv Richards special or any fantastic fielding effort will have Jonty Rhodes mentioned in some context) and when a women's match is on air, the number of references becomes automatically low.
Especially on a live broadcast, commentators often go for the quickest solution: a reference to something in men's cricket as they are much more attuned and familiar with it than the version they are watching.
There is no quick fix to solve this. The only way fans, commentators, and pundits will be able to appreciate the women's game for what it is when they watch more of it. And then, the references may come from within. Rather than comparing a Mandhana to say a Sehwag or a Ganguly, we can compare her to Australia's Karen Rolton, a left-hander just like her who has now retired but had a strike rate of over 120 in the 15 Twenty20 Internationals she played between 2005 and 2009.
Or you can look closer home. Much before Mandhana, the bespectacled Purnima Rau, was among the first few to try and take advantage of the fielding restrictions the early 1990s. It doesn't just stay with the batting... for example, how similar and dissimilar are Ekta Bishta and Neetu David, one of Indian cricket's left-arm greats? When you start to look, the possibilities are endless.
But what to do till then? Only one solution: watch and love this version of the game for its intrinsic charm rather than anything else.
The ultra-classical and the pure
For instance, watch Poonam Yadav. She's 25, hails from Agra and is a diminutive four feet eleven inches in height. She bowls leg-spin with an action that can only be called ultra-classical. The run-up is fluid and languid, no jerks. But the magic happens when she releases the ball. Gently, very gently, it sweeps…up, up and above, way above the batter's eye-line and then makes a slow descent earthwards. Everything happens in slow motion with the batter probably having thousands of thoughts as the ball reaches her. And mostly because of that, the batter tries to do too much and can't get it away. It's watching a rendition of classical symphony in its purest form. If you take leg-spin and strip away all the flippers and wrong 'uns, Poonam Yadav's action is probably what you'll be left with.
Or take Smriti Mandhana, whose strike rate of 103.96 puts her third in the charts among batters who have scored a minimum of 200 runs this tournament. Mandhana has basically fired twice, once against West Indies where she scored a 108-ball 106 and an incredible 72-ball 90 against hosts England.
Let's repeat it again, that 72-ball 90 was an incredible innings and because of the way it was constructed. With that strike rate, you'd expect some shots in anger but Mandhana was exquisite, serenely uncluttered. She is brilliant on the off-side, but never did she go slashing. It was more beautiful timing, finding the ball in the middle, placing it right in the gap and whipping it to the boundary. The other shot she had was the whip to mid-wicket, if the delivery was marginally short. But yet again, there was hardly any power involved, no exaggerated swinging of the bat. It was timing, pure and pristine, which carried the ball to the leg-side boundary.
If we're forced to make a comparison to men's cricket again, it is only for this reason… you don't see this kind of pristine timing anymore. Compare, say, just for the purpose of example, Evin Lewis's 62-ball 125. Spectacular, yes, but based on pure power and brawn. Shots not timed well enough going all the way because of pure power.
The women's version, on the other hand, doesn't enjoy that advantage. Time it wrong and you will get dismissed at worst, no run at best. And that's where Mandhana's knock was somewhere vaguely much more satisfying. There was more risk involved. And hence more reward.
Perhaps, that is the best USP of the women's game. At the heart, it is cricket, but it offers a refined, eye-catching version of it which has mostly died out in the men's version. The women's version is easy on the eye for its focus on timing and strokeplay, over brute power. And when it comes to bowling, the focus remains on discipline over variations – consider how Ekta Bisht gets her wickets, a nagging line, stump-to-stump, over and over again.
Women's cricket is special and unique in its own right. Next time, when we watch a match, stop yourself for a moment when the inevitable comparison to men's cricket arrives. Instead, take a quiet moment and revel in what you are watching instead of the comparison.
We welcome your comments at letters@scroll.in.