Cricket can provide the most ironic of coincidences.
Take Abhinav Mukund for example. The 27-year-old Chennai opener is the quintessential Indian cricket journeyman. He made his Test debut in 2011 when India toured West Indies for a three-Test series. Another promising Indian batsman also made his debut, but Mukund outscored that batsman in that series – while Mukund scored 147 runs in three Tests, the other player scored 76.
The other player was dropped for India's upcoming series to England that year while Mukund was picked. But Mukund had a torrid time in the only two Tests he played in England and was left out of the Indian team. That other player was included in the Indian team when they toured Australia at the end of 2011, scored two centuries on the tour and is now considered among the greatest batsmen in the world.
Comeback kid
Yes, Abhinav Mukund and Virat Kohli's lives have a curious parallel but he was probably not thinking about that when he blunted a tiring Sri Lanka attack on a sunny afternoon in Galle on Friday. Fittingly, it was Kohli at the other end as well as Mukund played a knock which should just about keep his head above the water in India's quagmire of opening quality.
Let's be honest, Mukund is realistically only fourth in India's opening batting hierarchy, after the top three of Shikhar Dhawan, KL Rahul and Murali Vijay. While he was chosen ahead of Dhawan for this tour originally, the left-hander's 190 in the first innings has probably made him a certainty in the team now. India even experimented with Parthiv Patel in the opening slot in the England before giving Abhinav Mukund a Test return after six long years…against Australia in Bengaluru when India were 0-1 down in that series.
"That I'm back after five years is itself an occasion. I'm going to cherish this moment," he had told The Field at that time.
But when things got underway, there wasn't much to cherish for him. A fired-up Mitchell Starc needed only eight balls to dismantle his stumps on Test comeback. The second innings did not go well either…he stuck around for 32 balls, scored only 16 and was mocked by Starc for hitting a top-edge six with the Australian pacer jeering at him by pointing to his own head. Later in the match, his Tamil Nadu teammate Ravichandran Ashwin got fitting revenge, but Mukund's comeback seemed to have gone up in smoke.
Bat-pad genius
Another opportunity came to him in Sri Lanka with both Murali Vijay and KL Rahul out, but again it seemed Mukund was intent on throwing it away. Even against a vastly inferior Sri Lankan bowling unit (compared to Australia's), he didn't seem completely at ease while Dhawan ticked away at the other end. The uncertainty around the off stump finally cost him as he reached for one and nicked it through.
Three bad innings in a row, at a time when you're desperately trying to stand out in an already crowded field. It probably couldn't be any worse but Mukund is a tough customer. To be a bat-pad fielder needs you to be tough, to be a good one needs you to be special, in a way. In that brief Sri Lankan second innings, he showed why he has oodles of grit.
Never turning away from the batsmen's sweeps, continuously shouting anticipation and encouragement, Mukund had already proved his presence at that specialist fielding position, even before he pulled off two magical reflex moments: running out Upul Tharanga with a split-seconds throw from that position and snatching the catch to dismiss Niroshan Dickwella almost off the ground.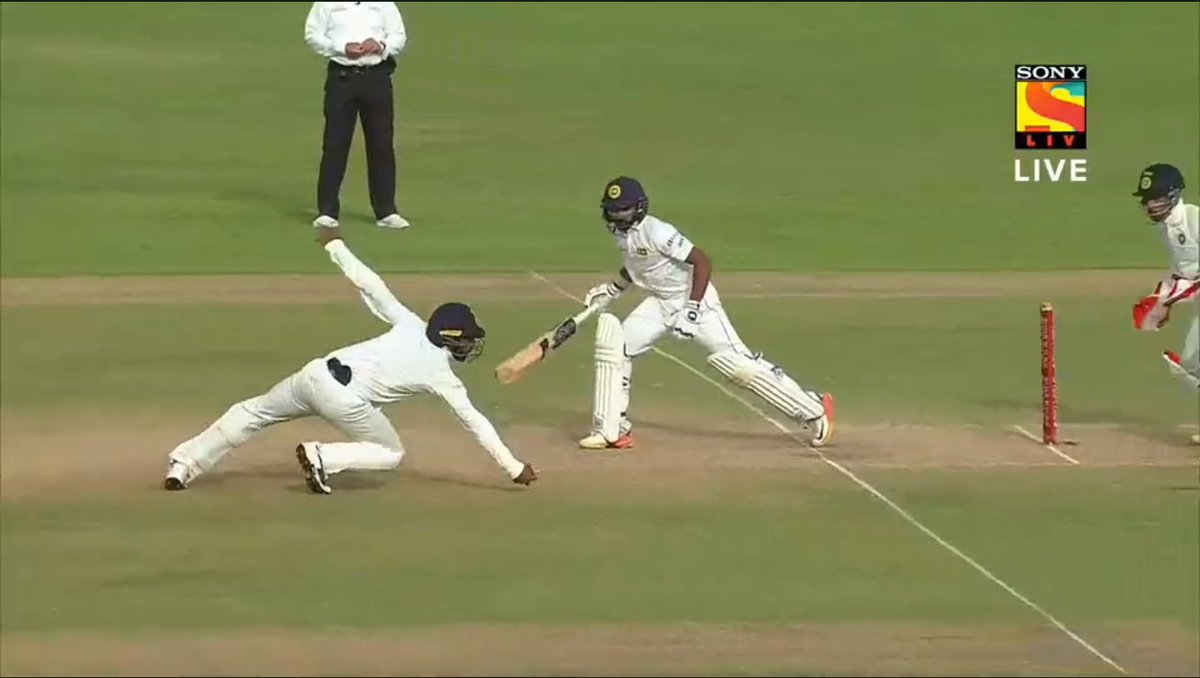 The long-awaited 50
Yet when he came out to bat in his second dig, Mukund must have been aware that he was playing for his place in the squad. Perhaps that explained the tentativeness at a time when India were already building a big lead. It was only when the captain arrived at the crease that the opener was spurred on.
The bowling was terrible but, importantly, Mukund didn't let desperation cloud his judgment and showed off some eye-catching shots. The fifty – one after six long years – came up with a boundary but Mukund was also equal in responding to Kohli's pleas for the singles and twos. As the shadows lengthened and he entered into the seventies, he might have started dreaming. A maiden Test century. Rudely interrupted when he played down the wrong line to part-timer Danushka Gunathilaka off the very last ball of the day for 81.
Even this 81 will surely not be enough. KL Rahul and Murali Vijay will be back when they are fit. But with this knock, Mukund has ensured that he'll stick around and not vanish into the horizon. He'll still keep knocking on the door with a spat of overseas assignments coming up. That'll suit him fine. After all, he had to do it for six long years.
We welcome your comments at letters@scroll.in.