Do you ever feel like you are sleepwalking through a task and just continuing to do the routine action without actually applying yourself to it?
This is exactly how Roger Federer looked like in the latter stages of the decider in his quarter-final match against Kevin Anderson, a player who hadn't even taken a set off him in four previous meetings. After having a match point in the third set, to go in double digits in the fifth would take a lot from a player. But for Federer, who is a month short of his 37 birthday, the finish line was one he couldn't physically cross.
The 32-year-old South African fought from two sets down to stun the defending champion and top seed 2-6, 6-7(5), 7-5, 6-4, 13-11 in what is among the biggest upsets Wimbledon has seen.
Because 20-time Grand Slam winner Federer doesn't usually lose from two sets up when he has a match point on the surface he has won eight titles on. The last time he lost from two sets up was in the quarter-final against Jo-Wilfried Tsonga back in 2011. The last time he was out of Wimbledon before the semis, was a shock second-round defeat against Sergiy Stakhovsky in 2013.
Anderson stood tall in the battle of attrition that the four hour and 13-minute epic eventually became. After being broken in the very first game of the match, Anderson did not wilt under pressure, even as Federer began playing an increasingly error-prone match, his concentration lapsing and serve collapsing. At one moment he paused before serve when someone in the crowd shouted, and that was all it took to get the decisive break. Anderson mounted a splendid comeback to hold his fiery quick serve and use it as a rocket-launcher against the player with the best record on grass.
The 90-minute, 24-game long fifth set was ultimately decided by the solitary break. Ironically, Federer hadn't been broken at Wimbledon for 85 straight games, since the semi-final against Tomas Berdych last year. Anderson broke him four times. The 36-year-old hadn't dropped a set here since 2016 either, till he dropped the three that counted the most, after equalling his own record of 34 straight sets.
The serve is what decided this match in the end, as the Swiss ace just couldn't get his footing right after the first two sets on Court 1, a venue he hasn't played at for three years.
An accurate summation of what went wrong was given by Federer himself who – by the accounts of the media people present – came to the press conference soon after the five-set marathon.
"It's one of those average days you have to try to win the match, and I just couldn't get it done today. As the match went on, I couldn't surprise him anymore. That's a bad feeling to have. I couldn't come up with enough good stuff for him to miss more. I think that was the key at the end. It's just terrible. But that's how it goes, you know. I didn't see it coming.

I was very happy that I got off to the right start of the match, was able to take control somewhat of the game. I just don't know exactly how I couldn't create more opportunities once the third set came around. I wasn't feeling particularly well off the baseline. I couldn't really get the rallies going the way I wanted to, especially 1-2 punch wasn't working at all. It's disappointing. No doubt about it. But he was solid. He got what he needed when he had to. Credit to him for hanging around really that long," 

— Federer at the post-match media interaction.
As someone who is playing his 20th Wimbledon, this is a succinct match analysis. It was an average performance when he needed to bring his A-game against a relentless opponent.
It wasn't as if Federer didn't have his chances, he had more than enough of them throughout the match. He had a match point and break points in the fifth. Anderson was love-30 down on serve several times as well, only to claw his way back. He converted only 25% of his breakpoints, a telling stat, because in all other aspects other than this and aces, there was little to separate the two. In fact, Federer won more points than Anderson.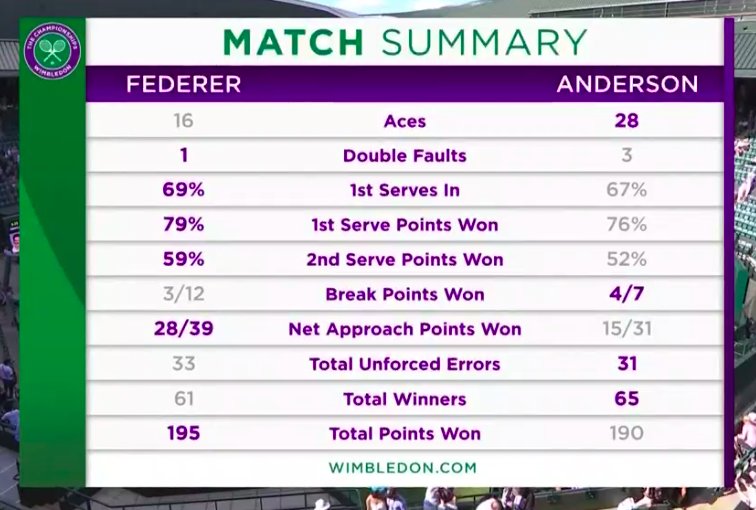 On a surface that rewards the big servers, Anderson's weapon was lethal. He brought in the big guns, with long rallies and cracking winners when the inevitable errors didn't fetch him points. Federer had to attack, to do something different, force him to break his rhythm as he served first in the decider. But his opponent had all the answers, even as he racked up the unforced errors: The 6'8 player was bending and returning low, reading the volleys and with his massive wingspan, manning the baseline like an army, while Federer shuttled from side to side to just stay in the game.
Once the fifth set went beyond 10 games, Federer's level began to dip. Whether it was confidence or it was his body not responding, he looked like he was not a 100% there as the set advanced. Sleepwalking when he should have been sprinting.
The holds were managed with his effective serve, but the returns didn't have the bite the trouble to South African. And when Anderson began to pump up the attack, instead of dropping intensity, he committed the fatal double fault – his only one of the match – and then it was only a matter of time before Anderson was serving for the match.
On his part, Anderson was charged up and showed immense self-confidence in his first quarter-final at Wimbledon. "I kept telling myself to keep believing. I said today is going to be my day."
And it was his day indeed, his biggest career win. It was a triumph of his spirit, for it was more than a wilting Federer and a long-drawn match that gave Anderson the win. The 2017 US Open finalist was in uncharted territory but kept fighting to take his chances against the best. He kept believing and backed that with a supremely calm, calculated game under pressure. Against Federer at Wimbledon, this is not an easy task. But with his booming serve, swift winners, and self-belief he managed to break and beat Federer.
As for Federer, despite his candid presser, there will be many more questions in the coming days. For those spoiled by his stunning 2017 season, 2018 has not been able to match up. He has defended just one title he won last year, the Australian Open, losing in the finals of Indian Wells and Halle (but has won two others.)
The world No 2 is still playing at a level better than most and has promised to return next year to the All England Club. The new-look Federer will look to return to tour for the North-American hard-court swing, but the results on those hard courts will have a lot riding on them.
Support our journalism by subscribing to Scroll+ here. We welcome your comments at letters@scroll.in.