Sprinter Hima Das tonight scripted history by becoming the first Indian track athlete to win a gold medal at the world level as she clinched the top spot in the women's 400m final race in the IAAF World Under-20 Athletics Championships in Finland on Thursday.
No woman before Das has won a gold medal in a World Championship at any level, be it youth, junior or senior.
Here's a look back at the other medal-winning efforts by Indian athletes at the IAAF U20 World Championships in the past:
Seema Antil (Discus Throw, Bronze, 2002)
The first medal for India at this event came in the discus throw event in 2002, held in Kingston, Jamaica. Seema Antil recorded a throw of 55.83m in her fourth attempt to finish third, although it was not quite her best effort as she entered the final with a season best of 58.63m, which would have fetched her a silver. Ma Xuejun (58.85m) and Xu Shaoyang (57.87m) finished ahead of Seema to make it a 1-2 for China.
Incidentally, then 16 years old, Seema had won gold at the World Championships two years earlier in 2000 (Chile) with a throw of 55.27 metres for a thrilling victory with the very last throw of the competition. As it turned out, however, she had tested positive for pseudoephedrine at the world meet – a "stimulant" under IAAF rules – and was stripped off the medal that had garnered plenty of publicity at the time. She admitted to taking medication for common cold later on, and pleaded with the authorities to excuse what was a minor violation, but it wasn't to be.
Navjeet Kaur Dhillon (Discus Throw, Bronze, 2014)
It took 12 long years after Seema's heroics for another medal to come India's way, and fittingly enough, it came in the same event. Discus thrower Navjeet Kaur Dhillon became only the second Indian to grab a medal at the IAAF World Junior Championships by throwing a then-personal best to clinch a bronze in Eugene, USA in 2014.
The 19-year-old covered an impressive 56.36m with her throw at the Hayward Field in the World Junior Championships. Her previous best was 53.97m which she recorded while winning the Junior Federation Cup at Chennai earlier that year.
Brazil's Izabela da Silva set a world junior leading mark of 58.03m for the gold while American Valarie Allman (56.75m) entertained the home crowd with a silver medal.
And in a case of events coming a full circle, at the 2018 Commonwealth Games both Seema and Navjeet participated together and finished on the podium with a silver and bronze respectively.
Here's an interview with Navjeet after her bronze at the Worlds in 2014.
Neeraj Chopra (Javelin Throw, Gold, 2016)
Two years ago, Commonwealth gold medallist and holder of the senior national record, Neeraj Chopra had scripted history by smashing the junior world record in javelin throw en route to a gold medal with a stunning effort of 86.48m at the World Under-20 Championships in Bydgoszcz, Poland in 2016.
After a solid opening round throw of 79.66m, the 18-year-old from Haryana achieved a stupendous distance of 86.48m in his second attempt, nearly two metres beyond earlier world Under-20 record of 84.69m which was in the name of Latvia's Zigismunds Sirmais.
Chopra had, in the process, become the first ever Indian to hold a world record in athletics (junior and senior). He also broke the existing national senior record of 82.23m in the name of Rajinder Singh while also becoming the first Indian track and field athlete to have won a gold in a World Championships.
Chopra had entered the World Under-20 Championships as the season leader after his national record equalling effort of 82.23m while winning gold in the South Asian Games in Guwahati in February, but he had not surpassed the 80-metre line since then.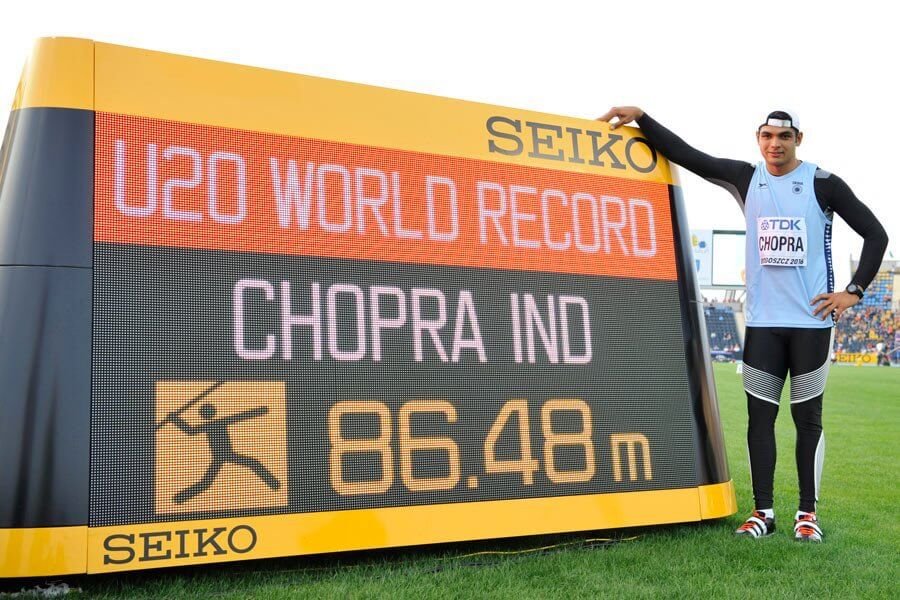 Hima Das (400m, Gold, 2018)
The 18-year-old Das, a pre-tournament favourite, clocked 51.46s to win the gold, which triggered a wild celebration in the Indian camp. This was though not her personal best as she had clocked 51.13 last month in Guwahti at the National Inter State Championships.
Running in lane number 4, Das was behind Romania's Andrea Miklos at the final bend but produced a stunning burst during the final stretch to cross the finishing line well ahead of the field. She produced her trademark burst at the final 50m. Miklos took the silver in 52.07 while Taylor Manson of USA was third in 52.28.
"I am very happy to win the gold in the World Junior championships. I want to thank all the Indians back home and also those, who were here cheering me. It was very encouraging to have this kind of support," she said after the race.
Das, from Dhing village in Assam's Nagaon distrist, now joins the illustrious company of star javelin thrower Neeraj Chopra, who won a gold in Poland in the last edition in 2016 in a world record effort.
Das was the favourite to win gold as she is the U-20 season leader in this quarter-mile event. Her rise has been nothing less than meteoric as she took up serious running only last year. Das had earlier clocked an Indian U-20 record of 51.32 seconds to finish sixth in the Commonwealth Games 400m final in Gold Coast in April.
Since then, she has gone onto improving her timings. She lowered the Indian U-20 record in 400m to 51.13 seconds while winning gold in the recent National Inter State Championships in Guwahati.
(With PTI and IAAF inputs)
Support our journalism by subscribing to Scroll+ here. We welcome your comments at letters@scroll.in.