Indian Football
World Cup qualifiers, India vs Bangladesh as it happened: Adil Khan scores late equaliser for hosts
Live updates from India's third match in the qualifiers.
9.40 pm: That will be all from us for the night. Stay tuned for the match report and more on the site.
India head coach, Igor Stimac: We did all we could, we gave everything today. We have a bright future. We gave a lot of entertainment to the fans. It is the future, we are going to be on the offensive. We were slow at the back in the first 45 minutes, the gaps were not opening. We gave away a simple goal. Congratulations to Bangladesh but we will not win if we concede silly goals. Scoring goals, obviously, is the immediate improvement needed. Better movements needed. We are still young.
FULL TIME, INDIA 1-1 BANGLADESH: Relief for Bangladesh players but disappointment for India. The players do their usual routine of thanking the fans but they would have rather seen a win.
FULL TIME, INDIA 1-1 BANGLADESH: A result that does no good to either side in terms of the group standings but what a result for Bangladesh. Great fight from the 187th-ranked side. But it is a poor night for India despite the late equaliser. Long balls from open play and intricate routines from set play (for the most part). Spectacularly mixed-up tactics, as it turned out for India.
94+4': Last minute of the match, and a draw seems imminent.
After 90 mins, India 1-1 Bangladesh: CHANCE CHHETRI! He makes space for himself and gets the shot away but it is straight at the GK. Five minutes added on.
89th minute, GOAL INDIA!!! ADIL KHAN! Finally, a direct corner after so many routines. Good delivery into the box and Adil powers a header in. Big celebrations and India would rather see Adil get back to the center-line.
After 88 mins, India 0-1 Bangladesh: Sunil Chhetri continues to cut a frustrating figure as he argues with a referee for a penalty. Not been his day. Not been India's day. CHANCE FOR THE CAPTAIN! A shot on target from the Indian captain is headed away for a corner.
After 85 mins, India 0-1 Bangladesh: Bheke with almost another costly mistake but Bangladesh cannot make use of his missed clearance inside the box. India mishit a few more crosses and the clock ticks away frustratingly. India do not look close to scoring to be honest.
After 83 mins, India 0-1 Bangladesh: After a good passage of play that does not result in anything, there is potentially bad news for India as Sahal gets treatment on the sidelines after a nasty fall. India might have to finish the match with 10 men if he does not return. Jamal also is down for the visitors, and it's 10 men on bth sides at the moment as the referee gives the yellow card for... a visiting support staff. Precious time being wasted away for India.
After 78 mins, India 0-1 Bangladesh: Both sides are done with their three subs. Ziban has gone for Bangladesh, who did a superb holding role alone up top.
SUB, 76th min: Anas Edathodika off, Chhangte on. Attacking move from Stimac in desperation.
After 74 mins, India 0-1 Bangladesh: Raynier forces a corner down the left and a flick on from Chhetri goes wide. Frustration for Indian captain.
After 73 minutes, India 0-1 Bangladesh: SAVE ASHRAFUL! A shot from distance by Sahal but that is saved well. Bangladesh make their first change, meanwhile. At the other end, Adil is forced into a goal-line clearance but offside flag goes up.
After 70 minutes, India 0-1 Bangladesh: Half chance for India as Chhetri latches on to a diagonal but he is taken too wide, and cannot get a shot away. His cross is cleared away and he is an angry captain.
SUB, 68th minute: Raynier Fernandes in, Anirudh Thapa off.
After 67 minutes, India 0-1 Bangladesh: CHANCE INDIA! Sunil releases Udanta down the right brilliantly and the cross is a yard behind Manvir who was too close to the goal. Overdid his run, the Indian forward. A hush falls around Kolkata as the Bangladesh net needs some working on.
After 65 minutes, India 0-1 Bangladesh: More poor passing from India and the possession is turned over. Thapa and Anas have been both guilty of that plenty of times tonight.
64th min: Yellow card for Jamal Bhuyan after good feet from Sahal.
After 61 minutes, India 0-1 Bangladesh: CHANCE INDIA! A big clearance on the goal-line saves Bangladesh as Anas sent a looping header on target. With the goalkeeper beaten, that was great defending from Ibrahim, the winger.
After 59 minutes, India 0-1 Bangladesh: Free kick has the free kick from a good position centrally. Will he go for goal? He does. It is deflected for a corner. Dealt with by the visitors and they break with Sahal losing the ball. India escape there. Another corner for India at the other end. On replays, that Chhetri free kick was so close!
SUB: Brandon Fernandes in, Mandar Rao Dessai out.
After 56 minutes, India 0-1 Bangladesh: A cross from the left flank beats Gurpreet and hits the cross bar. That would have been an embarrassing goal to concede. Kuruniyan then sends a wild cross from the left flank to waste a good chance.
After 54 minutes, India 0-1 Bangladesh: More long balls from the central defenders and Thapa, deep in midfield. It. Is. Not. Working.
After 52 minutes, India 0-1 Bangladesh: A powerful shot from Udanta is blocked by the visiting defence and at the other end a big chance for Bangladesh to go 2-0 up on the counter. Ziban finds himself one-on-one with Gurpreet who gets a hand on the shot and forces a corner. Poor defending by India once again but Ziban looked offside even though the flag was not raised. A spree of three corners for Bangladesh here but India hang on.
After 49 minutes, India 0-1 Bangladesh: Sahal, who was largely absent in the first half, makes his presence felt early on in the second, dancing through the defenders and sending a cut-back into the danger area. Bangladesh scrappily clear. Better from the hosts.
After 46 minutes, India 0-1 Bangladesh: An early corner for India, forced down the left flank after Udanta's cross was dealt with. Another routine attempted and it comes to nothing. Sloppy again from India.
8.36 pm: The players make it out for the second half. The Bangladesh coach Jamie Day has a swagger in his step, while Igor Stimac must be a worried man. Here we go again in Kolkata.
HALF-TIME, INDIA 0-1 BANGLADESH: All it takes is 45 minutes of action for optimism to die down in Indian football, eh?Join us shortly for second half action.
HALF-TIME, INDIA 0-1 BANGLADESH: Stimac briskly walks away from the sidelines as he has a massive half-time team-talk to deliver. The Kolkata crowd is still silent from that goal. Saad Uddin has put the visitors ahead and the hosts are in a massive spot of bother.
After 45 minutes, India 0-1 Bangladesh: Into added time, two minutes of those added. India are shell-shocked, as are the spectators.
42nd minute, Bangladesh lead 1-0! WOW. The visitors are ahead! From a silly free kick conceded in the midfield by Bheke, Bangladesh sent a long ball in. Gurpreet comes out but makes a mess of it and misses the ball. The captain's cross is headed in by Saad. Who celebrates with gusto. So poor from the Indians so far, it must be said and Bheke has had an especially poor half.
After 40 mins, India 0-0 Bangladesh: Chhetri dropping as deep as the center-cricle to try and dictate play but the Indian forward moves forward and forces another save from Ashraful but it was a straightforward one off a header from quite some distance. Bangladesh continue to attempt their l(ooooo)ong throw-ins from distance but India have dealt with that threat so far.
Yellow card (36th min): Anas Edathodika
After 35 mins, India 0-0 Bangladesh: Correction, that was a block from Anas to let Adil off the hook. Saved his defending partner's backside there. Manvir now goes close and forces a save from the corner at the other end. India are starting to exert more pressure going forward and the direct corners seem more effective at the moment. Just as we say that Adil sends an aimless cross from the back for a goal kick.
After 32 mins, India 0-0 Bangladesh: BIG LET OFF FOR ADIL! So poor from the defender when he tries to deal with a simple pass that results in a 2v2 situation for the visitors down the right. Gurpreet forced into making a save. That could have been ugly for India.
After 26 mins, India 0-0 Bangladesh: A Bangladesh defender is forced off due to bleeding over his bandaged forehead as India try another routine from a corner forced by Udanta. Does not come off. Maybe time to just go back to basics for Stimac? This could get increasingly frustrating for India.
After 26 mins, India 0-0 Bangladesh: The 26th minute free kick is an elaborate routine from India. Thapa looks to set up Chhetri with a quick one-touch move but it's a wasted chance. Had to go for goal from there. Trying to be too cute. Chhetri appeals for penalty but if Bheke was spared early on, this was nothing.
After 25 mins, India 0-0 Bangladesh: Better again from India to keep possession and recycle it well. A free kick for India from a central position and Chhetri will fancy this.
After 20 mins, India 0-0 Bangladesh: 20 mins into the game and Bangladesh will be the happier side. Ibrahim has shown flashes of brilliance down the left while the team has held their shape well in defence. India need to up the tempo.
After 18 mins, India 0-0 Bangladesh: Finally some good build-up play from India ,down the right flank. Bheke and Udanta combine well to win a corner. Thapa with a good outswinging delivery and Bheke, heavily involved early on in this game, heads over the bar. India continue to look for the long balls with Chhetri and Manvir playing up top: both good headers of the ball.
After 13 mins, India 0-0 Bangladesh: After what we saw in flashes against Qatar, it is quite disappointing to see India have gone for the long-ball approach early on here instead of playing it on the turf. Clear tactical decision by the looks of it, but not perhaps what the Indian fans were expecting.
After 11 mins, India 0-0 Bangladesh: Bheke involved again but this time in the opposition half as he heads back across goal from a corner routine. Bangladesh deal with the danger. Better from India.
After 8 mins, India 0-0 Bangladesh: Another penalty appeal against Bheke after Anas lazily gives the ball away in India's half. Back-tracking Bheke goes for a shoulder barge at the byline and the referee signals goal kick. Shaky start by India who are quite pedestrian on and off the ball so far.
After 4 mins, India 0-0 Bangladesh: Chance India! Who else, but Chhetri. Some head-tennis in the Bangladesh box and the ball falls to the captain who hits a shot on the turn but it's straight to the keeper.
After 2 mins, India 0-0 Bangladesh: Big call from the referee to deny Bangladesh a penalty in the opening 30 seconds! Looked like Bheke was late on the ball. Massive reprieve for India, one thinks. The defender did get the ball but it was clumsy from the back. Bangladesh waste the corner and India control possession.
7.31 pm: We are underway!
7.29 pm: The Indian and Bangladesh national anthems (both written by the inimitable Rabindranath Tagore) being played in front of the Kolkata crowd. Quite the moment.
7.27 pm: How great it is to have Chhetri back in the XI? A big boost for India, for sure. Can he keep up his scoring streak at home? India are also looking for their first home win under Igor Stimac.
7.25 pm: Here's how things stand in the group.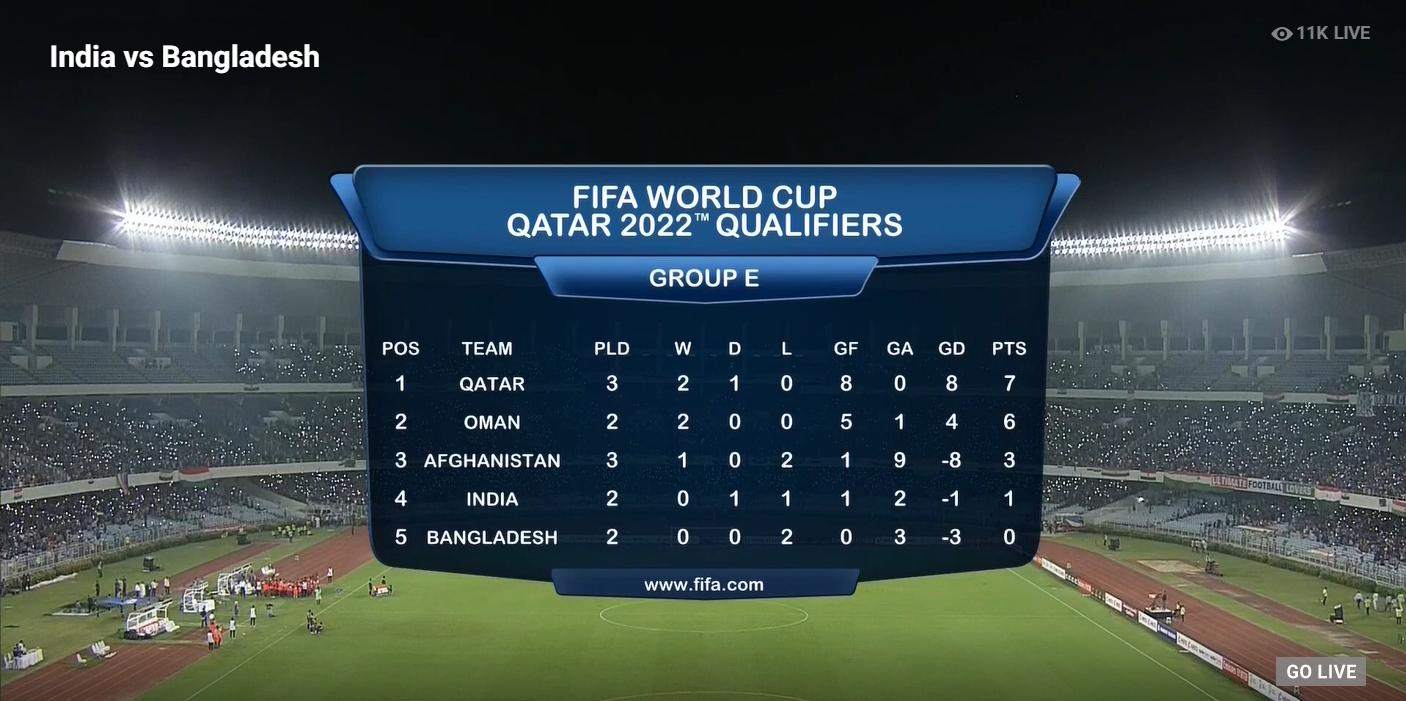 7.21 pm: Bangladesh coach Jamie Day on playing at YBK: "My boys got to enjoy the occasion. If we take too much pressure, it can get to us."
7.14 pm: With ace defender Sandesh Jhingan missing out due to a long-term injury, coach Stimac has gone with the experienced Anas Edathodika, who last featured for India at the AFC Asian Cup instead of youngster Narender Gehlot. The right move?
7.03 pm: Reminder of the head-to-head, current form and rankings for the two sides:
Form Guide
India - L-L-D-L-D
Bangladesh - W-D-L-W-L
Ranking
India: 104
Bangladesh: 187
H2H
| Team | Wins | Draws | Losses |
| --- | --- | --- | --- |
| India | 17 | 10 | 5 |
| Bangladesh | 5 | 10 | 10 |
6.56 pm: No changes to the Bangladesh XI that faced Qatar...
GK: Ashraful Rana
DEF: Raihan Hasan, Riyadul Hasan, Rahmat Mia, Yeasin Khan
MID: Jamal Bhuyan, Mohammad Ibrahim, Sohel Rana, Biplo Ahmed, Saad Uddin
FWD: Mohammad Ziban
6.48 pm: The Indian line-up is in. An attacking one, at that. What do you make of it? Let us know on Twitter, tagging @thefield_in.
6.45 pm: Here's what Bangladesh coach Jamie Day said ahead of the match:
"I am surely India are going to attack a lot more than they did against Qatar, so defensively we have to make sure that we don't concede goals.

"The ranking does affect, they are up there because they have won games for a reason. We have worked hard recently but we are also making efforts to improve our ranking because going forward it will give us an advantage. The way we played against Qatar, if we play in a similar way, we have a good chance to beat them. The aim is to get some point from this game."
6.45 pm: No doubt, India are favourites for this match but how they fare tonight will depend a lot on how they handle that tag and how the forwards fare. Preview by our football correspondent Nicolai Nayak here.
6.32 pm: The team is at the venue... less than an hour to go for the kick-off.
6.25 pm: Last month, Blue Tigers achieved one of the biggest results in Indian football, arguably in a decade - snatching a point from Asian champions Qatar back in their own den. Though just a draw, it gave India a reason to dream big.
6.20 pm: Both teams are without a win in their campaign so far while Bangladesh are still searching for their first point. Against Afghanistan, Bangladesh were held defeated 0-1 despite having plenty of possession. On October 10, at home against Qatar, the red and greens impressed despite going down 2-0. They will take heart from the performance going into this match against India in Kolkata.
6.10 pm: In the previous 32 matches between the two sides, India have won on 17 occasions, with Bangladesh winning 5 while 10 matches have been drawn. There is a significant gap between the two neighbouring countries on the Fifa rankings as well, with India at 104 and Bangladesh placed 187.
6.00 pm: Hello all and welcome to our live coverage of India vs Bangladesh as the Blue Tigers return to Kolkata!
Buoyed by their hard-fought goalless draw against Asian champions Qatar, India would be looking to register their first win in the Fifa World Cup qualifiers (2022) when they take on Bangladesh in a Group E second-round match at the Salt Lake Stadium, in Kolkata on Tuesday.
India put a gritty performance against an attacking Qatar side, to hold the reigning continental champions to a goalless draw and earn their first point of the qualifiers after suffering a heartbreaking loss in the opening match against Oman at home.
With Kolkata set to host the senior national men's team after a gap of nine years, the euphoria around the match has been immense according to reports and a packed house is expected, giving the Igor Stimac-coached side a perfect stage to grab three points and keep their World Cup hopes alive.
The absence of defender, Sandesh Jhingan due to an ACL tear on his left knee is a big blow to the hosts. But the return of talismanic captain Sunil Chhetri after missing the last game should lift the team's spirit.
Against Oman, Chhetri scored his 72nd international goal as India put up a dominating first-half display only to go down 1-2 after conceding late goals in their World Cup qualifier against Oman in Guwahati.
But the Qatar draw has breathed life back into their campaign, making this Bangladesh clash a must-win encounter.
We welcome your comments at letters@scroll.in.