Five years after Independence, 2.8 million women voters who registered to vote in India's first general election were struck off the rolls by election commissioner Sukumar Sen because they had refused to give their names: they gave their husband's or father's names instead. That's just one of the challenges the administration faced in organising independent India's first general elections in 1952.
Elections to all state assemblies were held along with it. Prime Minister Nehru wanted the elections to be held as soon as the Constitution came into force in 1950. But Sukumar Sen wanted time to make electoral rolls, fabricate ballot boxes, design election symbols to bridge the problem of illiteracy and put into place plans to make sure the election could be conducted in remote hills and islands. Special bridges were made, as was a special ink that couldn't be removed for a week.
Just over 170 million Indians were eligible to vote, but 85 per cent of them were unlettered. The logistics were mind-boggling: 224,000 polling booths were constructed, and 8,200 tonnes of steel was used to make two million ballot boxes. Programmes on All India Radio and a special documentary screened in 3,000 cinema halls educated voters about the Constitution, the election process, the preparation of electoral rolls, the idea of universal adult franchise, and so on. Opposition parties – socialists, communists, the Hindu right, Ambedkar's party and others – sprang up. So colourful was the campaign, Ramachandra Guha writes in
India After Gandhi
, cows could be seen in Kolkata with the "Vote Congress" slogan scrawled across  them.
In the end, the voter turnout was 45.7 per cent. The Congress won 364 of 489 seats in parliament. Here are some images from India's first election.
An election procession of the Congress Party. The truck has banners with Jawaharlal Nehru's portrait and a pair of bullocks, which was the Congress Party's election symbol.
At a polling booth, indelible ink is applied to a voter's forefinger before he is allowed to cast his vote.
In the Jama Masjid area, a blind old man is carried to a polling booth.
Women voters wait for their turn at Modern High School in New Delhi.
Socialist candidate Mir Mushtaq Ahmed canvasses for votes.
A villager looks for the election symbol of a candidate of his choice. 
Sukumar Sen, Chief of the Election Commission.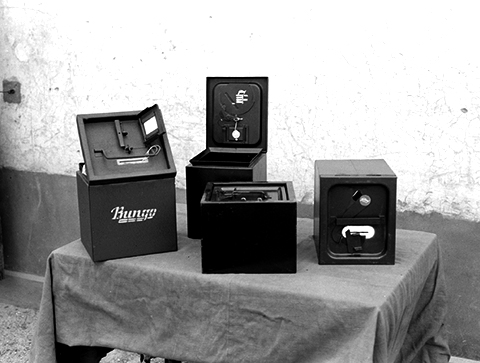 A set of specially designed, bullet-proof, tamper-proof, steel ballot boxes.
We welcome your comments at letters@scroll.in.