From his social media feed and website, it's clear that Narendra Modi loves facing the camera and posing for pictures. The prime minister's ability to spot the camera has now become a much documented trait. His talent for ensuring that the lens is constantly trained on him was highlighted yet again during his recently concluded visit to the United Kingdom where he met the Queen, British Prime Minister David Cameron and addressed a huge gathering of 60,000 Indians in the country at Wembley Stadium.
Here are a few instances when the camera caught the prime minister managing to spot the camera:

Source: Press Information Bureau

Source: Press Information Bureau



Zee: Modi is 1st PM of India who finds Camera more important than Cameron! #ModiInUK #KeepModiGiveKohinoor pic.twitter.com/MjzV3Qzi7E


— जयश्री (@AAPkSaath) November 12, 2015



Modi: कैमरून जी आप गलत दिशा में देख रहे हैं कैमरा उधर है #modifindscamera pic.twitter.com/W6IShTVm1P


— Mohit Yadav (@mohityadav000) November 12, 2015 



This sums up #ModiAtWembley #ModiFindsCamera pic.twitter.com/FqMNjY3GJS


— Sheikh Spear (@FailedRckstr) November 14, 2015
During the prime minister's visit to the United States in September, a viral video that emerged from his meeting with Facebook founder Mark Zuckerberg had left the internet in splits.
Modi's penchant for knowing exactly where the camera was on abundant display last year as well, when he was in Australia.  In every picture, he seemed to be looking directly at the photographer.
Here! :-D pic.twitter.com/JJECraKSlW

— Baba Bengaluri (@BabaGlocal) November 17, 2014
It was also on display when he visited Europe.
This one at a round-table discussion on infrastructure with French chief executive officers. Via Reddit.
Modi and Chancellor of Germany Angela Merkel at the inauguration of the India Pavilion at the Hannover Fair. Photo credit: Azhar Khan via Facebook.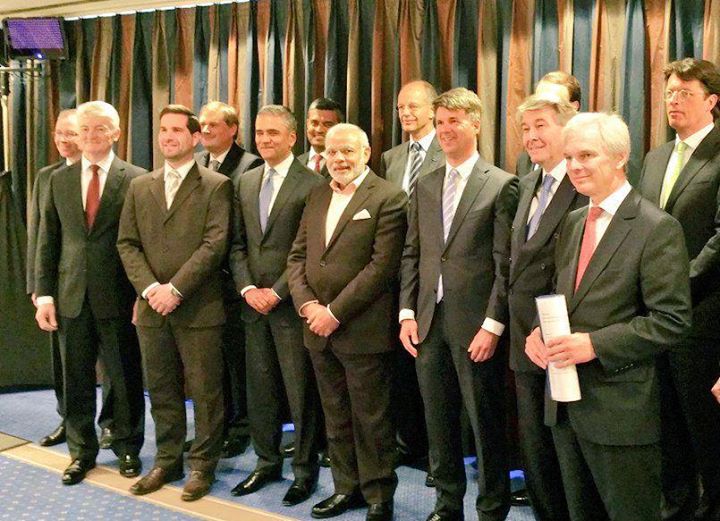 With businessmen. Photo credit: Fekubook via Facebook.
Just as a reminder that he doesn't only do this on foreign trips, here's a classic from the end of March. Photo credit: gkhamba via Twitter.
We welcome your comments at letters@scroll.in.