On Tuesday, Haryana Health Minister Anil Vij blamed the "foreign habit" of shaking hands for the outbreak of swine flu, and recommended the Indian "namaste" as the preferred greeting for staying healthy. "You've had a bath, then you go and shake someone's dirty hand, and then all day you keep spreading that dirt to hundreds of people and so on, which is why we have to rid ourselves of this foreign habit," Vij said in the state assembly.
This comes a few days after West Bengal Chief Minister Mamata Banerjee's diagnosis that the disease spreads through mosquito bites.
The current outbreak of swine flu in India has claimed more than 720 lives, affected more than 13,000 people, and spread much panic. Initially, the government was slow to disseminate information on the disease and its treatment. Patients struggled to find medicines, and private labs felt free to overcharge people for tests.
The government seem to have finally become more responsive to the outbreak, given the number of meetings held in Delhi recently, often chaired by the cabinet secretary.
But the drivel of politicians is not surprising. In the absence of credible information, myths and false promises of cures have been quick to spread. If you are wondering what to make of the claims that are doing the rounds, here is some swine flu fact and fiction:
The fiction*Donkey milk

In Karnataka, swine flu has boosted the economy of villages in and around the Vijayapura district as cars frequently stop on the highway next to the village to buy donkey milk. Doctors have
ruled out
any swine flu-combating properties in donkey milk but that has done little to weaken people's belief that donkey milk is able to control H1N1 and other diseases among children. As a result, 10 milliliters of donkey milk is being sold everyday for as much as Rs 1,000 per litre.
*Homeopathy

A text message has been circulating on WhatsApp asking people to stock up a homeopathic medicine,  "influenzinum 200", that can presumably cure swine flu.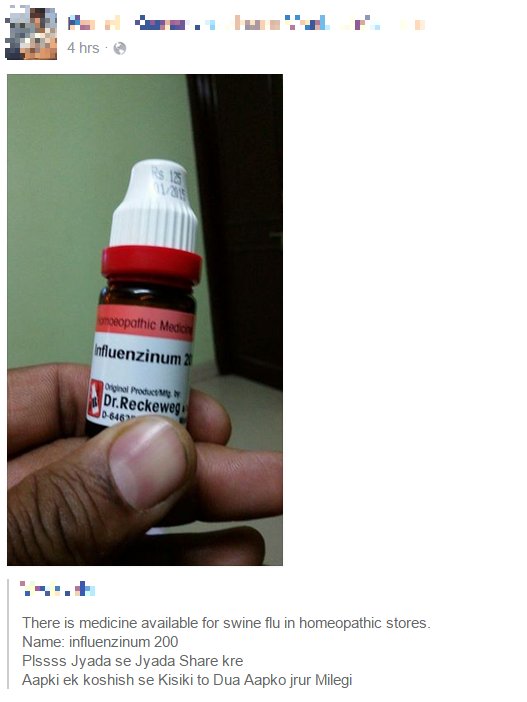 However, the US Food and Drug Administration, which regulates drugs and medicine in America, has already issued warnings against the medicine, 
saying
that "these products have not been approved or otherwise authorized by FDA for use in the diagnosis, mitigation, prevention, treatment (including treatment of symptoms), or cure of the H1N1 Flu Virus".
*Unani drug 'living magic'

In a similar vein, a Unani medicine named Zinda Tilismath is flying off the shelves in Hyderabad. The drug is meant to alleviate everything from toothache, common cold, body pain, nausea and vomiting. Since the symptoms of swine flu are similar, people have come to see it as a "cure" for swine flu, even though one of the managers of the company clarified in an
interview
to
The Hindu
that it is not.
*Ramdev's swine flu cure

Not the one to be left behind, yoga guru Baba Ramdev had claimed in 2013 that he had a cure for swine flu. In a television appearance, Ramdev had said that a cocktail of cloves, black pepper and some other ayurvedic substances is known to boost immunity which is crucial to cure the disease. Ramdev even went on to
claim
that people recovered from the infection after taking medicines suggested by him and said that yoga can be used as a preventive measure.
The facts
Swine flu is caused by the H1N1 virus. It spreads the way common cold does.
When an infected person coughs or sneezes, the droplets released in the air could infect others. You could also get swine flu by coming in contact with surfaces that have been contaminated.
Doctors advise washing hands frequently, eating clean food and avoiding raw or half-cooked chicken as it could carry the virus.
But doctors also say there is no need to panic. Swine flu isn't any more deadly than common cold.
Fatalities usually occur only when people have low immunity on account of other health conditions like diabetes.
But this doesn't mean you should ignore symptoms like high fever, body-ache and nausea. If you are feeling unwell, go and see a doctor
We welcome your comments at letters@scroll.in.