Terror and cross-border trouble in India has always come across land borders. It wasn't until November 2008 that India properly understood the danger of unguarded coasts, and now it appears that a post-2008 effort to improve policing along India's shoreline is starting to have an effect.
A Navy and Indian Coast Guard
joint operation
on Monday managed to seize two "suspicious boats" allegedly carrying more than 140 kilograms of heroin off the coast of Porbandar, Gujarat. Authorities claim to have arrested eight people with satellite phones who had stored the heroin in boxes hidden under other ones that were empty. Although little has been confirmed, reports have suggested the contraband was worth more than Rs 280 crore on the international market.
Seas Ahoy
Until 2001, nearly half of all the heroin seized in India appeared to be coming from across the land border with Pakistan. Up to 74% of heroin seized in India in 1992 was characterised as being of South West Asia origin, meaning it came from Afghanistan or Pakistan, with that number hovering around 40% in the last few years of the 1990s. Then suddenly that number came down to 5% in 2002.
The reason, according to India's Narcotics Control Bureau, had much to do with political conditions in the region. After the September 11 attacks, the United States had invaded Afghanistan, one of the world's largest producers of heroin. And, following the December 2001 attacks on Parliament House in New Delhi, India undertook a significant military build-up along the Line of Control.
In the aftermath, with New Delhi putting more resources into policing and fencing the LoC, drug traffickers who move the contraband between India and Pakistan had to find other ways of moving the stuff. They ended up making the same choices that the Mumbai attackers did in 2008 – take to the seas.

Source: UNODC
"The drug trafficking routes along the Indo-Pakistan border has shifted from being land based to sea based because
heightened vigil and fencing along the land border have forced drug traffickers to look towards the sea as an alternative route," wrote Pushpita Das, an associate fellow at the Institute for Defence Studies and Analysis, in a paper entitled, 
Drug Trafficking in India: A Case for Border Security
. "As a result, the marsh lands and creeks of Gujarat are increasingly used to smuggle heroin from Afghanistan-Pakistan region."
"Heroin is smuggled into the Rann of Kutch from Karachi in various country-made boats. These marshlands with their numerous interconnected creeks, sand bars and mangroves provide ideal hideaways for drug traffickers."
The United Nations Office on Drugs and Crime estimated that India consumes about 6% of all heroin in the world. While some of this is still coming from across the land border – regular reports from the Narcotics Control Bureau include incidents where drugs were simply chucked across the fence – and some of it is produced locally, the IDSA report mentions concerns about India increasingly becoming a "hub for the transshipment of heroin originating from the Afghanistan-Pakistan region to the rest of the world."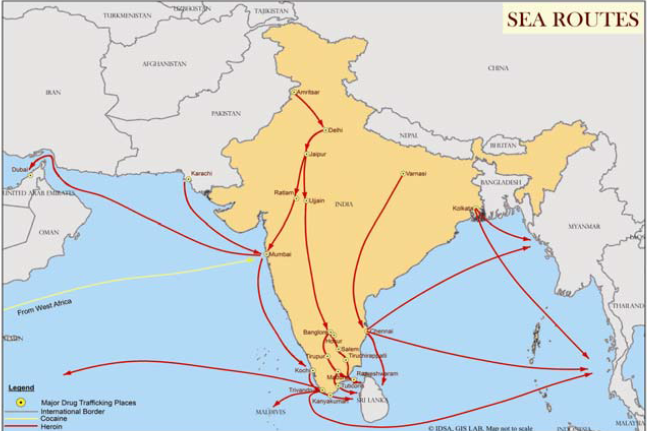 Source: IDSA
Narco Terror
To make matters worse, the drug-smuggling network is inextricably linked with other illegal operations, including terror. "Composite seizures of drugs and arms by security forces at the borders, especially along the borders with Pakistan demonstrate a close nexus between drug traffickers and anti-national elements," Das wrote in the paper.
The UNODC estimated the value of heroin travelling through Pakistan estimated to be around $1 billion every year, a huge amount of money that depends on being transferred through illegal routes.
"It is inconceivable that militant groups would not use the vast network established for the drug trade in Pakistan to generate revenue, either through a system of taxation (particularly in FATA) or by providing protection to key figures in exchange for compensation," wrote Safiya Aftab in a paper titled,
Post 2014: The Regional Drug Economy and Its Implications for Pakistan
.
India has sought to prevent the trafficking of drugs into the country, alongside a larger push to improve coastal security in the aftermath of the November 2008 attacks. Various impediments, from lack of coordination between agencies to manpower issues to the daunting task of guarding the thousands of kilometers of coastline, stand in the way of authorities. Seizures like Monday's, especially if they follow through and end in a trial and conviction, suggest that some of these efforts are bearing fruit.
Support our journalism by contributing to Scroll Ground Reporting Fund. We welcome your comments at letters@scroll.in.
Respond to this article with a post
Share your perspective on this article with a post on ScrollStack, and send it to your followers.