Such is the reputation of Gurkhas – the fearless, fierce soldiers from Nepal – that even the gritty Field Marshal Sam Manekshaw, one of India's greatest military commander, 
was an avowed admirer
: "If a soldier says he is not afraid of death, he is either lying or he is a Gurkha."
In 1814, the British first got a taste of the 
Gurkha's fighting abilities
, when East India Company's troops suffered greatly at their hands, though the Nepalese warriors eventually lost. That led to the colonial power signing a peace agreement with the Gurkhas, so that instead of fighting against them, they could be recruited to fight for – and with them.
Then, on 
April 24, 1815
– exactly 200 years ago – the first regiment of Gurkha troops was raised in the cantonment town Subathu, in Solan district of India's northern state, Himachal Pradesh. Since then, the Gurkhas have made a habit of distinguishing themselves in battle after battle, almost always with the iconic 
khukri
, a curved knife and their blood curdling war cry: "
Ayo Gurkhali
" (The Gurkhas are coming).
Most Gurkha soldiers come from the hilly central and eastern parts of Nepal, comprising four ethnic groups: Gurungs, Magars, Rais and Limbus. To escape the peasant drudgery in their impoverished homes, 
young men increasingly
 enlist in the military.
During the two World Wars, more than 
200,000 Gurkhas fought for the British Army
, with some 43,000 falling in battle.
When India gained Independence from Britain in 1947, the Gurkha regiments were divided between the two countries. Today, the Indian Army houses of 
the 1st
, 3rd, 4th, 5th, 8th, 9th and 11th Gurkha Rifles. Britain, meanwhile, got four regiments – 2nd, 6th, 7th and 10th Gurkha Rifles – and formed the Brigade of Gurkhas. In 1994, the four regiments were merged into one.
For the British, Gurkhas have fought several times – including in China, Iraq and Afghanistan. The number of Gurkhas in the British army, however, has drastically come down – with some 3,500 left in 2010, and with only 200 new soldiers recruited every year, 
comprising 3% of the British Army
. In 2009, they fought for their rights with the UK government to live in the country post-retirement—and won. Now, they have the option of 
becoming British citizens
.
Quartz takes you on a pictorial journey of the Gurkhas on the battlefield across the world over the last two centuries:
Gurkhas at kit inspection showing khukris on July 24, 1915.(The British Library/HD Girdwood)
A football match: Gurkhas versus a signal company of the Dehradun Brigade, at St Floris, France in 1915.(The British Library/HD Girdwood)
British & Indian officers of the 9th Gurkhas at their French headquarters in July 1915.(The British Library/HD Girdwood)
Gurkhas charging a trench on July 29, 1915.(The British Library/HD Girdwood)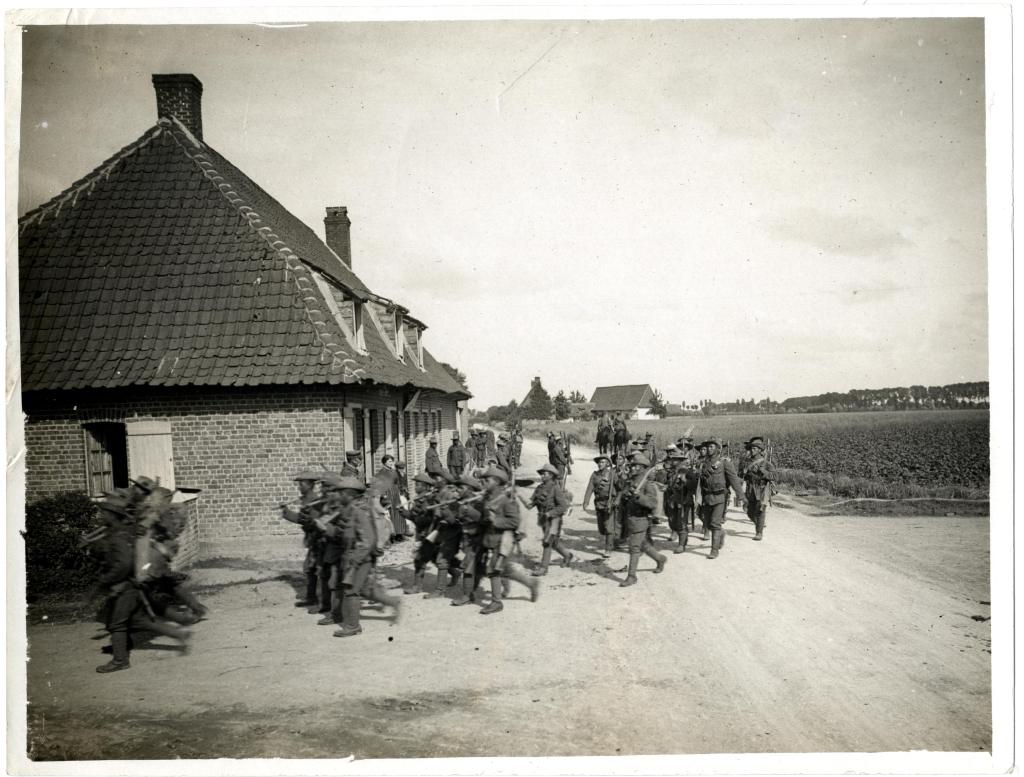 Gurkhas marching out to dig trenches near Merville, France on July 26, 1915.(The British Library/HD Girdwood)
Several battalions of Gurkhas stripped to the waist, as they arrive in Singapore on September 21, 1941, to join other British troops stationed there. They were ready for fatigue duty to help unload the transport that brought them from India.(AP Photo)
Gurkhas take to jungle warfare in Malaya on Dec. 17, 1941 and show extraordinary skills in concealment and surprise attack. A mortar team practices shell loading.(AP Photo)
Gurkhas take to jungle warfare in Malaya on Dec. 17, 1941 and show extraordinary skill in concealment and surprise attack.(AP Photo)
Captain E. Gopsill of the 7th Gurkha Rifles gives final instructions to the platoon leaders before taking them into the jungle near Kuala Lumpur for insurgents sweep on July 10, 1948.(AP Photo)
As professional warriors, Gurkha soldiers were avid students of modern warfare. In this June 1964 photo, British soldiers serve as instructors.(AP Photo)
Last recruit Gurkha soldiers surrounding Prince Charles take off their hats during a gathering at Hong Kong's Sek Kong airforce base on November 8, 1994, as part of the last passing-out parade in the British colony.(Reuters)
A member of the 67 Gurkha Independent Field Squadron puts the finishing touches to the uniform of a fellow squadron member prior to the unit's disbandment parade in Hong Kong on September 6, 1996.(Reuters)
Britain's Queen Elizabeth II inspects the Gurkha regiment at the British Embassy in Bangkok on Oct. 31, 1996. The Queen, along with Prince Philip, had been in Thailand for a five-day official visit.(AP Photo/Richard Vogel)
British soldiers from Royal Gurkha Regiment return to their base from a routine exercise near Brazzaville airport on May 9, 1997.(Reuters)
British Army Gurkha NATO soldier Kamare Budha reads a British newspaper during a slow day at a checkpoint near Pristina airport on June 19, 1999.(AP Photo/Nikolas Giakoumidis)
A Gurkha from the 1st battalion, the Royal Gurkha Rifles, part of five air-bourne brigades in the area, sharpens his
khukri
in June 1999.(Reuters)
Soldiers of The Royal Gurkhas Rifles, part of the British army battalion, prepare a machine-gun during an exercise at their training camp in Seria, Brunei on Nov. 7, 2001.(AP Photo/Vincent Thian)
British peacekeeping soldier Sgt. Ramkumar Rai with the Gurkha division is followed by children while on patrol in the hills above Kabul, Afghanistan on Nov.1, 2003.(AP Photo/Richard Vogel)
Indian soldiers from the Gurkha regiment take part in a rehearsal ahead of the Army Day parade in New Delhi on Jan. 13, 2004.(Reuters/Kamal Kishore)
Gurkha troops of the British army are welcomed by Kosovo Albanian youths, as they patrol the roads of Kosovo Polje, a town five miles west of Kosovo capital Pristina on March 23, 2004.(AP Photo/Visar Kryeziu)
Indian Army soldiers with the 99th Mountain Brigade's 2nd Battalion, 5th Gurkha Rifles, execute an ambush for paratroopers with the U.S. Army's 1st Brigade Combat Team, 82nd Airborne Division, on May 7, 2013, at Fort Bragg, N.C.(U.S. Army photo/Sgt. Michael J. MacLeod)
Indian Army soldiers with the 99th Mountain Brigade's 2nd Battalion, 5th Gurkha Rifles, move through the forests of western Fort Bragg during a training exercise with paratroopers of 3rd Squadron, 73rd Cavalry Regiment, which is the reconnaissance element for the 82nd Airborne Division's 1st Brigade Combat Team, on May 8, 2013.(U.S. Army photo/Sgt. Michael J. MacLeod)
Recruits from the Indian Army's Gurkha regiment stand in formation in Sabathu in the northern Indian state of Himachal Pradesh on Oct. 24, 2002.(Reuters/Dipak Kumar)
Soldiers of the Gurkha Regiment march in front of India Gate during rehearsals for the upcoming Republic Day on a foggy morning in New Delhi on Jan. 11, 2011.(AP Photo/Kevin Frayer)
This article was originally published on qz.com.
We welcome your comments at letters@scroll.in.