Last month, India's candidate for Mr Gay World pageant in South Africa
reportedly
  withdrew from the competition and went into hiding after he and his family received homophobic abuse and threats.
Back home, the electric atmosphere at the
gay pride parades
that are now a common occurrence in many Indian cities might even fool an outsider that these cheerful events are a celebration of equal rights for all Indians. However, the parades are most often a sign of defiance since Indian law views homosexuality as unnatural and re-criminalised it in 2013.
The parades aren't the only paradox.
Even though India is one of the few countries that legally recognises the third gender, its gay population is far from being among the happiest around the world. And it is unlikely to be so if it continues to be prone to police harassment and fears going to jail for life for having "carnal intercourse against the order of nature".
According to the first Gay Happiness Index compiled by Planet Romeo, a popular dating app that caters to gays, India scored only 37 points out of 100, leaving it hanging at the 81st position out of 127 countries ranked. To put things in perspective, Japan (43), Myanmar (60), China (63), Nepal (67) Qatar (68) and even Malaysia (77) were ranked higher.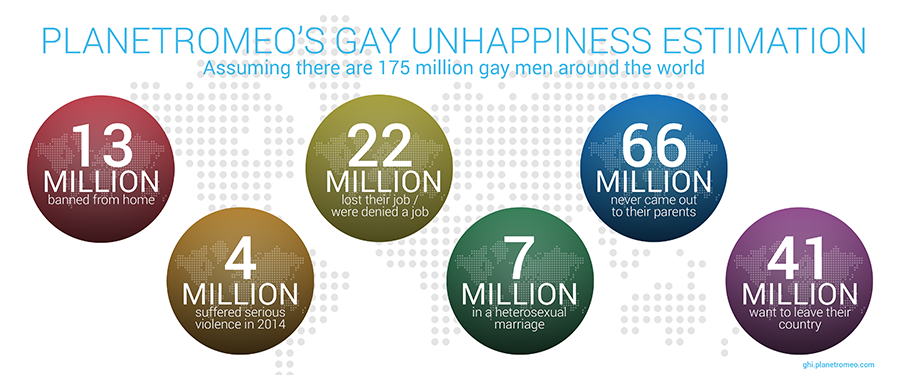 The top-spots were occupied by countries such as Iceland, Norway and Denmark while UK, US and France scored reasonably well too with over 60 points each out of 100.
Over 7,100 people from India participated in the survey which saw over one lakh responses from across the world. In its
findings
, the app reported that India scored just 50 points out of 100 in public behaviour and life satisfaction for gays. However, it only gave 16 points to public opinion about gay people in the country, heightening concerns about acceptance and sensitivity of society at large as well as the government.
Back and forth
The gay community in India feels that the situation has only become worse after the Supreme Court ruling of December 2013 which declined to repeal Section 377 of the Indian Penal Code dating back to 1860, and put the ball in government's court.
"Section 377 is a big round football being used to play with the lives of people of this country," said Harish Iyer, a gay rights activist who expressed no surprise at the findings of the survey. "The government was poking the Supreme Court for a long time and then the Supreme Court kicked it back to them."
Iyer said the homophobia in the country continues to rise in the absence of legal protection to the community and that the only way to move forward is to have a conversation with those who consider homo-sexuaity to be "unnatural".
"We have seen homophobia resulting in broken marriages, cheating, elopement and even deaths," Iyer said. "But the current government is unlikely to act on it any time soon and their recent decision to vote with Russia for
blocking benefits to gay staffers
was a testimony to the same. They could have at least abstained, but they didn't."
Homophobia on the rise
As the law pushed LGBTs further into their closets, abuse is rampant on the roads and even inside the best public institutions such as the University of Delhi where a gay student was
beaten
up in a car and then thrown out in the night, with no redressal available  since the university has repealed its anti-harassment ordinance.
"A man called me gay like it's an abuse and spat on my face," said Iyer, while speaking about the shades of acceptance for the LGBTs varying from one place to another.
A gay student from Delhi spoke to Scroll requesting anonymity and said that his family has been mocking him more than the outsiders. "They call me an illegal product, a disease stricken man and sometimes question if I have been under 'bad influence' which made me gay," he said. "What can one hope if the law makes us criminals and the family's doors are closed?"
Added a 24 year old participant in the study from India, "People around me commit suicide. Are we not human beings? It's weird how the people running the country are homophobic."
Iyer, meanwhile, is hopeful that gay rights will one day become an election issue and real action will follow only then, but it might be too little too late. "We are just not important to them yet. Gay rights rank low on the list of priorities of the government," he said. "It will happen. One day, they will try to gain support of the progressives by supporting gay rights but many more men as well as women forced into marrying closeted gay men will be depressed, oppressed and some might die before the news ever arrives."
We welcome your comments at letters@scroll.in.