The Indus river basin has the second most overstressed aquifer – underground layer of water-bearing permeable rock or unconsolidated materials from which groundwater can be extracted – in the world. So says the latest research on the world's groundwater systems from the University of California, Irvine.  Eight of the aquifers, including the Indus, had no natural replenishment for water usage from them and were classified as 'overstressed'.
The Indus basin straddles the border between India and Pakistan. The 39% of the basin on the Indian side is the source of water for India breadbasket – Punjab and Haryana. But like other overstressed aquifers around the world, it is impossible to say how much water is left, says the new report that examined 37 of the world's largest aquifers over the past decade using NASA satellites.
Image: University of California, Irvine
Ground water levels in the rest of India are at similar critical levels. The World Resources Institute's water risk atlas shows that water stress – the ratio of withdrawal to available supply – across most of Indian subcontinent is medium, high or extremely high.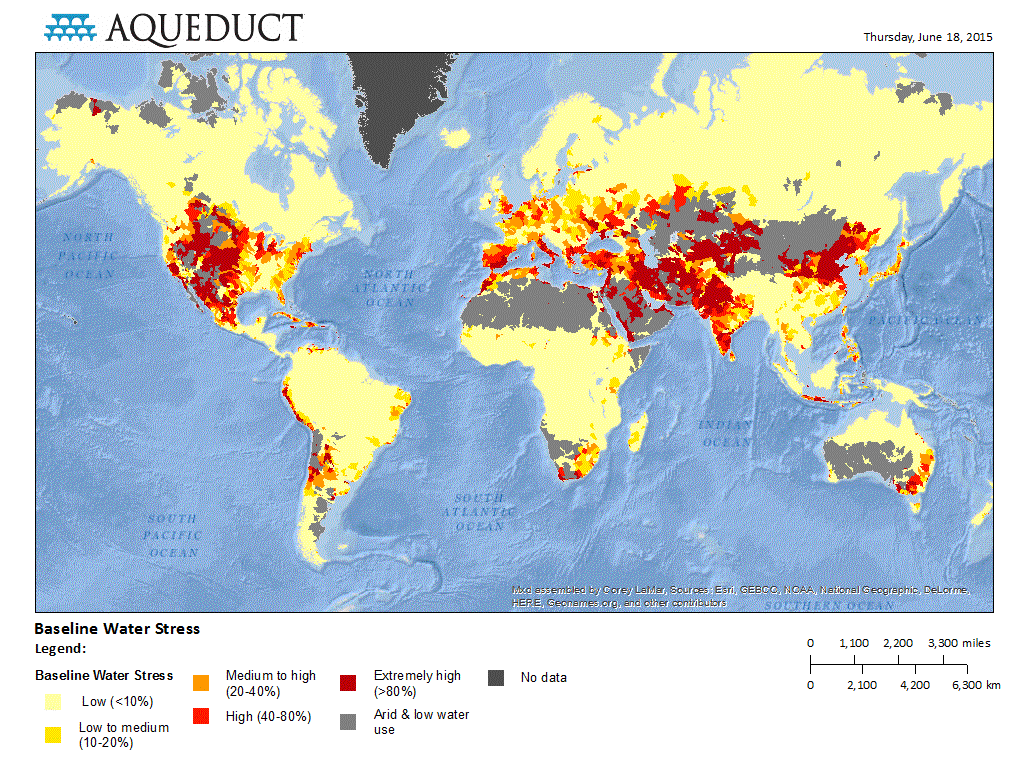 Image: World Resources Institute
Earlier this year the institute launched the India Water Tool compiling data from departments like the Central Ground Water Board, the Indian Meteorological Department, the Ministry of Water Resources and the Central Pollution Control Board. Using the tool, they found that more than half of the surface water resources in the country were highly or extremely highly stressed with more than 40% of the available water being used every year. In addition, 54% of wells across the country have depleting water levels.
Image: World Resources Institute
Image: World Resources Institute
India's water ministry found in a study last year that 16% of India's ground water resources are over exploited. In Delhi, Punjab, Haryana and Rajasthan groundwater extraction is beginning to exceed annual water availability. States like Gujarat, Karnataka and Tamil Nadu are exploiting close to 70% of their ground water reserves. Added to this is the fear that weakening monsoons are failing to replenish the falling water tables.
We welcome your comments at letters@scroll.in.
Respond to this article with a post
Share your perspective on this article with a post on ScrollStack, and send it to your followers.