'Books represent the best of our collective thinking. When we deny children the opportunity to read and debate the ideas contained in books, we deny ourselves a thoughtful society,' says Mridula Koshy of Deepalaya Library. In a country where for many families buying books is an option, this means many children will never have access to books.
School libraries often do not solve the problem, because one hears of many schools where children are just not allowed to take books home freely as the librarian is anxious that they may be damaged. Equally, one hears of schools where buying new books for the library comes so low in the school agenda that there are seldom the latest reads available.
There are some chain libraries that have been doing stellar work in bringing books to kids and adults, like the Eloor Libraries and Just Books. Alongside these, there also some small libraries that have been trying to bring to children that experience of wonder and joy of being surrounded by books – and of being able to find a new book to read.
Reading Caterpillar, Delhi
The Reading Caterpillar
started in 2009. Founder Rabani Garg had felt a lack of children's reading spaces in Delhi and she met other parents, teachers and writers who talked about the need for such a space. "We started a small community of parents and would meet with our children and read to them. Reading Caterpillar was born out of a need for a library for young children. And a belief that it had to be an interactive space that would bring children, parents, book lovers and people who work in this field together. Authors, illustrators, parents, artists are all an integral part of Reading Caterpillar."
"We like to call it a library, book haven and studio! We pretty much squeeze in all book-related activities. It is a book-lending library, a reading space – drop ins are welcome – a book club for different age groups, a book hospital, an artist space. We love book launches, workshops and readings with authors and artists."
Reading Caterpillar has about 4,500 books at present, of which 95% are for children. The library is currently for children up to the age of eleven, but every year the upper age limit is increased by a year so that no one has to leave.
There are about 100 active members and, on an average, forty to fifty children visit the library and attend various workshops through the week. The younger children (under six) come in about twice a week and some, even more often. The older children visit a week or every ten days.
The biggest challenge? "Making sure the books come back," laughs Rabbani. "But seriously, the biggest challenge is to just keep going, to balance out the commercial viability of the library and pricing it affordably for parents. The library has to a commercial enterprise, but we ensure that we strike a balance – it's important that it stays a creative space. We do like to keep it simple!"
"The library is very simply designed but we made sure it was bright, had reading corners and encouraged children to use the space on their own. And when we have too many children in the library, we simply ask them to grab a reading cushion. These 16 inch-by-16 inche spaces become their personal reading island. And we love our art space; this is where all our creativity gets expressed - on the walls, the floor and even the ceiling.'
F-24 second floor, Nizamuddin West, New Delhi, +91981026844, Tuesday to Friday 10:30 - 17:30; Saturday 10:00 - 17:00, Fees start at Rs 4000 per year.
Books 'n' More Library and Activity Centre, Secunderabad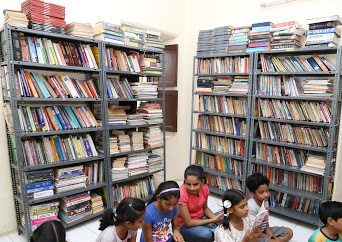 In September 2011, after years of dreaming about creating a space full of books and lots of room for people (especially children) to browse, smell, read and fall in love with books (either for the first time  or all over again!), Varsha Ramesh finally made her dream come true. She started Books 'n' More with a friend.
But the friend had to drop out due to personal commitments, so Ramesh has been bravely battling it out on her own. "Since there is no concept of a public library in India, we wanted to make books accessible to everyone."
Books 'n' More
is a busy place. "We've done over 400 unique activities over the past four years. That's the reason so many people come to the library, and I sneakily convert many of them to readers." These activities are diverse in nature – from phonetics and vocabulary development, through storytelling, chess, and Scrabble, to Kathak, Bharatnatyam and Carnatic music.
The library now has over 15,000 books, of which about 9,000 are for children. All are unique titles, for the library does not stock more than a single copy of any book. The membership currently is just short of 1,200, of whom over 800 are children. How often do they visit? Here's a precise answer: "Ten per cent every day, twenty per cent twice a week, twenty per cent once a week, thirty per cent once a fortnight, and twenty per cent, rarely"
The library is managed by Ramesh with three colleagues, who work in shifts. There are twenty teachers who run the core of the different activities and classes, and thirty-five freelance teachers and other professionals who regularly interact with kids.
The biggest challenge? Getting teens to read, especially when parents want them to focus on studies and give up books entirely. "But hey, we can't win all battles. They do come back to reading once they get into college."
"It's what I've always wanted to do and I'm finally 'retired', doing what I love! I don't work for money and whatever surplus I make goes into books for all of us to read!"
292, Street NO 2, West Marredpally, Secunderabad, +919885956728, Monday to Saturday: 10:30-20:30, Sunday: 10:30-18:30, Fees: Rs 100 per month.
The Reading Room, Bangalore
My Little Chatterbox started in 2012 to help parents raise readers.
The Reading Room
, which is the library arm of this venture, started in June 2015.
Falak Randerian, the founder, wanted to "build a space where kids can come and fall in love with books." With physical bookstores disappearing and very few libraries, many kids do not have the experience of being physically surrounded by lots of books. "We wanted to do whatever little we could to bring that experience back."
The book club, My Little Chatterbox, continues in this new avatar. There is also a book hospital, where members are invited to take care of books which need their help. "We are also looking at hosting author read-alouds and book launches."
The library currently has 700 books in English and Hindi for children upto the age of ten. The Reading Room has less than a hundred members. The team consists of Falak and a library assistant.
"We know once a child and his or her parents visit the Reading Room, they will return for more. I want the Reading Room to be known as a space where kids can come and fall in love with books."
165/A First Floor, "Shashi", 6th Main, J P Nagar 3rd Phase, Bangalore, +919964495522, fees start at Rs 1000 per month, 15:00 – 18:00 except Sunday and Tuesday.
Deepalaya Library, Delhi
Sometime in 2008, a couple of volunteers started hauling a bag of books to the Deepalaya School, where they read aloud from picture books to a group of eleven-, twelve- and thirteen-year-olds.  The kids listened to the stories and discussed what they thought about the ideas in the stories – the idea of travel in a story about Ibn Batuta, the idea of caste in a story in which a mother reminded her daughter that her friendship with a lower-caste girl was to be confined to school. They also discussed how stories were made – out of literal and figurative language, out of characters and plot. Each session ended with the dozen-plus children borrowing a book to take home and read.
"We didn't think of ourselves as a library then," says Mridula Koshy, "but looking back on it I think we were already a library though the room with 3,000 books was still a few years in our future. We were a library because we were lending and borrowing books and because we were a space that sponsored thinking."
Over to Koshy: "We have two purposes: to put books in the hands of our members, and to read aloud to children as a way of modelling what reading for thinking looks like. The reading most of us were taught in the Indian school curriculum has little to do with the pleasures of thinking. When volunteers read aloud from books to children, they read not only the words within, but also give voice to their pleasure in thinking about those words. Kids learn to listen to both voices when they themselves read: the voice that reads the author's words and the second voice which thinks about the words."
"Our read-alouds are conducted according to age. So the oldest children might discuss metaphors in response to a reading and the younger ones goof around with rhymes they create in response to another reading. The youngest children – ages four to six – are introduced to books in a programme called Head Start to Reading. Here they are welcomed with a song , they make friends, listen to stories about Clifford the Big Red Dog or
Ekki Dokki
, the story of two sisters, one good and one bad, they play with dolls and solve puzzles, share a snack of juice and biscuits and leave with a book for the week."
"Our library is run by volunteers and members (most of them children). The Library Student Council provides children with an opportunity to develop leadership skills as they take on responsibilities associated with running the library."
"We have an honour roll programme for children to support them in becoming voracious readers. Every time a child reads ten, twenty, forty or a hundred books they receive a sweet treat and a book of their own to keep."
"Actually there is a third reason for being: to perpetuate ourselves through the creation of new libraries. Library members are actively involved in gaining an understanding of what makes a good library.  The goal is to share this knowledge with others who wish to create libraries. So the knowledge we have about which books make for good readalouds, or how to do a door-to-door community walk to enrol members is knowledge we gather so it can be used by other libraries. We are also initiating the creation of other libraries. Our second library at Sanjay Colony is under construction now and we are raising funds and collecting books to put in place a collection for that library."
There are about 3,000 titles in the collection, of which approximately 2,400 are for children and 600, for young adults and adults. The children's collection includes some 750 picture books. The rest of the collection is divided into Easy Fiction, General Fiction, Poetry, Graphic Books and Non-Fiction. The collection has around 900 Hindi and 2100 English titles.
Ramditti J R Narang Deepalaya School, B-65, Panchsheel Vihar, Opposite Trivenicom Complex, Sheikh Sarai - I, New Delhi, +919818436201, Free, Monday: 15:00 - 18:30; Friday: 10:00 - 12:00.
The Hippocampus Libraries, Bangalore and Chennai
Hippocampus started in Bangalore in March 2003 and in Chennai on 2005. But the idea behind it was older. When Umesh and Vimala Malhotra returned to India from the US in 1999, they had promised their five-year-old son that they would set up a library just for children.
"At the time the market for children's literature in India was very limited,' says Vimala, 'and having been exposed to a lot of it in the public libraries of the US, we knew that they existed. We just needed to make it accessible to children in India – at least in Bangalore for a start."
"Hippocampus has always tried to bring in varied experiences to children in an attempt to live up to our name and create as many opportunities as possible for new experiences.  Our weekend activities range from art and craft, to science and cooking. There are field trips to exciting places – biscuit factories, rock climbing, overnighter star-gazing trips…"
"A few large-scale one-off events we have done are a 50-cast, all-child musical; a three-day carnival just for children; week-long river sport trips; and my personal favourite an eight-day international storytelling festival across two cities – HOO's Tales. Every summer we conduct The Great Tale Chase – our summer reading challenge.'
"Each year we try to present as many children's authors, illustrators and storytellers. This is a big part of what we want to bring to children – the people behind the wonderful tales!'
Hippocampus Bangalore has over 15,000 books across fifty genres. They add between 60 and 75 new books every month. All the books are for children, except for a small young adult collection.
At any given point in time, Hippocampus has 1000 members. But over the years, they have connected with at least 3,500 children. To fight the challenges of traffic and distance Hippocampus also introduced a home library, where the selected books are dropped off to the child's address.
"Weekdays are mostly parents zipping in and out trying to do a mid-week book exchange for their children – or parents with toddlers with no school commitments! On the weekends we average about 50 children each day. These are the most wonderful times when both children and parents are more relaxed and we get some wonderful images of them bonding over books and reading!"
The team that set up Hippocampus numbered seven: "A motley collection of people whose only motivation was books and reading and taking that magic to children … A bunch of friends who helped selflessly in evolving our thoughts on the experience centre, designing the space and furniture, the logo, the publicity, and actually getting the space ready for our first Open House! They are all very core to starting Hippocampus." Currently the team is five and a half people.
"We love every part of running an experience centre and library, the book curation, reading the books, recommending titles to children and parents, seeing the wonder in the eyes of the new readers, meeting new authors, illustrators, storytellers and creating events around them."
Hippocampus Chennai started shortly after the Bangalore edition. Activities at the Chennai library range from storytelling to book launches,  afterschool workshops and summer workshops, book picnics and book clubs for children. Says Chandni Khanna, who heads the Chennai library, "Our weekend sessions are very popular. Celebrating books and authors, and giving parents tips on reading and books is what we enjoy doing. We celebrate festivals and important days, all with the help of books."
"We have more than 15,000 books, all for children, and add 50 new books every month to our collection. Most of them are unique titles, though we do have multiple copies of the very popular and in demand books."
"We have 1820 members and would love to add schools to our database, especially nursery schools so that we can tap the reading bug as early as possible. We also deliver books home and have more than 250 members." Some voracious readers visit twice a week, but most come at least once a week.
Khanna set up the library in Chennai in close consultation with the Bangalore team. The library has a staff of four, who look after accounts, activity planning and coordination, data entry and circulation and home delivery.
"Our biggest challenge is to convert non-readers into liking books and getting parents to understand the role a library and books play in a child's life, especially in his growing years. Making them understand that it's not enough to read just schoolbooks, but that if children enjoy reading, even schoolbooks will be fun for them. Sometimes I feel it's the parents that are a challenge and if the kids are exposed to good libraries and good books they will get hooked. But most of the time parents thrust their own choices on kids, which make it harder for the child."
"Just the passion, the sheer joy on a child's face when he finds or gets the book he wants. In fact I have stopped reading books for adults, being surrounded by books for kids. I personally enjoy them and love exploring  picture books and being a part of forums and groups that discuss books for children."
The furniture in the library was specially designed and imported. Sharma's favourite is the Rocket, where the computers and iPads are stationed. A small aeroplane to hold picture books and a seating area for the kids on the aeroplane. "It's like, let your imagination fly with books."
525, 16th Main, 3rd Block, Koramangala, Bengaluru, +9180-25630206, fees start at Rs 215 per month, 10:00 - 19:00.11, 3rd Avenue, Indirnagar, Adyar, Chennai, +9144-42116417, fees start at Rs 300 per month, 10:00 - 19:00.
Trilogy, Mumbai
Trilogy
started on Christmas Day 2014. In 2013, Meethil and Ahalya Momaya had started a library management consultancy, The Eternal Library. They worked with corporates and entrepreneurs to set up reading spaces. "When we got the opportunity to set up our own library, we jumped at the chance," says Ahalya Momaya. "We wanted readers to experience what a curated, well-designed library could do for them. Our commitment is to the writer, the reader, and the book." The library is still run by just the two of them, with one assistant.
Trilogy focuses on unique, exclusive literary events, and offers a platform for ideas that are not mainstream yet. For example, they host the Poetry Project that highlights British poetry, and the Talking Myths Project that brings together mythological stories from around the world. For children, they look at interesting writing and reading programmes that build vocabulary and inspire kids to read more, as well as offbeat book events.
The library has around 5,500 titles, about a third of which are for children. Older children usually visit the library every weekend; on weekdays it is the preschoolers who come in the morning and afternoon.
Building No. 28, First Floor, Raghuvanshi Mills Compound, Lower Parel, Mumbai, +918080590590, fees start at Rs 300 per month, 9:00 - 20:00.
We welcome your comments at letters@scroll.in.