On Monday morning, as students of Delhi University reached their colleges, they were greeted by a splash of graffiti. On the gates of Miranda College in North Campus was painted the phrase "
pinjra tod
", meaning "break the cage", and on sidewalks and bus stands were drawn birds scrambling out of cages. While it wasn't clear who painted the graffiti, the message was quite unambiguous.
The street art was in support of the eponymous
campaign
started on Facebook by a few student-activists from Delhi colleges against the sexist rules in women's hostels. Created in late August, the "Pinjra Tod" page decries the decrees across colleges in Delhi – including recently 
Jamia Millia Islamia
– that disallow women from staying out late.
"We do not know who did the graffiti," said Devangana Kalita, one of the founding members of Pinjra Tod: Break the Hostel Locks. "We were wonderfully surprised to see them all over campus yesterday. I guess the thing about political graffiti is that the artists do not reveal themselves. Delhi University seems to have thrown up a few Red Riding Hood graffiti artists."
Recently, as a mark of protest, students in Jamia Millia had put up hundreds of posters with the words "Break the hostel locks" around the campus. The posters, they alleged, were soon taken down by the authorities.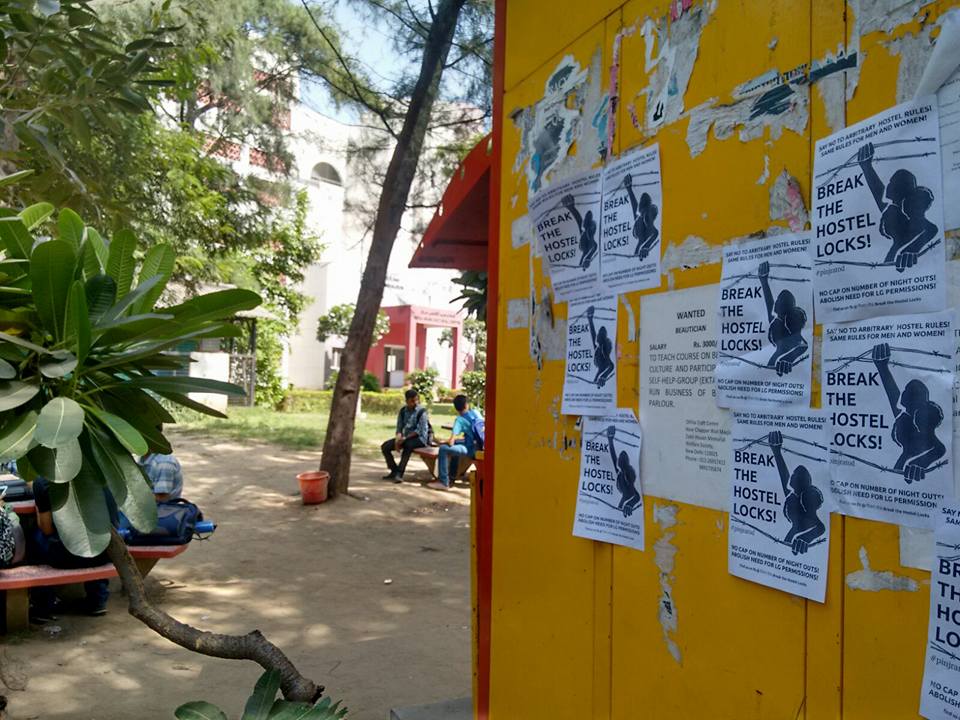 The students behind the page explain that the campaign's name resonates of the cages women hostellers find themselves in: "big walls, huge metal gates, locking of gates at night, numerous security guards, constant checking of I-cards, a plethora of arbitary and regressive restrictions".
They have launched an
online petition
to urge the Delhi Commission of Women chief Swati Maliwal to assess the hostel rules and put an end to the "moral policing" that goes on "in the name of security".
Through the Pinjra Tod page, many women hostellers have spoken up about their experiences, some anonymously. Utsa Sarmin, a former student of IP College for Women in Delhi University, recounted her principal's unsupportive attitude when students protested for relaxation of the "curfew" timings.
"After Nirbhaya case, the college reduced late night timings to 9.30 from 10.30 pm," Sarmin wrote. "We protested against this and the Principal agreed to meet us. She said that the family is sending the girls to the hostel because we have such rules. So technically the Principal, a so-called self-proclaimed feminist, was institutionalizing patriarchy."
Apart from the petition and protests, the page aims to ensure secure and affordable accommodation for women in Delhi. Those associated with it claim theirs is not a fleeting campaign but a long-drawn movement that requires multiple interventions.
"We are demanding intervention from both the government and university authorities," Kalita said. "These authorities of power have to stop acting like khap panchayats that seek to control and regulate the lives of young adult women in the name of 'protection' and 'safety'. The state and educational institutions need to be enabling, and not limiting, for young women to explore and learn."
Here's a look at some of the graffiti: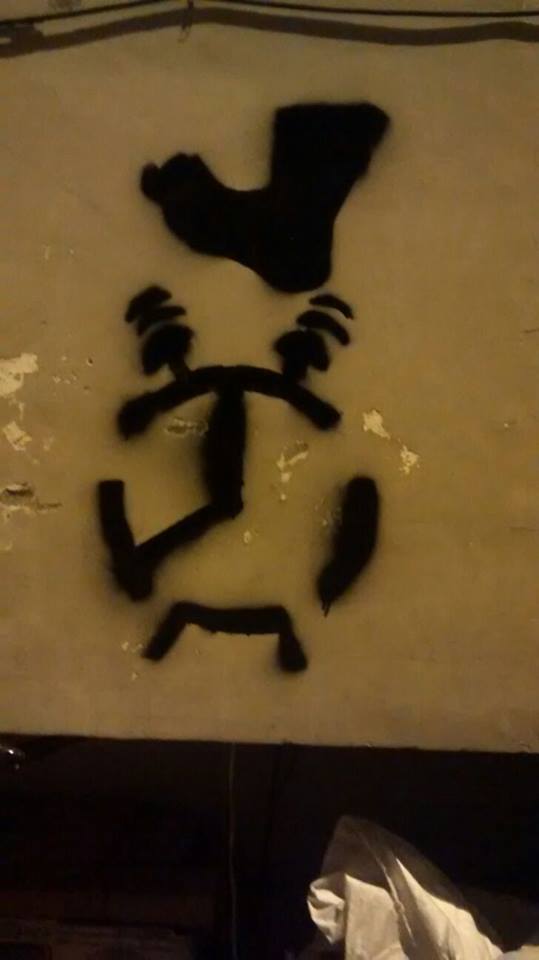 We welcome your comments at letters@scroll.in.