Three decades ago, a sensational story emerged out of Faizabad in Uttar Pradesh. A sadhu, Gumnami Baba alias Bhagwanji, who had died on September 16, 1985, was said to have actually been freedom fighter Netaji Subhas Chandra Bose. It would take more than two decades before this claim was categorically dismissed by the Justice Mukherjee Commission of Inquiry in 2006 .
But the story still persists, as do two specific questions. How did Gumnami Baba come to be projected as Netaji? And who was responsible for this transformation?
An investigation carried out by
Scroll.in
has found that the genesis of the legend of Gumnami Baba being reinvented as Netaji lay in a local media war in Faizabad, fuelled by the attempts of a Hindi daily, 
Naye Log, 
to upstage a rival called 
Janmorcha
.
"For six weeks after his death, Gumnami Baba was just like any other sadhu, who had left behind his caretakers fighting among themselves for his belongings," said journalist Ram Tirth Vikal, who together with his colleague Chandresh Kumar Shrivastav, "broke" the story for
Naye Log
. "With our story on October 28 that year [42 days after his death], Gumnami Baba became Netaji."
A sensational story
On October 28, 1985, 
Naye Log
carried a banner headline 
Faizabad Mein Agyaatvaas Kar Rahe Subhaschandra Bose Nahin Rahe??
( Has Subhas Chandra Bose passed away after living in Faizabad secretly??) The first paragraph of the lead story, written jointly by Shrivastav and Vikal, said:
"'Neta Subhas Chandra Bose', who had been living in the guise of Gumnami Baba for the last 12 years in Ayodhya-Faizabad, died on September 16 under mysterious circumstances, in a part of Ram Bhawan near bus station at Faizabad. Three claimants have put their own locks on his room. Attempts are being made by his so-called caretakers to destroy all evidence."
That edition of Naye Log also carried a front page editorial by Ashok Tandon, the editor of the daily. Headlined "Netaji!",  the editorial claimed that the facts presented in that day's edition of the newspaper conclusively proved that Bose did not die in the air crash at Taihoku on August 18, 1945 (in which Netaji is believed to have perished), but that he continued to live under the guise of Gumnami Baba.
For the next few days,
Naye Log
ran a campaign of sorts to establish that Gumnami Baba was actually Subhas Chandra Bose. A survey of stories carried by the daily during that time seems to suggest that they were based either on hearsay or unsubstantiated claims by a handful of individuals considered close to Gumnami Baba, who always seemed to have talked from behind a curtain.
Newspaper rivalry
However, the heat generated by
Naye Log
forced
its rival,
Janmorcha, 
to investigate the case hyped up by its rival. A team led by Sheetla Singh, the editor of
Janmorcha
, visited Kolkata and interviewed Pabitra Mohan Roy, a secret service agent with the Indian National Army, and some other associates and relatives of Bose. Gumnami Baba's aides had claimed that Pabitra Mohan Roy was among those who had been regularly communicating with the sadhu and visiting him on Netaji's birthday and Durga Puja.
However, in his interview to
Janmorcha
, which was published on its front page November 6, 1985, Roy asserted:
"We have been visiting every sadhu and mysterious individual in search of Netaji, from Kohima to Punjab. In the same manner, we also visited Babaji at Basti, Faizabad and Ayodhya. But I can say with certainty that he was not Netaji Subhash Chandra Bose."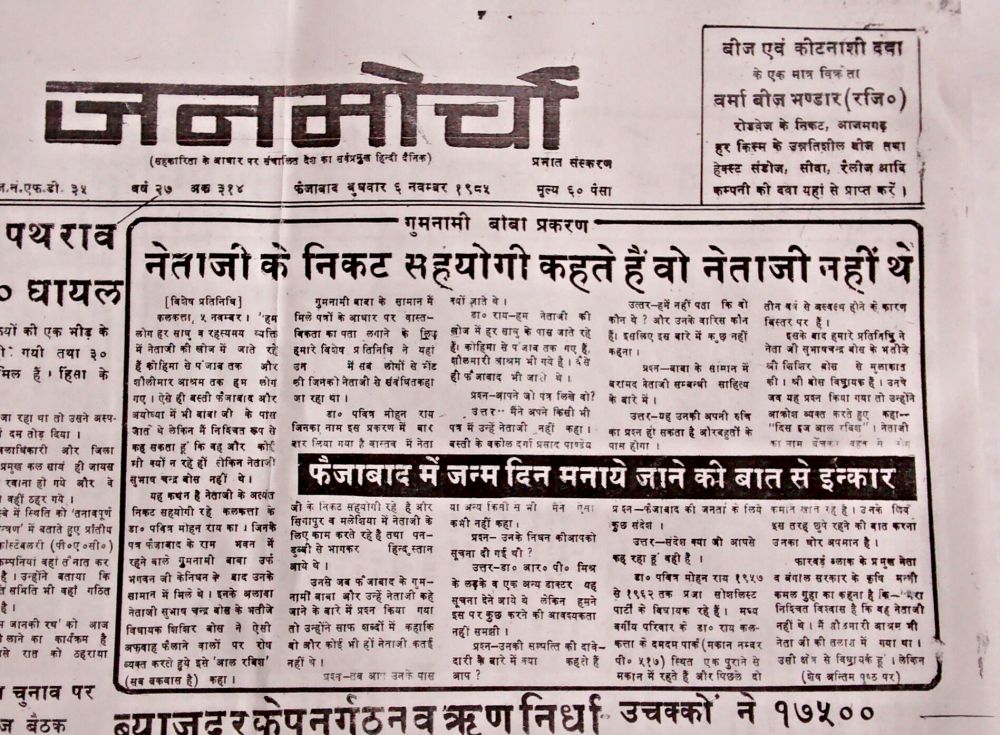 Asked whether he had written letters to Gumnami Baba, Roy's reply was that he had, but he clarified: "In none of my letters I called him Netaji. I didn't say any such thing to anybody either." As for Netaji-related literature left behind by Gumnami Baba, Roy said, "This may be because of his interest. Many other people might also have collected it [literature related to Netaji]."
Mukherjee Commission of Inquiry
Pabitra Mohan Roy's interview to
Janmorcha
– perhaps his only one on Gumnami Baba – was significant. Two decades later, the report of the Mukherjee commission, which had been established by the government in 1999 to investigate the circumstances of Bose's death, validated Roy's assertions. It concluded that there was no "clinching evidence to prove that Bhagwanji/Gumnami Baba was Netaji".
The Mukherjee panel's conclusion was based not on hearsay but on scientific inquiries. It sent the handwriting samples of Gumnami Baba and Netaji for comparison to two different laboratories – Office of the Government Examiner of Questioned Documents at Shimla and Forensic Science Laboratory at Kolkata as well as to a retired handwriting expert, B Lal. While the two labs found differences both in the structure and stress of the two handwritings, Lal said that they belonged to the same person.
The panel also sent Gumnami Baba's teeth for DNA testing to Kolkata's Central Forensic Science Laboratory. These were to be matched with samples of blood collected from two descendants on Bose's father's side and three on his mother's side. The report, submitted to the panel by Dr VK Kashyap, the DNA expert and the Director of the laboratory, said:
"The individual – the source of the teeth – does not belong to either maternal or paternal DNA lineage of Netaji Subhas Chandra Bose, therefore, cannot be of Netaji Subhas Chandra Bose."
Continuing debate
Yet, the debate started by
Naye Log
 continues, with some media organisations appearing to make great efforts to overlook the hard facts brought to light by
Janmorcha
and the Mukherjee Commission.
Ashok Tandon, who left
Naye Log
several years ago and now runs a private school in Faizabad, blamed 
Janmorcha
and said the paper had tried to suppress the fact right from the beginning. "That is why once the edition of
Naye Log
was ready on 28 October, 1985, the first thing that I did was to call up Sheetla Singh to inform him about the news," he said. "I did that early in the morning, even before the paper was taken out for distribution."
Explaining
Naye Log'
s campaign to establish Gumnami Baba as Netaji, Sheetla Singh alleged: "The way this campaign was carried out gave the impression that financial benefits were motivating this newspaper's attempts to gain cheap popularity."
This is the first article in a three-part investigation into the Gumnami Baba myth. You can read the other parts here. 
We welcome your comments at letters@scroll.in.