Konkona Sen Sharma does not believe in publicists speaking on her behalf. When she does grant interviews, as she has ahead of her upcoming movie
Talvar
, Sen Sharma chooses her words with as much care as she chooses her project.
Meghna Gulzar's
Talvar
, which opens on October 2 and is based on the Arushi-Hemraj double murders, is the latest addition to a filmography that reflects the celebrated actor's ability to straddle languages, genres and narrative styles. Although she first came to national attention in
Mr and Mrs Iyer
, directed by her actor-filmmaker mother Aparna Sen,  Sharma had already made her debut as a child actor in Bengali cinema. She continues to divide her professional commitments between Hindi and Bengali cinema, balancing turns in
Page 3
,
Luck by Chance
,
Wake Up Sid
,
Atithi Tum Kab Jaoge
and
Omkara
, with roles in
Dosar
,
Iti Mrinalini
and
Kadambari
. Her admirers will be seeing her again after
Talvar
in Prakash Jha's
Lipstick Waale Sapn,
in which
she plays a young woman from the Hindi heartland who has a secret life, and AR Murgadoss's action drama
Akira
, in which she co-stars with Sonakshi Sinha.
The new indie actresses are very good at packaging themselves. You, on the contrary, have always been a private and reticent person.

Well, I don't like to be photographed. I don't like being looked at. I don't have a stylist. I have never done a photoshoot even though many people have offered to do one for me. The only exception perhaps was the
L'Officiel
shoot in which I wore some lovely Anavila sarees.
But post Haroon [her son, born in 2011] and during
Ek Thi Daayan
, I think I became more aware of the fact that I need to do certain things. I know now that for any press conference or media interaction, I could get an outfit from a designer. I now know how to take pictures and post them on Instagram or Twitter and say, "Hey this is the designer I am wearing!"
But I never really had PR [publicity relations executive], except for a brief while, and I don't think I need one. I do have a manager, though. What baffles me is that I seem to have quite a few followers on Twitter but I think most of them are bots. But yes, you can say I have wisened up.
Even one-film old actresses have a support system of brand managers and publicists who bag projects and endorsement deals. Don't you feel it is important for the sake of relevance and recall?

I don't think so. There are people who are doing all of this and yet don't have work. So I think  you can be okay if you just pick up the essentials.
What are these essentials?

You need a certain drive. Definitely need talent. A lot of resilience to survive the ups and downs. Believe in yourself and be practical about things.
 Tell us about your character in Talvar.

I play the mother of a 13-year-old girl who was murdered. We have all been following the case over the years and in my opinion it quite a travesty of justice. The script had sifted through all the relevant information available in the media. The burden of research was not upon us. But what helped us add layers to the performance that each character is seen in a different light every time the incident is narrated by a different character.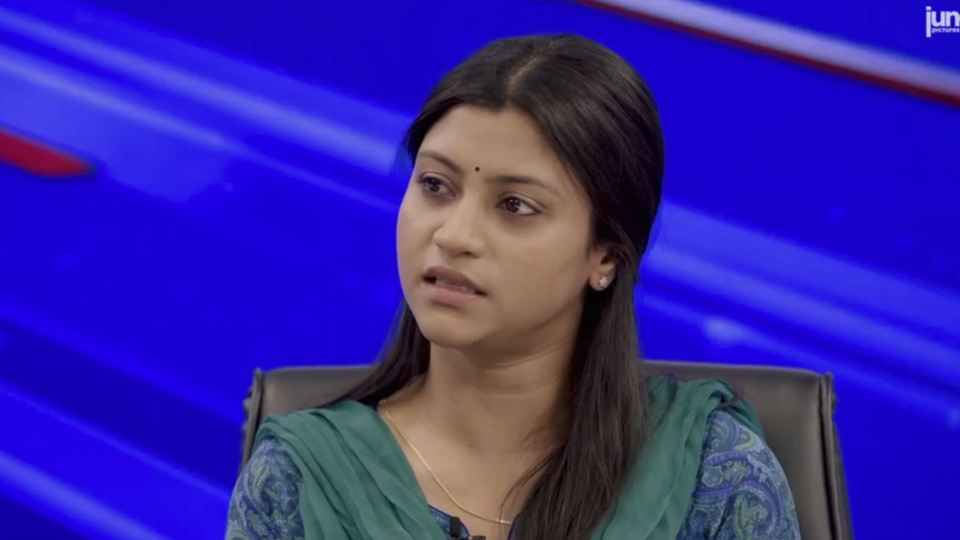 Konkona Sen Sharma in 'Talvar.'It has been 15 years since you made your debut in the Bengali film Ek Je Acche Kanya, in which you play a teenager infatuated with an older man. You were at St Stephens in Delhi when the film was released.

Most people don't know it was my first film. They think it is
Page 3
or
Mr and Mrs Iyer
. I was studying at St Stephen's college, and though I was already dabbling in plays, I always thought I'd choose a career in advertising or journalism. But there were people who were constantly prodding me because I had done a few films as a child actor.
Acting was not on my radar at all.  When this film was offered to me, I was quite cynical and snobbish about it. Especially because it seemed to be a copy of
The Crush
. I did it for a lark, was not serious about it at all. It was only after the film released that I realised it had created quite an impact.  I remember my first-ever press conference. I walked in and there were a lot of photographers and flashlights going off.
Was it then that you were convinced about acting?

Not really. I went back to Delhi, enrolled for my MA and was checking out classifieds for advertising jobs when my mother began discussing
Mr and Mrs Iyer
with me. At this point I was disenchanted with the MA course – they were teaching Chaucer and Milton all over again and I didn't quite like the DU campus. My mom sent me off to Chennai for research. It was great fun, because I stayed with a family for three weeks, researching everything from Shaivite names to accents and customs. I enjoyed myself immensely. The initial resistance – primarily because I thought I could not look the part -- disappeared and I actually wanted to do the film.
It was a party on the sets because it was all so easy. We had done our preps so well that it did not feel like work at all. Besides, it was shot on location and it is all fun because you tend to bond better. The film was well-received and it got me the National Award. That's when I realised this is what I could do.
You have been doing a significant amount of work in Bengali cinema besides continuing with your projects in Mumbai. How do you divide your time between the two industries -- especially since you have a young son?

For the longest time no one offered me Bengali films. I have done quite a few in the past few years and it was easy because most of the recent films are small budget films that were quick to wrap up. So travelling with Haroon was not a problem. Especially with my mother around.
Your mother is a towering personality in Bengali cinema. Did being the daughter of Aparna Sen ever help you in Mumbai?

The films I have done here, the people I usually meet, are not always aware of my mother or her repertoire because she is not really someone with mass appeal. She is perceived of as an intellectual filmmaker in Kolkata and the few films that have had a national release happened quite some time back. Some of the more discerning and well-versed individuals are perhaps aware of who she is, and speak of her with utmost respect.
Has motherhood affected your career choices?

Not really. I am essentially the same person even though I feel I am a better human being now. But it has certainly left me with no time to myself whatsoever - between managing the home, dealing with carpenters, running around my son, getting a blow dry, doing yoga, remembering to look presentable when I step out.  But there are women who are doing it all the time… and it is quite a marvel that we women manage to do as much as we do. Despite all of this I am happy I managed to write my first script.
So are you planning to make your film soon?

That's a long way off. I just had an idea and wrote down the story. Initially I thought I would get a writer to work on it but some people suggested that I should do it myself.
Why are your favourite films from your Hindi and Bengali repertoire?

Other than
Mr and Mrs Iyer
, I would pick
The President is Coming
. It was a fantastic cast and we had great fun on the sets.
Dosar
, directed by Rituparno Ghosh because despite no prep, no workshops, I loved the way it turned out. 
Mixed Doubles
, because that's where I met Ranvir (Shorey, her ex-husband) and Rajat (Kapoor) and his wife and the rest of our Bombay gang.
We welcome your comments at letters@scroll.in.