Indian Prime Minister Narendra Modi has a penchant for making headlines on everything that concerns him.  Not only that, his own website proudly collects and
shows off
the press coverage he gets in local and international media whenever he visits another country. Currently on his six-day long visit to the United States, Modi is keen to push his Digital India initiatives among the top executives of Silicon Valley before meeting US President Barack Obama.
While there is a lot of buzz and excitement in the Indian media's coverage of Modi's US visit, the American media seems almost indifferent to the presence of the Indian prime minister on American soil.  Or so it would seem if one goes by the headlines and the front pages of major newspapers in the country on Friday as there was not even a passing reference to him despite his having already met 40 top executives from America, many Fortune 500 CEOs, media moguls and investors.
This is in stark contrast to the enthusiasm of the Indian media over his visit that has been propelling expectations back home from the potential benefits that will accrue to Indian commerce and industry after Modi is done wooing the American industry. More than 100 reporters along with their crews have landed in US to trail Modi as they provide live coverage to the visit which has so far failed to excite the US media.
Even though there were a few stories buried inside the papers
here
and
there
about the Modi visit, they remained conspicuous by their absence on the front page of any prominent newspaper.
While the Pope's visit to the US captured the attention of almost all dailies, the stampede in Mecca also emerged as a front page story. Modi is scheduled to visit the headquarters of tech giants Google and Facebook after which he is supposed to meet President Obama on the sidelines of the UN General Assembly on Monday.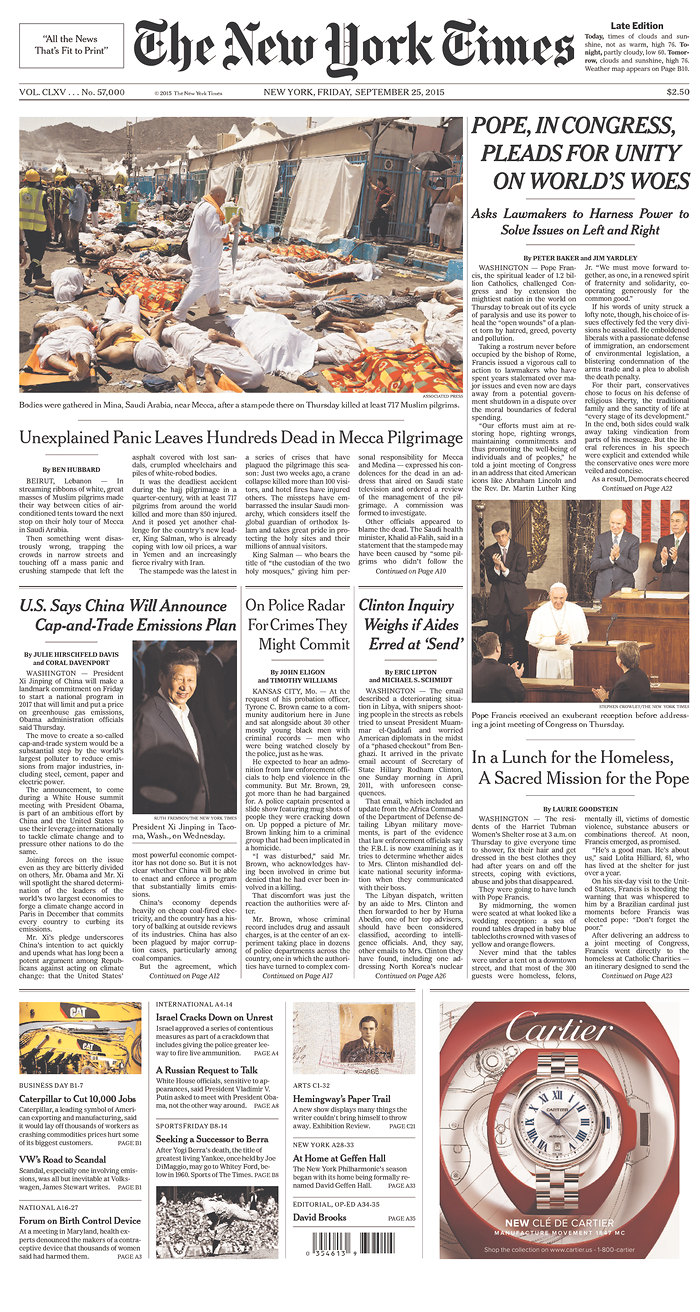 Only exception among the top news dailies of the country was the
San Jose Mercury News
from California, which carried a small snippet on Modi's visit and expectations back home on the front page on Friday since the Indian prime minister is scheduled to address a large audience there at SAP Center on September 27.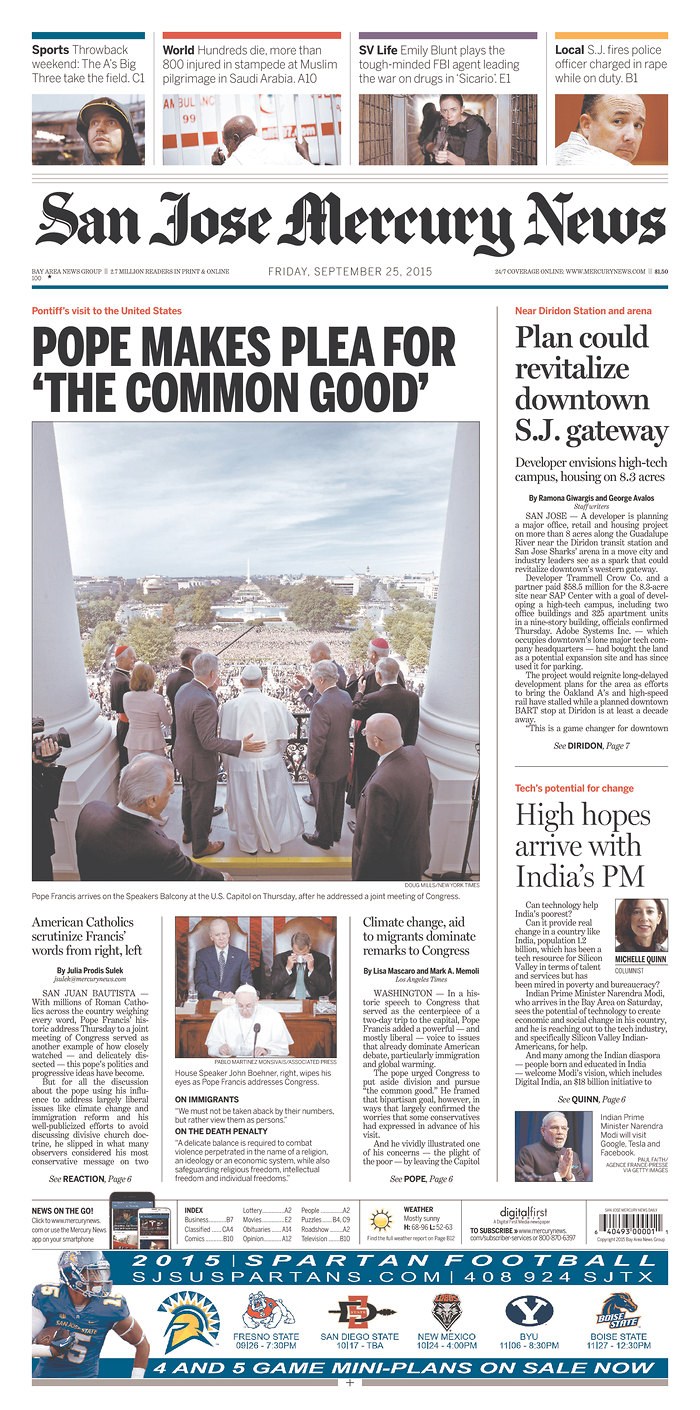 Even the last time Modi visited US, the country's press
didn't go gaga
over him but he did manage to make headlines in
some papers
for his "rock-star" performance at the Madison Square Garden in New York where he addressed the Indian-origin diaspora. However, this time around, the so-called Modi magic seems to be a lot more subdued. At least so far.
Corrections and clarifications: The photo on this article has been changed. A previous image showed British newspapers, not US titles.
Support our journalism by contributing to Scroll Ground Reporting Fund. We welcome your comments at letters@scroll.in.
Respond to this article with a post
Share your perspective on this article with a post on ScrollStack, and send it to your followers.