As flaming bottles rain down on a farm in Naxalbari, a village in West Bengal, the farm animals discuss whether they should go outside and join the revolution or not. The horse and the pig seem to be defending their
zamindar
, while the cows, goats and chickens are speaking for the farmers. It is 1967 and the peasant's movement is yet to take definite shape but it has begun.
These are the opening panels of graphic novelist Sumit Kumar's new book 
Amar Bari Tomar Bari Naxalbari
. They will immediately remind the reader of the iconic
Animal Farm,
George Orwell's 1945 novel on the events leading up to the Russian revolution. The 28-year-old novelist lists Orwell's work as one of his bigger influences and, in fact, the first panel depicts Orwell's birth in Motihari.
Amar Bari Tomar Bari Naxalbari
is Kumar's second novel. His first,
The Itch You Can't Scratch
, was published in 2011.
Naxalbari
started life as a web "comicle" on Newslaundry.com and has now been published by Horizon Books.  "We rarely read about the history after 1947," Kumar said.  "This largely unknown history of post-independence India is something that we need to read…Naxalbari takes you deep inside that history in an engaging way".
The novel deals with two periods of the communist movement in India – the uprising and the current Maoist conflict in central India. Excerpts from an interview.
Why the graphic novel? When did you get started as a cartoonist?

It was in 2007 that I began taking cartooning a bit more seriously. I was pursuing engineering at the time. I think it was by 2011 that other people started taking me seriously. It was just that I was drawn to a medium which used illustration, animation, any form of visual art really, where real photographs weren't being used. I think it is visually appealing and catches a reader's eye. I liked to read and write stories as well and wanted to weave in humour in one way or the other. So it all sort of came together.
What did you read while growing up?

I had limited access to comic books while growing. My father was transferred to Kolkata and I spent a considerable part of my childhood there. There used to be a book shop near his office that would rent out 10 comic books for Rs 10. My father would bring home 10 and I would finish them all in one day and my father would then get me 10 more the next day. I would read anything I could get my hands on – Hindi, English, Nagaraj comics, Amar Chitra Katha, Chacha Chowdhry, He-Man. I even read a 3D comic book one day without the 3D glasses. I read so many comics back then. Who knew I would end up doing this one day?
How did Amar Bari Tomar Bari Naxalbari come together? What have been your influences?

This first appeared as a web comic on Newslaundry.com. The first one I had done for them was called
Kashmir Ki Kahani
. After that Abhinandan Sekhri (managing editor, Newslaundry.com) thought that the Naxalbari story had a lot of meat in it.
I come from a very middle-class background. Nobody in my family is an artist or a writer. They are mostly government servants and lawyers. I was never exposed to the political history beyond 1947. It is rarely told. I did not know my post-partition history till I actually started working with Newslaundry. So when they handed me the assignment of turning history into comics, I casually said yes. It was only when I started reading and researching did I realise the depth and complexity of my assignment.
I had to read material which was 10 times of what I actually ended up working with. You find out tidbits, like there are only 12 MBBS doctors in Bastar for a population of approximately 72 lakh people. These make for a good story.
In terms of influences, I try and move away from specific styles. But Orwell has always been a very big influence and I had decided I wanted to use animals as characters in my story early on. Orwell himself was a disillusioned Communist and throughout the book you will come across characters who are disillusioned. I just wanted my book to be interesting and colourful. I wanted that the reader can laugh and feel sad at the same time.
What kind of research went into this novel?

Pure reading. And, of course, meeting people. That, I think, is one of the biggest handicaps – the fact that I haven't actually visited the place. I read copiously, made chronological timelines, found characters that were interesting and just told the story. I went and met people like Nandini Sundar, on whose petition the militia Salwa Judum was banned (in 2011). I also went through a lot of visual material like Sanjay Kak's documentary
Maati Ke Laa
l which helped me get a sense of the place, what the trees looked like, etc.
In Naxalbari, serious issues are being presented in a comic book form. Do you think readers might feel it trivialises the issue?

Maybe if I was 10 years older and wiser I would have not done it, but I took that risk. Also, I'm not laughing at the situation. There's one section in the book where a group of tourists have come to Bastar and the forest officer has taken them on a tour. The forest officer keeps calling the adivasi Mowgli. I'm pretty sure that would literally happen. It's a satire and the thing being made fun of is human stupidity.
Is the book aimed at children?

I didn't specifically write this for children. They can read it and will probably be able to follow the storyline, but the humour and depth might be lost on them.
What do you think about the graphic novel scene in India?

Creative professions don't get made in a day. I think because it's a different medium it can get attention and because such few people are doing it, even if you do something comparatively better it will be noticed. It will obviously be better if more people do it, brings diversity to the mix. Right now we are sort of weighed down by the Western comics. The trend is that you either draw a superhero or something very dark and serious that is received as high literature. I think the everyday can be depicted in a fun way through this medium.
Amar Bari Tomar Bari Naxalbari
is available at Instamojo.com, Amazon.com and Flipkart.com.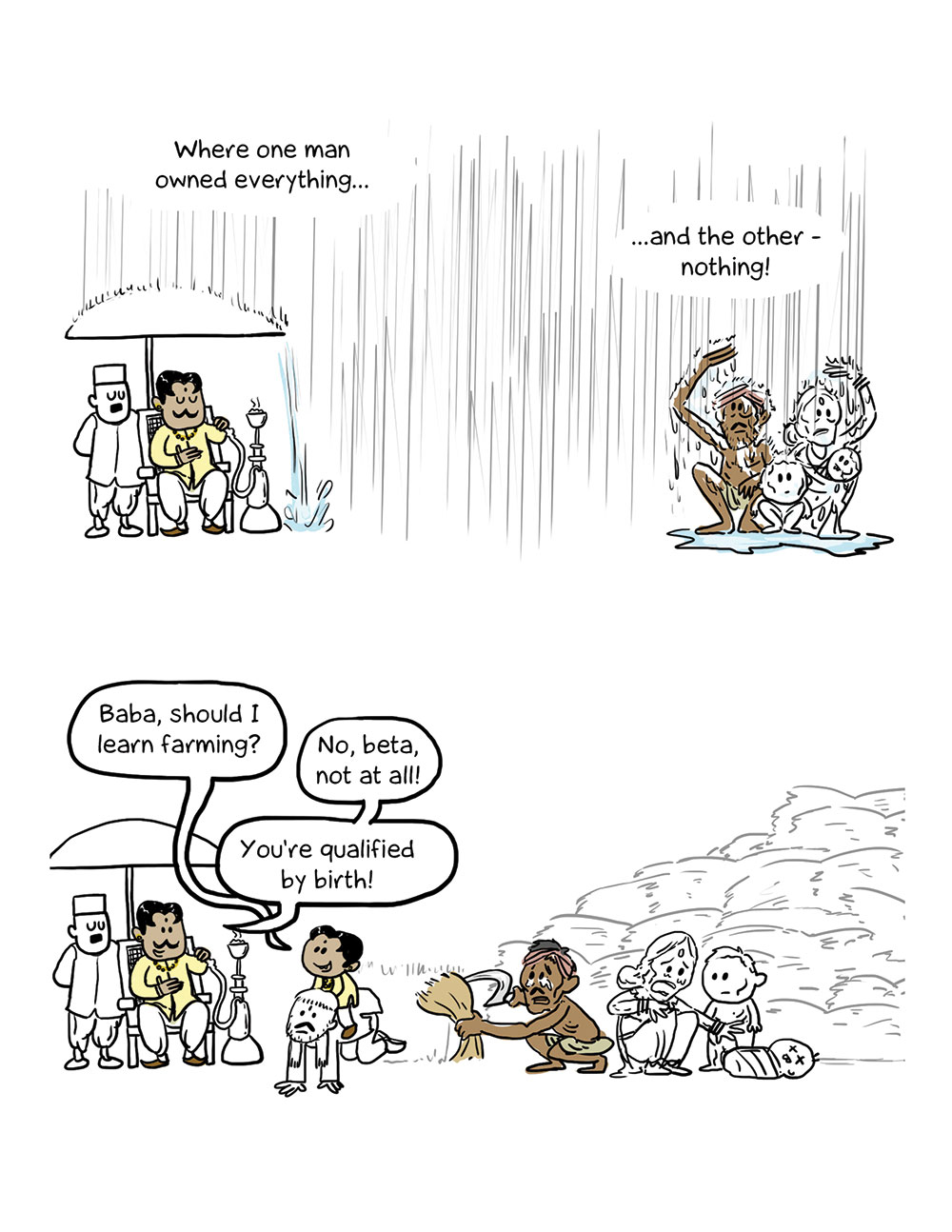 We welcome your comments at letters@scroll.in.