At about 1.40 AM IST on Friday morning, with no live telecast on TV and very little buzz on social and other media, Davinder Singh Kang created history by becoming the first Indian to reach the final of javelin throw at the World Athletic Championships.
There were very few expectations from him, even though he had made it to the World Championships with a personal best throw of 84.57m at the Indian Grand Prix. He had won the bronze at the Asian Atheltics Championship last month with a throw of only 83.29m. The eyeballs had all been trained on junior world champion Neeraj Chopra, who bowed out in the earlier qualification group. Kang was playing with a strapped shoulder, which has been troubling him since May. He was in the unfortunate eye of controversy in June when he tested positive for marijuana. His first two attempts had fallen inches short of the qualification mark.
But none of that mattered when his third and final throw went past the mark and the javelin lodged at 84.22m. In what was called the greatest qualifying round in the 34-year history of the IAAF World Championships, Kang became the first Indian to reach the final stage at the ongoing tournament in London.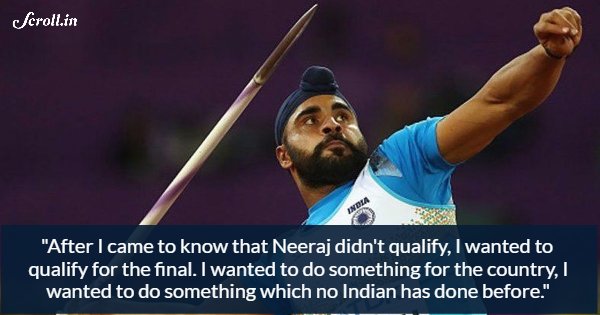 The road to London wasn't easy for the 28-year-old Armyman from Punjab. His participation itself was in doubt after he tested positive for marijuana in June. But he was named in the squad as the banned substance was in the specified list of the WADA Code and does not attract automatic suspension.
"The off field controversies only made him stronger and motivated him ahead of the championships," Kashinath Naik, Kang's javelin throw coach, told The Field.
"We become stronger when we have challenges. Some people get disheartened after such problems, some people use it to get motivated and go even further, Davinder is one of them. He took it very positively and said 'now I have to go and prove myself'," Naik added.
The coach, however, was very disillusioned with the way his ward has been covered by the media. "Kang's doping violation was flashed as breaking news all over, his record feat has not received the same attention," Naik said.
The 28-year-old has been carrying an injury since the Indian Grand Prix in Delhi in May and participated in the qualifications with his right shoulder strapped. He did win an Asian bronze last month, but the level of competition is just not the same.
But Naik says that tightness in the shoulder, elbow and back is common for javelin throwers and that you must disregard it and focus only in the competition. However Kang has been unable to train as intently as he would have liked since May. In fact, this was his first full-throttle throw since the Asian Championships in early July.
"Shoulder main tightness ki wajah se utna practice nahi kiya, uska recovery full ho jaata toh acha hota," [It would have been better had been able to recover from the injury completely]" Naik said. "He is just maintaining what he threw in January-February and is focusing on fitness more than heavy training," he added.
Naik, who was following the qualification on the IAAF website, spoke to Kang on Friday after his qualification, and he said that he was geared up to give his best for a medal. The Indian coach advised him to get treatment on his shoulder and rest up before the final on Saturday night.
But that's going to be easier said than done. The final has past Olympic and world champions among the 13 competitors, with the top five all crossing 85; Kang's personal best is 84.57.
"Today, javelin throw is a lot more competitive. Earlier, there were only a couple of players who could cross 88-89m while the rest would all be around 83-84m. But now, there are at least six players who can cross 88m regularly," Naik said. "85 toh aaj aam throw ho gaya hain, [85m has become an ordinary throw now]" Naik added.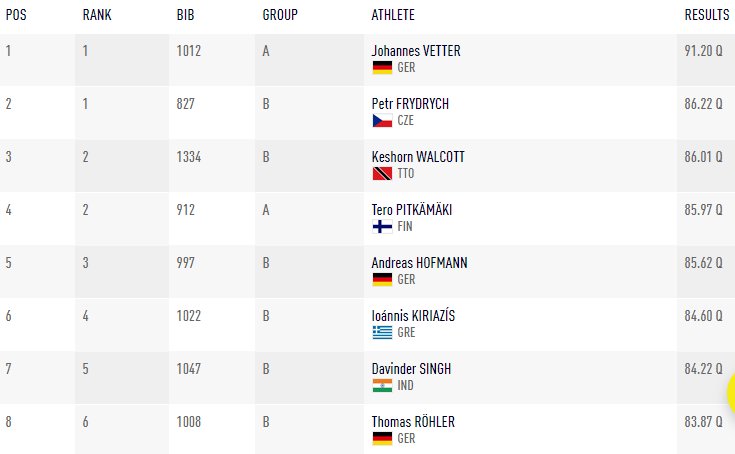 But as Naik points out, javelin throw is also a sport where you can gain or lose a distance of four-five metres in one throw itself. In fact, that's exactly how much Kang gained on his personal best throw at the Indian Grand Prix.
"A usual 84m throw can go for 88-89m on any day. Neeraj, for example, used to throw a distance of 81-82 before but one day he threw 86m [the junior world record]. "Sahi line mil gaya or wind aur direction theek hua, toh bahut zyada chala jaayhega," [The right line, wind and direction can increase you distance up to five meters sometimes] Naik said.
However, in the end, it is also a question of determination, as the coach pointed out. This determination was evident in Kang's effort on Friday. Despite the strapped, stiff shoulder, he started strong with a 82.22m throw on his first attempt, falling narrowly short of the mark. On his second attempt, he threw a distance of 82.14, coming very close once again. But Singh held his nerve, completes a clear throw and clinched the spot on his third and final attempt.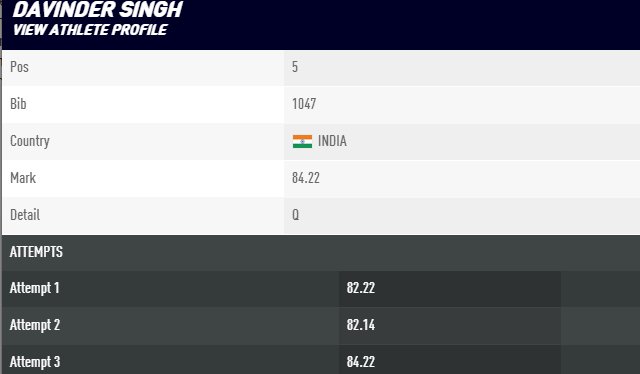 In fact, his throw of 84.22m was better than that of 2016 Rio Olympics gold medallist Thomas Rohler from Germany and silver medallist Julius Yego from Kenya. He finished fifth among 16 competitors in his group and seventh overall. But the six who finished above him, included Germany's Johannes Vetter's incredible 91.20m.
But the coach is very optimistic. "Nobody has won a medal since Anju Bobby George, [at the World Championships], and I am hoping Davinder can get a medal for the country, see the flag fly high and maybe even hear the national anthem," Naik said.
Kang has already made history by reaching the final, but for him to reach the historic podium, he will need much more than determination and luck and good wind direction; he will need an extraordinary effort.
We welcome your comments at letters@scroll.in.