After a series of low scores in South Africa, Rohit Sharma silenced his doubters with a century in the fifth One-Day International at Port Elizabeth. The opener came good when it mattered, scoring a fluent 115 to take India to 274/7 on a sluggish St George's Park wicket.
His ton helped India win their first ODI series win on South African soil as they Proteas by 73 runs, thereby taking an unassailable 4-1 lead in the five-match series. However, Rohit was adamant that he wasn't in bad form and just needed to be in a good frame of mind to get back to scoring.
"I was out in three matches. How does that make my form bad? You guys [the media] write off a person's form after three matches and say it is back after one match. Since 2013, my batting style has changed. The way I changed my batting – earlier I used to bat in the middle order. So what has happened before that is history. So, ask me about things after 2013."
The Mumbai batter had registered scores of 20, 15, 0 and 5 before going entering this contest: "I accept that in the first four matches my performance was not good but I knew that I was batting well in the nets and my dismissals were not in one pattern. Such things happen in a cricketer's career and I knew I had to just stay in a good frame of mind. Today's knock is also special because we won the series," the 30-year-old said in the post-match press conference.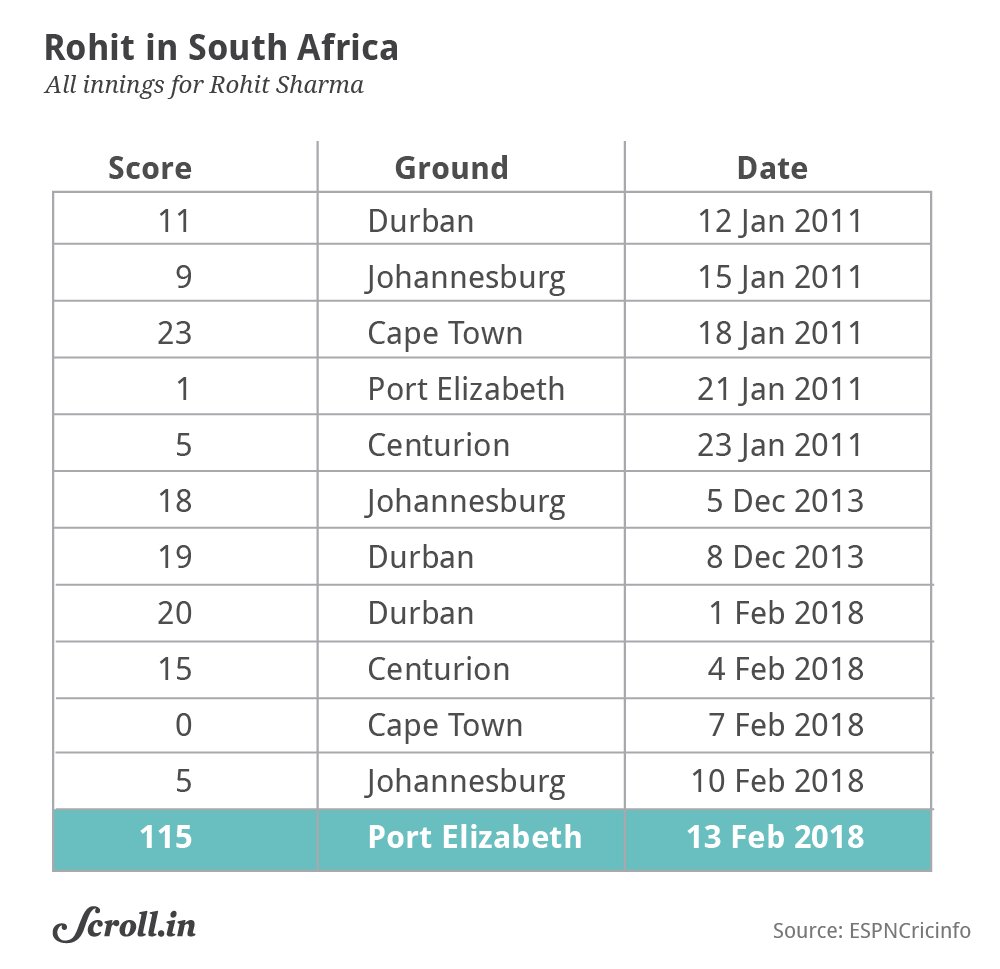 This was India's first win in South Africa and the first win for Virat Kohli's against a top nation on their soil as captain. "This is a very good series win as this is a bilateral series. We had also won a CB series in Australia [in 2007]. It is difficult for me to compare both but I think this series is very important for us. Given the way we played from the first match, we have dominated the series and the result shows that," Rohit said.
"After 25 years, we have won the series in South Africa. It's not the easiest place to play cricket and definitely not the easiest place to win a series. So I think a lot of credit to the boys and I think everybody who got an opportunity put their hand up. If you look at the entire ODI series till now, I think it was a dominant performance by us. It will give us confidence to go out and try and win a series. Yes, Test series was very close, I believe, it could have gone any way. We are very proud of our performance and what we achieved today," he added.
Rohit had a word of praise for the bowlers as well, hailing all-rounder Hardik Pandya for his contribution. His all-round skill sets came into good effect, getting 2/30 with his seamers and then effecting run-out with a direct-hit to dismiss in-form Hashim Amla, who made 71.
"It will give a lot of confidence to those guys. Even in Johannesburg, it was a shorterned game. Anything could have happened if we had got a full game. But we had confidence in the two. We have full confidence in the five bowlers that we play.
"Hardik has come a long way since he made his debut. He understands now what the team expects from him. He is a proper all-rounder, not a batsman who can bowl or a bowler who can bat. But a proper all-rounder and we expect him to come out and bowl 10 overs all the time. But it is good to have that cushion of the sixth bowler.
"You know Kedar is injured and that provides these guys a lot of challenge here knowing that they don't have anyone else to bowl those overs if needed. So the confidence they got from last two games was immense and Hardik, special mention to him, the way he came out and bowled, got crucial breakthroughs. It will give him confidence going forward. The others are also doing the job consistently," Rohit said.
Despite the series being in the bag, Rohit said that India will play the remaining game with the same intensity. "Every game is important, irrespective of whether you have won the series or not. We will approach the next game as we have approached the last five games," he said.
Support our journalism by subscribing to Scroll+ here. We welcome your comments at letters@scroll.in.