IPL 11
IPL 2018, DD v CSK as it happened: Delhi win by 34 runs after Chennai's run-chase falls apart
Live updates from match No 52 of IPL 2018.
Post-match presentation:
Shreyas Iyer, DD captain: 'We were craving for this win, coming against the team at the top of the table, is a very satisfactory feeling. It wasn't easy to bat on, Harshal delivered and that last over (Bravo, 26 runs) was important. Did well in all three departments tonight. Our preparations has been up to the mark, execution was a problem."
Player of the match, Harshal Patel for his all-round performance (36 off 16, 4 overs 23 runs): 'Bowling is the more difficult part, given the ground size and dew. A good four-over spell more important than a 25-run cameo. It's about consistency for me, how often I can produce performances like these.'
11:50 pm: Here's how the table looks like, a blow for Chennai as another big defeat to KXIP might put them in a precarious position of not finishing in the top two. Still a long shot though.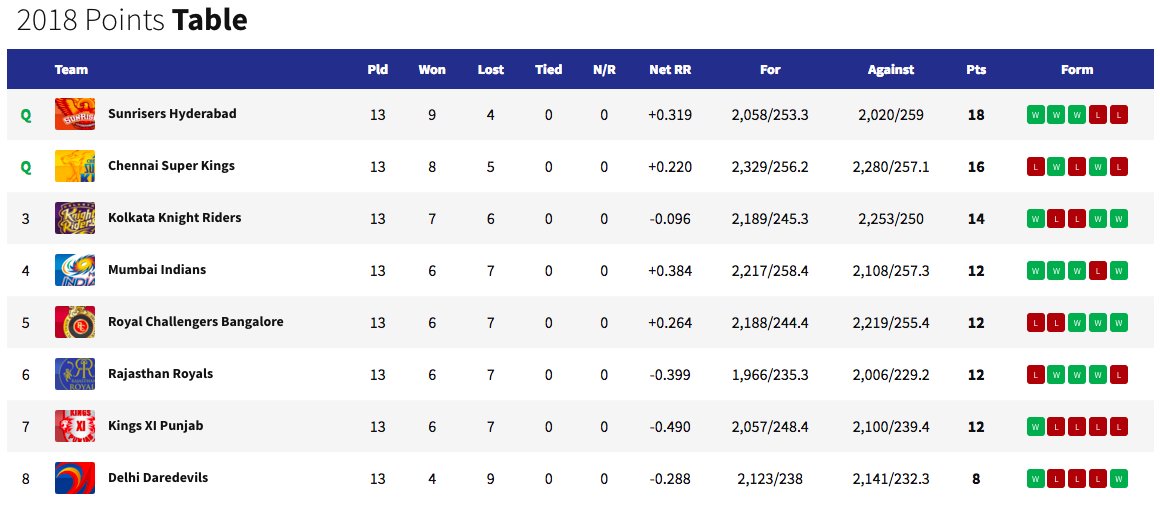 11:45 pm: POST MATCH...
MS Dhoni, seems not too fussed about the defeat: "The wicket kept getting slower and slower. Difficult to predict how a pitch plays here. Not too fussed, since we know where we went wrong. Told my team to not look at the points table. Middle order needs to build partnerships. If we get our death bowling sorted, we should be alright. Need to perform as a team in the knockouts."

END OF MATCH - DELHI DAREDEVILS WIN BY 34 RUNS
A low-key end to a bizarre match, really. For a while DD never seemed like they will set a big total, and then Bravo conceded 26 runs in the final over. And in the powerplay, Watson and Rayudu didn't really seem too keen to get going, struggling at 22/0 after 5 overs. Rayudu added a spark, but once he went, CSK had nothing going in the middle and end-phases.
After 19 overs, CSK 124/5
11 runs off that over, but it doesn't really matter now Harshal Patel wraps up a good day with figures of 4-0-23-1. 39 needed off the final over and that's that then. CSK heading for a heavy defeat.
After 18 overs, CSK 113/5 - DHONI GONE
Boult was taken to the cleaners by Dhoni in the previous meeting between these two and it's the opposite here. The Kiwi goes full and fast for the most part, and after conceding 5 off the first 5 balls, gets Dhoni's wicket to finish a sweet, sweet over for Delhi. Match done and dusted surely? 50 needed off 12.
After 17 overs, CSK 108/4 - need 55 off 18 balls
Harshal Patel potentially heading towards a player-of-the-match showing. Dhoni struggles with the change of pace, unable to get bat on ball. Just 3 from that over! Match, it looks like, is over for CSK unless Dhoni pulls off a miracle.
After 16 overs, CSK 105/4
Much-needed big over if you are a CSK fan. The match was running away from the men in yellow in some hurry, but Jadeja starts Sandeep's final over with a six. But his spell was fantastic, conceding just 21 in four overs for the wicket of Raina.
After 15 overs, CSK 94/4 - need 69 from 5 overs
Another two-run over. Another wicket! The veteran Mishra strikes again & Billings's ungainly sweep is caught by Sharma at short fine leg. He's walking back on 1 off 5.
Surely Delhi's game to lose despite Dhoni's presence?
After 14 overs, CSK 92/3
And another breakthrough for DD as the pressure starts to increase on CSK, on a pitch that's not easy to get going. Sandeep Lamichhane celebrates a big wicket, that of Raina, who finds the deep midwicket fielder with a heave! What a superb over from young Lamichhane!
The chase getting tougher for CSK, need 71 runs in 36 balls at a RRR of almost 12.
After 13 overs, CSK 90/2 - need 73 from 42 balls
Tight over by Mishra ji. Just four singles in that over - but one of them a significant one for MSD. The CSK skipper completes 6000 runs in the shortest format of the game. Required rate goes above 10. Interesting finish coming up.
After 12 overs CSK 86/2 - need 77 from 48 balls
Just as the required rate is creeping up, Dhoni and Raina release the pressure with a 10-run over off Maxwell. A lofted cover driver by Raina, a delicate late cut by Dhoni for a boundary each.
After 11 overs CSK 76/2
One of the battles many were looking forward to tonight, as Sandeep comes on to bowl with Dhoni in the middle Good over by the leggie, steady batting by Raina and Dhoni, just 6 from it.
After 10 overs CSK 70/2 - FIFTY AND OUT, RAYUDU!
This has not been an easy pitch to bat on, but Rayudu has raced to a 28-ball half century. But the next ball he faces, he falls trying to up the ante even further. It's a well-disguised slower ball by Harshal Patel, it sounded like Rayudu connected well, but it was high and didn't have the distance. Maxwell takes a skier and falls on his back in relief!
After 9 overs, CSK 62/1
Maxwell with a quiet over, couple of singles each for Raina and Rayudu. But the Hyderabad lad goes big in the next over! But Rayudu is batting so well once again that the only way he could get out (like most of this season) is run-out. A four and a six off Mishra - a lovely cover drive and a full toss sent into the sightscreen - followed by a suicidal single. Was well short, if it was a direct hit.
After 7 overs, CSK 46/1
Watson didn't look all that comfortable in that run-chase and falls trying to hit big off Amit Mishra. Can only find long-off. Looked like he wanted to go much straighter than he ended up hitting the ball, the bat turning at the last moment. And a chance off the next ball! Oh, Rishabh Pant. It's a slider from Amit Mishra to Raina first up and the keeper puts down a simple chance. Wasn't ready for that edge at all.
After 6 overs, CSK 44/0
6-0-4-0-6-6
So Rayudu has had enough, seemingly. Decides to slog Avesh Khan almost every ball in that final over of the powerplay. Succeeds well off the first, third, fifth and sixth balls! Three sixes and a four (almost a six that too!), and all through the square leg midwicket region! Kept pulling and pulling, and to great effect. WHAT A WAY TO END THE POWERPLAY!
After 5 overs, CSK 22/0
It's now Watson's turn to try and muscle the ball and fail, as Harshal Patel comes on and concedes just 2 runs. Not much power on show in the powerplay so far.
After 4 overs, CSK 20/0
Rayudu trying a bit too hard at the start of that over by Avesh Khan, to muscle the ball. His strength has been timing, a bit odd to see him to do that early on. Gets it right off the fifth ball, as he is offered width, just timed beautifully between mid-off and cover. And then ends the over with another odd-looking square cut.
After 3 overs, CSK 14/0
And there's that front-foot pull shot from Watson. Picks the length quickly, hits Boult over square leg for a six, first of CSK's innings. Remember that CSK have hit the most number of sixes in the IPL so far. Boult started that over well with a good length ball, angling away to Rayudu that made the DD players go "ohh!" Good cricket all around.
CSK 5/0 after 2 overs
A lovely cover drive apart, another quiet over played out by Watson. He's faced all 12 balls so far. Great line and length early from the young legspinner Sandeep.
CSK 3/0 after 1 over
Good first over from Boult, keeps Watson in check. Just 3 runs off it. Watson has shown a tendency to fall off his favourite pull shot and there was a hint of a trouble there in that over, with a mistimed attempt.
Nepali youngster Sandeep comes on in the powerplay...
Innings break: Do DD have enough on the board? And is it time CSK look past Bravo for the rest of the season?
After 20 overs, DD 162/5 - MASSIVE LAST OVER FOR DELHI
Whoa. Dwayne Bravo, the "death-overs specialist" has been taken to the cleaners. He's struggled with his slower balls and lengths in the final overs this year and it's the same again. Patel hits three sixes, Shankar hits one and it's 26 runs from the final over! Harshal Patel's heroics takes DD to a decent 162/5 What a cameo from him, 36 off only 16!
After 19 overs, DD 136/5
Good over from Thakur, just 6 from it. Can Vijay Shankar and Harshal Patel push DD past 150?
After 18 overs, DD 130/5
Bravo's death bowling has been a problem for Chennai all through this season, and he is taken for runs once again. Harshal Patel starts the over with a six, despite being beaten by the change of pace. 12 from that over.
After 17 overs, DD 118/5
Massive six! Vijay Shankar impressed against Chennai in the reverse fixture as well when he and Pant made a tough chase look possible. He is impressing tonight again. Thakur bowls it short, Shankar bludgeons it into the stands, wide of long on, off his front foot.
Impressing his home-town franchise is he?
After 16 overs, DD 110/5
A long-ish over from Ngidi as he bowls a couple of wides, the over ends with a boundary for Harshal Patel as he and Vijay Shankar try and add some respectability to the total
After 15 overs, DD 102/5 - Abhishek gone
Oh dear, getting worse for DD. Young Abhishek Sharma who impressed on his debut, his gone cheaply tonight. A short ball off Thakur rises sharply, Abhishek can only top-edge it straight to Bhajji at midwicket.
After 14 overs, DD 95/4 - Maxwell gone
Oh Maxwell. His poor season continues. Jadeja and Dhoni are all smiles as Maxwell tries to reverse sweep and yorks himself, his leg stump goes for a toss.
Great spell from Jadeja tonight, 19/1 from his 4 overs. A dangerous bowler on a track that offers him any assitance.
After 13 overs, DD 93/3
Quite overs from Chennai bowlers. Jadeja is, in fact, getting the ball to turn which is an indication that the pitch is not that easy. Just 3 from his over. Bravo continues from the other end and Vijay Shankar gives the home crowd something to cheer with a powerful straight drive for four. 9 from that over.
After 11 overs, DD 81/3 - DOUBLE STRIKE FOR NGIDI
Not a great outing for Iyer, the opener. Tries to give himself room and square cut Ngidi, the good-length ball is quick and accurate, hits top of off stump. 19 off 22 for the captain, not his best effort by any means.
And it gets worse as Rishabh Pant, Delhi's best bet for a good score, tries to go big and top-edges a heave to Bravo at third man. Out comes the dance!
After 10 overs, DD 77/1
Well, something must have been said during the time-out. Pant has come out all guns blazing. Starts Harbhajan's over off with a six, a massive flick over midwicket. The third ball, is cut away for four through third man. The fifth ball, is a slog sweep that goes for six over long off! Yes, you read that right. Didn't look in control, but muscles it. Ngidi misjudges it big time, and it carries all the way. EXCITEMENT AT THE KOTLA!
After 9 overs, DD 60/1
Mishits galore. Bravo comes on to bowl and concedes just six runs. Pant is struggling for timing in that over, and it's not still clear if the pitch is acting funny or if the Delhi batsmen are not in their zone.
Time-out now and a chance for Ricky Ponting to ask some questions, one thinks.
After 8 overs, DD 54/1
7 runs from Harbhajan's first over, thanks to a crunching back-foot drive through cover by Rishabh Pant. This is all very sedate otherwise, still.
After 7 overs, DD 47/1
Good over for DD, 8 from it as Iyer cuts Jadeja away through point for a boundary. Elegant footwork. A good save by Bhajji at short-fine leg limits the damage for CSK.
And Bhajji comes along to bowl... the over rate is going to up significantly now.
After 6 overs, DD 39/1 - end of powerplay
If you thought DD were going to go slam-bang in the powerplay in a nothing-to-lose game, well, that hasn't quite happened. The pitch that doesn't seem all that two-paced, and CSK have bowled good lines. One boundary in that Thakur over for Pant, as he pulls a short ball through midwicket.
After 5 overs, DD 33/1 - Shaw dismissed
Shaw dismissed. This was coming, we are afraid. Shaw has been mistiming plenty, finds Shardul Thakur at long on, who doesn't drop this time. Chahar strikes again in the powerplay.
And CSK should have had Pant's wicket as well! Poor calling between the batsmen, Iyer sells Pant down the river but Thakur can't get a direct hit from mid-on. All three stumps to target, he misses it from a good angle. Pant puts in a dive that wouldn't have saved him but he needs treatment. Iyer slaps a boundary over cover point when play resumes, and follows that up with an upper cut - two boundaries in that over.
After 4 overs, DD 24/0
Ah, there's the poor fielding that Dhoni has almost nonchalantly handled this IPL. A couple of reprieves for Shaw in Jadeja's over as he mistimes two slog sweeps. First one, Ngidi is running backward from midwicket, but can't get close enough. Thakur then drops a simpler chance at mid-on. Shaw struggling a bit here.
After 3 overs, DD 18/0:
Through the second half of this IPL, various commentators have compared Shaw's style to Sachin Tendulkar, Brian Lara – today's choice seems to be Virender Sehwag. The reason being his tendency to play away from the body with minimal foot movement. Gets beaten a couple of times off Chahar but does hit the first six of the night, a handsome pull over square leg.
Jadeja comes on...
After 2 over, DD 9/0
Oh, would you look at that. Veteran of the side, Harbhajan Singh, putting in a dive at mid-off to save a boundary. Shaw with a good-looking back-foot punch off Ngidi, but gets just one for it. Another steady over for CSK.
After 1 over, DD 5/0
A steady start to the proceedings from Chahar, who, perhaps for the first time this year, doesn't start with an away swinger - bowls a wide down the leg. Gets the shape going after that, and Shaw is cautious. One short ball on the pads, punished by Shaw who gets his first boundary of the night.
08:00 pm: DD fielding another different opening combination with Mumbai boys Shreyas Iyer and Prithvi Shaw, Deepak Chahar, who has impressed for CSK, with the new ball.
07:55 pm: For CSK, another chance to iron out their flaws in bowling (which Dhoni has been critical of) and improve their fielding (which Dhoni has been joking about for the duration of the IPL, pretty much). They are still searching for the balance in the bowling lineup and it times it has felt like Dhoni has experimented a bit too much. Can they click tonight?
07:50 pm: Delhi Daredevils have the poorest economy rate of all teams in IPL 2018 at 9.34. They are up against the team that has hit the most no of sixes and scoring the quickest. But that contest will have to wait, first up - we get a look at one of DD's strong points this year. Their batting, which has been breathtaking at times with the likes of Shaw, Pant and Iyer firing.
07:45 pm: Delhi Daredevils are fielding only three overseas players tonight. Two U19 Indian players, one 17-year-old Nepali, Rishabh Pant and Shreyas Iyer. Nothing at stake, but still, at some level, you can't help but admire DD for continuing to invest in youngsters.
07:40 pm: Playing XIs...
Chennai XI: Shane Watson, Ambati Rayudu, Suresh Raina, MS Dhoni, Sam Billings, Ravindra Jadeja, DJ Bravo, Harbhajan Singh, Deepak Chahar, Shardul Thakur, Lungi Ngidi
Delhi XI: Prithvi Shaw, Shreyas Iyer, Rishabh Pant, Glenn Maxwell, Vijay Shankar, Abhishek Sharma, Harshal Patel, Amit Mishra, Sandeep Lamichhane, Trent Boult, Avesh Khan
07:35 pm: Changes...
CSK: Lungi Ngidi comes in for David Willey
DD: Glenn Maxwell & Avesh Khan come in for Jason Roy & Junior Dala
07:32 pm: Is there an award for the 'Farthest thrown coin at the toss'? Shreyas Iyer would win it hands down. Anyway, team news coming up.
07:30 pm: Shreyas Iyer throws the coin instead of flipping – that travelled a long way! Dhoni calls right, opts to bowl first.
07:20 pm: Some stats.
Rishabh Pant needs 70 more runs to take over the Orange Cap from KL Rahul, who got on top of the table with his 94 in a losing cause against Mumbai Indians.
Chennai Super Kings have hit the most sixes in this IPL so far; a total of 116 sixes in 12 matches this season.
07:15 pm: As we get ready for this game, here's a look back at what was an utterly enjoyable game in Bangalore last night. And that catch by ABD, just... WOW.
07:10 pm: CSK come into this match on the back of a thumping win over SRH. And the hero of that game was the man in form, Ambati Rayudu, who earned high praise from MSD:
"Even before IPL started I had to make space for Rayudu, because he is somebody I rate very highly. He can play both the fast bowlers and spinners very well. Most teams look to exploit the opener with spin bowling. He is someone who does not look like a big hitter but almost clears the field every time he plays the big shot."
07:05 pm: A look at the table as it stands, and the qualification scenarios explained here. For CSK, tonight's a chance to seal a top-two finish.
07:02 pm: A quick look at the head-to-head between the two sides.
Matches – 17, Chennai Super Kings won – 12, Delhi Daredevils won – 5
07:00 pm: Hello all and welcome to our live coverage of match No 52 in this year's Indian Premier League. The venue is the Feroz Shah Kotla tonight and it's quite incredible that it's taken 51 matches for the first game in this IPL 2018 with no implication on the qualification scenarios. Eliminated Delhi Daredevils, host high-flying Chennai Super Kings.
Support our journalism by subscribing to Scroll+ here. We welcome your comments at letters@scroll.in.