There was a bizarre moment (among many) that stood out on day two of the fifth Test between England and India at The Oval. Stuart Broad, after having frustrated India's bowlers for 98 minutes with his rearguard partnership with Jos Buttler, decided to throw his bat at one too many a delivery. His attempted heave over mid-on off Ravindra Jadeja was mistimed but it looked for a brief while that it would land safely. Until KL Rahul decided otherwise, running backwards and taking a diving catch to send Broad back. It was a stunning catch that brought more relief to the Indian camp than joy.
And once he stood up after taking the catch, Rahul gestured 1 and 3 with his two hands. It caught most viewers off-guard as 1-3 happens to be the scoreline of the series as things stand. But, as it turned out, Rahul was trying to indicate that he has completed the 13th catch of the series.
It was bizarre because Rahul's gesture also had an ironic feel to it. One of the reasons India are down 1-3 in this series is because they allowed the likes of Broad and other lower-order England batsmen to make merry. That has been India's Achilles heel in this series and it once again resulted in the visitors completely squandering momentum.
From 181/7 towards the end of day one, Jos Buttler added:
33 runs with Adil Rashid for the 8th wicket
98 runs with Stuart Broad for the 9th wicket
20 runs with James Anderson for the 10th wicket
That is 151 runs added to England's score after India had them on the ropes.
As it turned out, India's deficit at the end of day two was 158 runs with three wickets remaining.
Credit where it's due
Not for the first time in this series, and not for the first time in recent memory, India were guilty of not finishing off the tail-enders after having done the hard work with the top order. As the numbers indicate below, India's inability to get the final few wickets quickly haunted them at Trent Bridge and Southampton too.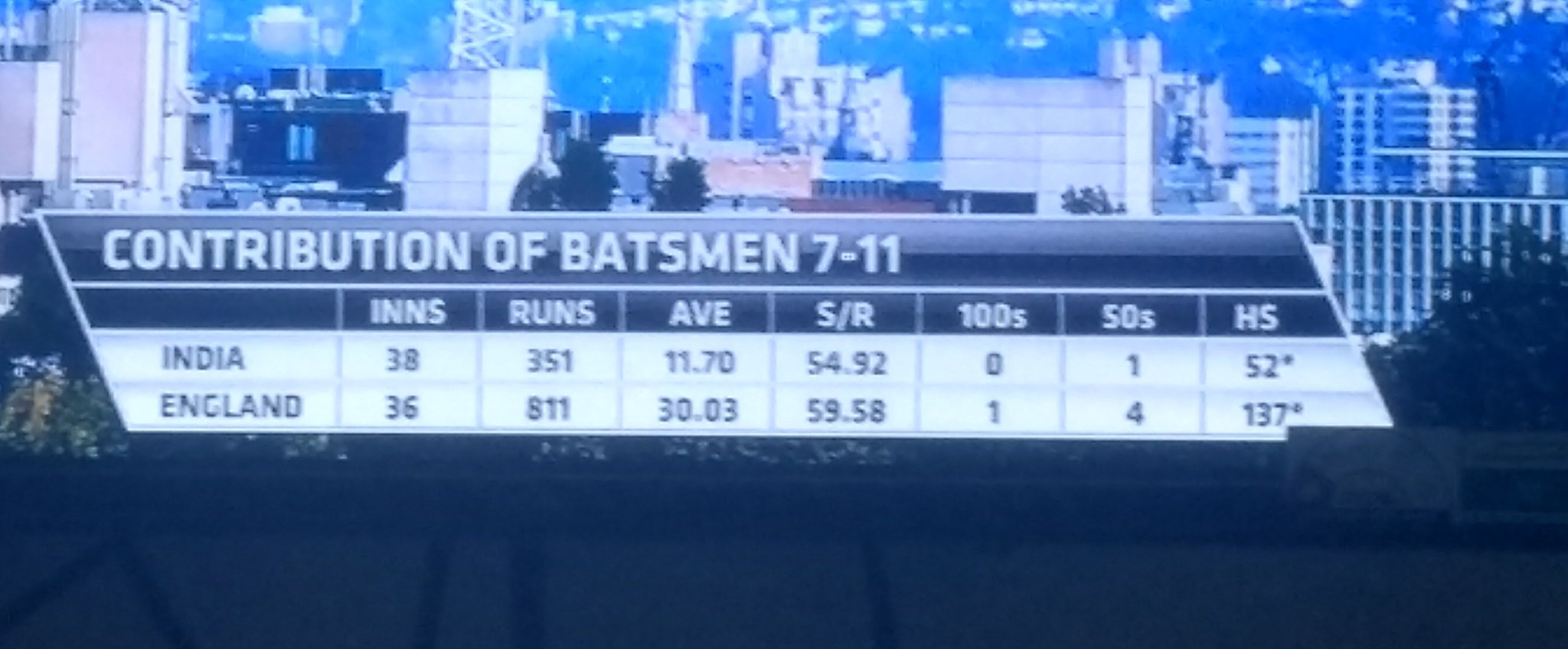 Before we talk about India's inability, it might be worth looking at England's ability. Jos Buttler, on his 28th birthday, proved once again it was a masterstroke by the England selectors to bring him back to the Test fold and trust him with the England lower order. The man in form for England, having top-scored in four of their last five innings, survived a nervy period at the end of day one and took the game away from India in the first session on Saturday.
This was not mindless aggression or a brutal counterattack either. This was him getting his eye in in the first 30 minutes, then starting to find the gaps in the field with surgical precision. It wasn't until he crossed his 50 that he started playing shots all around the park.
Adil Rashid and Stuart Broad deserve credit too. With minimal footwork and maximum efficiency, the duo kept India much longer on the field than they would have liked to.
Tactical errors
Having said all that, it's tough to defend Virat Kohli and India's tactics when they allow the opposition to add 151 runs for the last three wickets when there was plenty of help for their seamers.
It is now fairly well established that this is not a one-off for India, and there are deeper issues at play here when it comes to knocking the opposition out after landing the early punches. That's for another day.
For now, a look at how India let the game drift away will tell you that it's not just about the bowlers not getting it right. It's the management getting their tactics wrong.
Or worse, not having tactics in the first place.
Much like at Trent Bridge and Southampton, India's disciplined bowling and pressure-building abilities went out of the window when they were bowling at the England tail-enders – especially Stuart Broad. While Rashid was given a few juicy half volleys early in the day, allowing him to collect easy boundaries, Indian bowlers completely lost their rhythm against Broad. And a look at the pitch map will tell you there was no clear plan that the bowlers were operating to.
Which begs the question: what did the team think-tank discuss overnight? Did Virat Kohli, Ravi Shastri and Bharath Arun sit down and chalk out strategies for dismissing the rest of the England batsmen? Or was the idea just to turn up on Saturday, keep doing what they did, and hope England fold?
Remember, this is the same bowling unit that has been impressive day in, day out during India's travels this year. It cannot be that they suddenly forget their skill set when faced with the opposition's Nos 7, 8. 9, 10 and 11. That pitch map above is as good an indication as is possible that the planning, or the lack of it, has been found wanting.
Kohli's captaincy, not for the first time, left a lot to be desired as well. Even in the first hour on Saturday, there were occasions when there were just two slip fielders in place – for both Broad and Buttler. Despite Buttler's struggles late on Friday, Kohli opted for defensive fields against him and decided to target the other end, which back-fired given the lengths and lines were erratic.
When the partnership between Buttler and Broad began to build, and simultaneously the pressure on the batsmen began to reduce, easy singles were offered, while the body language of the bowlers visibly changed. Just like that, England were off the hook.
There was one moment that summed India's troubles up perfectly. With England then nine wickets down, Buttler was on the charge against Bumrah. After having hit him for two sixes early in the over, Kohli opted to not bring the field in and Buttler just took the easiest single he could have imagined off the fifth ball of the over, leaving Anderson to face just one delivery, which was a full ball, down the leg side and not even attempting to threaten the No 11 batsman.
Buttler did get dismissed in the next over, but by then, the damage was already done.
Support our journalism by subscribing to Scroll+. We welcome your comments at letters@scroll.in.