It was all too familiar story that unfolded at Manchester on Sunday as India beat Pakistan by 89 runs via DLS method to register their seventh successive win in World Cups over their neighbours. This was India's biggest win in terms of runs against Pakistan
Rohit Sharma's classy 140 set the tone for India. Virat Kohli and KL Rahul's fifties ensured that, despite the rain delays, the two-time champions reached a formidable total. Pakistan, in reply, lost Imam-ul-Haq early. Babar Azam and Fakhar Zaman fought hard but were undone by Kuldeep Yadav's wizardry. Pakistan never recovered from there.
Meanwhile, India suffered yet another big blow with Bhuvneshwar Kumar hobbling off the field injured. Opener Shikhar Dhawan is also on the treatment table while Kumar is ruled out for atleast two-three games.
KL Rahul
Runs: 57 from 78 balls
Rating: 7/10
KL Rahul was tasked with facing the first over of the match, which was bowled by the brilliant Mohammad Amir. He played out a maiden but the Karnataka batsman steadily grew in confidence post that. Rahul gave good support to Rohit Sharma and was instrumental in India getting to 336/5.
Rahul, though, could have run Rohit Sharma out twice during the duo's 136-run opening stand. The 27-year-old later commented that the mix-up was because he had not batted with the India vice-captain much in the recent past. Rahul also spooned a simple catch in the closing stages of the match. Batting wise, Rahul showed maturity and played sensibly stepping in the heavy shoes of Shikhar Dhawan.
Rohit Sharma
Runs: 140 from 113
Rating: 10/10
Just like the Australia match, we were tempted to deduct points because the 'Hitman' failed to complete a double century. The 32-year-old's World Cup continues to get even better and he might top the run-scoring charts when the dust settles on the tournament.
Rohit Sharma adopted a conservative approach against the Australia new-ball bowlers. On that occasion, Dhawan was the aggressor. Here, he took over boundary-hitting duties during the powerplay and never looked back. Rohit Sharma brought up his hundred off 85 balls and looked set for a double hundred. Alas, he holed out to short fine-leg the only time he tried to pull off an unorthodox shot.
Also Read: Pakistan's failure to plan better amplified the gulf in talent between the teams
Having already earned plaudits for his captaincy (the most successful one in the IPL and all that), Rohit Sharma played a part in breaking the Fakhar Zaman-Babar Azam partnership. Virat Kohli, at the time, was off the field. Rohit Sharma persisted with Kuldeep Yadav, who bamboozled the Pakistan no 3.
Virat Kohli
Runs: 77 from 65 balls
Rating: 9/10
There was little that Kohli was doing wrong in the middle. Then, Amir had the better of him, or so we thought. The snick-o-meter, alas, showed us something contrasting to what unfolded on the field. Kohli had walked off thinking that he had edged a short delivery to the keeper.
That was the only lapse from the Indian skipper. He might have not got a century yet but scores of 82 and 77 in consecutive matches shows that Kohli is getting in the groove. During the early stages of his innings, he was happy to be a spectator to the Rohit Sharma masterclass. He shifted gears effortlessly later on. The cover drive off Wahab Riaz was a sight to behold.
Also Read: Virat Kohli's professional India were far too good for amateurish Pakistan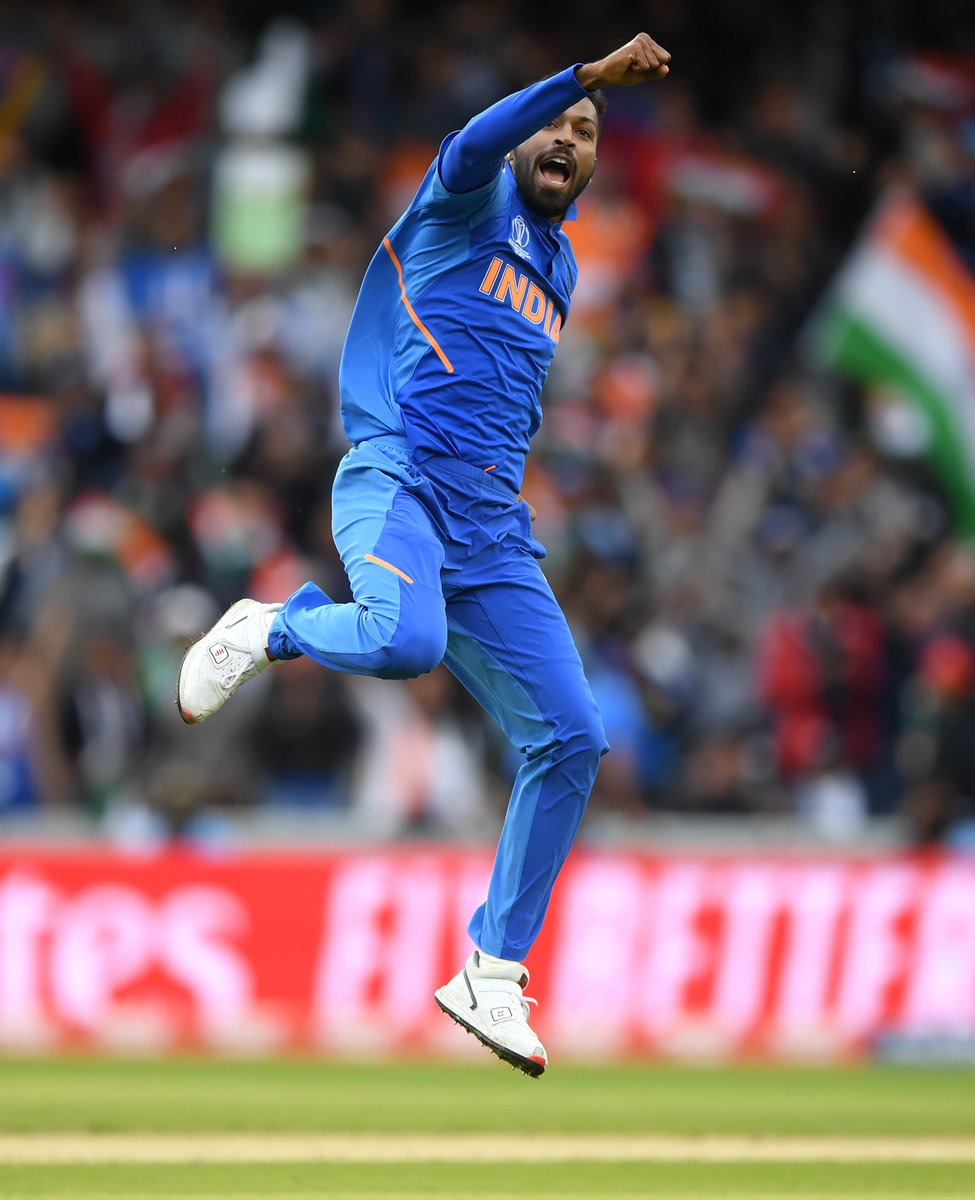 Hardik Pandya
Runs: 26 from 19 balls
Bowling: 2/44 in 8 overs
Rating: 7/10
Pandya bowled plenty of lose deliveries early into his spell but the Pakistan batsmen couldn't put it away. After Kuldeep Yadav's twin strikes, Pandya came to the party with back-to-back dismissals of Mohammad Hafeez and Shoaib Malik. Both the senior Pakistan batsmen played poor shots.
Earlier, the all-rounder looked set for yet another game-changing cameo after Rahul, Rohit Sharma and Virat Kohli had already caused enough damage. But trying to clear the ropes with his version of the 'helicopter' shot, Pandya was caught at long on when he could have added another 15-20 runs on the board. However, he bowled with plenty of heart and stepped up after India lost Bhuvneshwar Kumar to an injury.
Also read: Sarfaraz's almighty yawn becomes a meme magnet as Pakistan falter against India
MS Dhoni
Runs: 1 from 2 balls
Rating: 5/10
Dhoni failed to create an impact with the bat and was beaten for pace by Amir. Dhoni didn't have much to do behind the stumps in this encounter. The former India captain is usually spot on with his review calls. But replays showed that had India could have dismissed Babar Azam early leg-before off Chahal's bowleing but Dhoni convinced his teammates not to go upstairs. The ball had hit the Pakistan batsman's pad before clipping the bat.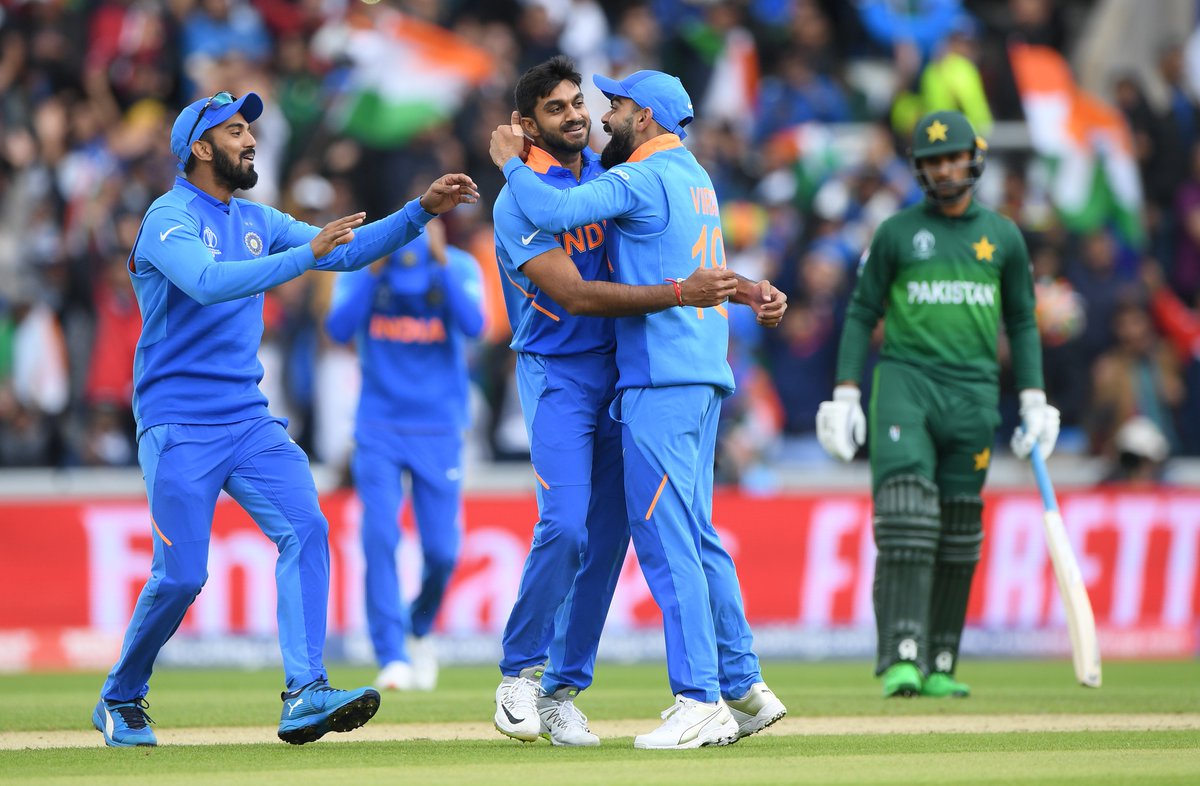 Vijay Shankar
Runs: 15 from 15 balls
Bowling: 2/22 in 5.2 overs
Rating: 6/10
Vijay Shankar would have not featured here had Dhawan been fit. When he came to bat, it looked like he was overawed by the pressure of playing in an India-Pakistan World Cup. He looked all at sea and struggled to rotate strike during his run-a-ball 15.
But who would have put their money on the all-rounder shining with the ball? Tasked with completing Bhuvneshwar Kumar's over after he limped off the field, Vijay Shankar joined elite company by picking up a wicket of his first ball in a World Cup. He added another to the wickets tally later on by putting Sarfaraz Ahmed out of his misery.
Kedar Jadhav
Runs: 9 from 8 balls
Rating: 5/10
Jadhav couldn't get the big hits going in the end and his bowling was not required with all of India's frontline bowlers having a field day. There was a sloppy misfield while the 33-year-old was fielding at mid-wicket.
Bhuvneshwar Kumar
Bowling: 0/8 in 2.4 Overs
Rating: N/A
Bhuvneshwar Kumar looked threatening in the 14 balls he bowled during the match. Unfortunately, his match was cut short after suffering an injury.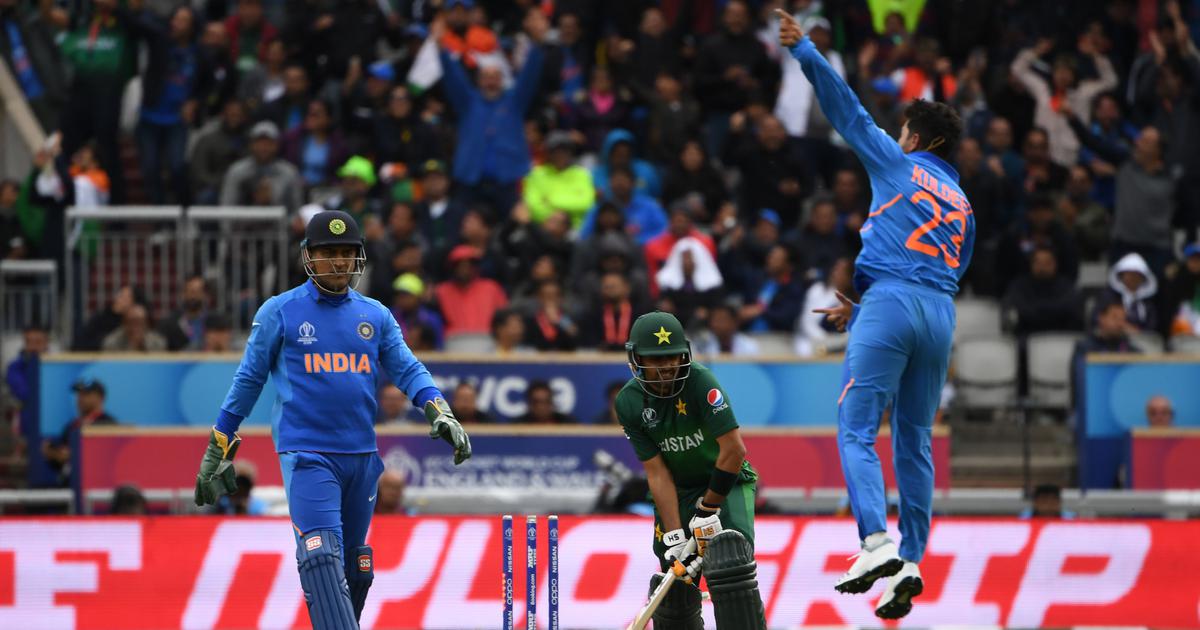 Kuldeep Yadav
Bowling: 9-1-32-2
Rating: 8/10
Finally, the left-arm wrist-spinner managed to put his travails over the past few months to bed. Babar Azam was flummoxed and he then picked up the wicket of Fakhar Zaman as well. Yadav gave flight, and got the ball to turn and didn't offer any freebies to the Pakistan batsmen. His double-strike ended even the slim hopes the 1992 champions had of getting over the line.
Yuzvendra Chahal
Bowling: 0/53 in 7 overs
Rating: 4/10
After two excellent outings, Chahal had a day to forget and was targeted by the Pakistan batsmen. The leg-spinner had a forgettable game by his standards. He could have had a wicket to his name had KL Rahul not dropped the easiest of catches at long-off.
Jasprit Bumrah
Bowling: 0/52 in 8 overs
Rating: 6/10
Like Chahal, Bumrah too, went for runs but it came at a stage when the match was done and dusted. Of course, there were a few jaffas that the Pakistan openers were up against. It might not reflect in the runs or the wickets column but Bumrah played a crucial role in India keeping it tight during the first powerplay.
Support our journalism by subscribing to Scroll+. We welcome your comments at letters@scroll.in.