Indian Football
Intercontinental Cup, India vs DPRK as it happened: Chhetri, Chhangte score but Blue Tigers lose 5-2
The Blue Tigers also lost their first game against Tajikistan.
FULL-TIME, India lose 2-5 against DPR Korea: Credit to the crowd at the EKA Arena as they clap their team off. Some exciting stuff from the youngsters but still plenty to ponder for Igor Stimac as India remain winless, with a GD of minus-5. Jong Gwan, for his two goals and assist, is the player of the match. That's all from us for this game. India take on Syria on 16 July, next.
FULL TIME, India 2-5 DPR KOREA: A heavily-changed India were blown away by DPRK in the first half as they went 0-3. There was a good fightback in the 2nd half but goals from Chhetri and Chhangte not enough to make a match out of it.
After 90+2 mins, India 2-5 DPR KOREA: GOAL, DPRK. Too easy at the back for the visitors. Superb dummy from Gwan to take out Adil Khan. DPRK have two bites at the cherry and Hyong Jin makes the most of the 2nd chance.
After 90 mins, India 2-4 DPR KOREA: We are into added time after India fail to make the most out of a corner. Four mins added on. We are heading for a repeat of a scoreline from the Tajikistan match.
After 87 mins, India 2-4 DPR KOREA: Oh lovely dummy from Thapa but Chhetri cannot find the midfielder with his pass. He falls to the turf clutching his face. Good move India, once again.
ICYMI: Chhetri earlier scored for the 10th consecutive home game.
After 84 mins, India 2-4 DPR KOREA: Plenty of encouraging signs for Stimac in terms of the attacking play in the second half once he brought some of his young guns on. DPRK, however, are seeing out this game well.
After 79 mins, India 2-4 DPR KOREA: Thapa forces a superb save from the North Korean GK. And the visitors have a chance down the other end with a free kick down the middle. And the powerful strike is wide of the post. That was some hit too! GK was well beaten.
After 74 mins, India 2-4 DPR KOREA: Sublime skills from Sahal to open up the Korean defence. His shot is deflected away for a corner. Breathtaking run from the AIFF Emerging player of last year. "Ballet in blue," says the commentator Anant Tyagi. Tough to argue. Lovely move from the youngster.
71st min, India 2-4 DPR KOREA: GOALLLLLL INDIA! Who else but Chhetri. Great work from Udanta and Sahal. India have hope again! Chhetri with a knee-finish.
70th min: Couple of subs for India... Sahal Abdul Samad Rahul Bheke in for Borges and Bose.
After 69 mins, India 1-4 DPR Korea: OH DEAR, HORROR INJURY! Hong Jin Song with a broken elbow by the looks of it. That was a shocking injury as the Korean player fell awkwardly.
[GRAPHIC IMAGE ALERT]
62nd min, India 1-4 DPR Korea - GOALLLLL, DPRK! And the visitors score their fourth. Ri Chol applies the finishing touch to a pass from captain Jong Gwan down the right channel. India's fightback has been snuffed out.
After 62 mins, India 1-3 DPR Korea: Nice link-up play down the right between Thapa and Udanta to fashion a chance. The latter lets one fly and the ball sails over the bar. India come again down the right...
After 61 mins, India 1-3 DPR Korea: Korea have their fourth corner (to India's 0). Another free-header for Korea. The defending really is all over the place for India. India continue to press well though.
After 57 mins, India 1-3 DPR Korea: Oh what a touch from Chhetri in the midfield. A delightful back-heel to release Thapa and India pour forward again. Move breaks down with a Udanta cross mishit. Break in play now with an Indian player down on the turf. It's Amarjit. The crowd is in some voice now! Can India make the most of the momentum?
After 55 mins, India 1-3 DPR Korea: Thapa comes on to replace Jobby Justin. India now have plenty of pace in their side.
After 53 mins, India 1-3 DPR Korea: Gwan hits the crossbar at the other end with a shot from outside box. And India break forward with the crowd willing them on. Chhetri and Udanta combine down the right and the final ball is misplaced by the Indian captain. Crowd is into this now! India are making their presence felt finally.
51st min, India 1-3 DPR Korea: GOALLLL INDIA!!! Rowlin steals the ball high up the pitch... the ball falls to Chhetri who sets up Chhangte and the youngster makes an instant impact! A delightful finish with his left. Chhetri was calm in setting up the youngster there. Good start for India.
After 50 mins, India 0-3 DPR Korea: YELLOW FOR AMARJIT. Takes one for the team as DPRK look to counter.
After 48 mins, India 0-3 DPR Korea: CHANCE INDIA! Good move set up by Amarjit feeding the ball to Udanta down the left. His dinked ball finds Borges behind the Korean defence. He tries to set up Amarjit down the center but Korea clear.
Second half underway: Two changes at the break by Stimac and both on the flanks. Manvir Singh is replaced by Udanta SIngh and Brandon makes way for Lallianzuala Chhangte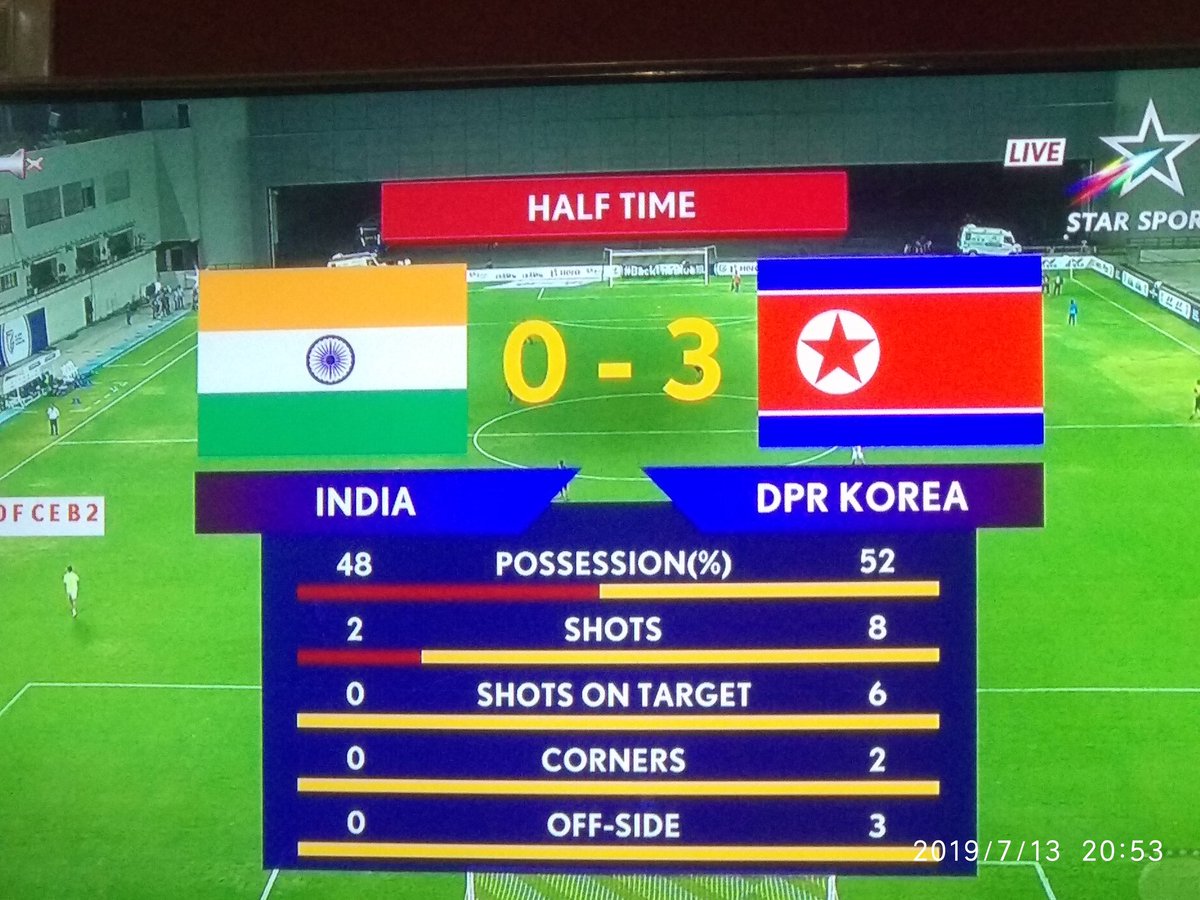 Kaushal Shukla, our football correspondent on that first half display: "That's a real poor performance from India in that first half. No energy, no effort. Korea have been two knots quicker than the Indians who don't know what has hit them. Defensive organisation and goalkeeping big concerns."
HALF-TIME: India 0-3 DPR Korea — that half left a lot to be desired for India fans.
HALF-TIME, India 0-3 DPR Korea: 8th min, 16th min and 29th min... DPR Korea have blown India away, who have now scored 7 goals in two halves of football after leading 2-0 against Tajikistan in the first half. Team in transition and all is alright but at what point does this become a serious enough issue that India simply cannot defend under pressure?
After 43 mins, India 0-3 DPR Korea: YELLOW CARD FOR ADIL. Maybe it's a good idea not to bundle over on the ground and commit silly fouls, India. Adil Khan gets into an almighty tangle and brings down the DPRK player just outside the box. Hyong Jin with a powerful right-foot hit... Amrinder does well at his near side this time.
After 39 mins, India 0-3 DPR Korea: Well, Gwan tries the free kick with his right foot now after scoring with his left earlier! Would have been something had he scored with both feet in a game. It sails over though.
After 38 mins, India 0-3 DPR Korea: Adil Khan does come on eventually. Jhingan is in a lot of pain as he walks off. India meanwhile concede a dangerous FK down the left just outside the box.
After 36 mins, India 0-3 DPR Korea: YELLOW FOR JHINGAN. Sliding from behind, and its poorly timed by Sandesh Jhingan and to make matters worse the defender goes down clutching his left hamstring. Adil Khan is out warming up.
28th min, India 0-3 DPR KOREA - GWAN GETS HIS BRACE, INDIA IN DEEP TROUBLE! Oh dear, oh dear. That's so poor from India. Song, who just came on, is given acres of space down the left. SO MUCH TIME! HE sends in a left-footed cross, DPRK captain Gwan rises highest and sends a header downwards and into the goal. Amrinder is once again poor in getting across. So poor, this.
After 28 mins, India 0-2 DPR Korea: Early sub for the visitors. Hyok taken out and P. Song is in. A striker off and a defender on? Are DPRK playing to hold the lead already? That's an interesting change.
After 25 mins, India 0-2 DPR Korea - BIG SAVE AMRINDER! Oh dear, Justin let the DPRK captain run unmarked from a corner and he planted a header that was heading into the near-post. Amrinder Singh sticks his right palm out to push it away... that will give him some confidence after a shaky start. Gwan almost had his brace. Manvir did well to put some pressure on the header as well.
After 21 mins, India 0-2 DPR Korea: It's all nice to try and play out from the back, but not like that Amrinder! The Indian GK gets into an almighty tangle after receiving a back-pass and DPRK almost make him pay. A good counter from India then results with Justin fouling the defender down the left channel.
16th min, India 0-2 DPR Korea - GOOALLLLL, DPR KOREA!: Chol cuts India's defence into pieces with a through ball through the left channel and No. 13 Sim Hyon Jin slots the ball past the Indian goalkeeper with ease. Sandesh was throwing his body on the ground to intercept when he should have been marking the forward. The backline had just crumbled there. Poor defending from India again... who are in deep trouble.
After 14 mins, India 0-1 DPR Korea: A look at the free kick that means India are trailing against DPRK.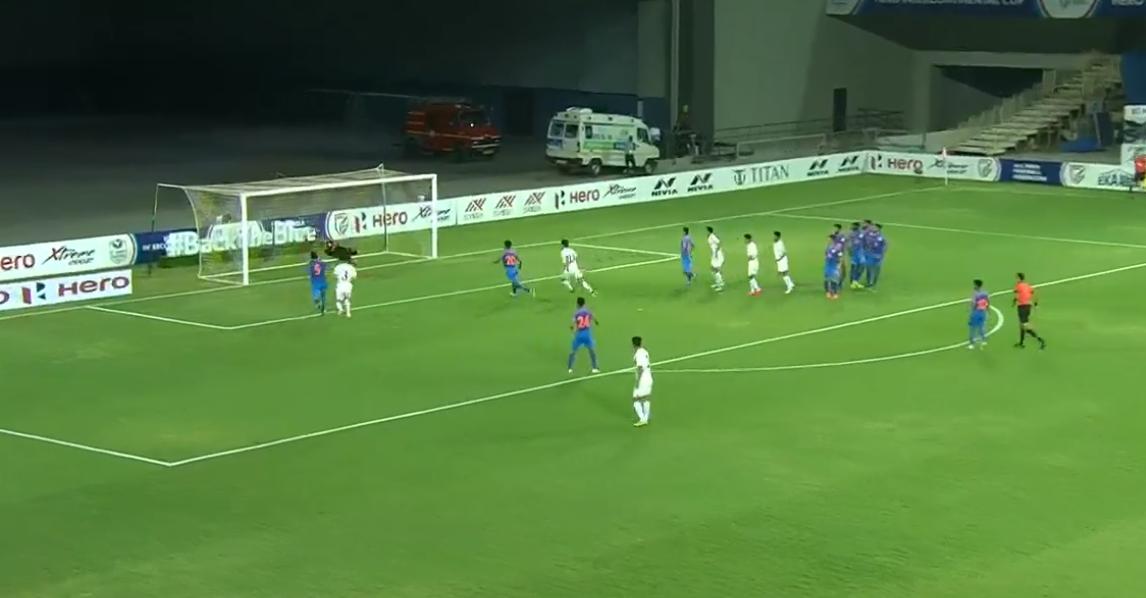 After 12 mins, India 0-1 DPR Korea: CHANCE, CHHETRI! Oh dear, the Indian captain is livid with himself. A good cross from the right from a free kick and the deep cross to the far-post is missed by the opponent GK in its flight. Chhetri is in at the far post but he cannot keep the header down.... it loops over the crossbar! The Indian captain was stretching there.
8th min, India 0-1 DPR Korea - GOALLLL, DPR KOREA! The NO. 11 scores first but not India's! A lovely curving strike from the captain as Jong Gwan beats Amarinder Singh. Free kick from a dangerous position from the left after Amarjit fouled the Korean captain... he steps up and delivers. The goalkeeper would be disappointed to be beaten on his side at a decent height. India are on the backfoot.
After 6 mins, India 0-0 DPR Korea: Korean players go down in the box a couple of times but the referee doesn't pay heed on both occasions. For India, Manvir has impressed down the right wing early on so far. India still sitting back for the most part.
After 4 mins, India 0-0 DPR Korea: Both teams lose possession a few times in the opening exchanges. India seem to be sitting back for now with DPRK dictating tempo. A free kick for Korea from some distance out, but they choose to play it out instead of putting a cross in.
Kick-off, India 0-0 DPR Korea: Chhetri gets us underway...
8.01 pm: We are all set for kick-off... can India produce a consistent performance in both halves? The first match was a case of being blown away in the second half by Tajikistan. Stimac will look for improvements from his much-changed side.
7.57 pm: National anthems underway in Ahmedabad... a big match ahead for Chhetri and Co.
7.56 pm: For the tennis fans out there, Simona Halep, a little while earlier, absolutely outclassed Serena Williams to win her 2nd Grand Slam and first Wimbledon title. Here's how that went down.
7.53 pm: With all the wholesale changes, Sunil Chhetri retains the armband. Can the captain inspire his side today in Ahmedabad? DPR Korea also lost their opening game, with Tajikistan winning both their matches so far. Syria have won match.
7.51 pm: Igor Stimac before the game...
  It always important to win the game. But more importantly we follow our program, our discipline. We are trying a different style after playing in a different way for many years. So we know it will take time but we are making big strides, we are in good shape.  
7.49 pm: A confirmation of the line-ups... excited to see Jobby Justin start, India fans?
TEAM NEWS!
India XI (4-3-3): Amrinder Singh (GK), Pritam Kotal, Sandesh Jhingan, Subhasish Bose, Jerry Lallrinzuala, Amarjit Singh, Rowlin Borges, Brandon Fernandes, Sunil Chhetri, Manvir Singh, Jobby Justin
DPR Korea XI (4-4-2): Antae Song (GK), Kim Chol Bom, Ri Yong Chol, Han Thae Hyok, Jang Kuk Chol; Jong Il Gwan, Ri Un Il, Sim Hyon Jin, Hong Jin Song; Ri Un Chol, Ri Hyong Jin
19: 35: Welcome to the Live coverage of India vs DPR Korea in the Intercontinental Cup. Big game for India and Korea in the context of qualification for the final, but yet another opportunity for getting used to Stimac's new system for India. Can The Blue Tigers bounce back from that disappointing second half against Tajikistan?
Indian football team take on DPR Korea in their second game of the Intercontinental Cup in Ahmedabad knowing only a victory would keep their hopes of playing in the final alive.
The Blue Tigers fell to a 2-4 defeat in their opeing game against Tajikistan despite leading 2-0 at the break after a disappointing defensive performance in the second half.
However, India's opponents DPR Korea suffered an even heavier defeat as they went down 2-5 to Syria in their opening encounter.
With both teams facing a must-win situation, expect it to be a cracking contest at the TransStadia in Ahmedabad today.
Playing just their fourth game under new coach Igor Stimac, India would be looking to showcase a more possession-based game as the coach likes to play. A lot of focus will be on India's playing style in the game as they prepare for the upcoming World Cup qualifiers.
Stick around for all the Live updates from the game.
We welcome your comments at letters@scroll.in.