Photo feature
Photos: 90 km from Kolkata, traditional midwives are still the only hope for expectant mothers
Their lack of training is seen as dangerous. It is. But they also have a strength – connections with communities.
The project was born of my misperception. But its outcomes will hopefully dispel the rigid beliefs of others.
In August 2012, when my mother told me that a distant relative in Panskura, in West Bengal's East Midnapore district, had delivered a baby at home, assisted by a rural medical practitioner and a midwife, I was outraged. This was a village just 90 kilometres from Kolkata. I couldn't imagine why healthcare in rural India was still undeveloped. So, with a camera in hand, I decided to find out.
What the photographs captured collectively was perhaps the indispensableness of midwives.
In areas where government hospitals are scarce and private healthcare non-existent or unaffordable, midwives are currently the only ones many expectant mothers can rely on. Despite possessing only basic equipment and little training, midwives enjoy people's trust. They often work for as little as Rs 200 and a sari. And even this fee gets reduced to a kilo of rice or a sari in the case of the birth of a girl child.
Years ago, the government decided to encourage institutional deliveries to curb the alarmingly high infant mortality rate. A programme was introduced that offered poor women cash if they agreed to deliver at a medical facility. It even identified accredited social health activists, or ASHAs, to make sure that women took this option.
This programme did increase the number of institutional deliveries. It did not, however, engender a significant fall in mortality numbers. So earlier this decade, the government agreed to integrate midwives into the rural healthcare network. Sadly, the idea didn't last long.
That was a pity. During my project I travelled in East Midnapore and documented at least five deliveries by midwives. In one instance, a mother in labour tried summoning an ambulance by calling on the phone number provided by the National Rural Health Mission. She was told by the ambulance driver that he couldn't come for at least two hours because he was tied up in Durga Puja celebrations.
The government needs to view midwives as a link between the institutional healthcare system and communities in far-flung places. By training midwives better and providing them better equipment, it can tap into a network, founded on faith, that has existed for generations. 

Midwife Saliha Bibi prepares a herbal medicine to help couples conceive.  

A family member of Rahima Bibi consoles her during labour.  

RMP doctor Ashish Maity (face not seen) delivers Rahima's first baby girl at her father's home.  

Midwife-Noor Jahan Begum, 52, Village-Raniara, Eastern Midnipore District, West Bengal. 

A tin box belonging to an RMP doctor with medicines.  

RMP Sudha Kantachal gives an injection to Ruksana Begum in labour.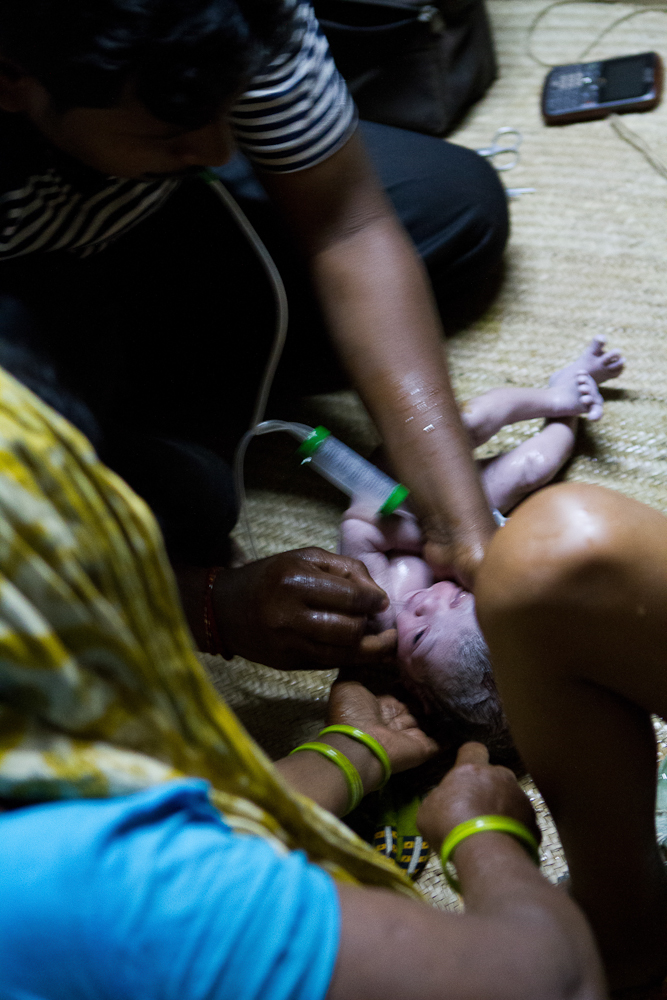 RMP Sudha Kantachal uses a DeLee suction catheter to clear the digestive tract of Ruksana Begum's baby.  

Midwife Jaida Bibi (face not seen) cleans the mouth of the baby few minutes after the delivery. 

Midwife pours mustard oil into a container with placenta, raw mustard stick, few leaves and a coin. This would later be buried near the house compound wall as a ritual performed by the people to ward off evil spirits and get luck for the baby. 

RMP Sukumar Nandi delivers Saraswati Murmu's baby at her home.  

Gaur Murmu, Saraswati's husband cuts a bamboo bark as asked by the attending RMP Sukumar Nandi, to cut the umbilical of the baby. 

Midwife- Rabijan Bibi, 48yrs, Village- Adore-Ratuliya, Eastern Midnipore District, West Bengal.
This project was done under the fellowship by National Foundation for India-Child Survival Media Award 2014-'15.
We welcome your comments at letters@scroll.in.