age no bar
Videos: 'Grandfather-Pop' and break-dancing grandmothers are celebrating age in Japan
The elderly pop idols are confronting the population decline with positivity.
Does the road to adventure end with old age?
Five elderly men in Kochi – not in India but Japan – which has the second-highest proportion of elderly citizens in the country, don't think so at all. Instead, they are celebrating how far they've made it in life with a pop music video.
Collectively, they are called G-Pop aka "Grandfather-Pop", part of the Nippon Positive Project.
"When was my first kiss? When was it? I totally forgot it. Oh my god," goes the lyrics of the song I was Young, as the members of an average age of 68.2 years embrace their age with humour.
The groovy grandpas go on to boast about how the people of Kochi prefecture are doing fine thanks to their secret medicine for long life—the local specialties such as bonito (fish), yuzu (a fruit), and Tosa sake.
This isn't the first time they made age look like some number. In 2016, their debut song Kourei Banzai! ("Hooray, Old Age!") received over 370,000 views in three weeks on YouTube. The lyrics in the Japanese song used humour to promote tourism in Kochi.
"Kochi-ken, this is how it is. One out of 3 people are over 65. But lively, lively. Everyday is lively…Even if I stay up late, I still wake up at 5:30."  
Little did G-Pop know that they would truly become "All Stars," with second careers as pop idols. Some members hold full time jobs – one is active in fishing and the other in bamboo processing companies.
Embracing this new beginning gives the older generation a new lease on life — and grandmothers are not far behind.
If G-Pop is to make active ageing look positive, three elderly women in Japan are taking it to a different level — by participating in underground hip-hop dance scene.
In the video below, they can be seen popping in kimono and jackets to American singer Bruno Mars' hit 24K Magic. Along with the signature moves from the Mars' music video, the trio pull off the robot and the worm — two forms of break dance.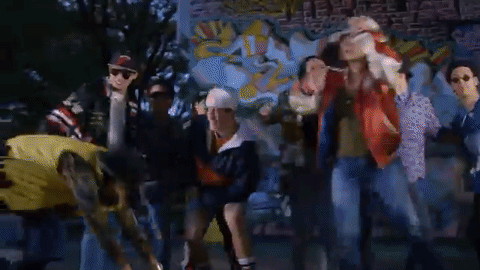 In the lead is "Tori", a 61-year-old grandmother whose bio says that she has been dancing for over ten years. This video of her locking and popping proves that it's never old to break it down.
Dancing alongside her are 56 year-old "Mash" and 59 year-old "Tachiflower" who dance together at events and on TV commercials and underground dance contest (video below) under the name "Bamboo Shoot".
The first geriatric act to make waves in Japan were KBG84, a troupe of 33 singers with an average age of 84 from the remote, coral-fringed island of Kohama in Okinawa.
The islanders released their first single Come on and Dance, Kohama Island (video below) in 2015 which shot them to popularity in Tokyo.
A rapidly ageing society is pushing the Japanese government to introduce innovative programs — from comprehensive long-term-care insurance to robotics. Looks like senior citizens don't want to be left out of pop culture either.
We welcome your comments at letters@scroll.in.