The first generation of Indians born after Independence came of age in the 1960s and 1970s. It was a time when the Indian economy had not opened its doors to the rest of the word and its society was relatively closed to global influences. Still, like youngsters the world over, this generation sought independent forms of expression. One of these was rock music.
Sidharth Bhatia, a Mumbai-based journalist, decided to chronicle this generation's forays into rock. His book on the subject,
India Psychedelic, the Story of a Rocking Generation
, was released by Harper Collins earlier this year.
The book, he says, was always at the back of his mind, but he only decided to write it in 2011 after receiving praise for an article he wrote about English rock band Led Zeppelin's visit to Mumbai in 1972.
He initially planned to write about rock music only in Bombay but soon decided to cover the whole country. After all, rock bands had sprung up not just in Bombay, but all over India. Many musicians had since migrated abroad, however, which made tracking them down a challenge.
Although Bhatia grew up with this generation, he himself has never played in a band.  "But there was music all around me when I was growing up," he said. "My father ran a popular restaurant in Bombay that had a jazz band, and purely by coincidence, my mother worked at All India Radio, which played Western music." By the time he went to college, rock bands had mushroomed all over the country.
"It's not just what they did, but how they did it," he said. "They went out and became a part of a world youth culture despite the odds. We don't realise how difficult it must have been for those kids to play rock music. Forget listening to LPs, they would have had to pay huge duties on any equipment they imported, such as guitars or drums."
Bhatia shared with
Scroll.in
ten rare recordings of rock music from this era, along with insights on the bands that played them. Some have never been available online before. Here are five. You can listen to the remaining five in
Part 2
.
1. The Mustangs, Madras
[2]
Several bands sprung up in Madras, chiefly in its two main colleges, Loyola College and Madras Christian College. The earliest was the Mustangs, whose repertoire included mainly instrumental music, such as this version of the Ventures' Escape, which was released as a single.
2. The Combustibles, Bombay
[4]
In Bombay, the Combustibles were making waves in the late 1960s. The picture above shows them playing at Eros cinema on the occasion of the release of Woodstock. They not only sang cover versions but also wrote their own songs, like this one.
3. The Savages, Bombay
[6]
The Savages were very popular for their ability to please the audience. This cover version of Steppenwolf's Born To Be Wild was a sure crowd-pleaser.
4. Fentones, Shillong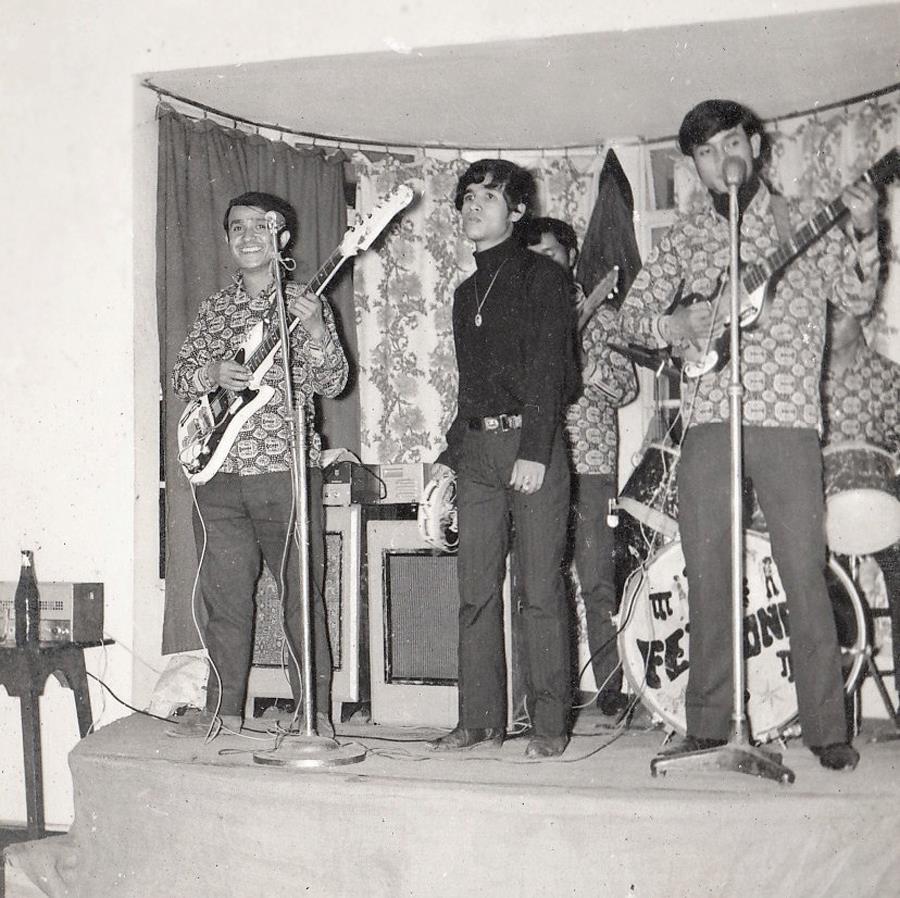 Shillong always had a strong music culture and the Fentones, who won the first prize in the countrywide Simla Beat Contest in 1971, were among the best known. They composed the theme for the Contest, which used to be held by the Imperial Tobacco Company.
5. The Cavaliers, Calcutta
[9]
The significant presence of Anglo-Indians in Calcutta in the 1960s contributed a lot to the music scene. One of the earliest bands was the Cavaliers, set up by K C Sen, event manager, talent spotter and bon vivant. The band even had its own fan club, with its own newsletter.
For five more songs, head to
Part 2
of this story.
We welcome your comments at letters@scroll.in.