Early morning yoga lessons, spiritual instruction through the day, gender-segregated hostels and libraries, training in religious rites and rituals. These are just some of the attractions that a school near you might soon offer if Baba Ramdev comes through on his promise of establishing a Vaidik Educational Board to oversee educational institutions he hopes to set up around the country.
On Monday, the yoga guru claimed that the Union government would soon approve his long-standing demand for a "swadeshi" education board that could become an alternative to Central Board of Secondary Education. This would help him establish chain of spiritual schools around the country.
Claiming that the Prime Minister Narendra Modi is in agreement with the proposal, Ramdev told Indian Express that he aims to establish at least 700 gurukuls and acharyakulams around the country.
"The board will be set up on the lines of the CBSE and Sanskrit will be compulsory from nursery to class 12," he said. "We will teach Vedas, Upanishads, Ramayana and Mahabharat and the entire Vedic education and Ayurveda. The coursework will be modern but will be indigenised."
Long-standing demand
Ramdev's schools will follow the model established by Acharyakulam, a school he runs in Haridwar. It was inaugurated by Modi in April in 2013. The school currently has 425 students and claims it will produce "vaidic scholars" who can take up the leadership of "modern Bharata".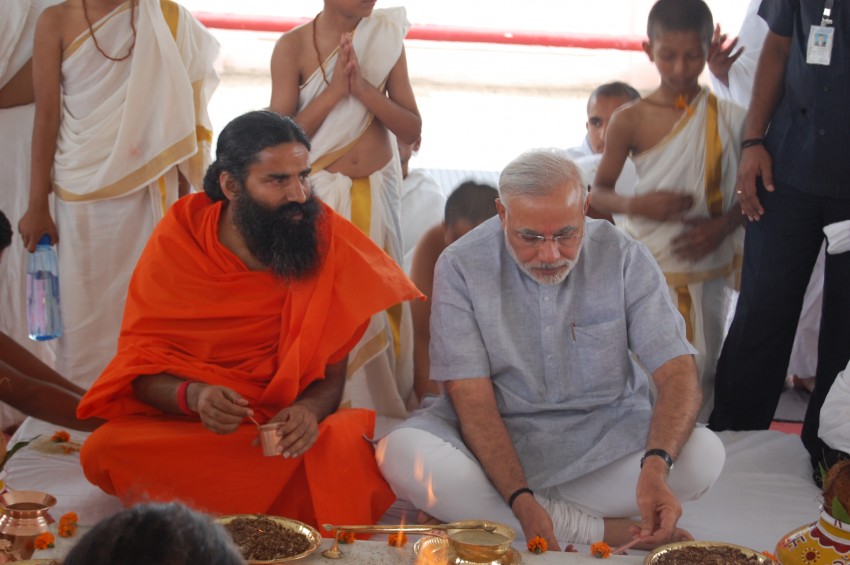 Modi at the inauguration of the school in 2013.
A closer look at the functioning of Acharyakulam could give one a sense of what to expect in Ramdev's schools if the proposed Vaidic Education Board becomes a reality.
Ten times enlightenment
Acharyakulam has students from class 5 to 10 and imparts instruction on a wide variety of spiritual subjects, including the Vedas and the Upanishads. It also trains them how to conduct rites and rituals such as havans and yagnas. The students undergo a test before admission and the shortlisted candidates are given another test after spending a week in school.
Confirming that Ramdev's plan is to establish one such school in every district, an official from school, who gave his name as Ajay Tripathi, said that Acharyakulam among the best schools in the country.
"The major difference between our school and other schools is that we lay equal focus on spiritual upbringing and teach students important values and scriptures," he told Scroll on the phone. "We currently have 425 students who do yagnas, yoga regularly and attend their classes on subjects like Vedic literature, Vedic Mathematics etc."
Baba Ramdev explained to the Economic Times last year that his schools will present an alternative view to the "conventional" discourse on subjects such as history by providing a perspective from the side of "justice".
"Let me give you an example of a change we can effect in social science," he said. "Right now, what we are teaching our children are the leftovers of Western thought. In social science, we are taught man is a social animal. But what if we said man is the gift of God? He is the best creation of God. So, one school of thought views man as an animal and another sees him as a divine creation. We want to effect such a shift."

Students taking part in a ritual.
In its latest prospectus, Acharyakulam says that its teaching pattern is similar to the CBSE. Tripathi said that registration with the board is "in process".
"We won't need CBSE once this proposed board is established," he said. "Our affiliation with CBSE though is still in process."

Rakshabandhan celebrations at school
Acharyakulam's prospectus claims that children "generally" become enlightened by "one percent" every year. "But with the help of intellectual efforts we can develop this enlightenment physically, intellectually and spiritually by one to ten percent," it says.
Strictly swadeshi and satvik
The prospectus notes that the school places a strong focus on keeping students away from "vices" such as non-vegetarian food. Only "sattvik" food is served to students.
Parents are not allowed to meet their wards except at a designated place in the school and that too only on alternate Sundays between 2 pm-6 pm. A 10-minute phone call is allowed to students every fortnight if they pay for it.
The rules also make it clear that students should not wear flashy clothing. "Dress sense should be based on Bharatiya Parampara, comfort, appropriateness & tastefulness of choice, rather than trends of fashion, desire for display or attracting unnecessary attention," the rulebook states, adding that all items of general utility should be sourced from Indian manufacturers.
"We make a blend of eastern and western schools of thought," the official said. "The students learn modernity through science,English and grammar but they also need to know about the glorious past and our ideals which are missing in Bharat's leaders today."
We welcome your comments at letters@scroll.in.