"They need to show positive intent with the bat."
"The match was drawn but the team showed the right intent."
"The field placement lacked proper intent."
"Intent", in cricket, is a term often used but rarely explicable. A largely intangible concept – you can express it on field and talk about in the commentary box, but it does not very well translate to words or images.
But in their last league game at the Women's World Cup, facing New Zealand in a winner-takes-all clash, India made the abstract "intent" visible with their superlative performance. In no circumstance would playing the higher-ranked formidable White Ferns be easy, a team led by Suzie Bates, the ICC Women's ODI and T20I Player of the Year.
But it was especially hard for India coming off two big, back-to-back losses and having to bounce back in a high-pressure game. It was an enormous task, one that even captain Mithali Raj was candid about.
"India has always had the problem that when faced with the crunch matches, the team does not necessarily step up," she had said after the abject eight-wicket loss to Australia in the last game. "The girls are so talented, but it's just a matter of how well they pull themselves up after a defeat. That's what makes world champions."
But on Saturday, as India outplayed the Kiwis in every department to set up the massive a 186-run win, it became clear that this Indian team possesses that champion mentality that the captain mentioned. They stepped up, they pulled themselves together and the pressure only raised their performance level.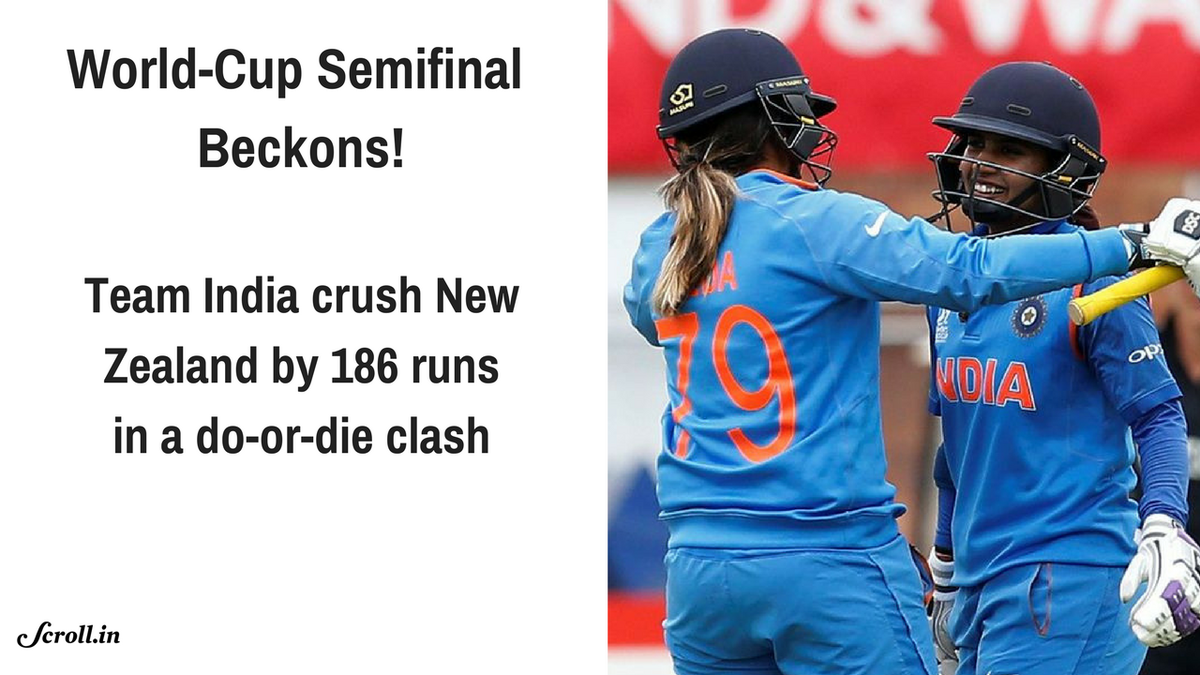 And in this knockout match that lasted a mere 75 overs, the Indian team illustrated what exactly the abstract "intent" means on a cricket field.
Intent was Mithali Raj handing the Rajeshwari Gayakwad her first match of tournament ahead of the experienced Ekta Bisht.
Intent was Gayakwad picking up a fifer on her World Cup debut.
Intent was Raj coming in at No 3 after another early wicket, but not sacrificing her strike-rate this time.
Intent was Harmapnreet Kaur's swift running between the wickets that kept the scoring rate ticking.
Intent was Veda Krishnamurthy blasting her way to an stunning 70 off 45 without pausing to let the bowlers settle.
Intent was Jhulan Goswami alertly picking a return catch on her bowling follow-through.
Intent was Deepti Sharma running backwards and diving to pouch a stunning low catch.
Intent was keeping a slip in the slog overs to pile on the pressure.
Intent was the intensity with which India played the crunch game they were expected to capitulate in.
Call it intent, or resilience or character or fearlessness, this positive approach to the match even after losing toss, early wickets, a rain interruption is what made the difference in the end. And the result was there for all to see – a semi-final berth knocking a top-three team out.
Individual brilliance, collective effort
Throughout the World Cup, one of the things that had troubled India was the otherwise prolific batting unit not clicking together. One or two batter made big scores, but were ably not supported by the rest. A crucial wicket triggered collapses. Case in point: Punam Raut hit a fluent ton against Australia, but India scored only 226.
But on a day when not only Smriti Mandhana – whose strange slump after two impressive innings continues – but even Raut fell early, the onus was on the middle order to take up charge. A middle order that has not had enough match time this World Cup. A middle order that would have to play the bulk of the Powerplay. But Raj, who came in in the fourth over, and Harmanpreet , who had to walk in the eight, were up for it.
In turn, the Indian captain played both aggressor and sheet anchor as she played a free-flowing knocks with a strike rate never dipping the way it did against Australia. Raj was ccriticised for her overtly watchful batting in her 114-ball 69 the last game and her positive approach made sure that would not happen again.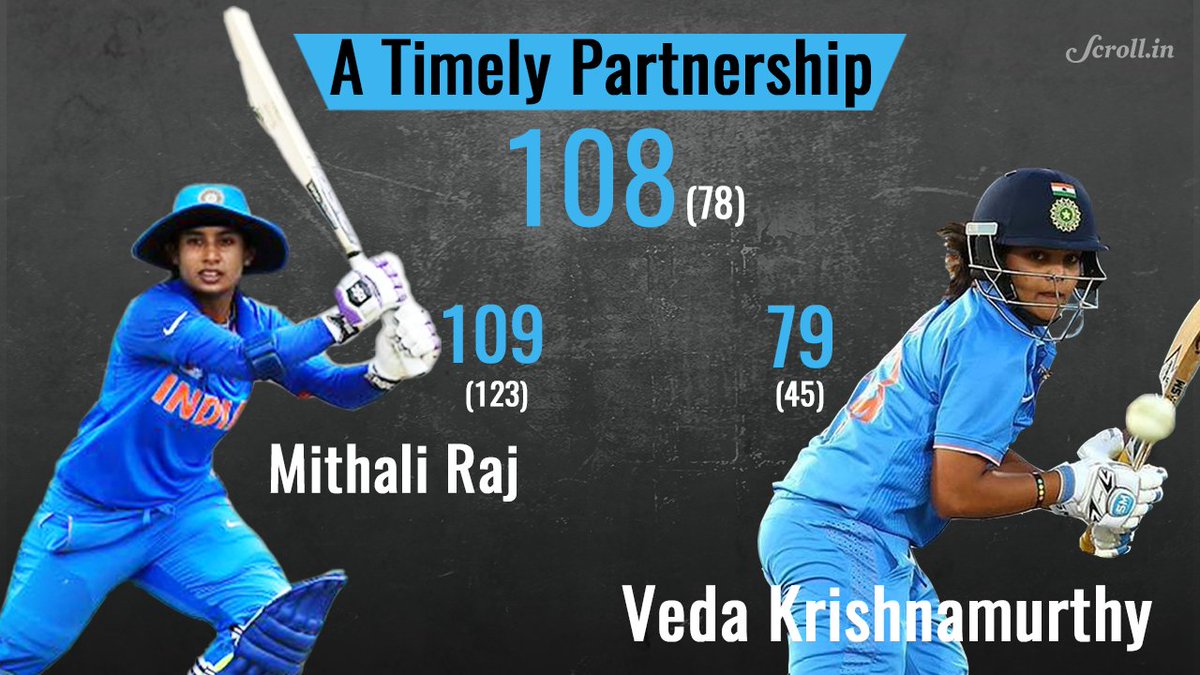 En route her sixth ODI century – and first in three years – she formed two vital, 100-plus partnerships with Harmanpreet Kaur and Veda Krishnamurthy. Two vastly different stands in terms of approach, but each as effective is sealing India's win. These three batters facing the bulk of the balls, batted responsibly and riskily as the moment allowed, supported each other, ran quick singles when the gaps weren't available, and scored a well-balanced 266.
When India lost two wickets in the first two overs of the Batting Powerplay – Harmanpreet and Deepti Sharma –in walked Veda Krishnamurthy who went on to play a stunner of an innings that will be remembered for a long time: 70 runs from just 45 balls. A strike rate of 155. Seven fours. Two clean sixes. The fastest fifty by an Indian cricketer in a Woman's World Cup.
Krishnamurthy is a fine example of the remarkable resolve India have displayed in this match. She was dropped after inconsistent performances but came back into the team for the match against Sri Lanka, and admitted that staying out of the team wasn't easy. But as her blinder, that turned the momentum India's way by the end of the first half showed, this gritty Indian team is making a habit out of bouncing back from disappointment.
In a potentially shaky chase, the bowling also stuck to plan for India.
Brought in a crunch game, Gayakwad bettered India's best figures this World Cup – Ekta Bisht's 5/18 against Pakistan – with her 5/15. But much before she came to bowl, India's pace duo of Jhulan Goswami and Shikha Pandey, bowling in rare tandem, had reduced the Kiwis to 7/2 using the movement the pitch offered. India's pacers have not got long spells from both ends often this World Cup, but when they, both made the most of it by tying own the high-flying White Ferns.
The versatile Deepti Sharma, only 18, didn't do anything with the bat but was her usual lethal self with the ball finishing on 2/26 and livewire in the field with the catch of the attacking Sophie Devine. Poonam Yadav struck in her first over as well, and the Indian bowling was so complete, Raj didn't need the services of Harmanpreet, who was already nursing a finger injury. Even wicketkeeper Sushma Verma chipped in with a wonderful stumping and incessant, motivating chirping.
This was the collective effort one talks about in a team sport, built around individual brilliance. And it all came together for India at a time they needed it the most.
After the match , Raj called it a "perfect response" on Twitter.
In the end, it was the perfect storm for the White Ferns. There are only so many ways one can say a "do-or-die" or must-win match. Both teams knew the stakes, but not both could play them. Yes, New Zealand crumbled under pressure and didn't give the level of fight expected of them. But this pressure was created by India's tough batting and tight bowling, by the team that was supposed to go under first. In a match where few gave them a chance, India showed their immense is also tempered with temperament. In short, India showed that the importance of that phrase "Intent".
With a difficult semi-final against Australia next, it is this deep-rooted intent that will power them as they try to ride the newfound momentum into the final.
We welcome your comments at letters@scroll.in.