Shikhar Dhawan and KL Rahul, India's two openers, got off to a rampaging start after India won the toss and opted to bat on Day 1 of the third Test in Pallekele on Sunday before Sri Lanka effected a fighting response, restricting them to 329/6 at stumps.
Dhawan (119) put on 188 with KL Rahul (85) with the latter equalling the world record for most successive half-centuries in Tests (seven) but Rahul's wicket opened the floodgates. Sri Lanka's two left-arm spinners Malinda Pushpakumara and Lakshan Sandakan got a flurry of wickets as Cheteshwar Pujara (8), Virat Kohli (42) and Ajinkya Rahane (17) were dismissed. Kohli played a dogged knock but edged to slips while Ravichandran Ashwin (31) was the only wicket to fall to pace in the day, edging to keeper Niroshan Dickwella who took a fantastic catch off the bowling of Vishwa Fernando.
Live:
5.27 pm: Stumps. Sri Lanka have their best day of the series. From the depths of misery of 188/0 at 39.3 and both Indian openers Shikhar Dhawan and KL Rahul looking set for tons, they fought back bravely to keep the opposition down to 329/6 at stumps. They have to aim to bowl India out quickly, but that is easier said than done.
For India, Dhawan scored a brilliant 119, KL Rahul his seventh fifty-plus score (85) but there were only starts after that. They won't worry too much though and will have enough faith on the overnight duo of Hardik Pandya and Wriddhiman Saha to take them forward.
5.12 pm: Niroshan Dickwella takes a stunning, diving catch to get Ashwin for 31. Vishwa Fernando darted one away, Ashwin nicked and the keeper did it. SL strike late. India 322/6
5.00 pm: Sri Lanka's fightback has been good but their reviewing has been shocking. Ashwin hits a ball from the bat onto his pads and for some reason, Sri Lanka reviewed! Three missed reviews so far. India 311/5.
4.34 pm: KOHLI IS OUT. A dogged 42, slow and steady as Sandakan gets the captain to play an expansive cover drive and edge to slip. BIG WICKET. Another close review next ball to Saha. SL turning it on. India 296/5.
4.25 pm: Virat Kohli has been quietly and steadily playing a dogged knock. Only three boundaries in his 37 off 73 balls so far. Ashwin's made a slow start but hasn't looked very troubled so far. India 286/4.
3.46 pm: It's the other left-arm spinner who gets the wicket! Pushpakumar breaks through Rahane's defence, the batsman played completely around him! Bowled. India 265/4.
3.38 pm: Sandakan getting something to happen. Has a close lbw review against Rahane ruled out, beats him and just misses the off-stump. India 261/3.
3.15 pm: We resume after tea and this will be a test of Lankan resolve. They have to break through to make a fist of it. Virat Kohli and Ajinkya Rahane, the new batsmen look comfortable though so far. India 248/3.
A lunchtime thought:
2:45 pm: Sri Lanka have certainly fought their way back in the contest and it was Pushpakumara who led the way by cleverly setting up the wickets of Rahul, who yet again missed a century and Dhawan. Sandakan got in on the act too and scalped the wicket of Pujara. Kohli has been watchful so far, perhaps pulling out all stops to avoid another low score. With spinners operating for a large chunk of the session, the over-rate was impressive by the Lankan standards. India 235/3 at tea. In 29 overs, three wickets fell for 101 runs.
2.22 pm: Another one! This is a strong mini-Lankan fightback. Sandakan slides one, Pujara cuts and cuts hard, it takes the edge and Mathews holds on. Finally, finally...but can they continue the pressure? India 229/3.
We're all wondering that, Chetan!
2.15 pm: Oh, he's out! SL skipper Chandimal takes an excellent catch of an attempted sweep and Dhawan is out for 119. India are 219/2.
He's out, but this was some knock.
1.47 pm: Dhawan hasn't followed in Rahul's footsteps, brings up his 100 with a scintillating drive and an exuberant celebration to match. Sixth century in Test cricket. It's been a lovely knock so far. India 200/1.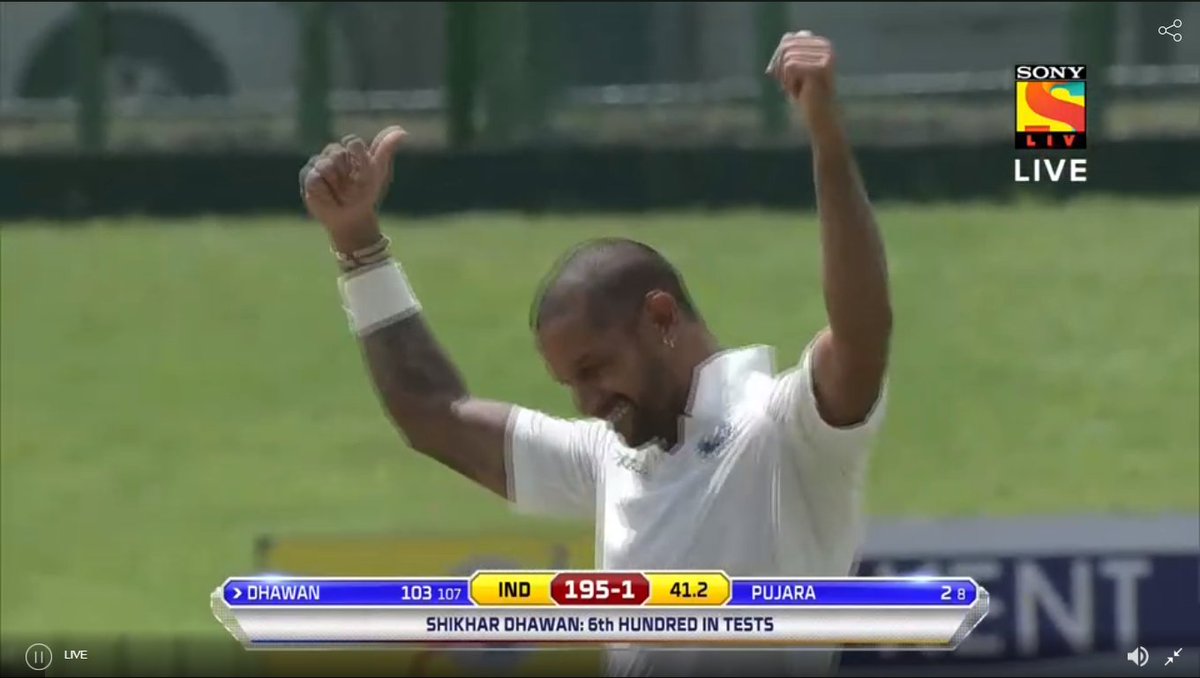 1.39 pm: We have some news! KL Rahul, just when he looked like he was going to break his streak of fifties (it's seven so far) has gone and holed out at mid-on to Pushpakumara for 85! On a day when so many catches have been dropped, great catch from Karunaratne at mid-on. India 188/1.
12.50 pm: Back again and it's more of the same. Sandakan gets an edge from Rahul but it goes between Angelo Mathews at slip and Niroshan Dickwella at slip. Just that kind of day. India 141/0.
12.00 pm: And we're on to lunch and it's the same old story. Dhawan and Rahul are unmoved as India head in to the dressing room at 134/0.
Been India's session so far but Sri Lanka really can't complain. If you don't take your chances against the No 1 team in the world, they'll hurt you. Exactly what has happened. Dhawan is 64, Rahul is 67 and India are set up for another 600-plus total...may even get to 700 at this rate.
11.45 am: World record alert. KL Rahul gets his seventh half-century in a row and equals the world record. India 114/0.
11.30 am: Shikhar Dhawan gets to a fifty off just 45 balls. The 100 comes up in 17.4 overs. Indian domination. India 100/0.
11.05 am: Sri Lanka's fielding is been all in shambles. Already both the openers have been dropped. Lahiru Kumara made a mess of a skier from KL Rahul. You can understand why India are 2-0 up. India 69/0.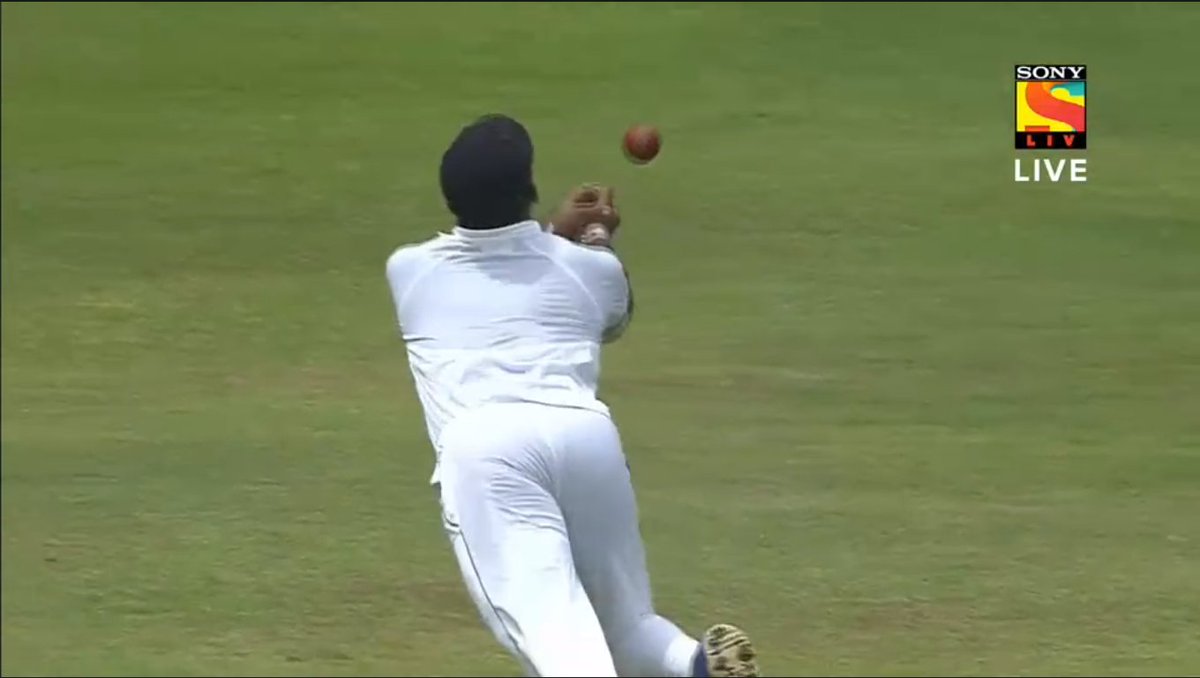 Solid burn
10.30 am: Dhawan and Rahul are off to a flyer. Six boundaries already in the first six overs. India's two openers are not giving Sri Lanka's pacers any chance, even on a helpful pitch Dhawan 17 off 11 balls, Rahul 18 off 25..India 37/0
Quite unique!
10.05 am: An overcast morning. Vishwa Fernando, a left-arm seamer, gets some swing going but can't really break through. Six runs off the first over. India 6/0.
9.35 am: Toss. India win the toss (again), choose to bat first. Virat Kohli grins when reminded about his habit of always sending his playing XI. "Well, it's been working for us," he quips. Only Kuldeep Yadav is in the team. It's been 28 games as a captain for him and he's never played with the same team!
Sri Lanka though have made three changes. Sandakan, Fernando and Kumara is in the team. But captain Dinesh Chandimal would have loved to bat first.
We welcome your comments at letters@scroll.in.