India's two wrist spinners, Yuzvendra Chahal and Kuldeep Yadav, had a rare off day on Saturday and South Africa made the most of it by racing through to a five-wicket win in the rain-affected game to keep the One Day International series alive.
The spin duo had been the wreckers-in-chief for India in the earlier three ODIs, which India had won rather convincingly, but looked completely out of sorts once David Miller and wicketkeeper batsman Heinrich Klaasen took the attack to them.
However, India's opening batsman Shikhar Dhawan insisted that wet outfield and a bit of bad luck was responsible for a below par performance and exuded confidence that the duo would bounce back from this difficult outing.
"They are young guys and they have done very well for us and anyone can have a bad day. These two spinners have won three games for us. As I said, spinners usually don't bowl a no-ball but sometimes luck favours the opposition too. Its not for us always. It favoured Miller and he grabbed it with both hands and then he hit a lot of boundaries and then the momentum changed.
"Also, rain had an impact to since our spinners couldn't turn the ball as they couldn't grip the ball the way they were doing in the earlier matches," said Dhawan.
Miller was dropped by Shreyas Iyer and was then bowled off a no-ball in the same Chahal over when South Africa were still not out of the woods. The left-handed batsman then went on to score 39 runs in just 28 balls to set the foundation for Klaasen and Andie Phelukwayo to knock off the remaining 28 runs. Chahal ended up giving away 68 runs in just 5.3 overs while Yadav conceded 51 runs in his six.
"Its not a thing that happens every time, like our spinners don't bowl no balls. If they got hit they will learn a lot. It is important to go through failures," said Dhawan, who celebrated his 100th ODI appearance with a century.
"I enjoyed it. It cant get any better on my 100th match. I scored a century in my 100th match and I am very happy about it. They came with a plan but I started off well. Then Virat also was going well so I supported him and I am happy that I scored a century today," said Dhawan.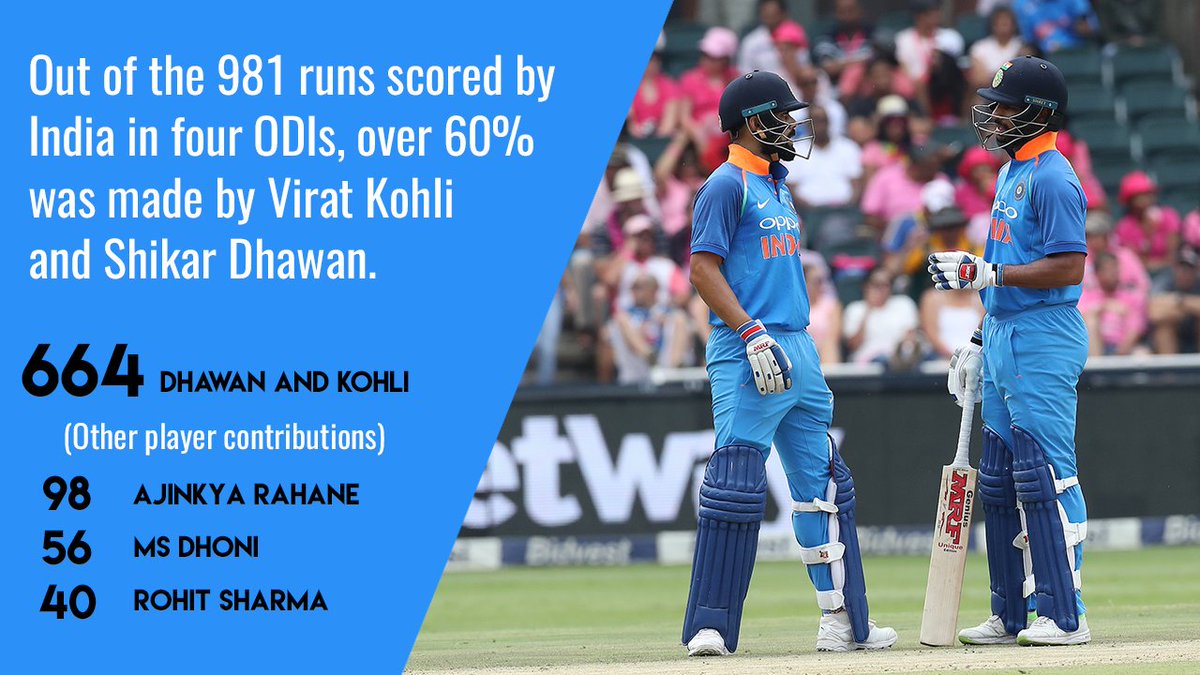 The 32-year-old paced his innings perfectly and it looked like India would go past the 300 run mark rather easily before a rain break hurt their momentum. The visitors could only score 89 runs after the break and lost five wickets in the bargain.
"We were playing in a flow till rain game. That was affected by the half an hour break and the runs did not come at the same pace. But the total was still competitive. But the rain made the outfield wet and that affected us (in the field)," said Dhawan, who brushed asides concerns over the lack of runs from the middle order saying they have contributed more often than not when the top order has failed to score runs.
Explaining the decision to bat first despite the forecast for rain, Dhawan said the ball normally moves at the Wanderers in the evening session and they felt that they should play to their strengths of setting up a strong total.
Support our journalism by subscribing to Scroll+ here. We welcome your comments at letters@scroll.in.