India pacer Mohammad Shami on Wednesday was left out of the central contracts list by the Board of Control for Cricket in India (BCCI) on the day reports of domestic abuse levelled against him became public knowledge. Shami was reportedly accused of assault and having extramarital affairs by his wife Hasin Jahan.
A BCCI source confirmed the development to The Field: "Shami would have been in Grade B but his name has been withheld due to the allegations."
"The BCCI has taken cognisance of all the reports emerging about Mohammed Shami's personal life," another official was confirmed as saying by PTI. "It is purely a personal matter and the BCCI has nothing to do with it. However, keeping in mind that the woman in question has met the police commissioner of Kolkata, it is only prudent on BCCI's part to wait for any official inquiry to take place," the offical added. "Hence Mohammed Shami's name, for the time being, has been withheld from the central contracts that were announced.
We would like to reiterate this decision has nothing to do with Shami's merit as a player but a safeguard in the prevailing circumstances," he added.
In the newly announced list for the men and women cricketers, captain Virat Kohli, Rohit Sharma, Jasprit Bumrah, Bhuvneshwar Kumar and Shikhar Dhawan were the first set of players to feature in a new category, Grade A+, and will earn an annual fee of Rs 7 crores. Pay hike was announced for the women as well.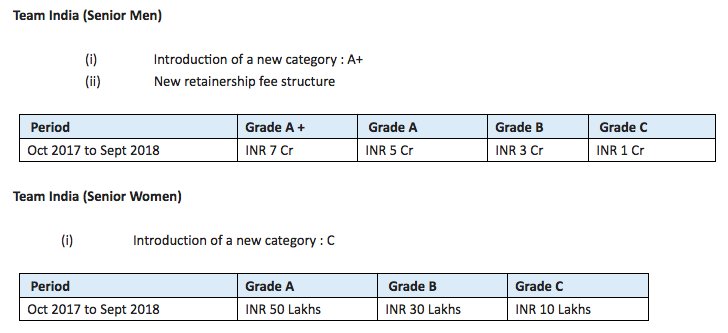 Earlier, Jahan took to Facebook to post screenshots of text messages allegedly sent by Shami by a number of women. This also included photographs of the women and their phone numbers.
Jahan reportedly read the messages on a phone which was allegedly hidden in the 27-year-old cricketer's car. Jahan alleged that Shami and his family members were "torturing" and had even "attempted to kill her". Shami played a crucial part in India's recent tour of South Africa, picking up five wickets in the final Test at Johannesburg to lead his side to a famous win.
Support our journalism by subscribing to Scroll+. We welcome your comments at letters@scroll.in.