A magistrate court in Jaisalmer released an artist from Telangana on bail on Wednesday, two weeks after he had been arrested for being in a restricted area near the Pakistan border.
Akram Feroze, 26, a resident of Jagtial in Telangana's Karimnagar, had just begun his latest project,
Theatre at Borders
, in which he planned to walk along the border from Kutch to Kolkata to perform and popularise street theatre.
On August 13, police arrested him when they found him in a restricted area near the border. His case was turned over to the Intelligence Bureau – after which the police say they had nothing to do with the case.
"He was arrested because he was found in an area prohibited to outsiders," said Rajeev Pachar, Superintendent of Police at Jaisalmer. "After that, his interrogation was done by the Intelligence Bureau, which is why we held him that long. We do not know what their reports said, but he has not yet been cleared."
Question time
On Sunday, Feroze's brother Alam, 34, went to Jaisalmer himself. He has been there ever since. When he requested the police to transfer his brother to judicial custody instead so that he could come out on bail while investigations continued, the police said they were waiting for a character report from Jaipur. Alam claims they urged him not to hire a lawyer and "complicate things" as this would only add to their problems.
The police also seem to have asked Alam why so many of Feroze's 4,600 friends were women.
"They said that he could be involved in human trafficking," Alam said. "What can I answer to that? But when I went and looked at his friend list that night, most of the women were students or from NGO and activist groups. The police can call all of them if they want and find out who they are."
Part of the reason he was interrogated for so many days, reports said, was his alleged links to Jammu and Kashmir. What was this link?
In October 2014, Feroze set off on a long-distance trip called
Winter on Wheels
, in which he hitchhiked from Hyderabad to Srinagar, collecting relief material for people affected by the floods in Kashmir that year.

A description of Winter on Wheels from Feroze's Facebook page.
This might not seem suspicious, but when the police found material from his travels – including, perhaps, photographs of the truckload of relief material he gathered – they decided they needed more time to question him.
When he first applied for bail, they recommended against it in the magistrate court. A host of agencies, from the Intelligence Bureau to the Joint Interrogation Centre to even the police in Jaipur took turns interrogating him and attempting to verify his credentials.
His troubles did not end when he finally got bail on Thursday. He now has to go to Jaipur, under the assurance of his brother, to submit himself to further questioning there. It is not clear yet whether the police will pursue a case against him after this.
Travel activism

Was Feroze such a grave threat to the Indian state?
He would disagree. He calls himself a travelling activist. Since 2011, he has travelled across India on cycle and on foot to popularise theatre in small towns and villages.
He began his latest
project
,
Theatre at Borders
in July. The idea, according to the project's Facebook page, was to walk and hitchhike all along the border of India from Kutch to Kolkata and perform street theatre as he went.
Feroze regularly updates his several Facebook pages for his several hundred fans and followers online. All seemed well at first. He posted several photos from first Kutch and then Jaisalmer.
Then on August 13, Feroze uploaded a photograph of his feet, saying he was at a police station. In his next post, he described a conversation he had there. The police, he said, said that his unshaven looks made him seem like a terrorist. He replied, with a smile, that he had not seen a mirror for two days.
After that, there was silence.
Feroze finally contacted some friends on August 15. He told them that his mobile and laptop had been confiscated by the police and that he was being interrogated. Over the next few days, the police in Jaisalmer asked their counterparts in Jagtial to send them information on Feroze. They allowed him to contact his family a few times.
An image of the FIR circulated on Facebook says that he has been charged under Sections 107 and 151 of the Criminal Procedure Code, which allows the police to apprehend people for potential breach of order.
History of travel
Theatre at Borders
is only the latest of Feroze's travel projects. In 2011, when he was only 22, he began a project called
Cycle Natak
, through which
he cycled across the country trying to bring back the popularity of theatre in villages and small towns. To save money, he did not stay in or eat at hotels, relying instead on the hospitality of strangers. The next year, he participated in the Jagriti Yatra, a 15-day train ride for young entrepreneurs that takes them around India. In 2013, he made a similar journey, this time hitchhiking.
His projects brought him some amount of fame. He was covered in local media and has given two TEDx Talks about his experiences.
Feroze has become something of a social media celebrity. Since his arrest, friends and family have been trying to drum up public awareness about his arrest through social media. Many of his fans, his brother said, are from Kerala.
His family was uncomfortable with his decision.
"Initially, we thought it was for six months or one year," Alam said. "Then he continued. We told him to take a job, do something for his future. But he asked, 'Why? For money? My brother has money, you have money. I don't need all this.' For the last year we have been requesting him to stop. But he is young so we are not that worried."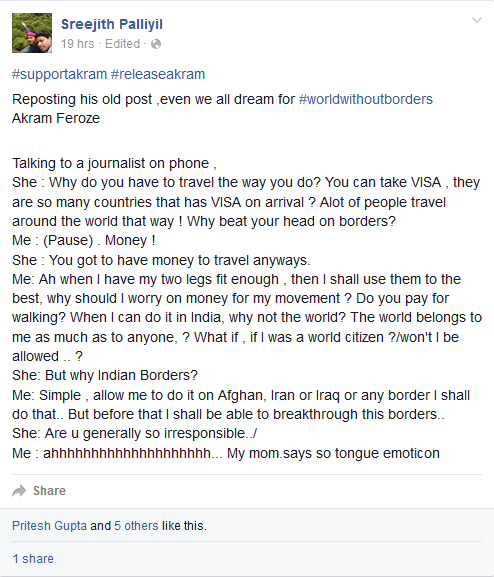 We welcome your comments at letters@scroll.in.