As we approach the centenary of the beginning of World War I, on July 28, revisionist histories are beginning to examine the role of non-white and non-European people in the war effort. From the Indian sub-continent, around 1.5 million soldiers volunteered to fight in places from Belgium to West Asia. Many of them were Sikhs.
Empire, Faith & War: The Sikhs and World War One
, an exhibition at the School of Oriental and African Studies in London organised by the United Kingdom Punjab Heritage Association, showcases the rich history of Sikhs who served in the British Army.
While largely unremembered in textbooks in the years after the war, contemporary documents and photographs do record their effort. The exhibition began on July 9 and will close on September 28.
"By telling the Sikh story, we want to remind the world of this wider undervalued contribution of the non-white British Empire," said UKPHA chairman Amandeep Madra. "This is British history and a story that helps explain much about modern Britain as well as filling in a tragically missing piece of World War I history."
The exhibition brings together unprinted photographs, postcards, comics, drawings and other artefacts to trace the narrative of Sikhs in the British army. But it also goes beyond just the soldiers' lives by looking at the families they left behind and collecting their oral histories.
Photographs show Sikhs cheerfully interacting with other soldiers and civilians.
Sikhs also became objects of interest when held in camps for prisoners of war. Axis forces took advantage of their capture and conducted controversial ethnographic studies of them.
The following images are a selection from the UKPHA collection.

Stalwarts from the East: A French lady pins a flower on the Sikh saviours of France, Paris, 1916. (Toor Collection)

Men of the 15th Sikh Regiment spend time with locals in a Flanders village after weeks in the trenches of the Western Front, c. 1915. (UKPHA Archive)

A Sikh soldier in a German prisoner-of-war camp, c. 1915. (Toor Collection)

Belgium street kids taunt a German soldier by dressing up as Sikh soldiers, c.1915. (Toor Collection)

A listing of captive Sikh soldiers who underwent a study into their racial origins by German scientists, c. 1918. (UKPHA Archive)

Sikh and British wounded recovering from injuries sustained in the front line to their left hand or arm, Southampton, c. November 1914. (UKPHA Archive)

Front cover of The Great War magazine showing men of the 45th Sikhs serving with British troops on the banks of the Tigris River, marching with their sacred scripture, the Guru Granth Sahib, in Mesopotamia, 1918. (Courtesy of Nanaki and Sahib Collected Works)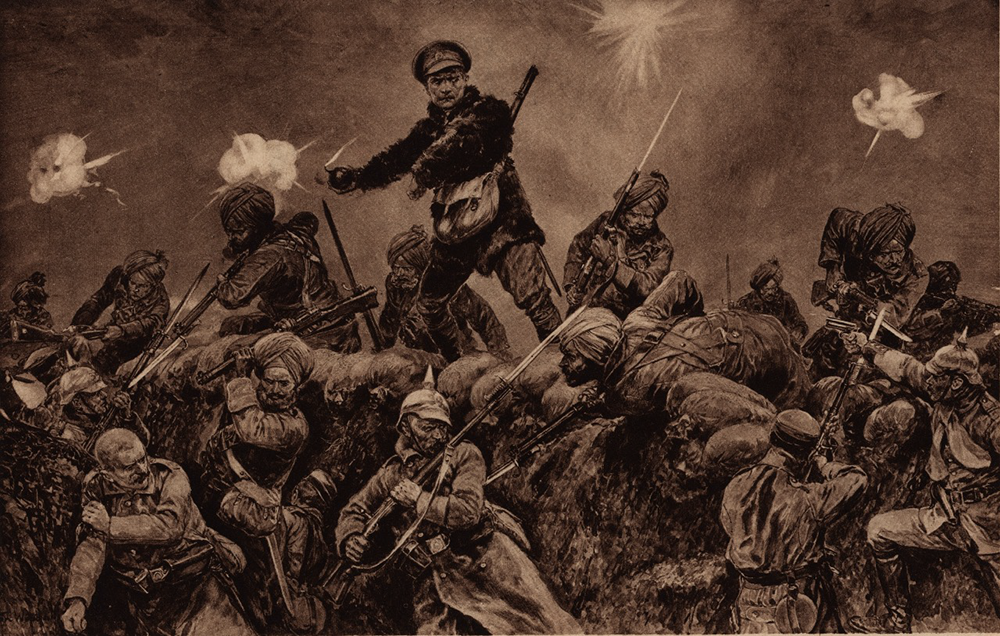 A propaganda postcard praising the contribution of Indian soldiers to the Allied cause, c. 1915. (UKPHA Archive)

For the glory of the Raj: Indian troops charging the German trenches at Neuve Chapelle, March, 1915. An engraving of a painting by Richard Caton Woodville, Jr. (Courtesy of Nanaki and Sahib Collected Works)

A profile sketch of Sohan Singh, the son of a Sikh farmer from Harpoke, a village in Punjab (now in Pakistan). He was born around 1894, and joined the 58th Vaughan's Rifles (Frontier Force), a regiment in Britain's Indian Army, probably just before war broke out. During the World War I, the regiment served on the Western Front in 1914-15, fighting in the Battles of La Bassee, Givenchy, Neuve Chapelle, Aubers Ridge and Loos.
Sohan Singh was captured by the Germans and held prisoner in the Wünsdorf Camp near Berlin. It was here that the likeness of the 22-year-old Sikh soldier was captured by Hermann Struck, a German Jewish artist who published a book containing 100 of his portraits of prisoners of war. (UKPHA Archive)
Support our journalism by contributing to Scroll Ground Reporting Fund. We welcome your comments at letters@scroll.in.
Respond to this article with a post
Share your perspective on this article with a post on ScrollStack, and send it to your followers.